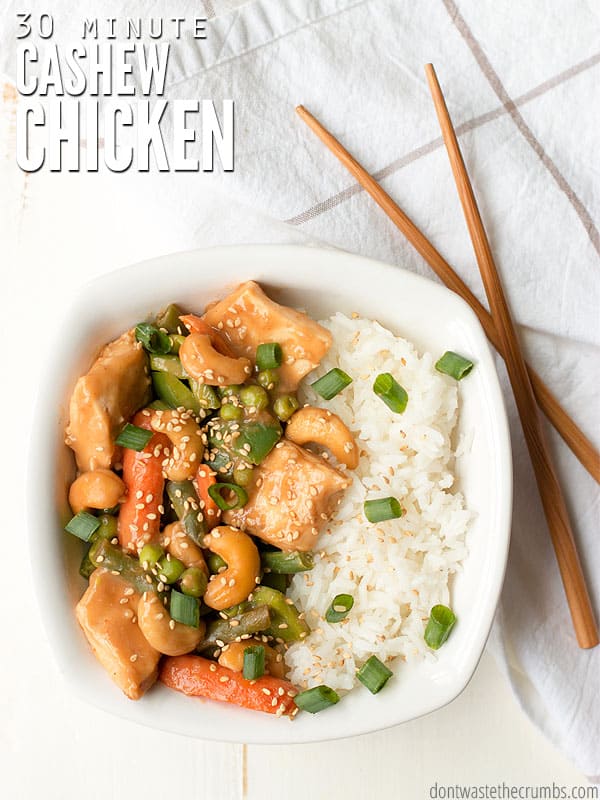 This is a sponsored conversation written by me on behalf of NatureRaised Farms. All opinions and text are mine.
A couple years ago I made it a foodie goal to have soup for dinner once a week because it's inexpensive and healthy (especially when you use homemade chicken stock).
Last year my foodie goal was to quit sugar. With the exception of the occasional batch of cookies, the required Christmas sugar cookies and homemade kombucha, we've done this too.
This year my foodie goal is to incorporate more fast meals into our meal plan, like my 15 Minute Kung Pao recipe I shared a couple weeks ago, and now this 30 minute cashew chicken.
It's not that I don't love cooking. I wouldn't be a FOOD BLOGGER if I didn't.
But there are some seasons and some nights that are just too full to spend hours upon hours in the kitchen.
Tuesday nights and basketball practice? Wednesday nights and AWANA? Soon-to-be Thursday night and gymnastics?
These nights need something REALLY fast. Something that can be made with what I have, relatively quickly and without much fuss.
There are bonus points if the recipe is easy enough for Mr. Crumbs to follow too, which is why I LOVE this cashew chicken.
I detoured from my usual whole chicken and chose chicken breasts for this recipe, picking up NatureRaised Farms® fresh boneless skinless chicken breasts from Sam's Club. While I don't usually pay attention to the fat content, the fact that they're 99% fat-free (without added preservatives or artificial ingredients either) means I don't have to mess with trimming the chicken or taking the skin off.
And did you know they already come pre-portioned, 2 breasts to a pouch (about 1 pound per each pouch), ready to go? Ties in nicely with the whole FAST meal mentality, don't you think? LOVE IT!
For more ideas on fast meals, check out this free 5 Day Challenge to get dinner on the table FAST!
Fellow Sam's Club shoppers, you can look to see if your local Sam's carries this chicken right here.
30 Minute Cashew Chicken
Let's talk about the recipe, shall we? I mean, beyond the fact that it's super easy to make and ready in under 30 minutes of course…
Chicken
As I mentioned, we're using chicken breasts in this recipe. You'll pound them out to thin little cutlets so they cook evenly and can be cut with a fork or poked with a chopstick. Have you ever seen knives at a Chinese restaurant? Didn't think so.
Vegetables
I used a combination of what I thought should go in a stir-fry-ish recipe based on what I had in the kitchen. That turned out to be green bell peppers, carrots, frozen peas and frozen green beans. Next time I think I'd like to try cauliflower or red bell peppers, just to add more color besides green.
Really though, anything you have will work. You can use fresh or frozen or a mix of both, like I did.
Sauce
This is where the magic happens. Somehow a very ordinary list of pantry staples becomes delicious saucy goodness when you combine it all together with cornstarch. (Ok, so it's probably more science than magic, but whatev.)
It's a totally forgiving sauce too. Splash too much soy sauce, or used up the last bit of homemade apple cider vinegar last week and it's white distilled until payday?
Did the honey pour out too quickly, or have never heard of sriracha but you have Frank's?
No worries. Substitute away my friends and enjoy the differences. I'm 99% sure it won't matter and you'll love this dish anyway.
30 Minute Cashew Chicken
Ingredients
1 lb chicken breasts, pounded out to ¼" thick and cut into 2" strips
4 cups vegetables, fresh and/or frozen (I used a combination of bell peppers, carrots, green beans and peas)
⅔ cup cashews
3 green onions, white and green parts sliced.
½ cup chicken stock
4 Tbsp soy sauce (I use liquid aminos)
2 Tbsp apple cider vinegar
1 Tbsp sriracha sauce
¼ cup cornstarch
2 Tbsp honey
2 tsp minced garlic
2 tsp sesame seed oil
1 tsp sesame seeds to garnish (optional)
Instructions
Preheat the oven to 350F.
Spray a 9" x 13" glass pan with cooking spray or grease with a butter wrapper.
Place the chicken pieces in a single layer in the pan.
Top with the cashews and 4 cups of vegetables.
Add all the white onions and about half of the green onions on top. In a small bowl, whisk together the ingredients for the sauce: stock, soy sauce, vinegar, sriracha, cornstarch, honey, garlic and sesame seed oil.
Pour over the vegetables and chicken.
Bake for 25-30 minutes, until the sauce is bubbly and the chicken is cooked through.
Let cool slightly for about 5 minutes for the sauce to thicken.
What's your favorite chicken dish that can be made in under 30 minutes?
This is a sponsored conversation written by me on behalf of NatureRaised Farms Fresh Chicken. The opinions and text are all mine.