There's no other way to say it: quality protein is expensive!
It doesn't matter if you buy from a farmer or from the grocery store or stretch every ounce you can at home – meat is pricey.
I didn't realize HOW pricey it was though, until we ventured on the Whole30 and had to buy 31 ½ pounds of meat every week… MINIMUM.
(Yeah, go ahead and catch your breath for a minute there.)
Although we've officially finished the Whole30, we enjoyed many aspects of the elimination diet. Going forward, I'm looking for non-meat sources of high protein foods that are cheap and healthy so we still get amazing nutrition, but can build our savings account back up too!
For the sake of argument and easy side-by-side comparisons, I've included the cost and protein content for a one ounce portion (or two tablespoons) or the equivalent (like in the case of eggs).
You probably won't eat just one ounce of the majority of these things, but I did this so everything can be judged on an equal scale. If you're using this data to build a meal plan with certain protein levels, make sure you account for the portion sizes you're actually making.
7 Cheap and Healthy High Protein Foods
Eggs
The price of eggs will vary a lot, depending on a few factors… how many hours of daylight there currently is, whether they're brown or white (which has NOTHING to do with the nutrition of the egg, by the way) quality of egg you choose (i.e.  grain-fed / cage-free / free-range / non-GMO / organic)…
I've seen eggs for as cheap as 69¢ per dozen at ALDI and upwards of $5.99 per dozen at Sprouts.
Personally, the nutritional difference from the average white egg to the "certified this and that" brown egg doesn't justify the cost (or taste), so unless I'm buying from my friend who owns chickens, I choose the cheapest eggs I can find.
One large egg (about 50g) will cost 6¢ and yield 6g of protein.
Cheddar Cheese
Several years ago I spent several months building a price book and compared the price of different cheeses at different stores.
With the exception of a few "fancy" cheeses, Costco won. (ALDI had the best price for those "fancy" cheeses, by the way).
As much as I'd love to make a charcuterie board for dinner, we have stove-top mac and cheese budgets.
One ounce of cheddar cheese will cost 15¢ and yield 7g of protein.
Beans
Beans are the vegetarian's best friend when it comes to cheap protein. I broke down the math of whether it was cheaper to cook dry beans from scratch or buy canned beans, and the dry beans were a clear-cut winner.
I make beans in the Instant Pot and they're ready in less than an hour without any soaking. You can make beans in the slow cooker too; it just takes a little longer.
When I'm done, I portion 1 ½ cups into freezer-safe containers (without any liquid) and freeze for later. Then when the kids ask for black bean brownies or pumpkin swirl brownies or white bean blondies or cookie dough hummus (or snickerdoodle hummus or chocolate hummus or even cake batter hummus), or I'm making refried beans for a taco party, all I have to do is pull out what I need and let them thaw!
Of all my calculations, I've found pinto beans to be the most affordable. Costco has a 25 pound bag for as low as 58¢ per pound.
One ounce of pinto beans will cost 2¢ and yield 5.2g of protein.
(One serving is usually ¼ cup, which would cost 4¢ and yield 10.4g protein)
Greek Yogurt
Greek yogurt – whether you make it yourself or buy it from the store – is pretty much the same thing as regular yogurt except it's much thicker. The clear liquid in yogurt is called whey (by the way, here's 36 things to make with it) and in Greek yogurt, the amount of whey is significantly less giving you a greater concentration of cultured yogurt per serving.
That's why Greek yogurt is a GREAT high protein food, where plain yogurt would just be so-so.
Once again Costco wins for the best price at just 9¢ per ounce, and this will yield 1.25g of protein.
(One serving of Greek yogurt is usually ½ cup, which would cost 36¢ and yield 5g of protein.)
Peanut Butter
After being limited to almond butter for the past several weeks, I can confidently say that peanut butter is by far the cheapest nut butter you'll find. We make peanut butter chocolate chip muffins and Reese's copycat peanut butter cups and no-bake peanut butter chocolate chip granola bars and we love that they're not only affordable, but that they "stick to your ribs" so you're not starving an hour later.
The cheapest peanut butter will be a mainstream brand, but there's a high probability that those brands contain hydrogenated oils and/or high fructose corn syrup – both of which are seriously awful for your body and are banned from our house.
The best price I've seen on a natural peanut butter – or at least one that doesn't have either of those two toxins – is at Costco again.
One ounce of peanut butter will cost 11¢ and yield 8g of protein.
Cottage Cheese
I know cottage cheese is an acquired taste, but you can sneak it into things like blender protein pancakes and add it to smoothies for a "cheesecake" flavor – strawberry cheesecake smoothie, anyone? It also helps beef up the protein levels of vegetarian meals, like slow cooker meatless lasagna.
The last time I made cottage cheese was a huge failure, so I save myself the heartache and buy it from (you guessed it!) – Costco!
One ounce of cottage cheese costs 10¢ and yields 1.7g protein.
(One serving of cottage cheese is usually ½ cup, which would cost 83¢ and yield 13.6g protein)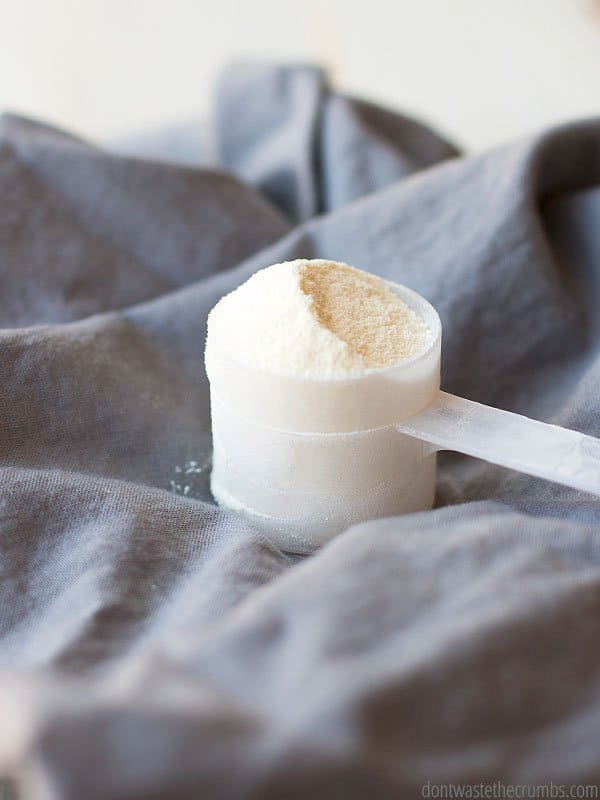 Collagen
Collagen was my go-to source for quality protein when I was training for a marathon (and ate marathon-training oatmeal every Saturday before my long run). It's still my favorite choice of protein because it's tasteless and odorless, meaning I can add it to my morning coffee (or tea, kombucha, juice, etc.) and BOOM, just like that, I've added 10g of protein to my day.
After my hair and nails and skin unexpectedly grew longer, stronger and healthier, I did some research and found that collagen is a crucial nutrient for rebuilding cells throughout the body.
Seeing the benefits first-hand when I used this brand, I kept it as part of my morning routine. I either drink a green smoothie for breakfast or nibble on chocolate hazelnut protein bars in the afternoon.
On the average day, one scoop of grass-fed hydrolyzed collagen will cost 65¢ and yield 10g protein!
(One serving is typically one scoop, and one ounce is actually 2.58 scoops).
Perfect Supplements Collagen is ON SALE NOW!
I highly recommend Perfect Supplements collagen. (As you can see from my review above!)
Right now you can save 30% on any Perfect Supplements products PLUS save an extra 10% with coupon code CRUMBS10.
There are no minimums and no limits. Usually you have to buy SIX tubs of collagen to get 30% off. This is a great time to buy and try out Perfect Supplements collagen!
CLICK HERE to go straight to their site to buy.
What are your tried-and-true go-to high protein foods? Share your non-meat ideas in the comments, please!