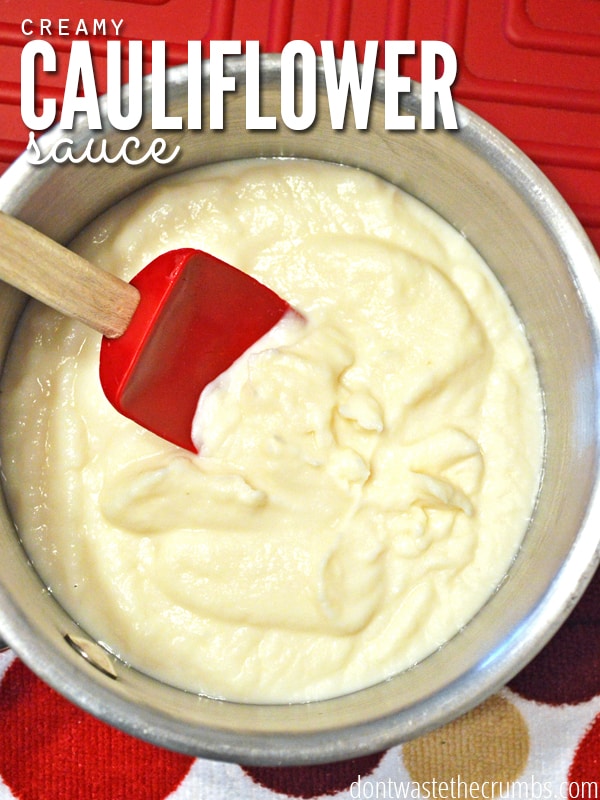 Cauliflower seemed to be all the rage, like five months ago.
Apparently, you can make just about anything with cauliflower. Cauliflower rice, cauliflower pizza crusts, cauliflower tortillas… cauliflower mashed potatoes, cauliflower tots, cauliflower bread sticks… cauliflower hummus, cauliflower muffins, and even cauliflower brownies…
And I happily ignored them all because I.hate.cauliflower.
Growing up, my mom made this cauliflower and broccoli dish with butter and breadcrumbs.  The family loved it, so it was common at home and especially common at family functions.  In my opinion though, it had a seriously major flaw – the cauliflower.
Then one day, while browsing a few of my favorite blogs, I stumbled across a recipe that used cauliflower a sauce.
Again, I ignored it.
But my head couldn't quite shake the idea of turning cauliflower into a sauce.  I already hide beans and all sorts of odd vegetables in my spaghetti sauce, so the concept of hiding cauliflower wasn't foreign.
In fact, it sounded kinda fun.  An intriguing challenge in a way.  Like I could take this awful vegetable, add some cheese and seasoning and trick myself into thinking it was something delicious…
Which would be a feat considering I loathe the vegetable, remember?
Creamy Cauliflower Sauce
My first experiment was a garlic rice dish.  I made the cauliflower sauce, mixed it up with fresh rice and sprinkled it with dried garlic, salt and pepper.  I added a little bit of shredded cheese too, because cheese is awesome and cauliflower isn't.
The end result was a creamy rice dish that could have been passed off as "cheesy rice," except that it was cauliflower that gave it that texture and flavor, not cheese.
Cauliflower sauce tastes like cheese?  Say what?!
Ok, so it's not exactly like cheese.  But it's pretty close when you season it up and mix it with other stuff.
By itself, it tastes like pureed cauliflower.  Not cheese.  Just a heads up if you hate hated cauliflower too.
Now that I know the awesomeness of cauliflower-disguised-as-a-cheese-sauce, I'm always looking for ways to use it in dinner.  Because eating more vegetables is a good thing.  And cauliflower is CHEAP!
One head of cauliflower runs about $1.50 in my area (it might be cheaper when it's in season, but I've ignored it for most of my life so I really don't know how cheap it can go!).  Since one head of cauliflower makes three serving of sauce, it only costs .50 to add this creamy sauce to your meal.

If fresh cauliflower is more expensive in your area, check the frozen foods section! Frozen cauliflower may be cheaper and can easily be used for this recipe.
Sauce Versatility
The best part – each serving can be flavored to suit whatever you're cooking.  You can buy one head of cauliflower and potentially end up with three entirely different flavored meals:
roasted garlic, butter salt and pepper for roasted garlic Alfredo
garlic and dried Italian seasoning for Italian dishes
cumin and taco seasoning for Tex-Mex meals (make your own taco seasoning with this recipe!)
season with the dried herbs from this Greek salad dressing for a creamy Greek-inspired sauce
And think of all the dishes you can make that normally call for heavy cream or lots of cheese, but now you can sneak in one cup of this creamy cauliflower sauce instead!
cheddar cheese sauce for vegetables
cheesy enchilada sauce
white sauce on pizza
macaroni and cheese
cheese dip for nachos and vegetables
in casseroles, quiches, frittatas or stratas
But in order to accomplish all this (and sneak this super healthy vegetable into your meal plan), you need the basic recipe.  So here goes:

Creamy Cauliflower Sauce
Serves:
4, ½ cup portions
Ingredients
1 head of cauliflower, outer leaves removed
Instructions
Fill a large pot with water and bring to a boil.
Meanwhile, chop the cauliflower into quarters. Chop off the florets and cut the stems into approximately 1" pieces so that the cauliflower cooks uniformly.
Place chopped cauliflower into a steaming basket and steam for 5-10 minutes, until the stems can be easily poked through with a fork.
Remove cauliflower from the basket, and place in a blender or food processor. Puree the cauliflower until it is smooth, adding water only if necessary.
Divide into one cup portions and freeze if not using immediately.
Notes
* If you don't have a steaming basket, you add the chopped cauliflower directly to the boiling water and cook for 3-6 minutes until the stems are tender.
* An
immersion blender
is another option for pureeing the cauliflower as well.
Additional Recipe Notes
In my opinion, it's wise to make this sauce thick because you can always thin it out later with milk, chicken stock or water.  By itself, this sauce is pretty bland, so expect to add seasonings of some sort, even if it's just salt and pepper.
Now that I've discovered this amazing sauce, I use it as the base for my Pasta Primavera. A perfect way to eat up all those summer veggies!
Want a few more surprisingly delicious cauliflower recipes?
crispy cauliflower rice // creamy mashed cauliflower
How do you feel about cauliflower?  Do you loathe it, or love it?  What's your favorite way to prepare it?