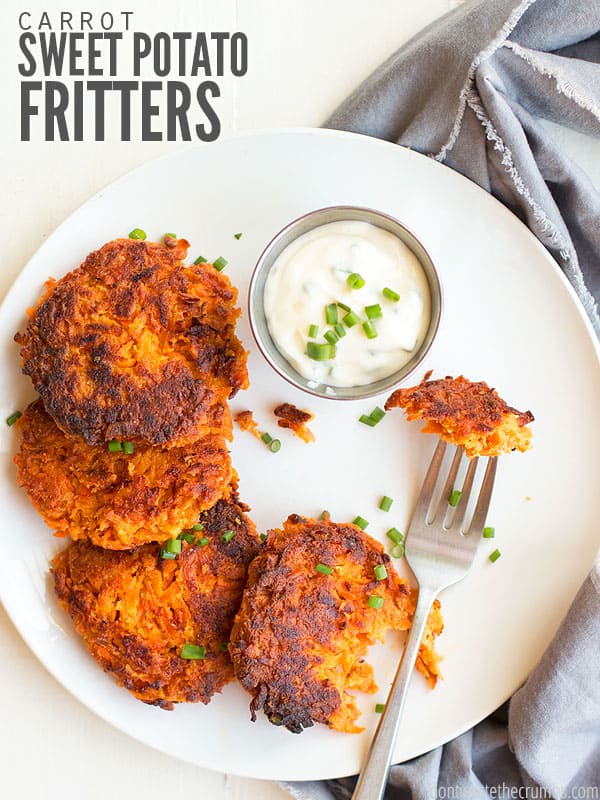 When we first started the Whole30, I was overwhelmed with how much cooking there was. The inner rebel in me fought back and I gave up on fun side dishes and just let the oven do the work.
I roasted EVERYTHING. Every single vegetable I cooked (except for my favorite salad) was put onto a cookie sheet, given a drizzle of olive oil and a sprinkle of salt and pepper and I called it done.
Fast forward to when the shock of the Whole30 wore off and I was ready to try something different. That's where these carrot and sweet potato fritters come into play!
Although these carrot and sweet potato fritters are Whole30 compliant and Paleo too, they're not just for those on an elimination diet.
My kids went NUTS for these, thinking they were one of the best vegetables I'd made in a very long time. I don't blame them – I ate A WHOLE BATCH the day I took these photos.
And I have no problem admitting that because:
They're crazy healthy
They're mostly vegetables
They're addictingly delicious
See A and B and C above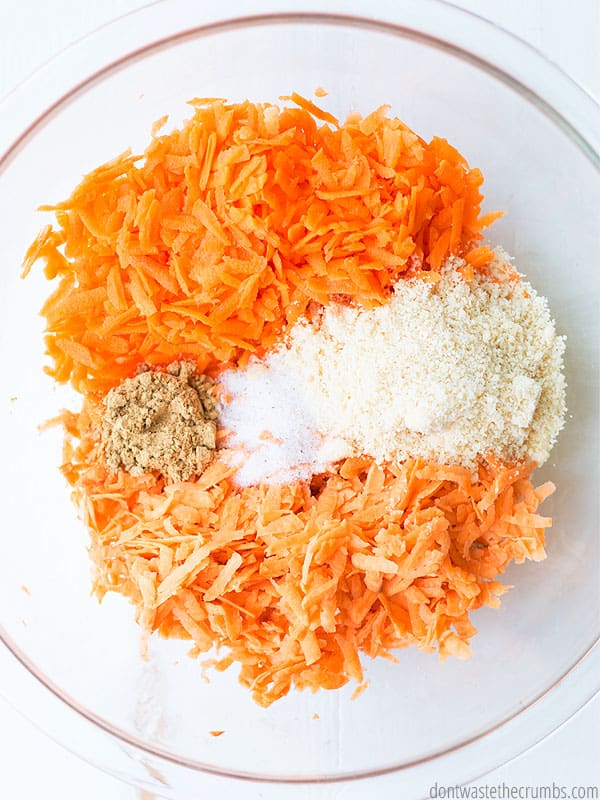 Carrot and Sweet Potato Fritters
Let's breakdown what exactly these little patties of deliciousness of are made of, shall we?
Carrots
Nothing fancy here – just good ol' carrots. I used orange carrots because they're the most affordable (just $1.19/lb for ORGANIC at my local grocery store!) but you can use white carrots, purple carrots, red carrots… whatever your garden or farmer's market or grocery store or your CSA box is giving you nowadays.
Side note – if you have a hard time finding organic food in your area, hopefully this guide can help!
You'll peel the carrots before you start, so make sure you wash them and have a freezer-safe container ready for those scraps. That's how you can make chicken stock using kitchen scraps!
Sweet Potatoes
I'm sure there's an official difference between yams and sweet potatoes, but for the average home cook (>> me <<) it doesn't really matter.
It also doesn't matter if you have white sweet potatoes or orange sweet potatoes – there's delicious all the same!
Like the carrots, wash the outside and save the peels for chicken stock!
Eggs
Eggs are the binder in this recipe and while I haven't tested it myself, I'm willing to bet that making flax eggs would work as a find substitute if you're an egg-free family. (More about flaxseed HERE.)
Ginger
As much as I big fat puffy heart LOVE to use fresh ginger, I don't always have it on hand. I've only tested this using ground ginger since it's what I always have, but if you ever have fresh ginger, totally go for it! It would give a super great boost of fresh and lightly spicy flavor to these carrot and sweet potato fritters. (Did you know you can freeze fresh ginger?!)
Flour
You need just a bit of flour to help soak up extra moisture from the carrots and sweet potatoes, but it doesn't matter what type of flour you use. I used almond flour to keep these Whole30/Paleo, but you can use whole wheat or all-purpose for sure.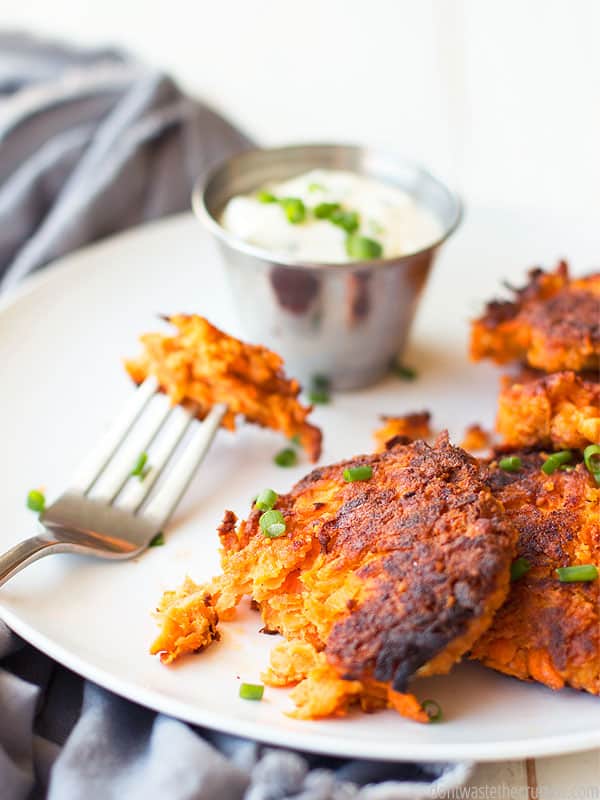 I've served these as side dishes alongside Instant Pot whole chicken and Instant Pot beef brisket and almond crusted baked chicken, but they were REALLY stellar next to Chinese 5 Spice chicken. Both recipes call for ginger, so it's like a match made in taste bud heaven!
And don't forget the dipping sauce!!
I didn't make it the first time, but I did the second and third and it's SO easy and SO good. It adds a flavor punch to these cute little fritters and since the sauce calls for mayo (I always use my fail-proof 2-minute mayo), it's Whole30 compliant and Paleo as well!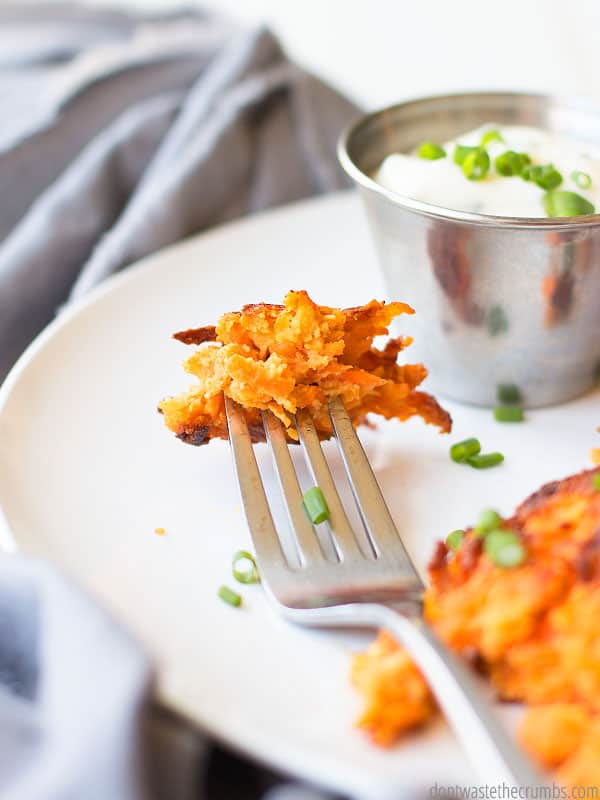 Before I share the recipe, let's talk about cooking these gorgeous little fritters.
First, the recipe calls for coconut oil. If you don't want to use coconut oil for whatever reason… allergies, preference, don't have any… that's fine. Just use a different oil that is suitable for higher heat cooking. Lard, tallow and avocado oil all work well.
Second, don't be afraid to add more oil. I don't know if my fritters soak the oil up, or my cast iron skillet soaks the oil in (this is the cast iron skillet I have), but I had to add 1-2 teaspoons of oil for each round of pan frying I did.
I also tested NOT adding more oil (on accident) and the fritters simply burn… so, make sure you add oil and don't be afraid of it. Healthy fat is good for you!
Lastly, if you have leftovers, they're AWESOME with fried eggs and breakfast sausage. If you double this recipe and cross your fingers that your family doesn't eat them all, you can have breakfast for several days!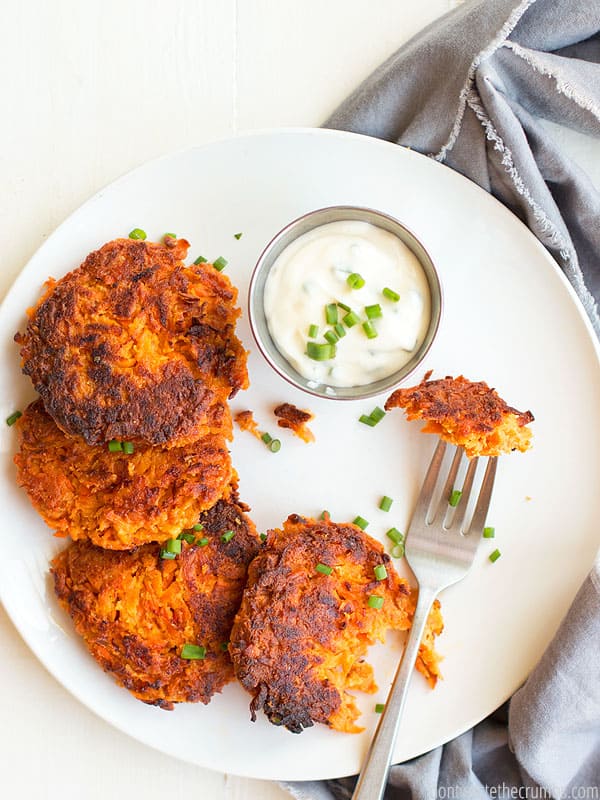 Tools of the trade!
I don't have a fancy food processor, but if I did, it would be this one. I used this classic box grater and it got the job done just fine.
My daughter actually made this entire recipe herself (minus the frying, she's 8), so if your kids can read, this is a great one for them to help you out with!
Carrot and Sweet Potato Fritters
Quick and easy healthy carrot and sweet potato fritters that can be vegan and made without egg. My kids love this recipe, plus it's Whole30 and Paleo.
Author: Tiffany
Prep Time:

10 mins

Cook Time:

6 mins

Total Time:

16 mins

Yield:

1

2

1

x
Category:

Sides

Method:

Stovetop

Cuisine:

American
For the Fritters
2 cups

shredded carrots (about

3

medium-size carrots)

2 cups

shredded sweet potatoes (about

1

large sweet potato)

1

–

2

tsp of salt, to taste

2 tsp

ground ginger

2/3 cup

flour (I used almond flour)

2

eggs, beaten
up to

1/3 cup

coconut oil (for frying)
For the Dipping Sauce
1/4 cup

mayo (I use homemade fail-proof mayo)

1/4 tsp

lemon juice
up to

1/4 tsp

salt
up to

1/4 tsp

garlic powder
up to

1/4 tsp

onion powder

4

green onions, sliced (optional, for garnish and color)
Instructions
For the Fritters
Combine shredded carrots, shredded sweet potatoes and spices in a large bowl. Use your hands to mix well so the spices are evenly distributed.
Add the flour and again, mix well so it's evenly distributed.
Meanwhile, preheat a skillet to medium heat and melt 2-3 Tbsp coconut oil.
Crack the two eggs into a mug and whip using a fork. Add the eggs to the vegetables and use your hands to mix everything together well.
When the skillet is hot (test a drop of water to see if it will sizzle), use slightly less than 1/4 cup of mixture to make a patty in your hands. Make sure the patty is uniform in thickness throughout so it cooks evenly.
Place the patty on the skillet and cook undisturbed for 2-3 minutes, until the bottom is golden brown. Use a pancake flipper to carefully lift the fritter up and flip over. Cook for an additional 2-3 minutes until both sides are evenly cooked.
Repeat with the remaining fritter mixture.
Put cooked fritters on a plate lined with paper towels and serve hot.
For the Dipping Sauce
While the fritters are cooking, combine the mayo, lemon juice, 1/8 tsp salt, 1/8 tsp garlic powder, 1/8 tsp onion powder and green onions (if using) in a small bowl. Stir well so the flavors can combine.
Taste and adjust seasonings as desired when the fritters are done.
How do you keep side dishes from being boring? I'd love to hear your tips in the comments section below!!