How to eat the Whole30 on a Budget. From making a meal plan, choosing recipes & making the grocery list – Learn what makes the Whole30 expensive and how you can avoid it to save money! For more inspiration on how to follow the Whole30 on a budget, here is the perfect Whole30 meal plan!
My husband has been struggling with some health issues lately, and that's one reason why one of my goals for this year was to avoid bleached and enriched all-purpose flour.
We've been doing well on that goal, but a few weeks ago he wanted to "kick it up a notch," so to speak, and really get to the root cause of some of the problems.
For us, this meant embarking on the Whole30.
Anyone who's heard of the Whole30 though, knows that doing the Whole30 on a budget is not easy!
In fact, someone told me recently on Instagram that they were doing the Whole30 too, but were afraid their budget would go up. My response? It most certainly will.
Here's why your budget goes up when you're on the Whole30: you're eating more meat.
It's as simple as that.
Frugal foodies know that one of the best ways to save money is to eat meatless meals more often. Even just one meatless meal a week can make a huge impact on your budget.
When you eliminate grains, sugar and all sorts of trigger foods, you are by default eliminating a lot of less expensive foods that you tend to make when you're eating real food on a budget… oatmeal, homemade muffins, granola bars, quick breads… these are all off-limits.
Even if you choose Whole30 compliant foods, following the protocol means following the spirit of the diet too. This eliminates banana & egg pancakes and anything else that resembles the foods you're used to eating.
So what do you eat then? As much meat, fruits, vegetables, nuts and healthy fats as you want.
There are a few stipulations (like no legumes, which means no peanuts or peanut butter… and no dried fruit), but that's the gist for the purpose of this post.
If you're interested in the Whole30, I highly HIGHLY recommend getting the newly updated book. You can use the internet and find all sorts of resources, but I've found that many "Whole30 approved" recipes really wouldn't be approved if they were put to the test of the authors.
All of this is to say that after eating the Whole30, I've figured out how to eat the Whole30 on a budget. Your budget will still go up, but if you follow these tips, you'll be able to keep it under control while still eating very well!
How to Eat the Whole30 on a Budget
DO: Take inventory of what you already have before you start
I didn't realize it at first, but we already had a lot of food that was Whole30 compliant.
Meats, almond butter, nuts, fruits, vegetables, coconut oil… even that random cup of almond flour.
When you see what you already own that's compliant, there's less things to buy at the store!
DO: Eat what's not allowed before you start
Give yourself a 2-week notice and spend this time reading the book, (again, HIGHLY recommend), learning which foods you can and cannot eat, and then eat the ones you can't.
Make it a point to finish the peanut butter, the yogurt, the milk and the coffee creamer. The food you see in your kitchen is food you've already paid for, so do your best to eat it before it goes bad!
The money you don't spend at the store for the couple weeks BEFORE the Whole30 will free up funds you can use to spend DURING the Whole30.
DON'T: Follow someone else's shopping list
There are TONS of shopping lists out there that tell you what you should and should not have on hand when you start the Whole30. My advice? Ignore them.
I thought I'd need ghee, avocado oil, spices and a few other "must-haves" and as it turns out, I haven't. And I don't think I will either.
I've been using the coconut oil we always use, and it's been working just fine (and it's Whole30 approved). Why spend money on something else that does the same job?
(PS – Ghee does NOT taste like butter. If you think of having a baked potato with ghee on top tastes anything like a baked potato with butter, you're wrong. Don't bother!)
DO: Make your own condiments
Most Whole30 dressings and condiments are based on mayo. Store-bought Whole30-approved mayo runs anywhere from $3.50 to $11 for 16 ounces.
You guys! You can use my fail-proof mayo recipe for fraction of that!! Plus making it yourself means staying out of the stores, and we know THAT saves money too.
The Whole30 book has recipes for ketchup, sauces and dressings. And if you really want to cook with ghee, you can make your own.
Do NOT buy condiments from the store that are Whole30 compliant and right off the bat, you'll save tons of money.
DO: Make your own food staples
This is no different than our "normal" way of eating.
Before you go to the store, look over your shopping list and see if anything can be made from scratch. If it can, in a reasonable amount of time, do it!
DON'T: Put a huge emphasis on organics
Again, it's a quantity thing. You will buy more meat and produce and nuts. If organic is a priority to you, your grocery budget will double, if not triple.
I realize that we all have our own real food priorities (which is why I dedicated a whole lesson to it in my course Grocery Budget Bootcamp), but you're going to have to decide which is more important – your priorities, or the budget.
This might be hard for some people. Neither conventional nor organic foods are all they're cracked up to be, so you do what's best for you. If that means skipping organic for a month because you don't have the money otherwise (like us), then don't feel bad about it.
If you have the funds to maintain the level of food quality you normally enjoy, then go for it!
DO: Aim for affordable proteins
I mentioned earlier that your budget will go up because you're eating more meat, but the key to doing the Whole30 on a budget is to choose affordable proteins.
Eggs are a great option, as is chicken. Be a smart shopper though, because chicken breasts per pound cost more than some beef!
Opt for whole roasts or whole chickens whenever possible, and cut it up yourself.
Canned tuna and canned salmon are good options, but be sure to read the ingredients. Some have soy listed, and that's not allowed on the Whole30.
DO: Eat leftovers
This should go without saying, but ALWAYS ALWAYS ALWAYS eat leftovers.
If they don't sound appetizing, freeze them for later. Add a sauce or mix it into a salad or bake it with eggs or turn it into a stir-fry – whatever you have to do to avoid throwing food away, do it.
DON'T: Use recipes that use uncommon ingredients
I've mentioned avocado oil, ghee and coconut aminos because those are ingredients that most people think of when they hear "Whole30." However, I've never once had to use any of these and we're in week 3.
There are TONS of Whole30 approved recipes that can be made with ordinary, common ingredients. Avoid the recipes that call for things you don't have (and normally wouldn't have either) and you'll do great!
DO: Shop at affordable stores
The first shopping trip I made for our Whole30 was at Sprouts. Sprouts tends to have good deals on produce (which is mostly what I was buying), and "average" prices on pantry items and meat.
I actually chose to go to Sprouts because their coconut aminos was much cheaper than what Kroger listed online… but the price of their meat ate up whatever I would have saved on the coconut aminos (and then some), and I forgot to buy the aminos anyway.
Remember that you're changing the foods you're eating, not where you shop. Continue to shop at affordable stores like Costco, Walmart and ALDI.
No matter where you shop, always read the labels for ingredients. THAT is the biggest factor for your success, not the name printed on the employee's t-shirt.
DO: Master the art of planning
Plan your meals, everyone else's meals, your snacks (if you have kids) and your shopping list. Double check your plans, make a back-up plan and re-check your plans daily.
The key to success on the Whole30 – and your key to Whole30 on a budget – is planning.
If you're new to meal planning, here's a tutorial on how to get started.
DON'T: Buy emergency snacks and bars
The creators of the Whole30 discourage snacking as a whole. While I can see the usefulness of having an approved bar or snack if you're short on time, they're incredibly pricey.
You also wouldn't be in this predicament if you had planned accordingly!
Let the fact that you don't have a back-up plan save you money, and be the fire under your tush that keeps you on top of meal prep!
(Psst – all Whole30 meals are comprised of the same 3 components: protein, fruit/veg, fat. If you're short on time, grab single items that fit these categories and call it a meal. Will it be fancy? No. But you'll save $2 over buying that teeny tiny bar!)
DO: Buy in bulk
As you get to the end of the first week, you'll start to see a pattern emerge. There will be a few things that you tend to rely on in one way or another.
Maybe it's scrambled eggs when dinner burned.
Or it's cashews when no other fat compliments the meal.
Maybe it's grapes because the sweet compliments the savory well in your protein salad.
Or it's potatoes because you just can't wrap your head around the idea of having leftover dinner for breakfast.
Whatever it is, embrace it and buy it in bulk.
DO: Shop sales and clearance and mark-downs
Good shopping habits don't get thrown out the window just because you're on the Whole30 – you're trying to do it on a budget, remember?!
Walk the clearance aisles, check the mark-down meats and watch for sales. Keep the tried-and-true saving methods going and you'll save money on the Whole30.
In fact, one of the ways we're able to do the Whole30 on a budget is BECAUSE of mark-downs. I've slowly accumulated meats in my freezer – one package one week, maybe two the next – and we've been slowly eating that meat. The only meat I've had to buy in the past 3 weeks is bacon (which I shouldn't have – see my next tip) and ground pork for testing my homemade breakfast sausage recipe!
DON'T: Buy bacon
Look. We all love bacon. I'm not saying bacon is bad, rather I'm saying that no-sugar added bacon is EXPENSIVE.
It comes in 10 oz packages (not even a full pound!) and it's close to $8 each.
Guys, if you want to do the Whole30 on a budget, just be resolved to the fact that you're going baconless for a month. Really, you'll be okay. And then when you've completed the reintroduction phase, you can celebrate with bacon!
How to shop for the Whole30 on a budget:
Start by reading this book. It gives you the ins and outs of the Whole30.
Make your own condiments. My homemade mayo is PERFECT for Whole30. If you use an immersion blender, it only takes a couple of minutes to mix up.
Make your own staples. Chicken stock can be made in the Instant Pot or Slow Cooker. You can shred chicken or mix up homemade breakfast sausage in a stand mixer.
Buy affordable proteins. Check the marked down meat at your local store.
Always follow a meal plan. Because of all the time spent in the kitchen, planning and prepping ahead of time is crucial. You can follow my tutorial on meal planning HERE.
Give up the bacon. I know its delicious but compliant bacon is expensive! You'll live for 30 days without it.
I applied ALL of my knowledge on grocery budgeting and saving to make the Whole30 as "on budget" as possible. (Learn about that knowledge in my signature eCourse Grocery Budget Bootcamp). Yet, we still ended up spending much more than our usual budget (Read about our actual numbers HERE.) So just be prepared when you head into the Whole30!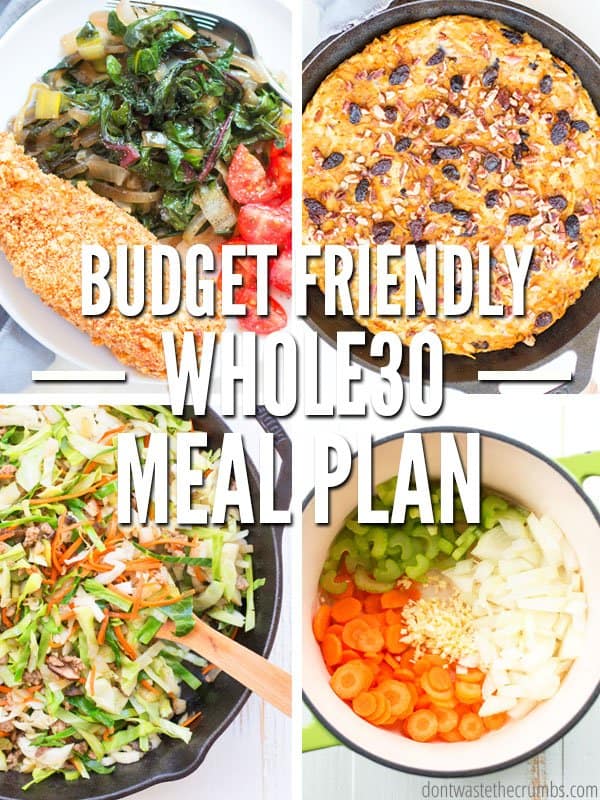 Whole30 Meal Plan
Sign up to get instant access to my
Whole30 Meal Plan,
complete with recipe and a shopping list!!
Have you ever done the Whole30 before? Do you have any tips or suggestions for doing the Whole30 on a budget? Leave your ideas in the comments below!