As much as I love homemade pumpkin spice coffee creamer, pumpkin swirl black bean brownies and pumpkin chili, the temperature is getting chilly and my taste buds are ready to move on.
I'm already making a batch of homemade cinnamon granola every week. It totally hits the spot on that comforting yet healthy food craving.
I'm also making lots of peanut butter chocolate chip muffins. Because… um, hello? PEANUT BUTTER AND CHOCOLATE!
But wait – peanut butter in muffins?
Right. I hesitated too, thinking that was just too weird of a combination and there's no way that would ever taste good, ever.
Guys. I was SO wrong.
These peanut butter chocolate chip muffins are THE BEST thing since sliced bread and you need to make them ASAP.
Surely I don't need to convince you that PEANUT BUTTER and CHOCOLATE are amazing together, do I?
I mean, if you haven't fallen in love with my healthy copycat version of Reese's Peanut Butter Cups, or soft and chewy peanut butter chocolate chip granola bars, or even my no-bake sweet and salty energy bites, you're seriously missing out…
But I won't hold that against you.
Here's your chance to catch up and experience pure bliss in the form of the amazing yet humble muffin… that is GLUTEN FREE and REFINED SUGAR FREE!
Guys. I'm not a gluten-free blogger. My family has been blessed to not have any food allergies or sensitivities so we're able to eat things like New York style pizza crust and big thick slices of man bread.
But not everyone is so fortunate. So I experiment with some all-purpose gluten-free mixes now and then and I've had good success… (both homemade yellow cake mix and mini-chocolate chip scones are AWESOME).
But I also experiment with homemade oat flour on occasion. It's the star of my famous cinnamon oatmeal blender waffles and I use it for half of the flour in zucchini bread muffins.
I've tried it solo in muffins before, but they came out oatmeal-y to me. Like I just took a bunch of oatmeal, flavored it and baked it in a muffin tin.
I don't want that. I don't want muffins that taste like oatmeal. I want muffins that taste like muffins!
And I also want muffins that aren't packed with a bunch of sugar. We officially quit sugar a couple years ago, but it's still a daily decision to figure out how to sweeten with honey or maple syrup instead of taking the easy route and defaulting white granulated sugar.
Now I admit that there's a time and place for granulated sugar.
Some cookies and cakes won't rise properly without it. In those cases, I'm all for choosing a healthier granulated sugar like coconut palm sugar or even raw cane sugar and using a bit less.
If you like online shopping, Thrive Market and Amazon have good prices on less-refined sugar.
But I've learned that you can substitute maple syrup and/or honey for sugar in a lot of muffin-type recipes.
And this one is no exception.
Peanut Butter Chocolate Chip Muffins
Let's talk about all the ways these muffins are amazing, shall we?
Oats
I started with rolled oats, but you can any type of oats you have because they're going to get processed into a fine flour. And it will be the only flour.
Maple Syrup
I'm not a huge fan of the taste of honey in my baked goods, so I used maple syrup in this recipe. You can sub 50/50 with honey to reduce the cost by a few pennies, or sub entirely with honey if you don't mind the honey flavor coming through.
Peanut Butter
You can't have peanut butter chocolate chip muffins without peanut butter!! I used organic creamy peanut butter from Costco which is made with just peanuts and salt (and it's the cheapest no-junk peanut butter in town). I haven't tested it myself, but you can probably use chunky peanut butter if you'd like, or even almond butter or sunbutter if you can't do peanuts.
Greek Yogurt
I usually don't bake with butter substitutes because, HELLO BUTTER, but my first test batch of these muffins used Greek yogurt and they were perfection. And as my husband says, if it ain't broke, don't fix it.
The recipe calls for 6 ounces, which is the size of most individual yogurt cups. HOWEVER, I always buy yogurt in the big 32 ounces containers. (Or make my own.)
I used my kitchen scale to weigh 6 ounce of yogurt, and recommend doing that too. If you don't have a kitchen scale, 6 ounces is about 3/4 cup.
Milk
The batter for these muffins is on the thick side, so we're thinning it out just enough to make the batter pourable. I used whole milk, but again you can substitute with whatever your dietary needs require. Almond milk, cashew milk, rice milk, coconut milk… I'd say yes to them all. (Make your own nut milks with these recipes!)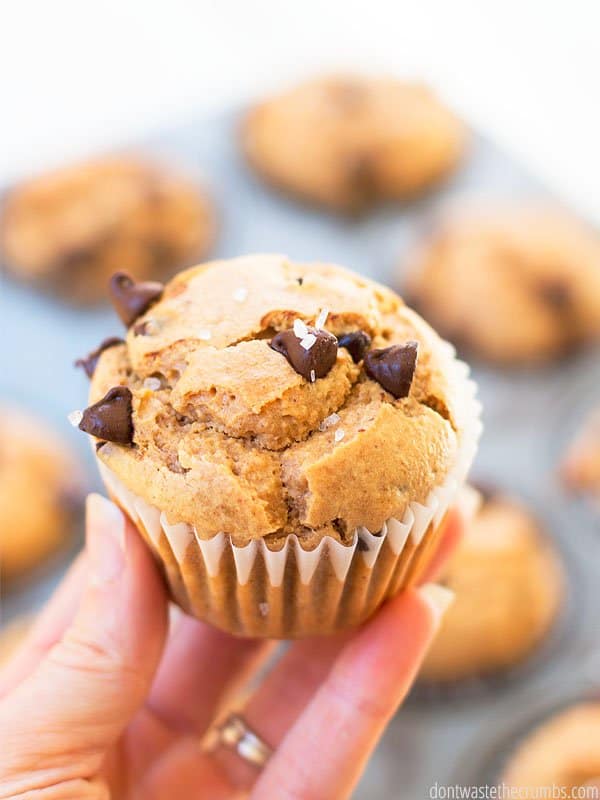 One last word of "how to make these muffins amazing" before you jump in.
Make sure to let the oven preheat COMPLETELY before you start adding wet ingredients to the dry. You need to bake these muffins as soon as they're in the muffin tin, otherwise the oats will start to absorb the moisture and become overly chewy. Which neither of us want.
Follow the recipe exactly as written and you'll be in peanut butter chocolate chip muffin heaven!
MORE HEALTHY AND EASY MUFFIN RECIPES
Peanut Butter Chocolate Chip
Author: Tiffany
Prep Time:

10 mins

Cook Time:

18 mins

Total Time:

28 minutes

Yield:

1

8

1

x
Category:

Breakfast

Method:

Bake

Cuisine:

American
2 cups

rolled oats

1 cup

peanut butter

6 ounces

Greek yogurt

1/2 cup

maple syrup

2

eggs

1 tsp

baking soda

1/8 tsp

cinnamon

1/8 tsp

salt**

1/2 cup

milk

1/2

–

3/4

cup chocolate chips

1 Tbsp

flaked sea salt or Kosher salt (optional)
Instructions
Preheat the oven to 350F. Line two muffin tins with 14-15 muffin liners (I use re-usable silicone baking cups) and set aside.
In a food processor or blender (I used my Blendtec), process the oats until they're a mostly fine powder. A few small pieces are fine. Transfer the oats to a large bowl, or to the bowl of a stand mixer.
When the oven is completely preheated, add the remaining ingredients – except the chocolate chips – to the ground oats. Stir by hand, or turn the mixer on low, until everything is incorporated together. Do not overmix.
Fold in the chocolate chips, taking care not to overmix.
Pour the batter into the prepared muffin tin, filling each cup about 2/3 full.
Bake for 15-18 minutes, or until the tops just turn golden brown.
Sprinkle salt on top of the muffins, if desired.
Notes
** If your peanut butter has added salt, taste before adding any additional salt to the batter.
Keywords: peanut butter chocolate chip muffins
Peanut butter and chocolate – what's the best way you've ever had this combination? I need to see your recipes!