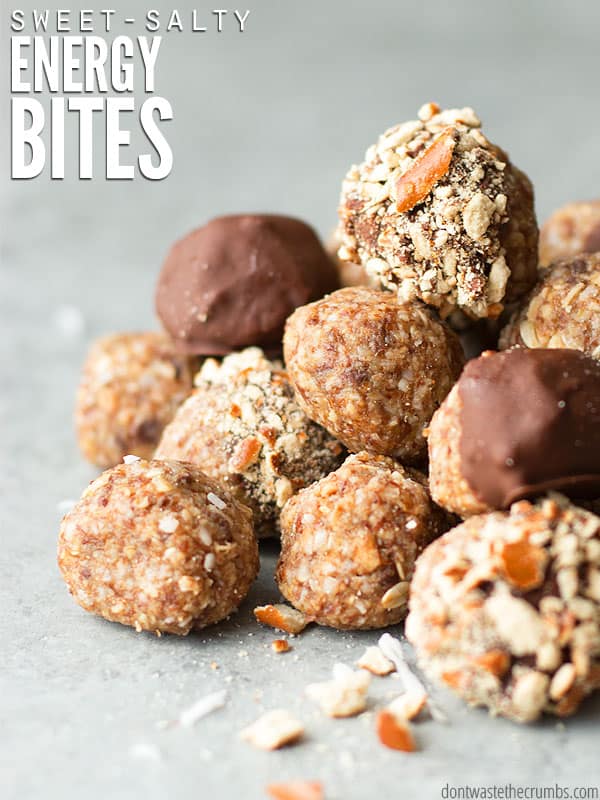 As much as I love peanut butter chocolate chip granola bars, I'm currently in love with something round and mini.
More specifically, something round and mini that tastes like peanut butter and chocolate and pretzels all rolled up together in a cute little ball that can be devoured in two bites.
I like to call them sweet salty energy bites, and oh by the way, did I mention that they're healthy?
Healthy is a given around this space I call a REAL FOOD BLOG, but when you're talking about chocolate and pretzels and even peanut butter, it warrants making the distinction.
You know as well as I do that there are PLENTY of chocolate-y pretzel-y peanut butter-y goodies out there that are NOT healthy, and I don't want anyone reading this thinking we gorge ourselves on said not healthy goodies all day every day (because Sundays are just ONE day and it's the weekend so it doesn't really count anyway, right?)
But these sweet salty energy bites are very healthy. So let's make a bunch and snack on these instead, mkay?
I confess: I didn't reinvent the wheel in creating energy bites. But I did make these the easiest, most addicting yet deliciously healthy energy bites you'll find.
For reasons only known to the inner core of my Type A brain, let's break these ingredients down into two teams. First up, team wet.
Sweet Salty Energy Bites – Team Wet:
Coconut Oil. One of my favorite ingredients of all time thanks to its healthy profile. The fact that it's solid at room temperature is worth noting too, which means these bites stay round and mini even after they've been in a lunch box all day.
Honey. MPV of TEAM SWEET, honey just goes so well with everything else. It also plays a supporting role of energy bite glue.
Peanut Butter. My preferred nut butter since it's what I usually have on hand, but you can easily use any other nut or seed butter. Sweet salt energy bites don't discriminate.
Because energy bites made up of only Team Wet would be kinda… well, wet, meet Team Dry.
Sweet Salty Energy Bites – Team Dry:
Oats. Whatever kind you have will work because we're going to whiz them up in the blender first anyway. (I use a Blendtec like this one.) Nothing like a big and chewy OAT sticking out in your energy bite to ruin the chocolate-y pretzel-y peanut butter-y moment.
Coconut. Start with shredded if only to make your life easier because you are going to whiz these too. Unsweetened coconut is preferred since we're adding honey, but if you only have sweetened in the pantry, go for it.
Flax. An amazing super healthy super food that packs protein, fiber and healthy fat into these tiny balls of goodness (my favorite brand). When your eyes are closed and you're savoring the salty sweet moment of bliss, only to pop your eyes open to wonder how in the world something so good could possibly be so good for you, remember the flax.
Pretzels. Another star MVP here of TEAM SALT! Use whatever you have because (shocker) we're using the blender. Me and my Blendtec are BESTBUDS and anytime I can use it to make cooking (a.k.a. my life) easier, I'm all over it.
Chocolate. Entirely optional here, but it kicks the sweet up a notch and a must-do if you're feeling indulgent. Use mini-chips IN the energy bites themselves or dunk the finished energy bites in chocolate. Either way, it's chocolate. You can't go wrong.
Now here comes the magic. You can either mash it all up in a bowl with a spoon OR use your stand mixer.
I've done it both ways and I personally like to use my stand mixer. It does a better job of mashing everything up together and really gets the dry ingredients coated with the wet. Plus I can turn it on and start cleaning up my mess while it mixes up.
And for one reason or another, the ingredients tend to stay in the bowl when I use the mixer. There is more of Team Dry on the counter when I mix by hand.
User error? Probably.
In either case, I also like to use a cookie scoop because Type A brain likes all the cute round energy bites to be the same size. And because a bunch of different size rounds on a pan isn't quite as cute.
Although they are awfully tasty.
No-bake Sweet Salty Energy Bites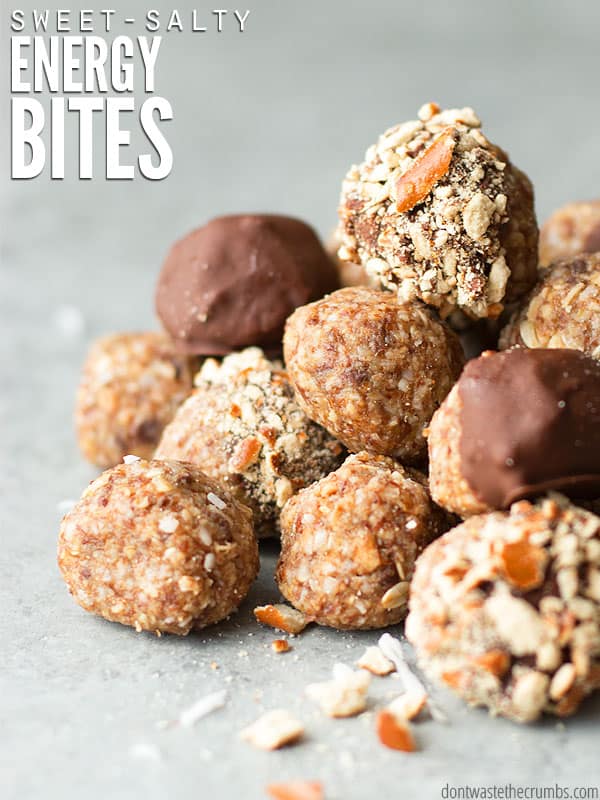 Sweet salty energy bites that satisfy chocolate, pretzel and peanut butter cravings, yet are made with only healthy ingredients. A must-have for snack time.
Author:
Prep Time:

45 mins

Cook Time:

0 mins

Total Time:

45 minutes

Yield:

30

-

35

bites

1

x
Category:

Snacks

Method:

Blender

Cuisine:

American
Scale
Ingredients
¼ cup

coconut oil

¼ cup

honey

½ cup

peanut butter (watch the ingredients)

1 cup

oats

1 cup

shredded coconut

½ cup

milled flaxseed

1 cup

pretzels
Instructions
In a stand mixer (or a bowl), combine the coconut oil, honey and peanut butter until they are well combined and the mixture is smooth.
In a blender (or food processor), measure out 1/2 cup of pretzels. Pulse until they are half crumbly and half small pieces, about 5-6 rounds. You basically don't want large chunks of pretzel, but you don't want teeny tiny crumbs either. Using the markings on the outside of the blender (or a measuring cup), measure out 1/2 cup of crushed pretzels. Repeat this process with more pretzels if you don't quite reach 1/2 cup. Add the pretzels to the bowl with Team Wet.
Without rinsing out the blender, add the oats, shredded coconut and flaxseed. Pulse until the oats and coconut are crumbled together in small pieces, about 5-6 rounds. Pour Team Dry into the stand mixer.
Using the paddle attachment, turn the mixer on low and mix all the ingredients together until they are well combined and sticky.
Using a cookie scoop, scoop out balls onto a cookie sheet. When the cookie sheet is full, pick up each ball with your hands, squish the contents together and shape into a ball. Place the ball back onto the cookie sheet and freeze for 30 minutes.
Store in the fridge or freezer, although the freezer is preferred if you'll be packing these in lunches.
Notes
For an extra indulgent treat (and to make the balls prettier), dip them in chocolate and roll in extra crushed pretzels.
I'm loving the sweet salty energy bite combo right now – what would be your favorite energy bite flavor?
Disclosure:  This post is sponsored by Hodgson Mill. I've been using Hodgson Mill products in my kitchen for a long time now, and long before this blog was born. As always, I would never recommend anything on Crumbs that I wouldn't recommend to a close friend or neighbor, and all opinions here are my own.