It's been one full week since my kids started school and oh.my.goodness.
No amount of training or mental preparation could prepare me for the mother of all wrenches in your real food plans – a.k.a. packing school lunch.
I mean, I THOUGHT I was prepared. I knew it would take work, some planning and a few cursory talks with the kids to make sure we were all on the same page… but in all seriousness, reading copious amounts of blog posts could NEVER have prepared me for what this past week entailed.
I think this is the case for most parents though as they go through their freshman week of packing school lunch. I've heard the rumors and whispers about school lunch being evil, about it being so hard and the parents' tried-and-true short cuts for making it easier.
But really, it's a lot like having kids in the first place.
No amount of baby sitting for the neighbors or watching your cute nieces or nephews can really prepare you for having your own kids. You know how a mom says brushing her teeth before dinner is a luxury? Or that she's pretty sure she'll never go to the bathroom alone ever again?
She's totally serious.
Packing school lunch or "lunches" are a lot like that. When a mom says she doesn't know if her kids will actually eat what she packed, struggles to find time to pack lunches in the first place and is unsure if other kids will label her kids as "weird" because they're eating raw vegetables…
Well, she's totally serious.
So here's my consolation to all you fellow parents who are deep in the trenches of packing school lunch: I'm right there with you.
I don't know everything there is to know about packing a school lunch, but this past week has been a crash course for me that I would have never learned if I hadn't experienced it first hand.
Despite this – and the fact that like having kids, you won't fully understand the spectrum until you've done it yourself – I've compiled my lessons here for you so you can at least make a feeble attempt to bypass the unnecessary hardship that comes your way.
Because you gotta admit, you're going to try to prepare yourself anyway. I don't blame you – I know I would!
So then let's do just that – let's get you ready as you'll ever be to pack school lunches with these 18 hacks that I've learned.
Oh yeah, buckle up and hold on tight, it's a bumpy ride!
18 Fast Breakfast Ideas (hacks) for Packing School Lunch
(1) Pack school lunches as you clean up after dinner.
You're packing up leftovers anyway, right? Right. No sense in doing it in the morning… while making breakfast AND brushing teeth AND getting them dressed AND finding shoes… catch my drift?
(2) Offer the kids a menu to choose from.
My kids are learning to pack their own school lunches this year, but having a menu limits the million "What about this?" questions they tend to ask. Write it out on Sunday and stick it on the fridge where they can see it.
(3) Make "homemade lunchables" an option on the menu.
Homemade lunchables is the fancy way to say "whatever we happen to have in the kitchen." This post is a great tutorial plus has ideas for what to pack.
(4) Always have something in the freezer.
You know, just in case you suddenly have no leftovers, no bread and no creativity. (Speaking of, there's Minestrone Soup and Spaghetti O's in my freezer.)
(5) Pre-portion before freezing.
Freezing soup in a gallon bag does you no good for a school lunch. Use silicone muffin liners to freeze smaller portions and once the meal is frozen, remove them to a freezer-safe bag so it's easy to pull out just what you need.
(6) Bake en masse.
Dedicate one hour each week to prepping school lunches if you can (this plan and guide is a great tool!), otherwise always make extras of whatever you're cooking for lunches. This is the best way to have plenty of options for lunch and not be left empty-handed.
(7) Everything comes home.
EVERYTHING, including the trash. This lets you see what the kids are (or aren't) eating, lets you gauge how much to serve/pack and reduces the likelihood of them throwing away their storage containers… which means you can use REAL silverware instead of plastic.
(8) Preheat the thermos.
Keep lunches hot by preheating the thermos (this 10 oz thermos is on my wish list). Fill an empty thermos with boiling water, close it up and let it sit while you warm the meal. Empty the thermos (into the plants!) and then fill the thermos with the meal. Seal it and it'll still be warm come lunchtime!
(9) Get hot meals HOT!
When you're warming meals to pack, don't get it warm – get it HOT! Remember that the kids will be eating it 4-5 hours later, plenty of time for it to cool off. Super hot lunch + preheated thermos = delicious hot lunch.
(10) If it's served cold, consider freezing it.
Think water, yogurt and smoothies. It'll thaw by lunch and double as an ice pack!
Tip: If you don't have a reusable pouch for smoothies, freeze smoothies in an ice cube tray. Pull out 3-4 and place in a stainless steel (leak-proof!) container and pack a spoon for a creamy slushy for dessert. Another option is to freeze yogurt in these re-sealable popsicle molds!
(11) Pack an after school snack bin.
So it's not quite school lunch, but close enough. After school snacks are vital, but you don't want to ruin dinner. Fill a bin with healthy after school snacks and let the kids pick freely from it when they get home.
(12) Pre-cut as much as you can.
School lunches are short and kids eat slow. Help them out by peeling oranges and dividing the segments, slicing apples and cutting sandwiches in half. Basically, make the food easy to eat fast so they spend as much time as they can eating, not getting ready to eat.
(13) Have the right equipment.
If at all possible, have enough containers to cover two day's worth of lunches, per kid. You don't have to do this necessarily for water bottles, but for small snack containers, leak-proof containers for meals, re-usable snack baggies and thermos's – it's best (and WAY easier) to have enough for two lunches worth. That way you don't have to wait on the kids to bring home the only containers you have… that is, if they bring them home and don't accidentally throw them away (see tip #7 above).
Plus it means you can pack ahead of time too. If you're packing one lunch, might as well pack 3!
Tip: Make sure the containers fit in the lunch box BEFORE you start filling them up!
(14) Use a contact lens case, or mini-make up cases, for condiments.
We get contact lens cases with our solution, so those are free, but consider these cute cases for single serve condiments (since you bought a bunch for homemade tinted moisturizer anyway, right?). Because every kid likes to dip.
(15) Store all the "lunch stuff" together, and in the same place.
Keeping it all together means seeing what's available, and what's not. That way you're not putting the small snack stuff in the big containers, and then running out of big containers for the big stuff.
(16) Create a routine to empty out the lunch boxes.
Whether it's after dinner just before packing tomorrow's lunch (see tip #1) or as soon as the kids get home from school, come up with a system that works consistently and use it.
(17) Make real food versions of processed favorites.
Other kids might pack canned spaghetti o's, so you pack homemade spaghetti o's. You don't have to pack junk, but at least their lunches won't look too abnormal. Here's some of our favorite re-makes:
(18) Do something with the leftovers!
I unpack the lunchboxes as the kids are getting out their homework. This allows me to a) evaluate what they ate/didn't eat/liked/didn't like and b) offer them whatever is left as a snack.
No matter if your routine is different, the goal is the same – come up with something to do with what's leftover so you're not wasting food. That's VITAL to saving up to 40% on groceries, and school lunches are no different. Produce goes into a smoothie, dried nuts/fruit become a trail mix later in the week… you catch my drift.
Get more frugal, affordable and awesome back to school ideas or check out "The Healthy Lunchbox" – it's one of the best eBooks I've read on healthy lunches, including back to school!
These hacks are great but…
…I need more help!
Here is a FREE two week school lunch menu! Use the hacks to spend your time wisely and use this menu to know what to pack. It feeds two kids real food for two weeks. And it's budget friendly!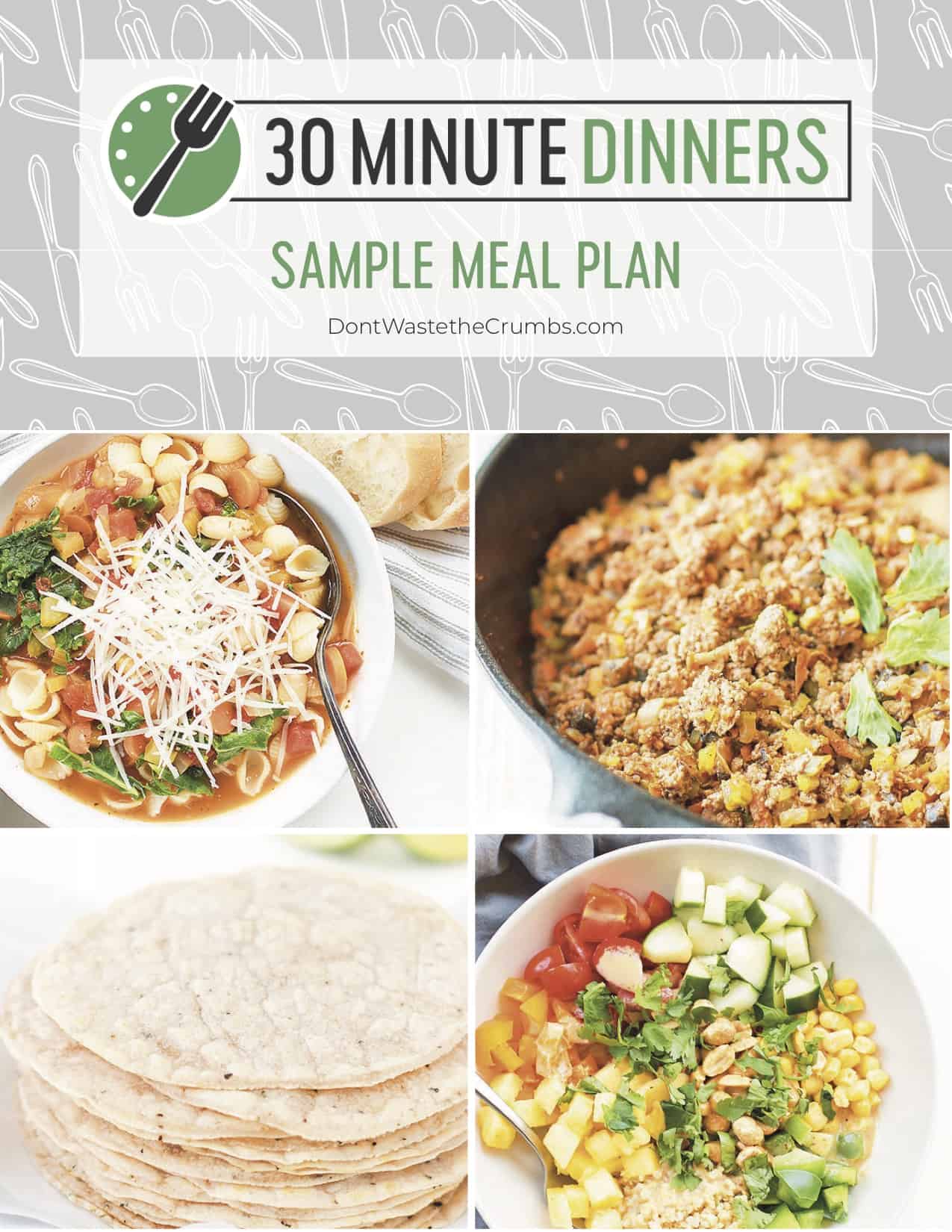 30 Minute Dinners Sample Meal Plan
Sign up to get instant access to my
30 Minute Dinners Sample Meal Plan
, complete with recipes and step-by-step instructions!
Hit me up with your school lunch tips readers because I need all the help I can get!!