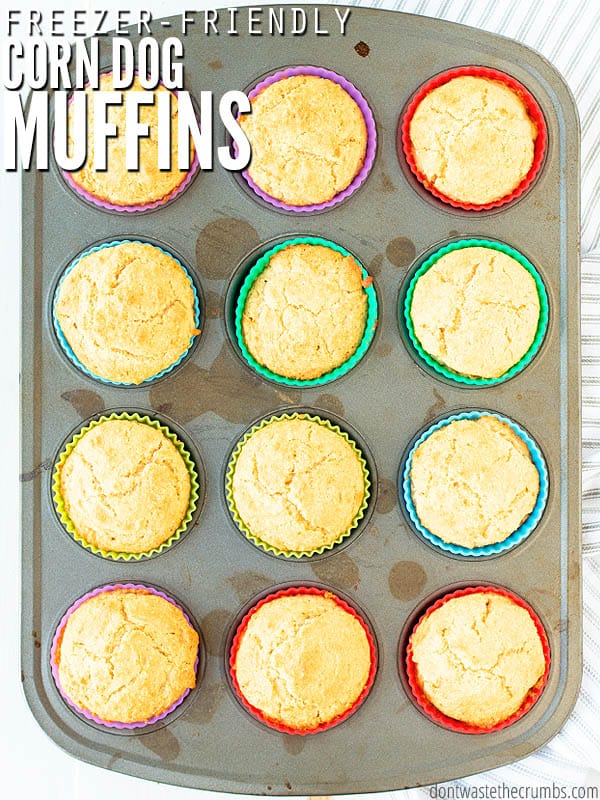 Everything You Need to Know About
In order to help make my life as mom, head chef and home manager a bit easier, I've been more intentional lately to cook things SPECIFICALLY for the freezer.
It's nice having a few batches of cinnamon oatmeal blender waffles in the freezer so the kids can simply reheat and serve themselves in the morning.
And it's nice having a batch of peanut butter oatmeal cookies, already baked in the freezer – to pull out when we want a little bit of sweet after dinner.
And it's REALLY nice when I can pack school lunches entirely from the freezer – these corn dog muffins are one way that's possible!
Now, I know what you're thinking.
Tiff, corn dog muffins don't sound healthy at all! Why in the world would you want to feed that to your kids if you're eating real food?
My friend, here's the thing. STORE-BOUGHT corn dogs contain the stuff that gives me the heebie jeebies. But HOMEMADE corn dogs? Oh no. We have nothing but real food ingredients going on here!
Homemade Corn Dog Muffin Recipe
Let's break down just exactly what our homemade corn dog muffins contain:
Hot Dogs
This is the elephant in the room, isn't it? A lot of people don't view hot dogs as real food. In fact, I have a very good friend who watched a documentary on how hot dogs were made and she's sworn to never eat hot dogs again!
I, on the other hand, haven't seen the documentary and am perfectly content living in dark because of one thing: the 80/20 rule.
The 80/20 rule basically says that 80% of what you eat should be healthy and the other 20% can be less than stellar.
In practice though, we eat closer to 95/5 in my house, especially since completing the Whole30 as a family.
(By the way, if you're thinking about doing a Whole30, I say go for it!! Here's a budget-friendly Whole30 meal plan, here's how we did the Whole30 with kids and here's how much the Whole30 actually cost!)
We've made significant strides in cleaning up what we eat over the years, so it's hard to even say that the last 5% of our diet is unhealthy.
You COULD put hot dogs in that last 5%, but I'm intentional about buying nitrate-free meats as a whole and the Applegate grass-fed beef hot dogs I used have a cleaner list of ingredients than the pepperoni we used to eat on a weekly basis. Here's what they contain:
Grass-fed Beef, Water. Contains Less Than 2% Of The Following: Sea Salt, Paprika, Dehydrated Onion, Spices, Nutmeg Oil, Celery Powder.
Considering these are ingredients I already have in my own kitchen, I'm pretty much okay with buying a pack every now and then!
(By the way, if you're aiming for 80/20 but can't afford more expensive hot dogs, don't feel bad about it. Our goal shouldn't be to be a box checker; rather we should consistently try to do the best we can with what we have. ♥)
Cornbread
I wish that that lovely coating surrounding hot dogs was fancier than cornbread, but it's not!
I absolutely LOVE my cast iron skillet cornbread recipe, but the batter I used for these cornbread muffins is slightly different. My skillet cornbread recipe is designed to be super moist and light in its own right, but  I wanted a batter that would rise a bit more for these muffins.
The differences are minimal, and I'm 90% sure you could easily substitute whatever cornbread recipe you're currently crushing on instead of mine, but I wanted to go with a tried-and-true version to offer you guys.
Quite possibly the best part about these corn dog muffins is that they're freezer-friendly!
I've made these several times, exclusively for the freezer, and the kids love them just the same. I pull a couple out of a freezer-safe container when I make lunches in the morning and they're thawed in time for lunch.
Or if you're REALLY on top of your game, you can pack lunches the night before. (One of my school lunch hacks!)
A few last tips before you jump in…
Be sure to not over mix the batter. Over-mixing will give you a muffin that doesn't rise well and tastes dense.
I cut each hot dog into 8 pieces and then put 3 pieces in each muffin cup. I did this so that each bite would give a chunk of hot dog. You don't have to go through the trouble if you don't want to. The recipe as a whole makes 16 corn dog muffins, so you can short cut and just cut each hot dog in half (although they might stick out a bit at the top!).
Corn dogs are traditionally served with ketchup or mustard, but don't forget that they're CORNBREAD… meaning a slather of butter isn't off limits either.
These can be made gluten-free by substituting your favorite all-purpose GF flour for the all-purpose flour.
If you're vegan, sub your choice of no-meat hot dogs, a non-dairy milk and melted coconut oil.
For an extra fun treat, consider adding 1/4 cup shredded cheddar cheese right into the batter before baking!
Corn Dog Muffins
Healthy and easy corn dog muffins recipe that can be vegan, gluten free and made without buttermilk. Better than Jiffy, and you can make them with cheese!
Author: Tiffany
Prep Time:

5 mins

Cook Time:

15 mins

Total Time:

20 mins

Yield:

16

1

x
Category:

Breads

Method:

Oven

Cuisine:

American
1 Tbsp

apple cider vinegar
scant

1 cup

milk

1/2 cup

butter, melted

2 Tbsp

honey (optional)

2

eggs

1 cup

cornmeal

1 cup

flour (I used all-purpose)

1/2 tsp

salt

1/2 tsp

baking soda

1 Tbsp

baking powder

4

–

5

hotdogs
Preheat the oven to 375F and line a muffin tin with 16 muffin liners. I really like these silicone muffin cups because they're reusable, easy to wash and the corn dog muffins just pop right out of them!
Measure the apple cider vinegar into a glass measuring cup. Add milk until you reach the 1 cup line. Stir well and let it sit for about 5-7 minutes while you continue working on the recipe.
In a large mixing bowl, combine the melted butter, honey (optional) and eggs. Whisk well.
In a small bowl, combine all the dry ingredients and whisk together. Set aside.
Cut your hot dogs into small pieces. I like to cut each hot dog into 8 pieces and then put 3 pieces into each muffin tin. Feel free to simply halve each hot dog if you'd like, but the hot dog might stick out from the top!
When the oven is preheated, add the dry ingredients to the wet ingredients. Immediately add the milk mixture and stir together until JUST combined.
Divide evenly between the 16 muffin cups and bake until the tops are just golden brown about 15-17 minutes. Cool completely before storing in the freezer.
Homemade Corndog Muffins are amazing!
How do you feel about hot dogs… love them? Or hate them? And do you generally follow the 80/20 rule? Leave your thoughts and ideas in the comments section below!