A friend once asked me, "Can you freeze yogurt?" Whether it's Greek yogurt, plain yogurt, or yogurt cups, freezing yogurt is a great way to save money and time. Plus we'll talk about texture changes and how to use the yogurt once it's frozen in the freezer.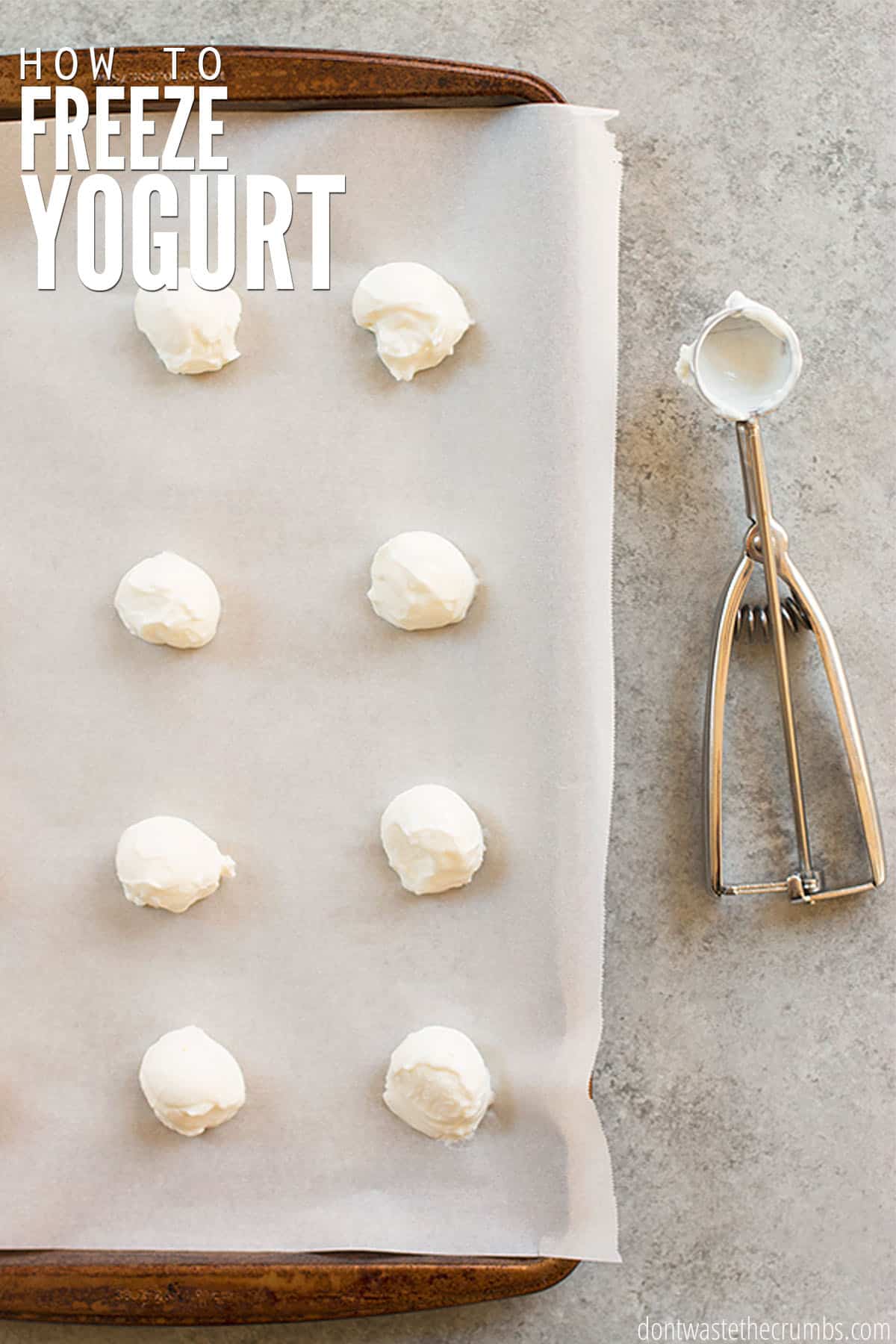 One of the best ways to save on groceries is to keep track of grocery prices in your area. When something hits its "rock bottom price," buy extras.
This concept works great for pantry staples and frozen foods, but what about perishable items like fruit, vegetables, and yogurt?
Or what if you bought yogurt for the meal plan, and ended up not using it?
Good news – you can freeze yogurt! Let me show you how easy it is to take advantage of those rock-bottom prices and save money on real foods.
Can you freeze yogurt?
Obviously, the answer is yes, but there are a couple of things to consider before you buy all the tubs and stick them in your freezer.
You can freeze Greek yogurt, plain yogurt, fat-free yogurt, organic yogurt, yogurt cups, squeeze tubes of yogurt… even plain or flavored or swirled with fruit – you can absolutely freeze all types of yogurt.
If you find a great deal on whole milk, you can stock up, make homemade yogurt or Greek-style yogurt, and freeze that too!
Yogurt can be frozen for up to two months. Technically, it's safe to eat for quite a while after that, but freezer burn can set in and the texture and taste can really decline after the two-month mark. If you plan on eating the yogurt with a spoon, aim to consume your yogurt within 30 days.
Read on for how to freeze yogurt, the best way to thaw yogurt, and how to use yogurt after it was frozen.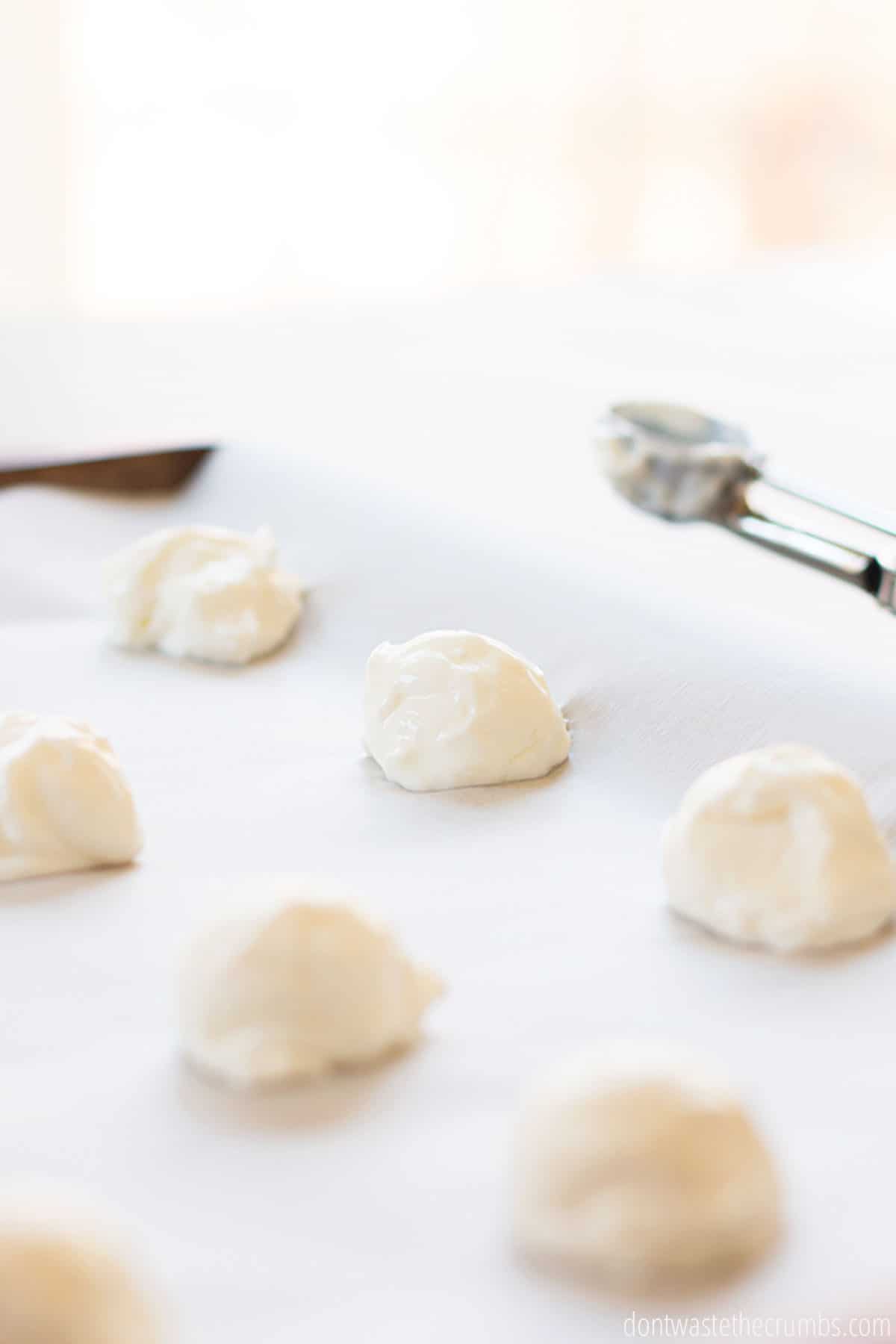 Before You Freeze Yogurt
The texture of yogurt after it has been frozen and thawed will be different than a freshly opened tub of yogurt. After thawing, frozen yogurt will be less smooth and a bit grainier. This is less noticeable when you freeze it in smaller portions. It can be lessened even more if you stir the yogurt before you freeze it.
If you plan on using the yogurt to make smoothies or for baking, there's no need to stir it before you freeze. However, I'd recommend freezing in portions that you would typically use in smoothies or baked foods (i.e. ¼ cup or ½ cup).
Five Ways to Freeze Yogurt
There are several ways to freeze yogurt. You'll want to choose a method that lines up with how you'll eat the yogurt after it's thawed.
In Its Original Package
All types of yogurt can go straight from your grocery bag to the freezer without having to do any additional work. However, freezing a Costco-sized tub of yogurt takes up a lot of freezer space and it's not ideal for pulling out single servings.
This method works best with plain, small, single-size yogurts.
Remember that yogurt will expand as it freezes. I suggest putting individual containers of yogurt in a freezer bag, just in case a seal breaks.
In a Re-usable Container
This method is best for dividing bulk portions of yogurt into smaller freezer-safe and airtight containers (like this 12-pack from Amazon). You can portion out exactly how much you want. Make sure to leave a little room for the yogurt to expand as it freezes.
This method is also best for "fruit at the bottom" yogurts, or when the fruit is layered into the yogurt. Stirring the yogurt to distribute the fruit before freezing means the yogurt will freeze evenly and the flavors will be evenly distributed when the yogurt is thawed.
In an Ice Cube Tray
Freezing yogurt in ice cube trays is a great option if you plan on making smoothies with your yogurt cubes. Simply scoop the yogurt into each cup in the ice cube tray and gently tap the tray to remove any air bubbles. Settle the yogurt so it freezes evenly. (You can also use this silicone mold that comes with a lid.)
Place the ice cube tray in the freezer for several hours until the yogurt is solid. Remove the frozen yogurt from the tray and transfer to a freezer-safe container.
In Reusable Silicone Sleeves or Single-Use Plastic Tubes
This method is excellent if your family likes Go-Gurts, as it's a treat with a lot less sugar and additives than the store-bought version. You can purchase a set of reusable silicone sleeves (like this set where the lid is attached to the tube). Then fill them with yogurt (leaving just a smidge of room for expansion), and freeze them for a fun snack later on.
If your kids are particular about containers, these single-use plastic tubes are see-through and it also includes a funnel.
In Scoops
This is my preferred method to freeze yogurt. I tend to buy bigger tubs of Greek yogurt. It doesn't require any tools or gadgets that I don't already have.
Line a baking sheet with parchment paper. Then using an ice cream scoop (like this set that has a trigger to release the scoop), portion the yogurt onto the parchment paper leaving an inch or two between each scoop. Freeze the yogurt for 6-8 hours and then remove them to a freezer container for longer storage.
You can even use a particular measuring cup – say a ¼ cup – so you know precisely how much yogurt is in each portion. Label your freezer container with this measurement, and you'll save time later if you bake with the yogurt because it'll be one less thing to measure.
How to Thaw Frozen Yogurt
The best method to thaw yogurt from the freezer is to put it in a shallow bowl, in the refrigerator the night before you plan to use it. The bowl will collect any moisture as the yogurt thaws, and the fridge will keep the yogurt cool. Thawing at room temperature is not advised.
Freezing Yogurt vs. Frozen Yogurt vs. Freeze-dried Yogurt
Although these might sound interchangeable, freezing yogurt is not the same as frozen yogurt or freeze-dried yogurt.
Frozen yogurt is a dessert similar to ice cream. Except its main ingredient is yogurt in place of milk and/or cream.
Freeze-dried yogurt is when all the moisture has been removed from the yogurt. Think the yogurt melts you see toddlers eating with their hands.
Freezing yogurt is the method we've talked about in this post.
FAQs About Yogurt
How long does yogurt last in the freezer?
Regardless of which method you choose to freeze yogurt – in its own container, a new reusable container, an ice cube tray, in single-serving sleeves, or in scoops – you can keep yogurt in the freezer for up to two months.
You can also freeze yogurt that's past its expiration date, but be sure to consume it immediately after thawing.
If your plan is to eat the yogurt with a spoon, aim for no more than 30 days in the freezer.
Can you freeze Greek yogurt?
We've tested the methods above with both regular and Greek yogurt, and they all work great. I thought Greek yogurt froze better than regular yogurt because it's thicker and contains less liquid.
What happens when you freeze yogurt?
Yogurt is a dairy product, and like most dairy products, the solids will separate a bit after thawing. Yogurt may also taste a bit more tart after it's been frozen.
Thawed yogurt can also have a grainy or watery texture once it's thawed. You can avoid some of this by stirring the yogurt before you freeze it, freezing it in smaller batches, and choosing to freeze Greek yogurt instead of regular yogurt.
Even if the creamy texture is different, it's fine to eat yogurt after freezing and thawing. If you aren't a fan of the texture, just use it in baking recipes or in a smoothie!
Does freezing yogurt destroy healthy live bacteria and probiotics?
No, the health benefits of good bacteria in yogurt are not destroyed in the freezing process. They are, however, destroyed when yogurt is heated.
Ways to Use Frozen Yogurt
If I'm not eating the yogurt by the spoon, smoothies and baked goods are my go-to for using yogurt after freezing. Chocolate Peanut Butter Smoothie and Simple Green Smoothies are family favorites and neither require the yogurt to be thawed beforehand. Just pop the yogurt ice cubes into the blender and hit blend.
Baked recipes don't need the texture of yogurt to be perfect, so they're perfect for using frozen yogurt. Applesauce Muffins and Leftover Oatmeal Chocolate Cake are two of our family favorites. Pancakes and Peanut Butter Chocolate Chip Muffins are also good options. Just a quick stir before using the yogurt and you're good to go.
I love using thawed yogurt in main dishes, like the sauce in Chicken and Spinach Enchiladas, or the base of Slow Cooker Beef Stroganoff.
Thawed yogurt can also be used in salad dressings, side dishes, and marinades. It can also be stirred and re-frozen into yogurt popsicles!
More Freezing Tutorials
Watch How to Freeze Yogurt
Freezer Cooking: Breakfasts
Sign up to get instant access to my
Freezer Cooking: Breakfasts Plan
, complete with recipes, supply list, and shopping list!