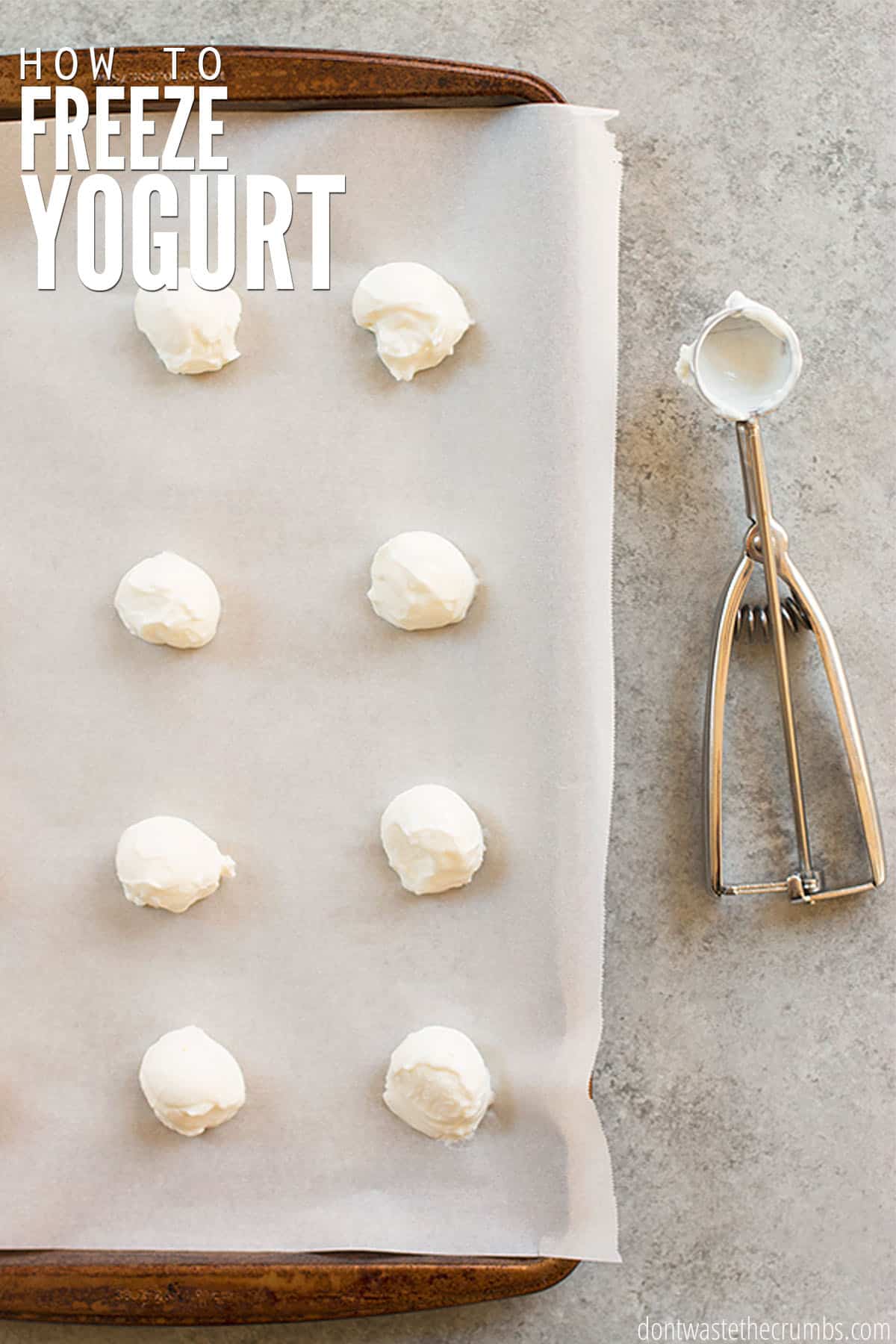 Have you ever heard of freezer cooking? It's basically like cooking dinner, except for COOKING it, you FREEZE it. Then whenever you need dinner in a flash, you pull something from the freezer and stick it in the oven.
Until the past year or so, I've always had a small freezer. That meant freezing full meals like chicken and spinach enchiladas would be out of the question.
However, it worked in my favor in that I've mastered the art of freezing meal COMPONENTS.
Last year I brought shock and awe to many readers when I shared how to freeze tomato paste. Today, I'm showing you how to freeze yogurt!
When we lived in California, I used to make my own yogurt (including homemade Greek yogurt!). Milk was expensive and when I did the math, making it from scratch saved me money.
Now that we live in Georgia though, milk is cheap enough that it doesn't benefit me to make our own yogurt. Instead, I watch for sales on the brands I like most, and stock up until the next sale.
The last time I went shopping though, my yogurt wasn't on sale. It didn't matter though, because another brand I like was on CLEARANCE!
I bought 5 quarts, brought it home, and immediately started making a plan. I definitely saved money by buying yogurt on clearance, but it would have been a waste if I didn't come up with a way to use it up!
I drink a green maca smoothie during the week for breakfast, and I use yogurt in my homemade Caesar dressing.
My kids and husband will occasionally have yogurt and granola (we're digging this cinnamon granola right now), but all of this combined still isn't enough to eat all the yogurt before it goes bad.
So I turned to my favorite preservation method – freezing!
Anytime you freeze something, you have to consider how the texture might change after the fact. This then, determines how you freeze it in the first place.
For example, cheese. You can freeze cheese, but it crumbles when you take it out to thaw. This makes shredding a frozen block of cheese nearly impossible.
For this reason, it's best to shred the cheese FIRST, and then freeze it in smaller portions. Plus, this helps to stretch your cheese by using only what you need.
What about freezing yogurt?
According to this article, when frozen yogurt is thawed, it can separate and become grainy and watery. Yogurt contains live bacteria and sometimes tastes a bit acidic already (that's the tart flavor you taste), but the freezing process can enhance that flavor.
How to Use Frozen Yogurt in Cooking and Baking
Previously frozen yogurt is still excellent in baking and in anything where you don't need the original yogurt texture.
So my peanut butter chocolate chip muffins would a safe bet, as would the sauce in my chicken and spinach enchiladas, any smoothie recipe (including all of them from my smoothie eBook) or even in most salad dressings.
However, if you need yogurt in an uncooked recipe, like a smooth sauce or even if you want to eat it plain, it would be best to use fresh yogurt.
How to Freeze Yogurt
Freezing yogurt is actually really, really easy! It feels kind of silly to write an actual tutorial, but I know some of you will find it helpful. Especially since you may not have ever considered freezing yogurt in the first place!
Before you jump in though, I want to make a public service announcement about a tool that I recommend: a cookie scoop.
I have and ADORE my cookie scoop for so many reasons… like my Italian meatballs, sweet & salty energy bites, for freezing tomato paste and yes, even for my cookies. Using a cookie scoop means every ball is the exact same uniform size. More importantly, when you freeze yogurt, it means knowing exactly how much yogurt you froze.
For example – if you are using a 1 ounce cookie scoop (that's the same as 2 tablespoons), then you know that every single one of your balls is exactly 1 ounce. If you use a spoon, there's really no telling what size your balls are… which may be fine if you're making a smoothie. But it's definitely not fine if you need a certain amount of yogurt for a recipe.
So with that said, sign up for Swagbucks (it's free) and start earning gift cards to Amazon so you can treat yourself to a cookie scoop without spending any money out of pocket!
How to Freeze Yogurt: Supplies
How to Freeze Yogurt: Method
Line a cookie sheet with parchment paper.
Use a cookie scoop to portion yogurt onto the parchment paper. Leave about ½" to 1" of space between each scoop.
Place in the freezer for at least a couple hours, but overnight is best.
When they are frozen through, remove frozen yogurt balls to a freezer-safe storage container and freeze. Yogurt can be frozen for up to 3 months.
Watch How to Freeze Yogurt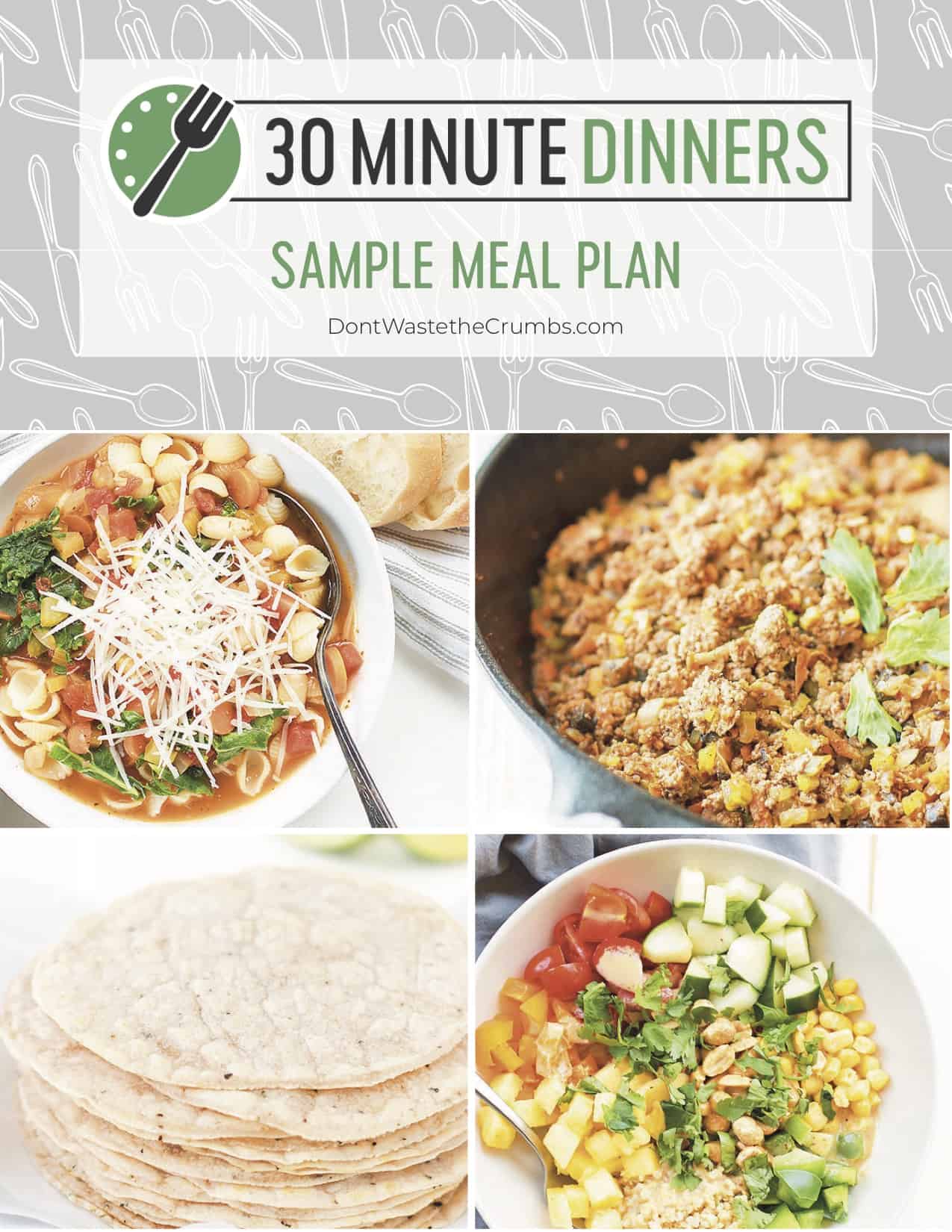 30 Minute Dinners Sample Meal Plan
Sign up to get instant access to my 30 Minute Dinners Sample Meal Plan, complete with recipes and step-by-step instructions!