Whether you're short on time, or you've made extra dough, freezing pizza dough is the BEST way to have a fresh and delicious pizza – thawed, baked, and ready for whenever you need it – in about an hour!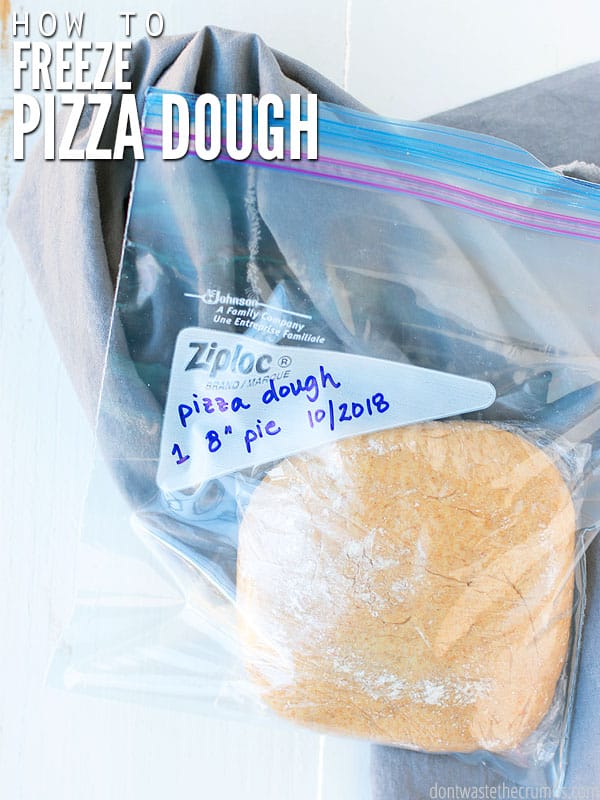 It's SUPER helpful to have a small stash of prepared foods on hand in the freezer that you can whip out in a moment's notice. You might ask, "Can you freeze pizza dough?" The answer is yes!
Freezing pizza dough is perfect because:
You can quickly and easily include your own healthy pizza into your monthly meal planning.
It's a fun and cheaper-than-delivery pizza the whole family will like, in under an hour!
It's great to have on hand for last minute company or parties & etc.
You can always make extra batches of dough and have them on hand for whenever you need them!
Freeze various types of pizza dough like my Overnight Einkorn Pizza Dough and my Homemade Pizza Dough.
Step By Step Instructions
Step 1. Get a batch (or two!) of homemade pizza dough going.
Here are my two recipes for pizza dough that I know freeze well.
I mention making more than one batch because it's really no more work to make a double or triple batch of dough than it is to make one. Plus, you get THAT MANY MORE dinners out of your work later!
Note: If you have a fresh grocery store pizza dough that you like to use, you can also follow these steps for freezing.
Step 2. Prepare the pizza dough through the first rise.
This is important! Most pizza dough recipes using yeast call for one rise, even if it's a short one (10-30 minutes).
The first rise is what allows the dough to come together into actual dough rather than ingredients you tossed into a mixer. Plus the yeast feeds on the sugar and starches and grows, which is what will give you the rise when the dough actually bakes.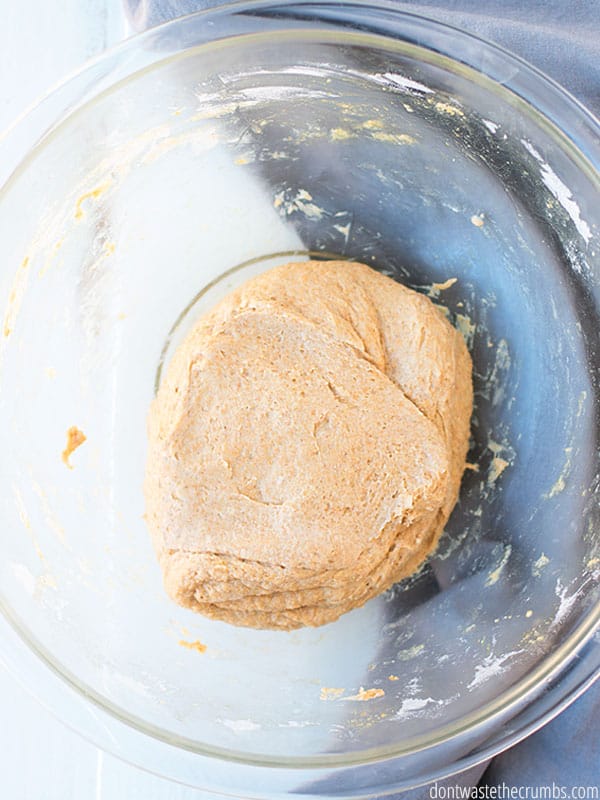 Step 3. Shape the pizza dough (optional).
Once the dough has finished the first rise, pound out any air bubbles, fold the dough over itself a few times (5-10 times is usually enough) and shape it into a round disc.
Why a disc and not balls of dough? Because this will allow the dough to thaw faster later on!
If your shaping skills are rusty and your round disc turns into a triangle or rectangle, or any other non-round shape, that's totally fine.
The goal is for the dough to be roughly 1" thick, regardless of the diameter. Since you're storing this pizza dough in the freezer, make sure that however wide your disc is, it actually fits in the freezer (just in case your freezer is narrow).
Note: If you are short on time, you can skip the shaping step and go straight to Step 4 and freeze.
Step 4. Double wrap the pizza dough.
In freezer cooking, your worst enemy is freezer burn. Freezer burn doesn't change the nutritional value of your food, but it dries it out and can alter the taste (in an unpleasant way).
You can prevent freezer burn by wrapping the pizza dough well, TWICE.
Your first wrap should be done with plastic wrap. Plastic wrap makes a great seal against the dough.
Here's how I wrap my pizza dough:
Unroll a large piece of plastic wrap and place your disc near one end. As you work through these steps, make sure you've removed as much air as possible and covered the surface of the pizza dough with plastic wrap. The goal is to leave no surface exposed to an air pocket, whatsoever.
Pull the end of the plastic wrap over the disc, and then flip the entire disc over (so that both the top and bottom of the disc are now covered with plastic wrap.
Pull the sides of the plastic wrap over the disc, like you would fold the sleeves of a t-shirt inward towards the middle.
At this point, no portion of the dough should be exposed to air.
Flip the disc end over end until you've used up the rest of the plastic wrap.
Your second wrap can be done with a freezer-safe bag, container, or aluminum foil.
Notes on wrapping the dough:
I re-use freezer-safe bags over and over again for things like peanut butter chocolate chip muffins and oat flour peanut butter cookies and corn dog muffins and cinnamon blender waffles… basically anything that isn't messy other than leaving behind a few crumbs.
You can usually fit two discs inside a quart size freezer bag, and four discs inside a gallon freezer bag.
Step 5. Label and freeze the pizza dough.
This is SUPER important – always label the contents of your freezer meals. You may think you'll remember what it is later on, but I promise you won't.
It's amazing how freezer meals tend to take on general colors, like whitish or brownish or reddish, even when they were clearly distinguishable when you first put them in the freezer!
Thawing Instructions:
There are a few different ways you can go about thawing freezer pizza dough. Regardless of the method you choose, make sure you:
Keep the dough covered at all times. Whether it's with plastic wrap or a towel, do not let the dough sit out in the open.
ALWAYS make sure the pizza dough is room temperature before topping and baking.
Thawing Overnight in the Fridge (8+ hours)
This method takes at least 8 hours and probably won't work if you're short on time and need dinner ASAP.
To thaw pizza dough overnight in the fridge:
Remove the disc of dough from the second wrapping and from the first.
Place the dough in a container in the fridge, cover with plastic wrap and let it sit overnight.
It will thaw AND go through a short second rise at the same time.
Bring the dough to room temperature (30-60 minutes) before topping and baking.
Tip: Preheating the oven and placing the dough near the oven will help get the dough to room temperature faster!
Thawing on the counter at room temperature (2+ hours)
This method takes about two hours and works great if you know you're making pizza later that same day.
To thaw pizza dough on the counter:
Remove the disc of dough from both wrappings.
Place the dough in a container and cover with plastic wrap.
It will thaw and go through a short second rise at the same time.
In a bowl or sink of cold water (1+ hour)
This fast method will have pizza dough ready to be topped in about one hour!
To thaw pizza dough quickly in cold water:
Remove the disc of dough from both wrappings and place into an airtight bag (this is another reason why I use freezer-safe bags).
Remove all the air, seal the bag and submerge the dough into a bowl or sink of cold water.
Change the water every 15 minutes.
In a bowl or sink of warm water (30+ minutes)
This is my personal preferred method and it means dinner is completely done and ready to be eaten in less than an hour.
To thaw pizza dough quickly in warm water:
Remove the disc of dough from both wrappings and place into an airtight bag.
Remove all of the air, seal the bag and submerge the dough into a bowl or sink of warm water.
The dough will cool the water, so check it every 10 minutes or so, changing it as necessary to ensure the water is always warm.
FAQs
Can I Freeze Sourdough Pizza Dough?
Yes! Sourdough pizza dough can be frozen for up to 3 months. When ready to thaw, remove the sourdough pizza dough disc from the freezer and thaw in the refrigerator for 12 hours (or any of the above methods). I recommend this sourdough pizza dough recipe by King Arthur Baking. 
Making sourdough pizza dough is an awesome way to use up your excess sourdough starter.
Will Pizza Dough Rise After being Frozen?
Yes! Since you already allowed the dough to rise for its '1st rise,' when you initially made the dough before freezing, it will go through a '2nd rise' while it is thawing, and before you bake it. 
For all of the thawing methods above, the dough will go through a 2nd rise as long as you allow it to come to room temperature before baking.
Does Freezing Pizza Dough Kill the Yeast?
Nope. Not as long as you properly feed the yeast when you make the dough, and let it rise before freezing it.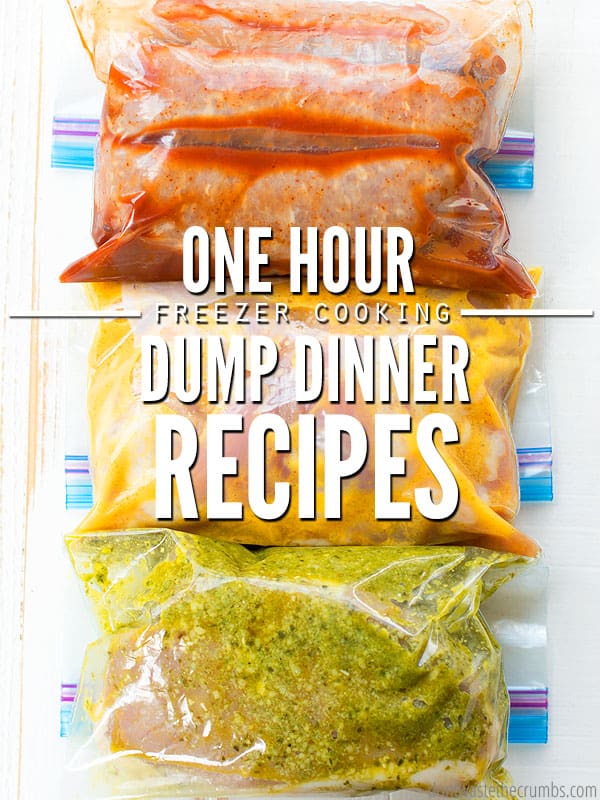 Freezer Cooking: Dump Dinner Recipes
Sign up to get instant access to my step-by-step
Freezer Cooking: Dump Dinner Recipe plan
, complete with recipes, supply list, and shopping list!
Easy Recipes for Pizza Night