These Homemade Pizza Bagel Bites are super easy to make & taste much better than store-bought! Made with just 5 simple ingredients. They're perfect for snacks, or as a main meal paired with a Kale Caesar Salad!
When I was a kid, my mom used to buy a box of frozen bagel bites. It was a HUGE treat at the time, and it didn't happen very often.
Looking back, I can see why. The boxes weren't cheap, there weren't many bagel bites in each box, and my sister and I could easily eat the whole box without thinking twice!
I'd love for my kids to have the same "fun foods" that I had growing up, but knowing how unhealthy some of those foods are – and the fact that my daughter is sensitive to gluten – means having to come up with Plan B.
For us, Plan B is this homemade pizza bagel bites recipe!
Homemade Pizza Bagel Bites Recipe (5 ingredients)
If you are a busy mom (or person) who's trying to eat healthy food within a budget, you're in luck – this homemade pizza bagel bites recipe is just for you!
Easy to make
Tastes WAY BETTER than store-bought
(and much healthier than store-bought too)
Ready in under 30 minutes
Just 5 simple ingredients!
Plus, it's all the fun of a homemade pizza night, with a whole lot less work and a lot less time!
5 Ingredients for Mini Bagel Pizza Bites Recipe
You need just 5 simple ingredients for this easy homemade bagel bites recipe, and if you love pizza, you probably already have these on hand:
Self-rising flour (you can buy this, or make your own with my easy hack below)

Plain Greek yogurt

Shredded mozzarella cheese

Pepperoni (or other desired toppings)
My kids LOVE pepperoni pizza bagel bites, so we haven't made any other flavors, but that shouldn't stop you from using whatever you love!
Sausage, olives, mushrooms, ham, pineapple… the sky's the limit!
How to Make Self-Rising Flour
Self-rising flour isn't something I normally keep in my pantry, so I choose to make my own with this super easy hack:
Combine 1 cup of flour with 1 ½ tsp baking powder and ½ tsp salt. Stir and use in place of self-rising flour!
(If you need more on self-rising flour, check out this self-rising flour tutorial.)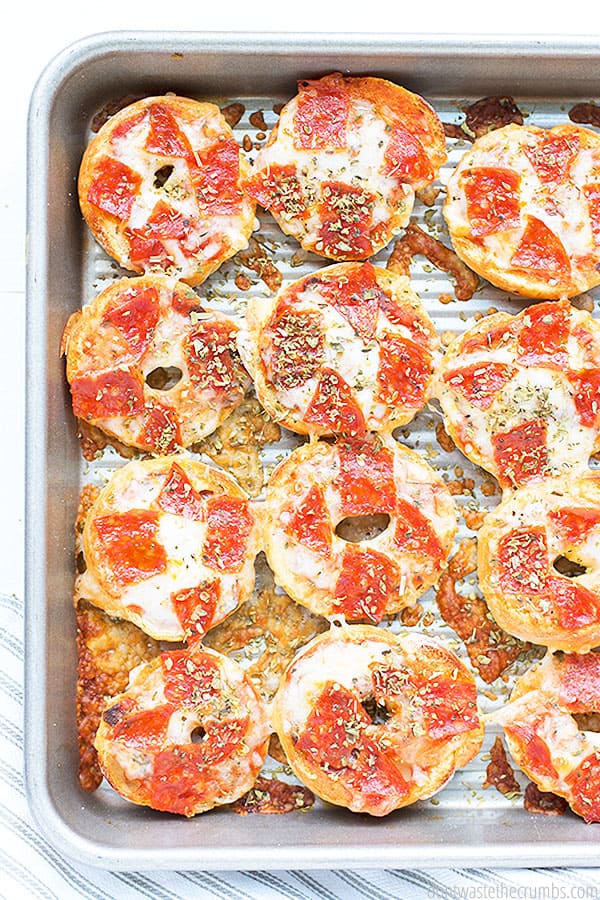 How to Make Healthy Pizza Bagel Bites in the Oven
If you don't have the mini bagels prepared, you'll want to do that first:
Combine the ingredients in a large bowl (aim for one size larger than you think you need) and mix together using your hands.
Divide the dough and shape on a silpat mat.
Bake and let cool for a few minutes.
While the bagels are cooling, bump up the heat on the oven and prepare your toppings. Then the healthy pizza bagel bites come together REALLY fast:
Top sliced bagels with pizza sauce, cheese and desired toppings.

Bake for 5-8 minutes, or until the cheese is golden bubbly. (You can also place them under the broiler for 1-2 minutes, but if you do, don't leave the oven!)

Let cool slightly and enjoy!
How long do you cook bagel bites in the microwave?
I haven't made these in the microwave, but cooking these for 30-90 seconds (depending on your microwave) should do the trick!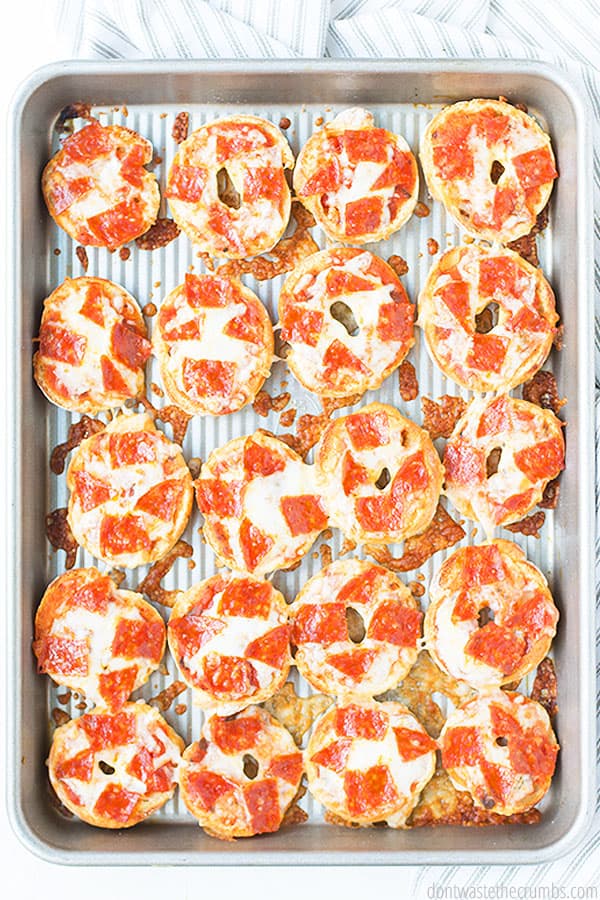 What to Serve Pizza Bagel Bites With
Kale Caesar Salad
Greek Quinoa Salad
Delicata Squash Salad with Apples and Cranberries
Chicken Southwest Salad

For dessert you can serve these healthy and delicious, black bean brownies.
Other Fast Dinner Recipes You Might Enjoy

Easy Salsa Verde Spinach Chicken Enchiladas
Skillet Pizza Veggie Pasta
Weeknight Veggie Stir fry
Homemade Hamburger Helper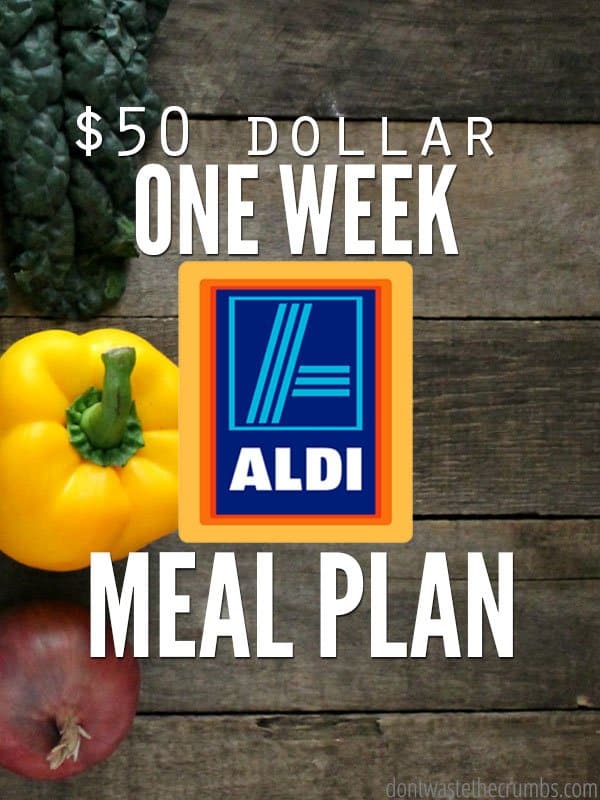 $50 ALDI Meal Plan
Sign up to get instant access to my $50 ALDI Meal Plan, complete with recipes and shopping list!
Pizza Bagel Bites
These Homemade Pizza Bagel Bites are super easy to make & taste much better than store-bought! Made with just 5 simple ingredients. They're perfect for snacks, or as a main meal paired with a Kale Caesar Salad!
Author: Tiffany
Prep Time:

15 mins

Cook Time:

25-28 mins

Total Time:

42 minute

Yield:

16

pizza bagel bites

1

x
Category:

Breads

Method:

Oven

Cuisine:

American
4

–

6

Tbsp pizza sauce

4

–

6

Tbsp mozzarella cheese, shredded

4

–

5

large pepperoni, cut into smaller bite-size pieces (or other toppings as desired)
Mini Bagel Ingredients:
1 cup

Greek yogurt

1 cup

self-rising flour (recipe)
Toppings as Desired (optional)

1

Egg, whisked (optional)
Self-rising Flour Ingredients:
Instructions
Mini Bagel Recipe:
1. Preheat the oven to 375F. In a large bowl, combine the yogurt and the self-rising flour. Using your hands, mix the ingredients until you have a mostly smooth dough.
2. Using a dough scraper or knife, divide the dough into four equal pieces. Lightly flour your working surface. (I HIGHLY recommend using a Silpat mat for this.)
3. Working with one piece of dough at a time, roll the dough on the mat in a back and forth motion until you have a rope about 5-6" in length.
4. Place the dough onto a baking sheet (I use these USA baking sheets) and shape into a bagel, wrapping each end over the other and tucking the ends underneath the bagel.
5. Brush the top of the bagel with the egg (if desired) and top with desired toppings (optional).
Bake for 18-20 minutes. Let cool for 15 minutes before enjoying!
Pizza Bagel Bites Recipe:
Step 1: Copy steps to make mini bagels through baking.
Step 2: Increase temp to 400F.
Step 3: Slice bagels in half horizontally and place cut-size up on a baking sheet.
Step 4: Spoon pizza sauce over each of the bagel slices. Then cover with mozzarella cheese and pepperoni (or other toppings, as desired).
Step 5: Bake at 400F for 5-8 minutes until the cheese is golden bubbly. If desired, broil for an additional 1-2 minutes.
Do you like cheesy pizza bagel bites?