Use this five-minute homemade pizza sauce recipe for your next pizza night! Super easy and ready in no time! You'll never need to buy pizza sauce again. Use this sauce recipe on homemade pizza dough or overnight einkorn pizza dough!
Mr. Crumbs was born and raised on the East coast, home of the foldable and rather large pizza slice. You know the kind that is also perfectly slathered with an oh-so aromatic and slightly sweet pizza sauce? YES!
After moving to Texas, when we were first married, Mr. Crumbs and I started looking for a pizza with a sauce that could stand up to the pizza from the East Coast…
And after years of trying various pizza shops in three states, and working on perfecting our own recipe – with much trial and error – the easiest and the best pizza sauce was born (along with the best pizza dough recipe to boot)!
Easy Homemade Pizza Sauce
This pizza sauce is so quick and easy to make, that there is no reason not to! It's also:
Delicious! Whole peeled tomatoes are naturally sweet and SO good in this pizza sauce.
Healthy. With only a few ingredients, this sauce is simply made without the additives and sweeteners commonly found in canned prepared pizza sauce.
Naturally dairy and gluten free!
Freezer friendly. It's perfect for making a big batch of pizza sauce and freezing it in individual portions for your freezer meal planning.
What is pizza sauce made of?
Whole peeled Italian Tomatoes
Fresh basil leaves, OR dried basil
Salt
Ground black pepper
Note: Some people like to add other spices like dried oregano, onion powder, fresh garlic, garlic powder, pepper flakes, or olive oil to their pizza sauce.
All of these spices sound amazing, but for this pizza sauce we prefer to let the natural flavor of the tomatoes shine through. YUM!
What type of tomatoes are best for homemade pizza sauce?
When it comes to pizza sauce, you want whole, peeled Italian tomatoes (I like this brand). Whole, peeled tomatoes are naturally sweeter since they don't have to withstand as many steps in the manufacturing process. The ones from Italy are sweeter still, with the amazing soil and climate available in the area.
The canned tomatoes that are diced, stewed, pureed, or crushed tomatoes tend to take a huge beating in the canning process. Those tomatoes are bred for that beating, so they're not really flavorful. (I LOVE Jovial brand diced tomatoes for most other uses like 15 Minute Spaghetti Sauce!)
Should I use canned or fresh tomatoes for pizza sauce?
In reality, you can use any tomato you want in this recipe. However, jarred whole peeled Italian tomatoes will always taste the best (unless of course they're from your garden!). Which of course you can do with my homemade canned tomatoes recipe!
If you're using a different tomato, be sure to avoid tomatoes that have added water since that will make your sauce runny.
Although it's more difficult, you also want to avoid added citric acid or salt since both of those alter the flavor of the original tomato and might cause heartburn and indigestion.
How do you make pizza sauce from scratch?
In literally 5 minutes, from start to finish, you'll have a delicious and healthy sauce to go with your homemade pizza dough.
In a blender, combine tomatoes, basil, salt and pepper.
Blend on low for 15-30 seconds, or until ingredients are blended well.
That's it! Really!
What is the difference between pizza sauce and spaghetti sauce?
Pizza sauce has a sweeter, zestier and sometimes spicier flavor. Spaghetti sauce is usually slow-simmered and thinner than pizza sauce.
Pizza Recipes for pizza sauce!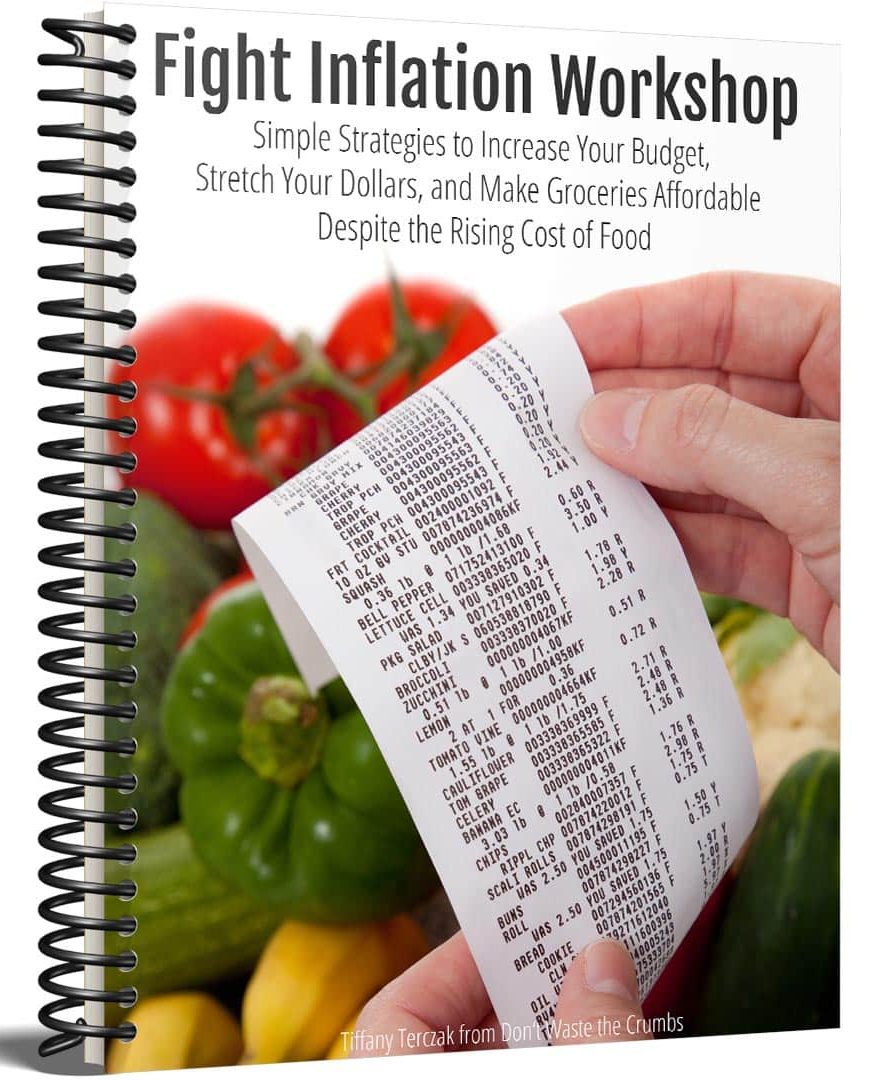 Fight Inflation Workshop
Sign up for my FREE
Fight Inflation Workshop
and learn simple strategies to save money, even with rising food costs!
Easy Homemade Pizza Sauce Recipe
What kind of pizza do you like? East coast, or Sicilian? What are your favorite toppings?