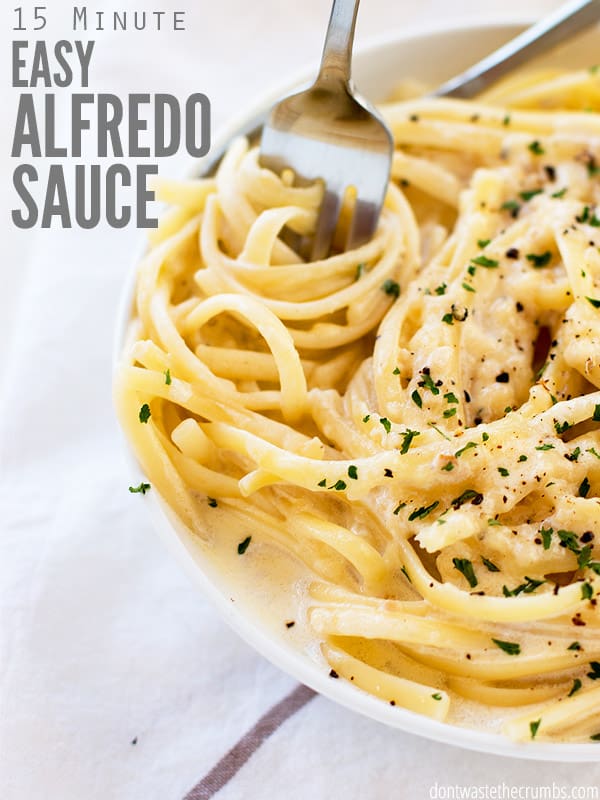 When I was first learning how to meal plan, we had this CRAZY schedule on Wednesdays.
We had to be somewhere at 5pm, which meant being DONE with dinner by 4:30pm. Since my brain can't comprehend cooking dinner before 4pm, I made the one thing I knew my kids would eat fast AND that would cook fast: pasta.
Every Wednesday was pasta night, and so often I wanted an alfredo sauce to be in the rotation! But since I didn't know how to make it from scratch, we never had it.
And I certainly didn't trust the ingredients in jarred alfredo sauce.
So we had spaghetti with hearty tomato sauce, ravioli with carrot top pesto sauce and fettuccine with vodka sauce instead. We had linguine with garlic butter sauce too, but it wasn't the same as that creamy, cheesey alfredo sauce that tasted so good!
Then one day I did something brave and unthinkable: I used the computer to find an alfredo sauce recipe.
Pretty ingenious, right?
I pretty much knocked myself up over my own head for being so stubborn for so long. Making your own alfredo sauce is SO easy!
All it takes is 6 basic ingredients and 15 minutes and you have a DELICIOUS homemade alfredo sauce that your family will LOVE!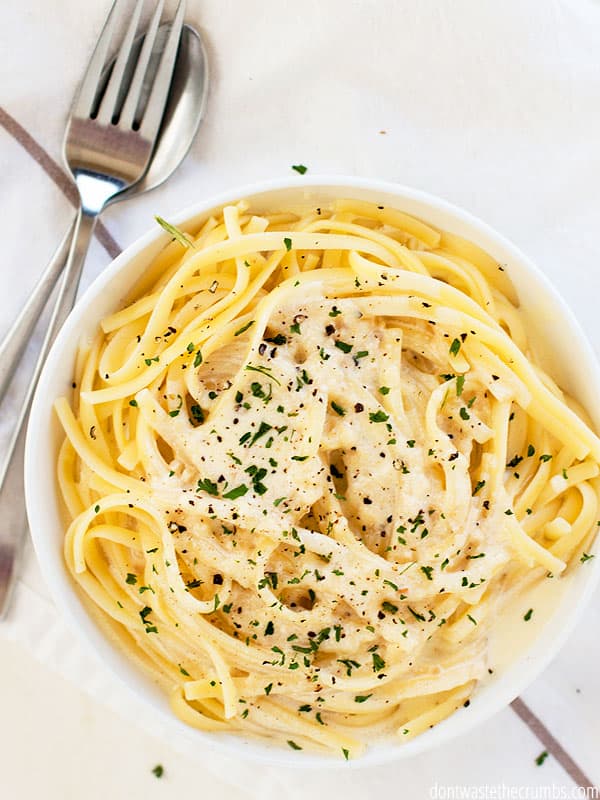 15 Minute Easy Alfredo Sauce
Here's how I know your family will love this alfredo sauce:
When it's on the dinner table, my kids ask if they can have it for lunch the next day.
When there's just a little bit left, the kids argue over who gets a second helping.
When I ask who wants to have the last little bit of alfredo sauce left in the fridge, both kids raise their hands and say "I DO" in unison.
Seriously, if there's one recipe to make for the pasta loving people in your family, it's this alfredo sauce recipe.
Oh, and if you REALLY want to earn brownie points, serve it with these easy Italian meatballs. SO GOOD!
And let's not forget this recipe takes only 15 MINUTES to make! The sauce is done before the noodles. It really simplifies getting dinner on the table FAST.
So let's talk about what goes into the best alfredo sauce recipe ever, shall we?
Butter
You seriously cannot go wrong making anything with butter, whether it's chocolate chip cookies or fluffy dinner biscuits. It's no wonder why everyone loves alfredo sauce!
Heavy Cream
If you want thick and creamy alfredo sauce, you have to use heavy cream. I normally don't have heavy cream in my pantry (unless I'm making homemade vanilla coffee creamer), but this alfredo sauce recipe is worth making sure it's on your shopping list.
Now if you're in a pinch, you MIGHT be able to use whole milk and/or half-and-half and then thicken the sauce up with a roux. I haven't done this myself so I don't know if it will work or not, but if you're an adventurous cook and don't mind testing it out, feel free to do so and let us know how it goes in the comments!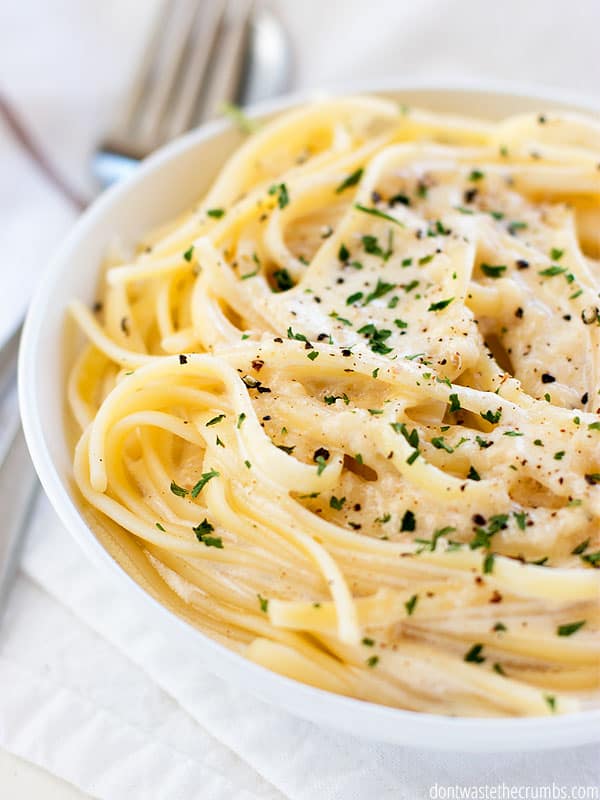 Parmesan Cheese
For the love of Pete, PLEASE use fresh Parmesan cheese. Do NOT use that powdery stuff in the green container because that is not 100% Parmesan cheese. (Don't believe me? Read the label. And did you know that this cheese legally cannot be sold as "Parmesan" in Europe?)
Parmesan isn't the cheapest cheese out there, so three tips to get the best bank for your buck:
Buy a whole wedge. As in, don't buy the containers of pre-shredded Parmesan.
Buy it in bulk. It lasts several weeks in the fridge, or you can freeze it to make it last even longer.
Consider buying Parmesan-Reggiano. This is what authentic Parmesan is labeled in Europe, but for some reason that label costs less in the States. In either case, it's Parmesan.
Parmesan has a rind – a thick, tough outer layer. I love using the rind whenever possible since A) it is still food, and B) I hate throwing it away because it's not cheap.
The rind is SO GOOD in minestrone soup, spinach pesto and even in easy Italian meatballs, but I don't recommend using the rind in this alfredo sauce recipe. It doesn't melt as well as the cheese itself and I think it contributes to the sauce "breaking."
Garlic / Pepper / Salt
Three super simple spices that will ultimately make or break your alfredo sauce.
Choose fresh garlic whenever possible. Garlic powder is fine in a pinch, but fresh garlic really makes the world of a difference.
Freshly ground black pepper packs a flavor bomb, so try to use that if you can. If you don't have a pepper mill, ground black pepper works too.
Save the salt for last since the cheese (and possibly the butter) has salt already.
Did you notice what this recipe does NOT have? Cream cheese.
Cream cheese is SO GOOD in stove-top mac and cheese, but no authentic alfredo sauce has cream cheese. Don't add it to this recipe friends. Save it for your bagels.
This recipe is featured in our FREE Vegetarian Meal Plan!

15 Minute Alfredo Sauce
Ingredients
½ cup butter (1 stick)
2 garlic cloves, minced (about 3 tsp)
2 cups heavy cream
¼ tsp freshly cracked black pepper
1½ cups Parmesan cheese, shredded (about 4 oz)
¼ tsp salt
Instructions
In a medium sauce pan, melt the butter over medium heat.
Add the garlic, heavy cream and pepper.
Bring the sauce to a boil; then reduce to a simmer and cook for 5 minutes.
Add the cheese, stirring constantly until the cheese has fully melted.
Turn the heat to low. Taste and season with salt as desired.
Sauce will thicken upon standing.
Have you made homemade alfredo sauce before? What's your favorite pasta sauce?