Super easy recipe for healthy homemade hamburger helper. A favorite beef pasta casserole (next to stroganoff). It cooks in one pot in less than 20 minutes!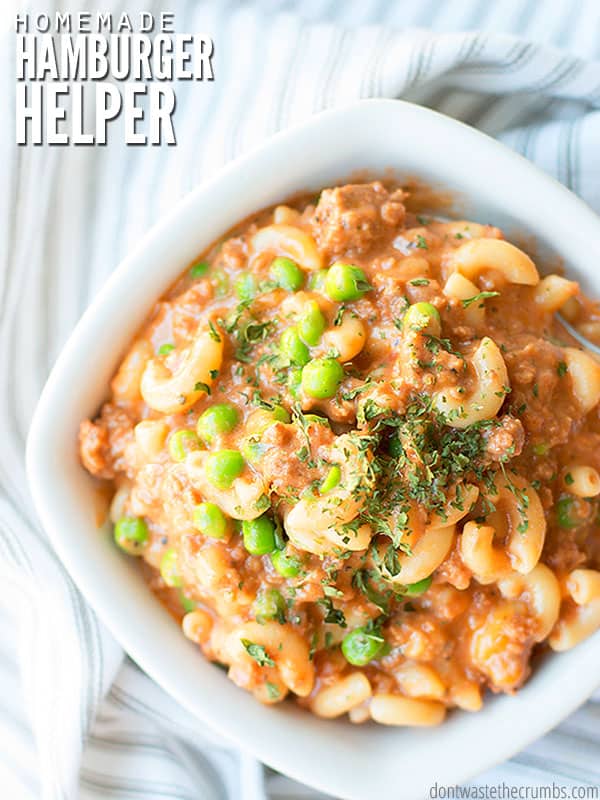 Raise your hand if at any time in the past you either ATE hamburger helper as a kid or MADE hamburger helper for your kids?
I'm raising my hand because this was a staple in my house growing up. With "just brown beef and add water" as the instructions, it's no wonder. It's a super quick and easy dinner!
Luckily, there's a way to make homemade hamburger helper just as fast, but using healthy real food ingredients!
Homemade Hamburger Helper
Here's why my kids are asking me to make homemade hamburger helper almost every week, and why I'm saying yes!
It tastes like the real thing. It's been a while since I had a box of homemade hamburger helper myself, but taste buds don't lie – this is legit!
It's made in one pan. No need to dirty a bunch of dishes!
It's a "dump and cook" meal. There's no need to brown anything first. Just dump it all and give it a stir now and then!
It's cheap! I get my ground beef for free from Butcher Box every month, so my cost for this meal is SUPER low.
It's freezer-friendly. Put everything (except the noodles) in a freezer bag and save it for a rainy day… or a day when you don't have time to make anything else!
And as if that weren't enough…
It's ready in under 20 minutes.
It tastes great as leftovers.
Freezes well after the fact.
Great for kids lunches.
Really, hamburger helper needs to be on your regular meal rotation ASAP!
But first – what is hamburger helper?
Hamburger helper is technically a processed food. It comes in a box at the grocery store and all you have to do is add ground beef and/or water and/or a can of tomato paste. I'm not entirely sure on the details because I've never actually bought it myself.
However, I have EATEN hamburger helper plenty of times and know that the stuff is awesome.
It's beef + noodles + creamy tomato-y sauce that is just straight-up awesome.
Except technically, it's not real food, thanks to that seasoning packet.
And that's why we make it ourselves!
Ingredients for Cheeseburger Macaroni
Did you ever call hamburger helper "cheeseburger macaroni" growing up?
I didn't, but I can see why some people do. It's the deliciousness of a cheeseburger, mixed up with macaroni noodles. YUM!
Here's what you need to make it happen:
Ground Beef. As I said, I get mine for free every month through my Butcher Box subscription. You can too when you become a member now through September 30, 2019. Just use this link!
Tomato Sauce. This can be actual tomato sauce, or it can be whole or diced tomatoes you pureed. It doesn't matter really what you start with, but give it a whiz in your blender (I have this one) so that it becomes a sauce.
Chicken Stock. Vegetable stock or even water would work too (here's how to make homemade stock).
Onion Powder + Garlic Powder + Chili Powder + Pepper + Salt. Pretty much the standard arsenal of spices.
Pasta. Macaroni is the most popular, but I've used rotini, shells, and penne too.
Frozen Vegetables. I can't make a dinner that doesn't have vegetables, so I like to add peas. A blend of frozen veggies works too.
Cheese. Optional for HAMBURGER helper, but required for CHEESEBURGER helper. I'll leave that up to you.
Psst! Want to kick this up a notch? Try finishing this recipe with a pinch of finishing salt! I love Ava Jane's Kitchen because it doesn't have microplastics (gross, right?) and it's SO GOOD! Plus, you can get a bag for just 1¢!! Just add a pinch before serving your hamburger helper and watch everyone rave! (Get your penny bag of salt on this page.)  
How to Make Cheeseburger Pasta (i.e. Cheeseburger Mac)
As I mentioned before, the steps to make this are super simple and straightforward:
Add the beef to a large 5-6 quart pot and break it up using a wooden spoon. (I have this enamel cast iron pot that I LOVE!)
Add the tomato sauce, spices, and pasta.
Cook until the pasta is just about done, stirring now and then.
Add the frozen vegetables.
Add the cheese.
And that's it! A healthy, homemade dinner that the family will LOVE and just one dish to clean!
Is Hamburger Helper healthy? Is it good for you?
If you buy the boxed version, no. It has preservatives, sugar, and MSG – none of which are healthy nor good for you. That's why should you make it yourself!
Can you make a vegetarian Hamburger Helper, without meat?
Yes! Instead of beef, use two cups of cooked brown lentils. It'll be very similar to my lentil macaroni and cheese recipe!
Can Hamburger Helper be made in a crockpot?
I haven't tried this personally, but it only takes 20 minutes on the stove. Why bother with the crockpot?
Can you make Hamburger Helper without milk?
Yes! My recipe doesn't call for any milk. I do use cheese, but you can substitute a dairy-free cheese and use less if you'd like. Or just leave it out altogether!
Watch How to Make Homemade Hamburger Helper
Homemade Hamburger Helper
Super easy recipe for healthy homemade hamburger helper. A favorite beef pasta casserole (next to stroganoff), it cooks in one pot in less than 20 minutes!
Author: Tiffany
Prep Time:

5 mins

Cook Time:

15 mins

Total Time:

20 mins

Yield: Serves

4

-

6

1

x
Category:

Main Meals

Method:

Bake

Cuisine:

American
1

lb ground beef

28 oz

tomato sauce

1

–

2

cups chicken stock

1 tsp

black pepper

1 tsp

garlic powder

1 tsp

onion powder

½ tsp

chili powder

½ tsp

salt

8 oz

small pasta (i.e. macaroni or shells)

2 cups

frozen peas

1

–

2

cups shredded cheddar cheese
Instructions
Place ground beef in large, 5-6 quart pot. Turn the heat on medium and break it up into smaller chunks using a wooden spoon. You don't have to actually brown the beef; it's just easier to break it up into smaller pieces at this point.
Add the tomato sauce, spices and pasta and bring the mixture to a medium simmer. The sauce should be making bubbles, but it shouldn't be splattering everywhere.
Let the mixture cook for about 10-15 minutes, stirring every 5 minutes or so, breaking up the meat and making sure the noodles are submerged in the sauce as much as possible.
Check the pasta for doneness at the 10-minute mark and continue to cook until the noodles are al dente. Add additional chicken stock, ½ cup at a time, if the sauce becomes too thick before the noodles have had a chance to cook. The sauce will thicken and evaporate as it cooks.
When the noodles are just about done, stir in the frozen peas. When the peas are warmed through and the pasta is done, remove from the heat.
Gently stir in 1 cup of shredded cheddar cheese. Taste and add more cheese as desired.
Serve warm.
Keywords: Homemade hamburger helper