Quick Potato Skins are an easy way to take an ordinary vegetable and turn it into something the whole family loves. These are crispy, healthy, and loaded with delicious toppings! To enjoy them with some spicy tang, top them with our 15-Minute Homemade Hot Sauce!
I've shared how you can cook a baked potato crazy fast, and today I'm showing you why.
Allow me to introduce the amazing, incredible, always a hit and not made nearly often enough, good enough as a side dish and NOT just an appetizer: potato skins.
Wait – did she really just say POTATO SKINS?!
Aren't those just wanna-be vegetables filled with unhealthy saturated fat and deep-fried for 15 minutes to oblivion?
Oh friends, if this is what you think, then we need to have a little chat.
Ridiculously Easy Potato Skins
Why are potato skins one of my favorite side dishes to prepare? Here are five good reasons…
Potato skins are made of POTATOES, which the last time I checked, were a vegetable. AND they're a CHEAP vegetable.
Butter and cheese are healthier than you think.
Bacon.
We're keeping a good amount of potato flesh so it's not like you're literally serving just the skin of the potato.
The combination of potato + butter + cheese + bacon + sour cream + chives is an explosion in your mouth that you MUST experience at least once in your life.
And it should definitely be tonight. Yes, make it tonight. Your family will love you forever and ever.
How do I know? Because every time I make potato skins they are LITERALLY devoured in minutes.
I've had to start making a double batch because the family loves them so much. And just when I thought potatoes like this wouldn't go over so well as leftovers…
Wrong again!
The kids LOVE it when I give them leftovers in their lunches. And you know what? I don't feel one ounce of mom guilt letting them have it.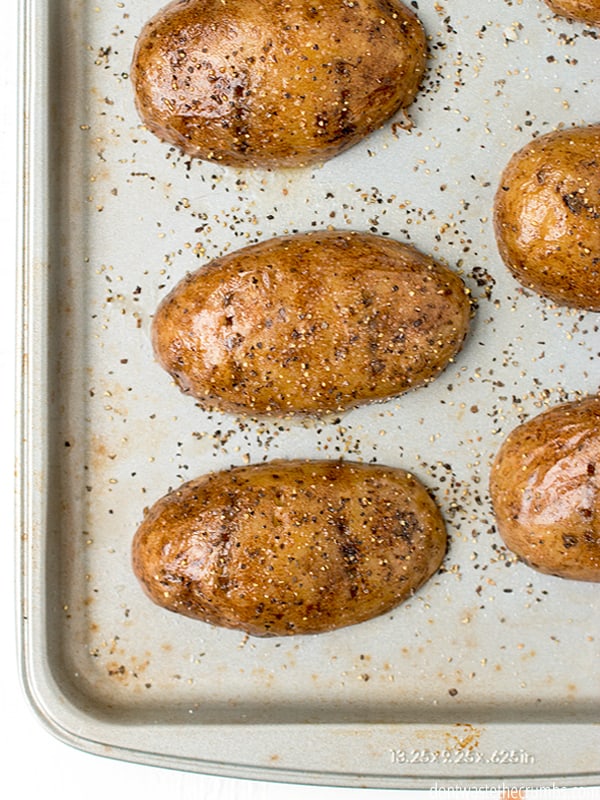 Why? Because I made them and I know what's in them. You can't say the same thing for most things found in a kid's lunchbox nowadays…
I will admit though, that there is a drawback and that's the time it takes to cook a baked potato. BUT, I've found a way around that too.
The key is to plan ahead. You don't have to plan WAY ahead, just a little bit.
Ingredients for Easy Potato Skins
With just 8 simple ingredients, this recipe is satisfying and delicious!
Russet potatoes. Choose smaller potatoes. Potato skins cook better and taste the best when they can be eaten in 4-5 bites.
Butter. Alternatively, some people use olive oil, and that's okay if you don't want butter, but canola oil is not recommended.
Pepper
Cheddar cheese
Bacon
Sour cream
Green onions
Psst! If you're going to add salt, I highly recommend Ava Jane's Kitchen. You may think all salt is created equal, but unfortunately, 90% of the salt produced around the world contains microplastics (gross, right?). Ava Jane's Kitchen is an exception. Their salt is 100% microplastic free, and it's SO GOOD! Plus, you can get a bag for just 1¢!! (Get your penny bag of salt on this page.)
How to Make Potato Skins
Step 1. Preheat the oven to 400F and bake the potatoes in the oven.
Step 2. While your potatoes are doing their thing in the oven, take 10 minutes to prepare the toppings.
Step 3. Scoop the potato flesh out of the skins and save for mashed potatoes or another recipe like potato salad.
Step 4. Broil for a few minutes to crisp the potato skins and melt the cheese…
Step 5. Add toppings!!!!
Put it all together and what do you get? A side dish that your family will absolutely love and one that will quickly make it to your weekly meal plan!
Potato Skins FAQs
What can you do with the inside of the potato skin?
You can make mashed potatoes, of course!!! Or how about potato salad?
Can you freeze potato skins?
Yes! Once completely cooled, flash freeze them for 1 hour. Then place them in a zip-sealed freezer bag. After defrosting, simply warm them in the oven until hot.
Are potato skins good for humans?
Yes, potato skins are healthy. They contain vitamin C, calcium, and B-complex vitamins!
Ways to Make this Meal Faster…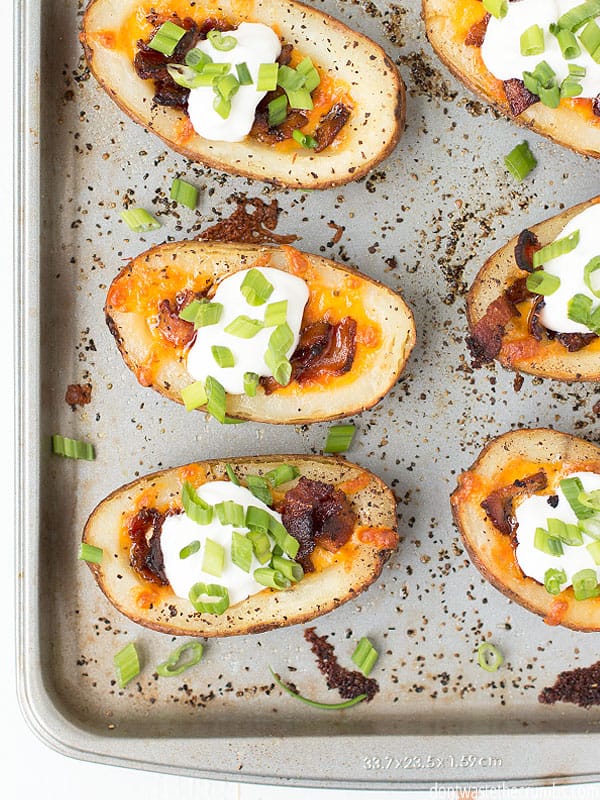 More Easy Side Dishes
Ridiculously Easy Potato Skins
Quick Potato Skins are an easy way to take an ordinary vegetable and turn it into something the whole family loves. These are crispy, healthy, and loaded with delicious toppings! To enjoy them with some spicy tang, top them with our 15-Minute Homemade Hot Sauce!
Author: Tiffany
Prep Time:

10 minutes

Cook Time:

60 minutes

Total Time:

1 hour 10 minutes

Yield:

16

1

x
Category:

Sides

Method:

Oven

Cuisine:

American
8

small russet potatoes (about

3

–

4

inches long each)

2 Tbsp

butter, melted
pepper

1 cup

shredded cheddar cheese

8

pieces bacon

1/4

–

1/2

cup sour cream

2

green onions, green parts sliced*
Instructions
Preheat oven to 400F.
Poke potatoes several times with a fork and wrap them with aluminum foil. Place directly on the oven rack, in the center of the oven, and bake until a knife easily pierces through about 50-60 minutes. Alternatively, use one of these other baked potato cooking methods.
Meanwhile, prepare the butter, cheese, and green onions.
Slice the bacon into small pieces and cook until it is barely crispy. Drain the bacon pieces on a towel and save the grease for future cooking.
When the potatoes are done, carefully unwrap them – they will be hot. Slice them in half lengthwise and let them sit for about 5 minutes so they're cool enough to handle.
Turn the oven to broil.
Using a spoon, scoop about the flesh from inside the potato, leaving about 1/4″ worth of the flesh intact all around. Save the flesh for mashed potatoes or another recipe.
Place the potato halves on a cookie sheet, skin side down. Brush the inside of the potatoes with melted butter; season generously with salt and pepper.
Flip the potatoes over and repeat with the melted butter, salt and pepper.
Place under the broiler for 2 minutes, setting the timer so they don't burn.
Using tongs, flip the potatoes over and broil again for 2 minutes, using the timer.
Pull the potatoes out and divide the cheese among the potatoes. Top with bacon and place back under the broiler for 2-5 minutes more, until the cheese is thoroughly melted and just started to brown.
Top with sour cream and green onions as desired.
Keywords: potato skins, potato skins loaded, potato skins recipe
Have you ever made potato skins before? Cheese, bacon, sour cream and green onions are traditional toppings – what else would you put on top?