When we first met, Mr. Crumbs took me to the beach and bought me french fries. More specifically, he bought me boardwalk fries.
Boardwalk fries?! Never heard of 'em.
To this Texas-raised gal, fries were something that came next to BBQ brisket, burgers or chicken fried steak.
I had no interest in boardwalk fries and as far as I was concerned, "fries" and "beach" were two words that just didn't go together in the same sentence.
Roughly 2.3 french fries later, I ate my words. The crunchy, salty, greasy potato pieces were beyond heavenly and I was hooked. Certainly not healthy, oven roasted crispy potato wedges, but delicious!
Nine years (and counting) later, we still sneak away to the beach and order boardwalk fries anytime we're visiting the East coast. Not that Mr. Crumbs minds the splurge or anything. Boardwalk fries are practically a food group to him…
Which makes living on West coast that much harder.
In our small section of California beach, you don't want to bring french fries to the beach. They'll be covered in wind-blown sand in 0.6 seconds and you'll be picking grit out of your teeth for days. We needed to find a substitute. A crispy potato wedge something or another substitute… minus the grease.
And you'll be getting a whole lot more than unhealthy oils and an empty wallet if you choose fast food french fries. Did you see this recent list of 19 ingredients in McDonald's french fries?!
Um, no thank you.
So like our other favorite East coast food that we dearly miss, we've had to come up with our own version of boardwalk fries that taste good AND won't send you into a fried food coma.
Perfect Crispy Potato Wedges
This is where the perfectly roasted crispy potato wedge comes into play, and they're quite possibly the best potato you'll ever have that comes from the oven.
I don't think I'm biased or exaggerating either. I've had plenty of roasted potatoes before, but this one is ALWAYS a winner thanks to two little secrets.
Let me explain.
1. Cut the potato the skinny way
First, if you hold a potato on its side, on a cutting board, it'll look either fat, or skinny. (Try turning it over a few times if you're unsure which side you're on.)
You want to hold it so that it looks skinny, NOT fat.
Holding it the skinny way before slicing the potato in half (length-wise) provides a wider wedge bottom that won't topple over on the pan. If you hold it the fat way… well, don't say I didn't warn you.
Note: Make sure to use a sharp knife like this one. Potatoes can be dangerous to cut if your knife isn't at optimal sharpness! 
2. Put the Skin Side Down
Next, it's imperative – absolutely imperative – that you put the potato skin side down on the baking sheet. Why you ask? Well… do you want crispy potato wedges? Or just potato wedges?
Because if you don't, you'll be scraping sticky, gooey, stuck-on potato off your baking sheet instead of picking up perfectly roasted crispy potato wedges. Whatever beautifully golden roasted potato edge you had is now long gone in lieu of a potato mash that looks nothing like perfectly roasted crispy potato wedges.
And to make matters worse, it'll be stuck on your hot baking sheet and you'll be scrubbing for a LONG time getting it off. AND you won't have a side dish for dinner.
It's not a pretty sight my friends, and you just might end up saying a few words that ordinarily don't come out of your mouth.
I repeat, don't say I didn't warn you.
Note: You could use a silicone baking mat like this one to help reduce any stickiness. But still, make sure the potato is skin side down.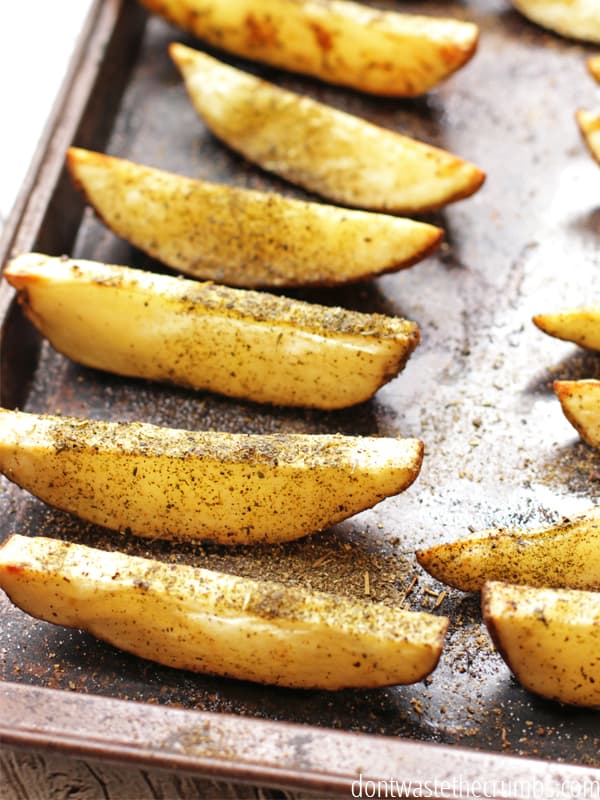 The beauty of this recipe is that it is SO not complicated. Cut the potato, lather with olive oil, sprinkle the seasons and roast. It's no wonder we choose to roast our potatoes this way anytime we have grilled sandwiches or because it's Saturday. Alongside homemade ketchup (or homemade mayo – holla!) and your kids (or husbands) will be happy campers regardless of what else is for dinner.
Promise.
In fact, it's the preferred side dish of Mr. Crumbs. AKA devoted lover of boardwalk fries. AKA the man who doesn't like sweet potatoes (but will eat them when they're perfectly roasted and crispy like this!).
Perfectly Roasted Crispy Potato Wedges
Scale
Ingredients
4

russet potatoes

2 tsp

olive oil

1 tsp

salt

1/2

–

1

tsp pepper

1/2

–

1

tsp Italian seasoning
Instructions
Preheat oven to 400F
Scrub potatoes and thoroughly dry.
Cut the potatoes lengthwise, the skinny way. Placing half of the potato cut down down on the cutting board, cut it in half, and then each half in half. Repeat with the other portion of potato. Each potato should yield 8 wedges.
Combine cut potatoes and olive oil in a large bowl and toss well to ensure all the potatoes are thoroughly covered in oil, yet not drenched.
Place them on a cooked sheet, skin side down, and sprinkle liberally with salt, pepper and Italian seasoning.
Bake in the oven for 25-35 minutes, until the tops and sides begin to brown nicely.
Notes
If your wedges are soggy, continue baking until they are crispy potato wedges.
Additional Recipe Ideas
As you can see, we like to keep the seasonings simple. It makes it easier to remember how to make them and makes sure we're not running out for ingredients we normally don't carry on hand. Feel free to change the seasonings though to fit your mood. We've made them with dry ranch seasoning, Montreal steak seasoning, Montreal chicken seasoning and even with a bit of onion and garlic. Honestly, you can't go wrong tampering with these crispy potato wedges.
If you prefer sweet potatoes over russet, knock yourself out. Keep the seasoning the same, or sprinkle a teeny tiny bit of cinnamon and nutmeg for a fall flare.
Cost Breakdown
potatoes: $0.40
salt: $0.10
pepper: $0.10
Italian seasoning: $0.10
Total cost for Perfectly Roasted Crispy Potato Wedges is $0.70!
For less than a dollar, this recipe is a life saver for when you're approaching critical mass on your grocery budget and you need a veggie on the table.
More Potato Recipes
Ridiculously Easy Potato Skins // One Pan Buffalo Chicken Potatoes // 7 Ways to Make a Baked Potato // Fried Sweet Potatoes and Runny Eggs // Crash Hot Sweet Potatoes // Oven Roasted Hash Browns
So tell me… am I the only one who likes mayo on their french fries? Do you have a favorite crispy potato wedges recipe?