Everything You Need to Know About How Pure is Your Olive Oil? A Two-Step Test.
Mr. Crumbs sent me an article last month that made my jaw drop. After reading it, I felt cheated and deceived. It was tempting to copy and paste the whole thing for you guys to read, but instead I set it aside specific for today's post.
According to the article, the U.S. Pharmacopeial Convention (USP) told ABC news that one of the easiest foods that can be tampered with is olive oil, since it can be diluted with cheaper oils and we as consumers won't know the difference.
Another commonly altered food was lemon juice, where researchers found as little as 15% and 25% lemon juice in bottles labeled 100% pure lemon juice. YIKES!
The article made me wonder… what if the olive oil we buy is really only 15% olive oil? What if the rest of the jug is filled with the icky "yellow vegetable oil" that we've been striving so hard to avoid?
And then my next thought made me slightly angry: Am I REALLY paying a premium price for a no-nutrition oil that's being masked as a higher quality product because it's in a fancier bottle?!
Fortunately there's a very simple test to ensure our olive oils really are made with olives, and they're not being diluted with lesser quality imposters.
Remember from Monday how olive oil is liquid at room temperature yet solid when refrigerated? And remember from early in our Truth About Fat series that polyunsaturated oils (the yellow vegetable kind) are liquid at both room temperature AND when refrigerated.
Those are the standards by which we judge: whether or not it turns a solid!
Two Step Olive Oil Purity Test

Pour 2-4 tbsp of olive oil into a clean glass jar. Seal the jar.
Put the jar in the refrigerator for 24 hours.
If the oil solidifies, it's monounsaturated and is olive oil.
If the oil remains a liquid, it is polyunsaturated and is NOT olive oil.
Three different brands of olive oil have come through my front door so far this year, so I took a small sample of each of these oils and ran it through the test above. Curious about the results? First, let's talk about the oils.
Contender #1: Costco
Costco's prices are very competitive, and their products are usually good quality. Naturally this is a place to go for something you want to be good, yet affordable (and don't mind having a lot of). $11.49 for a 2 liter container.
The Statistics:
Extra Virgin Olive Oil.
Labeled "first cold pressed."
No harvest date, but has an expiration date of February 7, 2014 (purchased March 2013)
Dark, opaque plastic container.
Stored in a closet where the temperature is always approximately 68 degrees.
No mention of NAOOA on the bottle.
Contender #2: Olitalia
This bottle was a Grocery Outlet find and experiment. I had never heard of this brand (despite the bottle saying "the olive oil brand most distributed in the world"), but we needed olive oil and I had a coupon. $6.99 for a 1 L container.
The Statistics:
Extra Virgin Olive Oil.
Labeled "first cold pressed."
No harvest date nor expiration date. Contains Lot number and time stamp.
Dark, opaque glass container.
Stored in a closet where the temperature is always approximately 68 degrees.
No mention of NAOOA on the bottle.
Contender #3: Trader Joe's
Trader Joe's carries a few different varieties of olive oil. This one was simply the cheapest on the shelf – $5.49 for 1 liter, and I bought it for two reasons: a) per liter, the price beat out Costco, and b) it's a lot easier to pour oil from a 1L container than a 2L jug.
The Statistics:
Extra Virgin Olive Oil.
Labeled "cold pressed."
Harvest date/expiration date unknown (I accidentally recycled the bottle 🙁 )
Medium, opaque glass container.
Stored in a closet where the temperature is always approximately 68 degrees.
NAOOA data unknown (darn that recycle bin!)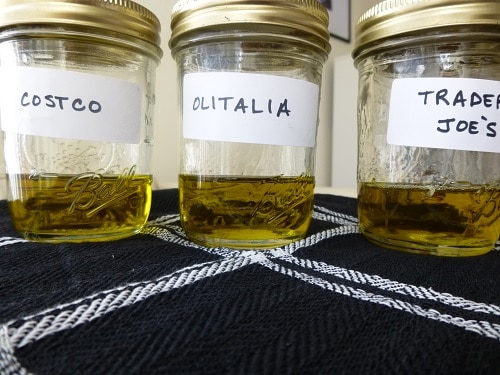 The Two Step Olive Oil Purity Test:
I poured 2 ounces of each oil into separate glass containers and put them in the fridge, on the top shelf, at the very back, Saturday after dinner.
The Result:
After 12 hours, two of the three oils had completely solidified. I was surprised to see one oil still liquid, so I kept the oils in the fridge until evening.
After 24 hours, all three oils had completely solidified. Which one took longer than the others?
Costco.
This doesn't mean Costco's olive oil is bad or even watered down with other oils that aren't derived from olives. It did – after a full day – solidify. But there is no explanation why it took twice as long to get to the same result. I even re-arranged the line-up of the jars in the fridge, thinking that their placement had something to do with it (although they were at the very coldest spot in the fridge… beef on the same shelf nearly froze during the test).
The oil being "old" doesn't explain it either, since I had bought it early March and opened the container just for the experiment – I haven't even really used it yet!
Now What?
Honestly, my gut tells me to return the Costco olive oil. Given the simple and consistent standards of the test, it should have passed just as easily as the other oils.
Another reason I'm returning the bottle is because I'm making a commitment to no longer cook with olive oil at high temperatures. We've been good about it for the past couple months, but I want to be even more so going forward. This means that opportunities to use 2 liters of olive oil are going to be far less.
Going forward it would be better to buy the smaller 1L glass jars of olive oil from Trader Joe's, even if I have to buy two at a time. Another option would be to continue trying out random brands from Grocery Outlet. They're prices are competitive, but now that I know what to look for (using these guidelines for buying), I can be even more discerning on the quality of oil. The Olitalia oil was actually really tasty!
UPDATE: Just a few weeks after this post was published I sifted through all of the the data left in the comments below, and even more. Read the science (and non-science) and determine for yourself whether or not the fridge test is valid!
Where to find Quality Olive Oil
Considering from the test I ran that Costco olive oil may not be the best. And not everyone has a Trader Joe's or Grocery Outlet, you might need some ideas on where to find good olive oil! Use your price book to compare prices at your local stores.
If you prefer online shopping Amazon has some good options as well as Thrive Market. I trust the brands at Thrive Market to be solid sources. Amazon is a little riskier unless you are sure to research the brand you buy.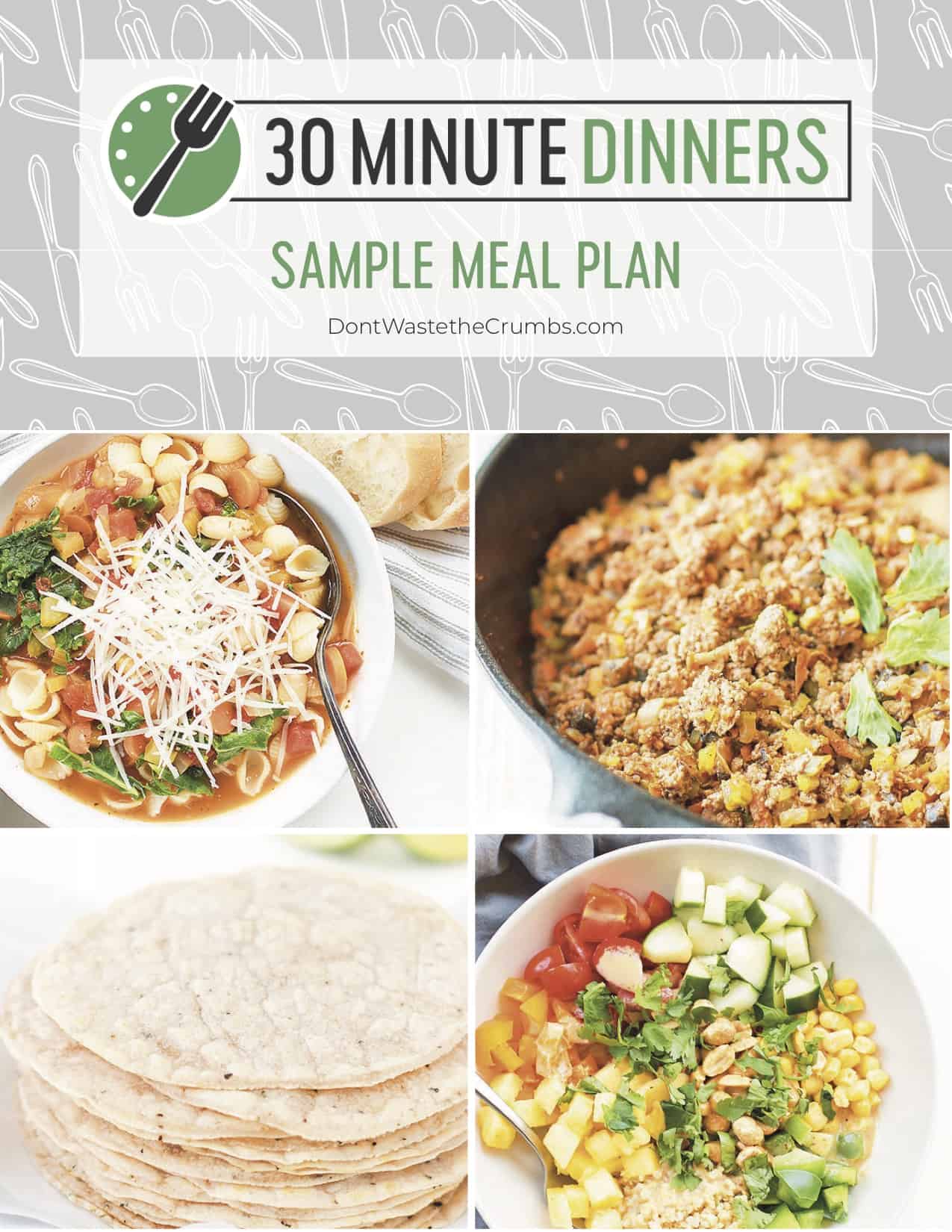 30 Minute Dinners Sample Meal Plan
Sign up to get instant access to my
30 Minute Dinners Sample Meal Plan
, complete with recipes and step-by-step instructions!
How did your olive oil test turn out? What brand did you test and did it solidify? Tell us in the comments!