Do you ever wonder what the stickers on fruits and vegetables mean? Decode the PLU Codes. Here's a straightforward and simple explanation to help you learn more about the food you eat. Be sure to check out how to remove labels from jars: a simple DIY with one ingredient and how to make a frugal grocery budget.
When readers ask me how to save money on organic produce, my first answer is to know the current Dirty Dozen and Clean Fifteen.
Free Clean Fifteen/Dirty Dozen Pocket Printable
When readers ask where the best place to shop for organic produce is, I tell them, "it depends."
Shopping for Organic Produce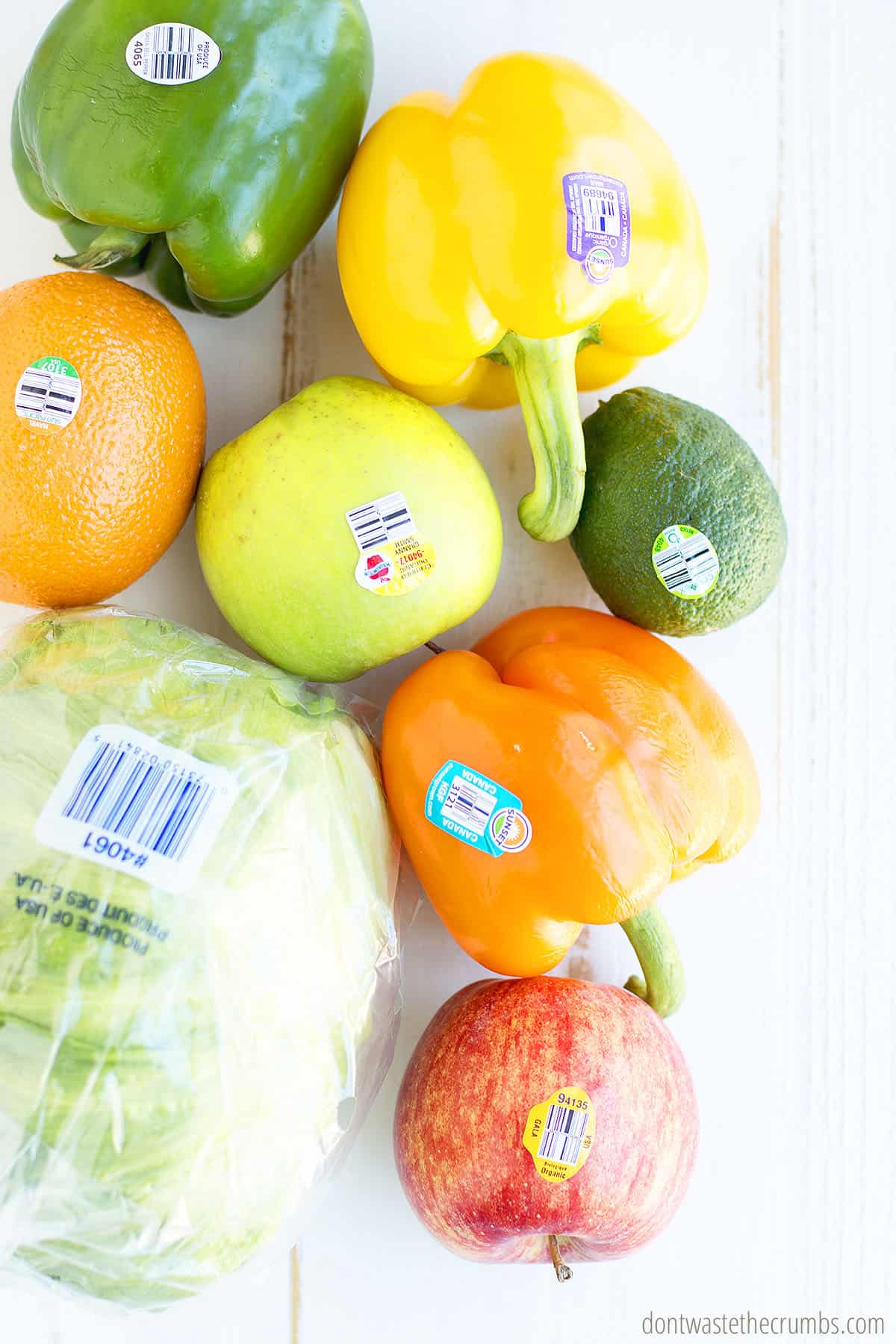 Farmers markets are great for finding local produce you won't find anywhere else. If you're visiting a certified organic market, you're guaranteed that everything you see is grown and harvested using organic methods.
It's a beautiful, clean feast for your eyes and belly! Unfortunately, it's not always so cut and dry when you're shopping for organic produce at a grocery store.
One hurdle is that the typical grocery store intermingles organic produce with conventional produce. You'll find organic apples sitting right next to conventional apples and unless you're standing right on top of them, you won't know the difference (and will likely assume they're all conventional).
As the demand for organic produce grows, some grocery stores are starting to separate organic produce from conventional produce. This is really helpful when you're shopping for several organic items at one time since you can simply locate the organic section and find everything in the same spot.
On the other hand, this isn't so great if the store's organic section is small. Since the availability of organic produce relies much more on the current season than conventional produce, the designated organic shelf in your grocery store often has a limited selection and limited stock… and grocery stores will make sure this type of shelf won't be the first thing shoppers see.
Designated areas for organic produce, are often towards the back of the entire produce section, sometimes even facing backward, so that you literally have to pass them up and turn around to even see that there's an organic section in the first place. In some cases, this section isn't even labeled organic!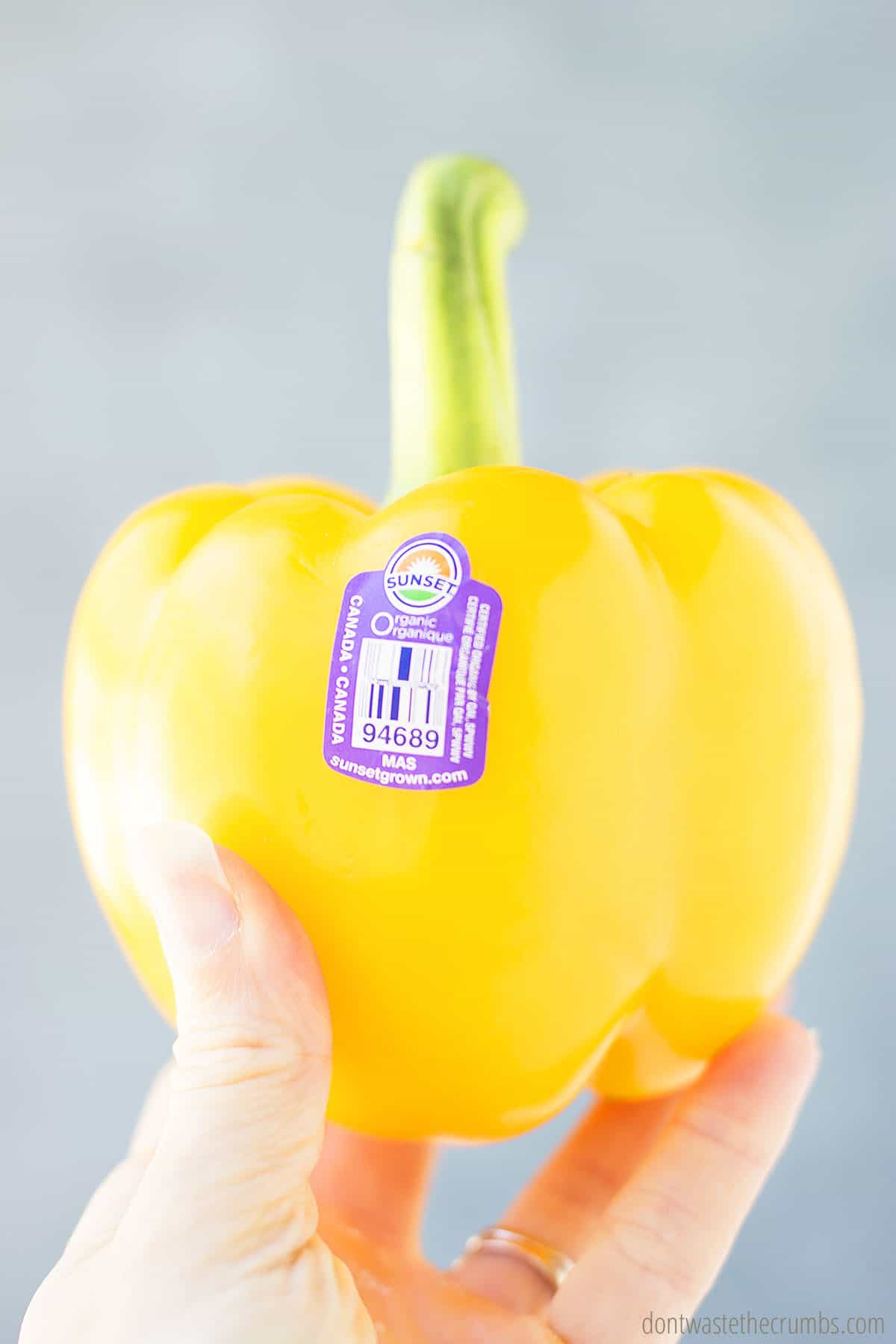 Fortunately, there's a simple way to navigate the produce section of many grocery stores. You can save money, shop the Clean Fifteen/Dirty Dozen AND easily identify what foods are organic and which ones aren't.
Just look at the PLU code!
What Are Those Stickers on Fruits and Vegetables?
What is a PLU Code?
PLU stands for price look-up. These codes are found on the little stickers or ties on apples, oranges, bananas, or just about any other fresh produce. The PLU stickers are put on there by the store itself, but the numbers are assigned by the International Federation for Produce Standards (IFPS).
Believe it or not, those little numbers on fruits and veggies actually mean something, and there is other important information on the label too!
De-coding The PLU Code
All PLU codes begin with either a 3 or a 4. The IFPS has standardized the process and set aside a block of numbers specifically for the purpose of creating a common code among retailers.
Regardless of where the fruit is grown and where the fruit is sold, the same fruit is always given the same number.
A 4011 on bananas in Florida is a 4011 banana in Mexico, and it's still a 4011 banana in Ecuador. It's simply a business system that makes it easier to identify produce.
It's worth noting that different codes are assigned to different varieties of the same produce. When you search for "banana" in the IFPS database, you'll be given 10 different PLU codes for 10 different varieties of bananas – and they're all valid!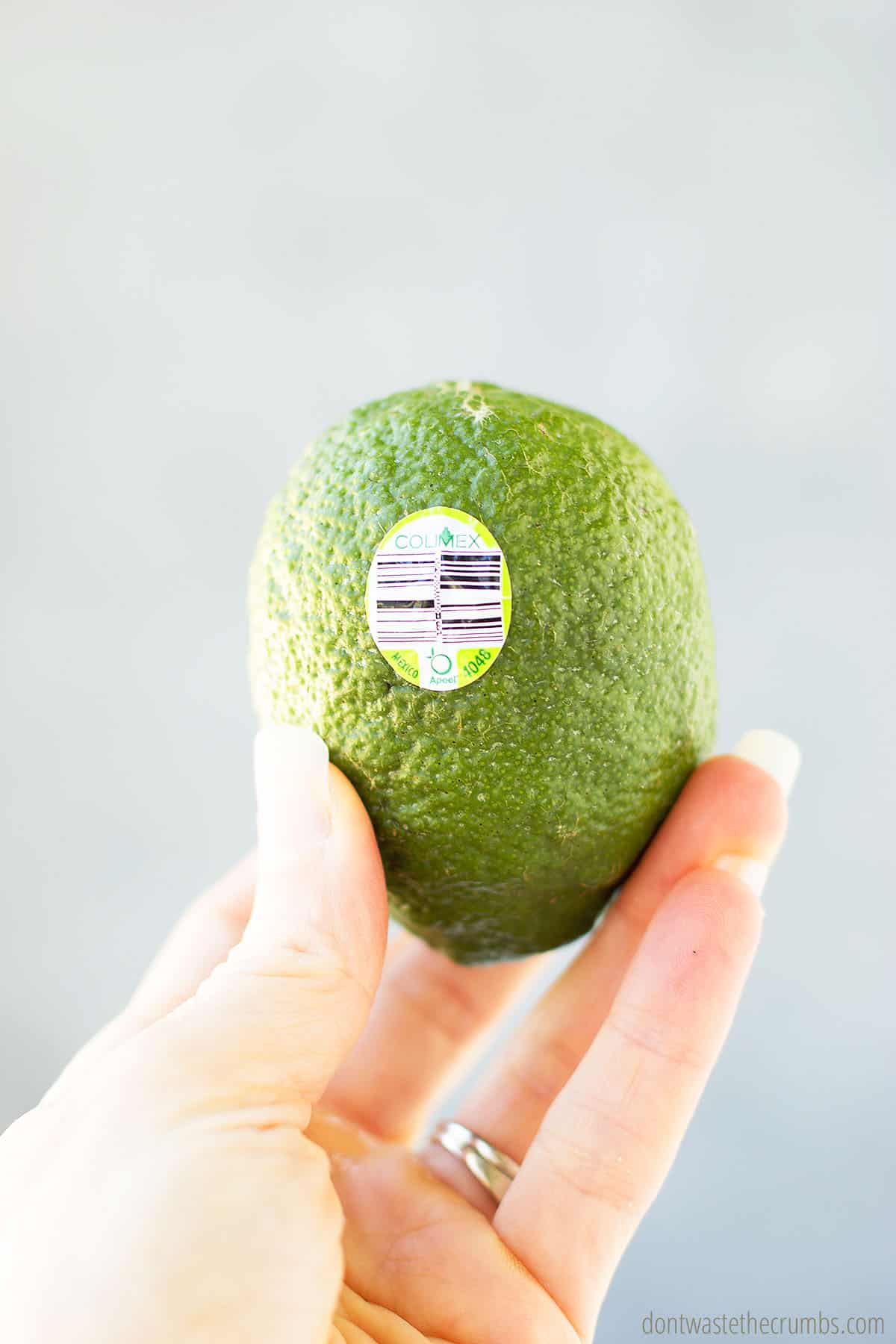 All PLU codes are four digits long.
The only exception is when there's a specific identifying number preceding the PLU code.
For example, 4052 is the PLU code for small papayas. Papaya will have a PLU code 8-4052 or 94052. The hyphen isn't required to be on the PLU sticker.
The code for papaya is still the same – 4052 – but those preceding numbers, the 8 and 9 respectively, tell you a bit more about the fruit, if the PLU code is preceded:
with an 8, it is GMO food.
a 9, it is organic food.
If the PLU code is NOT preceded with an 8 or a 9 – it's simply a four-digit number beginning with 3 or 4 – it is a conventionally grown food.
You can see if the food is..
grown conventionally (starts with a 3 or 4)
grown organically (starts with a 9)
GMO food (starts with an 8)
What Else is on the Stickers on Fruits and Vegetables?
In 2009, The United States passed a law that required stores to notify customers of the country of origin for fresh produce. The law says that if the food is labeled with a sticker, the majority of the items in the bin should also be labeled with the country of origin. If this isn't possible, the retailer has the option of putting up a sign in the store near the product.
A perfect example of this is when I bought marked-down bananas from the Asian market several weeks ago. There were bananas from Ecuador, Columbia, and Honduras – they all had different PLU codes – yet they were all still bananas.
In either case, seeing a sign in the store or reading the country on the label is very helpful in determining where your food comes from!
Drawbacks of the PLU Coding System
In my opinion, there are only two major drawbacks to this system:
It's voluntary, based mostly on business needs
It is not regulated by a governmental agency
Specifically, stores don't have to put stickers on fruit or vegetables if they don't want to. They could easily get away with putting a sign near the bin of apples that says "grown in Mexico" and leaving it at that.
Questions about Stickers on Fruits and Vegetables
Are the stickers on fruits and vegetables edible?
According to this article, you can consume a small amount since the tiny amount of possible toxins would not be harmful. The FDA has stated that the stickers on fruits and vegetables are not intended for consumption.
How can you tell if a fruit sticker is organic?
You can tell if a fruit or vegetable is organic if the label has 5 digits and it starts with a 9.
Are stickers on fruit compostable?
Stickers on fruit and vegetables are not compostable. These stickers are not biodegradable since they are usually made from plastic.
A Word on GMO Foods
Have you ever seen a PLU code starting with 8? Me neither.
There are two reasons for this.
First, the FDA has determined that GMOs are substantially equivalent to foods that a scientist did NOT modify in a lab. Basically, according to our government, they're no different than their non-GMO counterparts. Even though PLENTY of studies have shown otherwise…
Second, because the PLU labeling system is voluntary and not required, manufacturers growing GMO foods don't even have to label their foods in the first place. However, if they choose to, they can submit their produce as conventionally grown since it's not "substantially different" according to the FDA.
It sounds sneaky, and it is! Since GMO awareness is gaining traction and the entire GMO scene is under scrutiny, manufacturers of GMO foods would likely lose profits by publicly labeling their foods as GMO.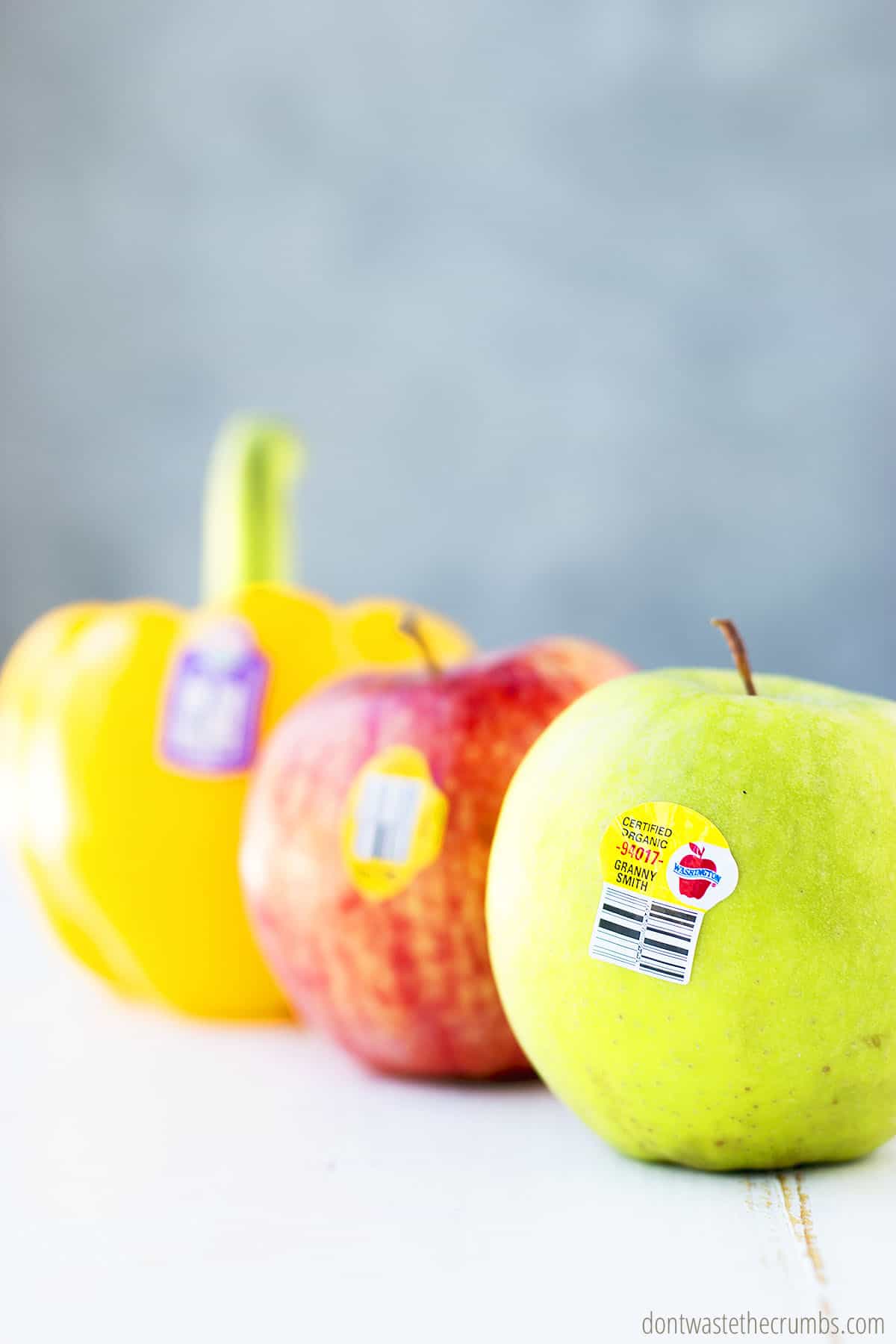 There are only a handful of GMO foods you'll find in the produce section:
papaya (likely from Hawaii)
zucchini
yellow squash
corn
If you're in the market for these items, you have three options:
PLU code begins with a 9
when it's labeled 100% organic
labeled GMO-free
More on GMOs
I will be the first to admit that I didn't always know a whole lot about GMOs.
I knew the worst offenders (corn, soy, and cotton) and I really thought I was doing a pretty good job of avoiding the last two… until I read "Unraveling GMOs" by Loriel Adams.
Loriel writes passionately about GMOs and breaks down an incredibly complicated concept into easy-to-understand pieces.
Unraveling GMOs has three sections:
Understanding GMOs and Where They Come From (The Basics and Becoming Educated with the Issues at Hand)
Locating GMOs in Labeling (How to Minimize Your Exposure)
Ways You Can Take a Stand Against GMO (Making a Difference)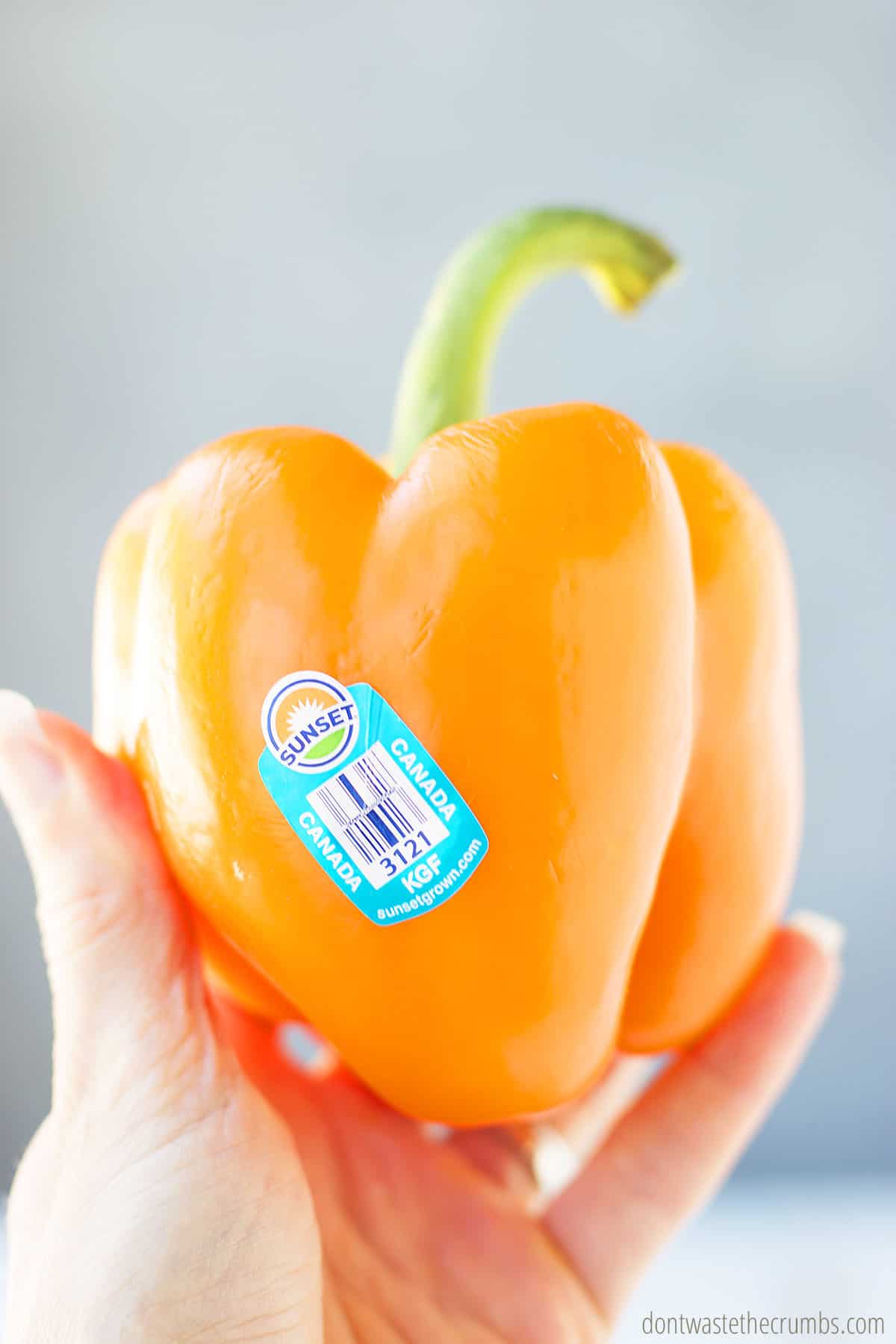 The first section will grip you like a scientific who-dunnit. I won't ruin the surprise and tell you who the not-so-secret killer turns out to be, but her research is thorough and the studies she references are incredibly intriguing!

The ways food can be modified, how the manufacturers actually do it, and the money trails that lead from the manufacturer to the government, the people who are double agents and working for both sides of the fence… gripping I tell you! The first section was my favorite, as I tend to like that science geeky stuff that explains all the why's behind the how's.

The second section would be the equivalent of GMO 101. Loriel covers basic education on GMOs including the biggest offenders and their derivatives. She shows how you can identify potential GMO foods on ingredient labels – even when you think the food is healthy!

For example, have you ever eaten Arnold Healthy Multi-Grain Bread? I haven't, but I promise you'll find a few unexpected surprises in the list of ingredients if it's something in your grocery cart!

Finally, the third section offers practical ways you can take a stand against GMOs, besides buying whole foods. Yes, using your dollar is the best way to take a stand, but that's just one way.

Her suggestions are totally doable by anyone, regardless of the number of things on your to-do list. Her encouraging demeanor is inviting, and she hits it right on the mark when she says "any act is better than none."
For more literature on GMOs, "Unraveling GMOs" gets the job done. With nearly 30 cited sources, the research is solid and the explanation is passionately straightforward and easy to understand.
More Helpful Posts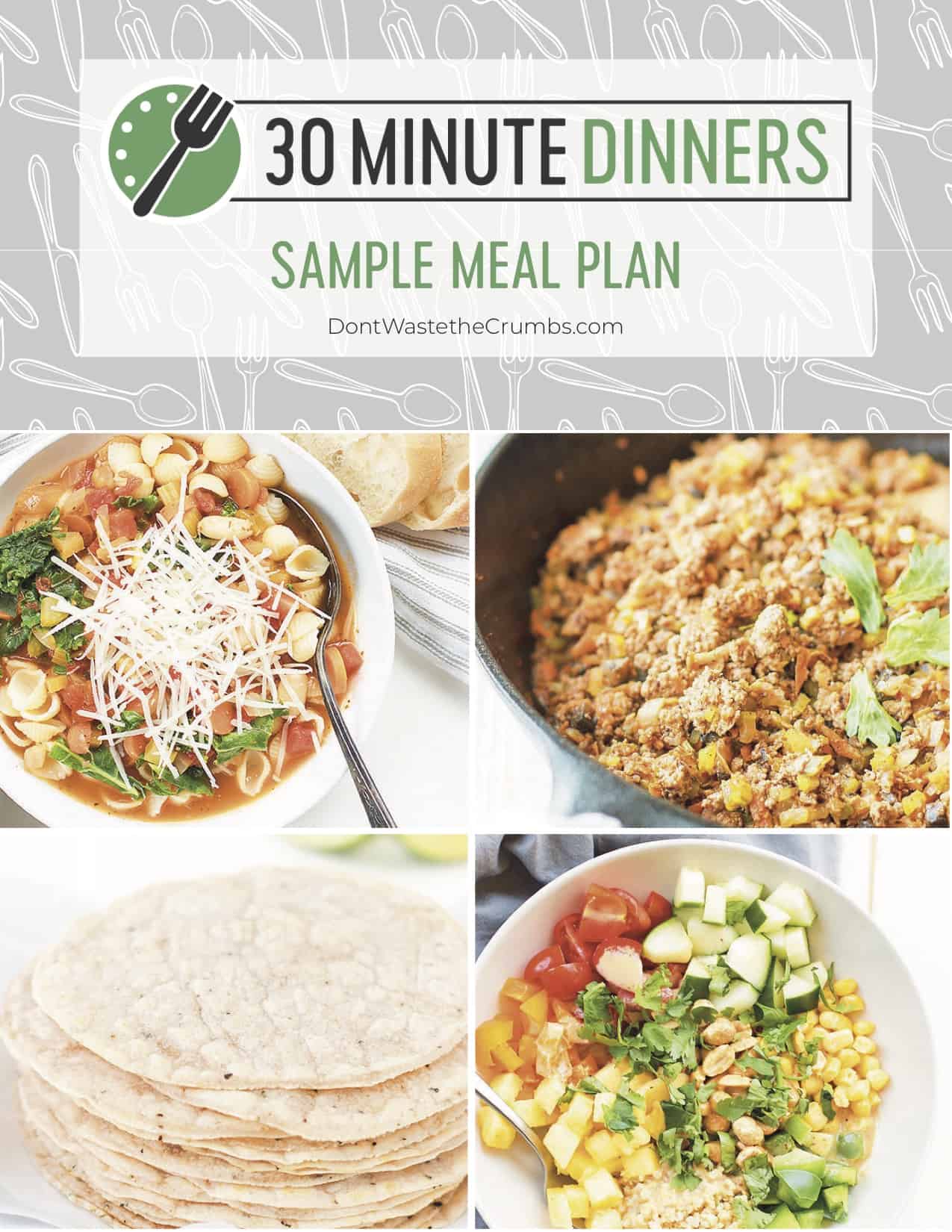 30 Minute Dinners Sample Meal Plan
Sign up to get instant access to my 30 Minute Dinners Sample Meal Plan, complete with recipes and step-by-step instructions!