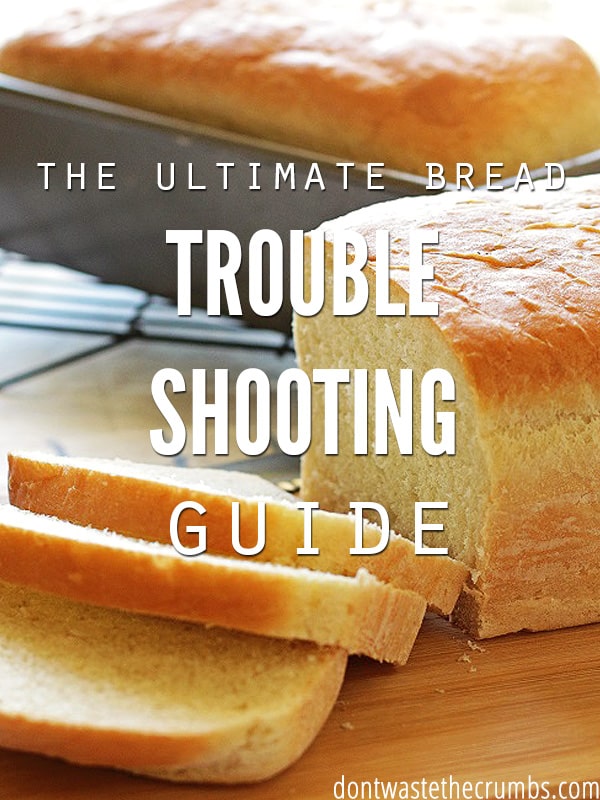 The feeling of successfully making my first loaf of homemade bread was euphoric.
Mr. Crumbs, the company we invited over for dinner and even the kids were amazed. "You made this?!" they asked.
Like a proud mother hen, I was beaming over that bread.
Little did they know that just a few days earlier, my loaves were about as tasty and dense as a hockey puck.
It takes trial and error to get a loaf of bread just right, but with each failed recipe comes lessons learned to help make the next batch that much better.
Lucky for the novice bakers out there, this ultimate guide to troubleshooting bread is the crash course on what might have gone wrong with your baking extravaganza.
Like the ultimate guide to freezing bread and yeast 101, you're gonna want to keep this one handy!!
General Tips & Helpful Facts
When proofing yeast, water should be between 105F and 115F. (Read more about yeast HERE.)
Air temperature during the rise(s) should be between 75F and 85F.
The purpose of kneading is to allow the gluten to develop. Too short or too long of a knead will affect the texture of the bread.
A general rule of thumb is the ratio of flour to water is 2:1 by weight (i.e. 6 oz bread flour for 3 oz water).
Bread is done when it sounds hollow when tapped underneath, or reaches 190F on a thermometer. It's better to over-cook by a few minutes than under-cook.
Once you've added the flour to the recipe, knead just until ingredients are combined and then let the dough rest for 10 full minutes. Continue with the recipe as written. This provides a better textured bread.
If you're not sure if the dough has doubled in size, flour two fingers and stick them in the dough. If the indentation stays, it's ready. If the indentation springs bag, let the rise continue.
Over-kneading – at any stage – will effect the outcome of the bread. Knead and handle only as necessary.
Gently pushing shaped dough into the corners of the loaf pan will help create a more even loaf.
Take five minutes and make a flour shaker. And these mats might be your new best friend.
For more great information on bread in general, check out this FAQ page.
Problems with the Dough
Q: My dough is really sticky.
A: Either there wasn't enough flour, there wasn't enough gluten in the dough or there was too much kneading.
Fix: Add more flour 1 tablespoon at a time, but no more than 1/2 cup. Dough that is too dry might not rise well, and could result in a dense loaf. Be sure to use flour that contains enough gluten, or add vital wheat gluten to the dough (1 Tbsp per 1 cup of flour). Knead only until the dough is smooth and elastic, and no more.
Problems with Yeast
Q: My yeast didn't bubble up with beer foam.
A:  One of 3 problems: either the yeast is dead, the water was too hot, or the water was too cold.
Fix: Try again and make sure the water is between 105F and 115F. Adding a little bit of sugar (no more than the amount of yeast) will help as well. (Read more about yeast HERE.)
Problems with the Rise
Q: My bread didn't rise at all, only rose a little bit or took a really long time to double in size.
A: Either the yeast wasn't active or the environment was too cold.
Fix: Proof your yeast first, making sure the water is between 105F and 115F. Then allow dough to rise in a warm – not hot, not cold – place. (Read more about yeast HERE.)
Q: Why does my cinnamon roll recipe take longer to rise than my sandwich bread?
A: Milk, eggs and butter interfere with the rising of yeast, and therefore recipes using these ingredients tend to take longer to rise. To counteract this, either allow for a longer rise time, place in a warmer environment or use more yeast.
Problems After Baking
Q: Why did my bread cave in after I baked it?
A: The bread rose for too long or the oven temperature was too low. Once dough has doubled in size, yeast has reached its "maximum" capacity. Any additional rise beyond the doubling in size is carbon dioxide being released into the dough. If bread over-rises in the first rise, it won't rise much during the second. If bread over-rises in the second rise, it will likely cave during baking.
Fix: Allow bread to rise just until doubled in size, and use an oven thermometer to verify temperature.
Q: Why is my bread dense?
A: It could be the weight of the grain, too short of a knead or too long of a rise.
Fix: Try altering the types of grain used. "White" flour is generally all-purpose flour. Bread flour is made from wheat with a naturally higher content of gluten and sometimes has vital wheat gluten added to it. Only use 100% whole wheat flour in recipes that call for it, or as your own experience allows. Hodgson Mill offers a good selection of whole grain flours to choose from. Many are organic and/or non-GMO and they're all affordable.
As for the knead and rise, ensure the bread is being kneaded until smooth and elastic and has risen until just doubled in volume.
Q: Why did my bread stick to my pan?
A: There wasn't any fat creating a barrier, protecting the dough from searing.
Fix: Butter and flour the loaf pans.
Q: Why did my bread brown on top, but not on the sides?
A: The pan is too bright and it's reflecting heat instead of bringing it in.
Fix: Use a different, darker loaf pan. These work well. Or you can try baking directly on a baking stone, or on parchment paper.
Problems with the Texture
Q: Why is my bread dry and crumbly?
A: The two most likely culprits are either the dough was mixed for too long, or was allowed to rise for too long.
Fix: Knead bread just until smooth and elastic, and let rise until just double in volume.
Q: My bread is very dense and slightly undercooked.
A: Either the oven was too hot or the bread didn't fully bake.
Fix: Use an oven thermometer to verify the temperature of the oven, and allow bread to bake until an internal thermometer reaches 190F or sounds hollow when thumped.
Q: My bread is going stale really quickly.
A: Your recipe might be lacking a natural preservative: fat.
Fix: Add a small amount of fat to the recipe next time, 1 tsp should do the trick.
Q: There's a big hole in my bread when I slice it.
A: This could be from poor shaping, or poor rise.
Fix: Be sure to shape your dough correctly, and slash the top using a sharp knife to help guide the direction of the dough in baking.
Q: One recipe makes too much bread for me.
A: Try freezing baked dough instead of halving recipes.
Fix: The Ultimate Guide to Freezing Dough.
The best piece of advice any baker could give you in order to get the best bread possible is to practice! It takes a few rounds to know what "done" looks like, what a "hollow thump" sounds like and what "smooth and elastic" feels like.
If your bread doesn't turn out – for whatever reason – don't give up! Try again and see if you can spot the error. Remember that baking bread is an art, not an exact science, and the more you practice your craft the better you'll become!
Calling all seasoned bread makers – did I miss any tips? What advice would you give to someone new to baking bread?
Hodgson Mills believes in making life better. That starts with making nutritious foods of the highest quality, because we think life's better when you take care of yourself and your health.
Disclaimer: This post is sponsored by Hodgson Mill, a family-owned company whom Crumbs is proud to partner with. As always, I would never recommend anything on Crumbs that I wouldn't recommend to a close friend or neighbor, and all opinions here are my own. This post also contains affiliate links. By making a purchase through those links, you support the ministry of Crumbs without any additional cost to you. Thank you for supporting Crumbs in this way! Read my full disclosure statement here.