Make this buttery sourdough biscuits recipe in minutes, not overnight! Use whole wheat, spelt or even Bisquick, and can be made ahead for the refrigerator!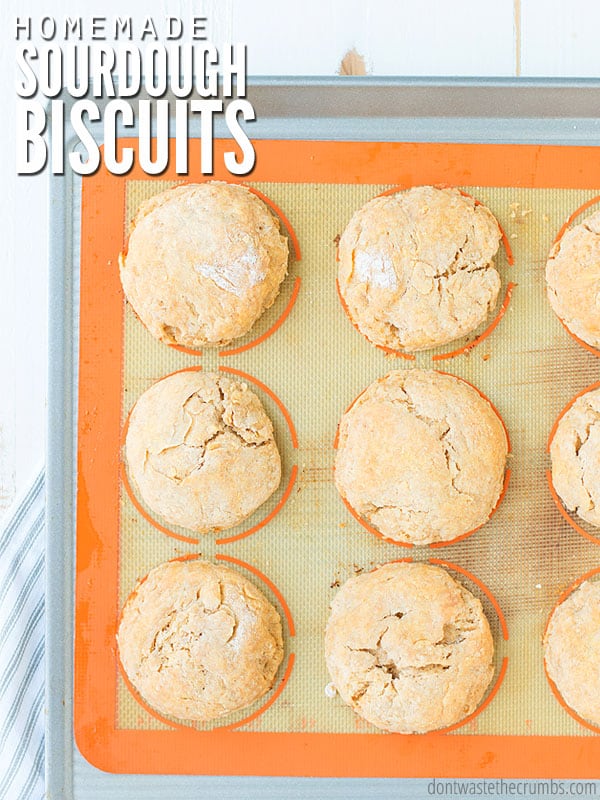 Knowing how much we spend on food every month, I absolutely hate throwing anything out. That includes any sourdough starter discard that I may happen to have.
I generally save all of my leftover sourdough starter and keep it in a jar in the fridge for this sourdough pancake recipe, but what am I supposed to do if we end up not making pancakes one weekend?
That's when you make sourdough biscuits. They're soft, buttery and have that signature sourdough tang. Plus they're quick to make and a great way to not waste any of that leftover sourdough!
It might sound silly, making a big fuss about not throwing away what's essentially ½ cup of flour and ½ cup of water, but in our house, every crumb counts!
Pennies add up to dollars, so changing the way you view food can change the balance of your savings account over time!
These sourdough biscuits started with a Google search and were inspired by these King Arthur sourdough biscuits. I quickly realized, though, that you didn't have to follow that recipe to get buttery sourdough biscuits. You can start with just about any quick biscuit recipe you have!
Unless I have a hankering for sweet potato  biscuits, these quick homemade biscuits are generally my go-to recipe because they're just so easy!
They have just enough butter to make them light and fluffy and buttery, but not so much that you feel like you wasted an entire stick of butter on biscuits that your family made disappear in 1.3 seconds. And you don't feel bad for forking them open to smear more butter either!
Plus (mom perk!), you can roll them out and cut them when you're feeling fancy, or make them quick drop biscuits when you just need to get them in the oven.
You can even change up the type of flour based on what you have!
Before I started grinding my own einkorn flour with a grain mill, I used to use up the last random bits of flour in the bags while making my biscuit recipe… whole wheat, all-purpose, white whole wheat, spelt… They were delicious, every time!
Using up those last bits of food was – and still is – how we're able to keep our grocery budget so low. If you're struggling with your budget, I encourage you to sign up for my free 3-part video training series! You'll learn grocery shopping techniques I've never shared on the blog, and you'll walk away with practical tips to save money on groceries THIS WEEK! Sign up HERE to get started!
Sourdough Biscuit Recipe
Taking any quick and easy biscuit recipe and turning it into a sourdough biscuit recipe is pretty straightforward:
Everything stays the same except the liquid. Instead of milk (or buttermilk), you use sourdough starter.
Sounds easy, right? That's because it is!
We've made these a few times with extra sourdough starter and my family likes these better than buttermilk biscuits. Using sourdough gives more of a tang, and it really shines in the biscuits!
How to Make Sourdough Biscuits
Like I said, these biscuits are pretty straightforward, but let's break it down.
Sourdough Starter
You need sourdough starter to make sourdough biscuits. It doesn't have to be active or mature, which means it's totally fine to use the flour/water mixture if you're only on day 2 of making your sourdough starter!
The more mature your sourdough starter is, the more tang your biscuits will have.
Early on when I had just started making my sourdough starter, the tang in the biscuits was so mild, it was barely noticeable.
After a few weeks though, as my sourdough starter matured, the tang got stronger and stronger.
If you don't want as much tang, I would suggest either using less starter and adding milk as needed for additional liquid, OR adding a teaspoon or two of sugar.
Ever since we quit sugar, I stopped adding sugar to my biscuits because it just wasn't necessary. (Unlike in a white sandwich bread recipe or an overnight no-knead bread recipe where you need sugar to feed the yeast.)
Flour
You still need flour, otherwise your biscuits dough will never come together. I've made these with freshly ground einkorn and with all-purpose einkorn and they're absolutely amazing both ways.
If your family is new to real food and hasn't boarded the whole grain train yet, don't feel bad making these with all-purpose flour. Be excited that you're making biscuits from scratch and not having to use a can!
Also, if you have a batch of homemade Bisquick in the pantry, you can use that here in lieu of the dry ingredients!
Butter
I cut back on the butter just a tad from King Arthur's recipe, because it just isn't needed. You can get away with 6 Tbsp per batch and still get the same rich buttery flavor as you would if you used a full stick (8 Tbsp).
It's important that your butter is cold, otherwise your biscuits won't rise. Here's a time when forgetting to pull butter out for something like homemade cookies actually works in your favor!
I personally haven't tried this with coconut oil, but my gut says the biscuits won't turn out well. I'd be afraid the fat in coconut oil would melt while in the oven, where the fat in butter evaporates to create lift.
If you can't tolerate butter, I'd suggest a butter-replacement that you can tolerate.
Salt & Baking Powder
I almost always bake with unsalted butter so I can control the amount of salt in a recipe, so be careful if you're using salted butter.
You might want to halve the salt in the recipe, taste a bite and if it needs more, sprinkle a bit on top of the biscuits before baking. Then make a note to adjust the salt next time you make these sourdough biscuits.
How to Use Sourdough Starter in Any Quick Biscuit Recipe
As I mentioned earlier, you're essentially substituting sourdough starter for the liquid in a traditional quick biscuit recipe. At the same time, sourdough starter contains flour already, so we have to reduce the amount of flour you use in your quick biscuit recipe.
Here's my 1-2-3 method for using sourdough starter in quick biscuit recipe:
Halve the amount of flour. Keep all the other measurements the same.
Use sourdough starter in place of the liquid.
As the dough comes together, add additional ALL-PURPOSE flour** as needed.
** Note: All-purpose flour absorbs quickly into dough and batters, and it's important to not over-knead or over-mix biscuit dough. If you do, your biscuits will be tough and chewy, instead of light and fluffy. Using all-purpose at the very end, just to help bring the dough together, will help you not over-mix and still get the right ratio of wet to dry ingredients.
Other Helpful Tips:
I use my KitchenAid stand mixer to make this dough. It keeps my hands clean and the dough comes together REALLY fast. For other ways to "hack" your stand mixer, check out this article.
You can make the dough – minus the sourdough portion – ahead of time and store in the fridge. We do this when we go camping. Then whenever you're ready to make biscuits, just add the sourdough starter and knead either in a stand mixer or by hand in a bowl.
If you don't have a biscuit cutter, use a mason jar! Or a drinking glass! Look at the rim and see how big you want your biscuits to be and use whatever jar or glass you have that will work. If you lightly oil the rim of the glass, the biscuit will cut out easily.
If you don't feel like cutting your biscuits, you can press the dough into a rectangle and cut them into squares. Bonus – no scraps!
If you need "more" biscuits, use a smaller cutter. People tend to take one whole biscuit, no matter the size of the biscuit. If you're feeding a crowd, consider making smaller biscuits rather than a double batch of large biscuits. I used a pint mason jar and got 14 biscuits out of this recipe, which was perfect for dinner plus leftovers.
These biscuits freeze well! I recommend baking them first and then freezing.
Sourdough biscuits will spread a bit more than a traditional quick biscuit recipe, so it's really important your butter is cold. You could even take it a step further by refrigerating your sourdough starter discard overnight as well. The colder the dough is when you start, the less the biscuits will spread.
Buttery Sourdough Biscuits
Make this buttery sourdough biscuits recipe in minutes, not overnight! Use whole wheat, spelt or even Bisquick, and can be made ahead for the refrigerator!
Author: Don't Waste the Crumbs
Prep Time:

10 mins

Cook Time:

20 mins

Total Time:

30 mins

Yield:

12

1

x
Category:

Bread

Method:

Bake

Cuisine:

American
1 cup

flour (I use freshly ground einkorn)
Up to

4 Tbsp

all-purpose flour (as needed)

2 tsp

baking powder

1 tsp

salt

6 Tbsp

unsalted butter

1 cup

sourdough discard (unfed and stirred)*
Instructions
Preheat the oven to 425F. Line a cookie sheet with a silpat mat or parchment paper.
Combine the flour, baking powder and salt in the bowl of a stand mixer and using the paddle blade. Add butter in slices and mix on low until the dough resembles coarse breadcrumbs.
Alternatively, mix these ingredients in a large bowl and use your fingers to break apart the butter, taking care NOT to make a paste.
Add the sourdough starter and mix on low until the dough mostly sticks together. If the dough is too wet, add additional all-purpose flour 1 Tbsp at a time and mix gently.
Turn the dough out onto a lightly floured surface (a silpat mat works great here!) and gently press the dough into a ¾" thick rectangle.
Using a biscuit cutter or jar or drinking glass, cut out rounds of biscuit dough and place on your prepared cookie sheet about 2 inches apart.
Bake for 15-20 min, until they're golden brown. Allow the biscuits to cool slightly before serving. Store at room temperature for a few days, or wrap them twice and freeze for a few months.
*Use sourdough starter that hasn't been fed in the past 4 hours. Also, make sure you always stir your starter before pouring and measuring it for a recipe.
Keywords: sourdough biscuits
Do you like buttermilk biscuits? I think you'll LOVE sourdough biscuits! It's that tangy flavor, but on a bigger scale! If you try this recipe, would you let me know? I'd love to hear what you thought of it!