We love these quick and easy sourdough pancakes using leftover starter. Inspired by Perfect Loaf, these can be made vegan and are super light and fluffy!
If you've ever made a sourdough starter before, I think you'll agree with me when I say coming up with what to do with the extra sourdough starter discard is often on the forefront of your mind.
After all, that sourdough starter is made up of flour which you paid good money for, out of your grocery budget.
Surely there's SOMETHING we can do with it, right?
Good news – there is! I've been working on a handful of EASY go-to recipes that use up my leftover sourdough starter discard, and this sourdough pancakes recipe has quickly become one of my family's favorites.
Let me just be clear – you don't HAVE to have sourdough starter to make pancakes…
But you can't make sourdough pancakes without starter. It just doesn't work.
It's like making banana muffins without bananas. It's just not possible!
If you don't have sourdough starter, I highly recommend pulling out your yogurt and/or buttermilk and consider making these light and fluffy chocolate pancakes, or these easy paleo almond flour pancakes, or these 10 minute sheet pan pancakes, or the very best protein pancakes, or super fun strawberry pancakes, or even these overnight soaked whole grain pancakes instead.
Shoot, you can even make homemade Bisquick and make pancakes from that!
I promise they're all delicious in their own right!
Remember the einkorn sourdough starter I talked about here? That's what started my quest for delicious sourdough pancakes.
I named my starter Judy, and after a few days, Judy started overflowing. I basically had a bunch of flour and water and needed something to make with it (that wasn't sourdough bread).
I needed something easy, something fairly quick, and something my family would love (because really, what's the point of making something they hate?).
I also wanted something that was fairly adaptable based on what I had in the pantry at any given time. I didn't want to be locked into a recipe that HAD to use freshly milled whole grain flour… what if I used it all up and didn't feel like grinding more at 7am on a Saturday morning?
That's how I settled on this sourdough pancake recipe. These sourdough pancakes are:
Light
Fluffy
Quick to Make
Fast to Cook
Sugar-free (really – no sweetener at all!)
Yeast-free
Adaptable to whatever flour you have on hand
Seriously, they're giving my blender cinnamon oatmeal waffles a run for the top spot of favorite weekend breakfasts!
How to Make Sourdough Pancakes From Leftover Sourdough Starter Discard
Here's a breakdown of what you need:
Sourdough Starter
As I mentioned, you can't make sourdough pancakes without sourdough starter, so you need some leftover starter.
Personally, I don't discard any of my sourdough starter. I pour it into a jar and keep the jar in the fridge instead. That way I'm not wasting any of the money I've spent on flour. Plus, it means I'm halfway to pancakes before I even start cooking!
This sourdough pancakes recipe makes 14-15 pancakes, and you need 1 ½ cups of starter to begin with. Make sure this is STIRRED starter, and preferably unfed. (Which means you haven't fed it in the past 4 hours or so, and you stirred the starter before measuring.)
If you have more starter, you can easily double or triple this recipe. (You can even intentionally MAKE extra "leftover" starter by feeding your starter more flour and water the two prior feedings.)
If you're making sourdough pancakes for two or sourdough pancakes for one, you can halve this recipe and in that case, you'll only need ¾ cups of excess starter.
Flour
I've tested these sourdough pancakes with both einkorn all-purpose flour and freshly milled einkorn whole wheat flour. You can use regular all-purpose or any variety of wheat flour you have in the pantry, or you can use a combination of all-purpose and whole grain flour (I recommend any of these).
Generally speaking, the pancakes will be lighter and fluffier the more all-purpose flour you use.
That doesn't mean whole grain sourdough pancakes taste bad – not by a long shot! My family still cleaned their plates and begged for more when I made them with freshly ground einkorn. They're just not as visually "light and fluffy" is all.
Note: I've done some digging, and the best I've found for einkorn all-purpose flour is the price with this seller on Amazon. And after some more digging of local stores and scouring the internet, the best prices on einkorn berries is from Jovial Foods. Use the coupon DWCRUMBS to save you 10% off everything on the site (excluding their book), plus shipping is free for orders over $25.  Go HERE to learn more about Jovial Foods.
Eggs, Milk & Butter
Eggs serve two purposes in pancakes: to bind the pancake batter together and to provide lift. I haven't tested this with an egg replacement, but there's a good chance it will work. Here's how to make flax eggs, if you can't have eggs or if you run out. (I personally keep flax in the pantry for this exact reason!)
Milk helps to thin the batter a bit, but we're using milk instead of water because milk tends to leave a softer crumb. It's similar to why we use milk in homemade white sandwich bread. It makes it soft and pliable and OH SO GOOD!
I used almond milk in all of my testing, but I'm sure any type of milk will work fine.
Finally, we're using butter as our fat of choice. Butter leaves the pancakes tender and the taste of richness that we love so much in pancakes.  We're using melted butter, so you can likely substitute melted coconut oil if you prefer. (Note though, that virgin coconut oil will solidify at cooler temperatures.)
Flavor + Leavening
We're calling on two pantry stand-by's for flavoring our sourdough pancakes: vanilla extract and salt.
If you don't have vanilla extract, you can use any of these 15 vanilla extract substitutes, or another flavored extract. I have maple extract in the pantry because of these maple pecan blondies, and that would be SO GOOD in this pancake recipe.
Salt brings out the flavor of anything, so please don't leave it out! (This is the salt I use and one 10lb bucket lasts me about one year.)
Sourdough pancakes need a bit of help to make them fluffy, especially if you're using a sourdough starter that is active but not mature, so we're using both baking soda and baking powder.
Should Sourdough Starter Pancakes Sit Overnight to Make Them Healthier?
Technically, "true sourdough" is when the starter and flour have been left to sit and ferment for at least 8 hours. Some say that this fermentation process makes sourdough pancakes healthier than if you didn't soak for a long period of time.
I'm not part of that "some."
I do believe that the extended period of soaking time makes the flour easier to digest for some people (you can read more about how that works in this article), but if you don't suffer from any digestion issues, you should be fine with the 30 minutes of rest time as written in the recipe.
While you wait, get the rest of breakfast ready while the batter sits…
Make sure you have a hot griddle or pull out your cast iron skillet.
Wash and slice up fresh fruit.
Pull out the maple syrup so it's room temperature. (No one likes cold syrup on hot pancakes!)
Also decide how big you want your pancakes to be!
We made these using a ½ cup measuring spoon, a 1/3 cup measuring spoon and a ¼ cup measuring spoon.
½ cup batter was too much
¼ cup batter was too little
1/3 cup batter was just right!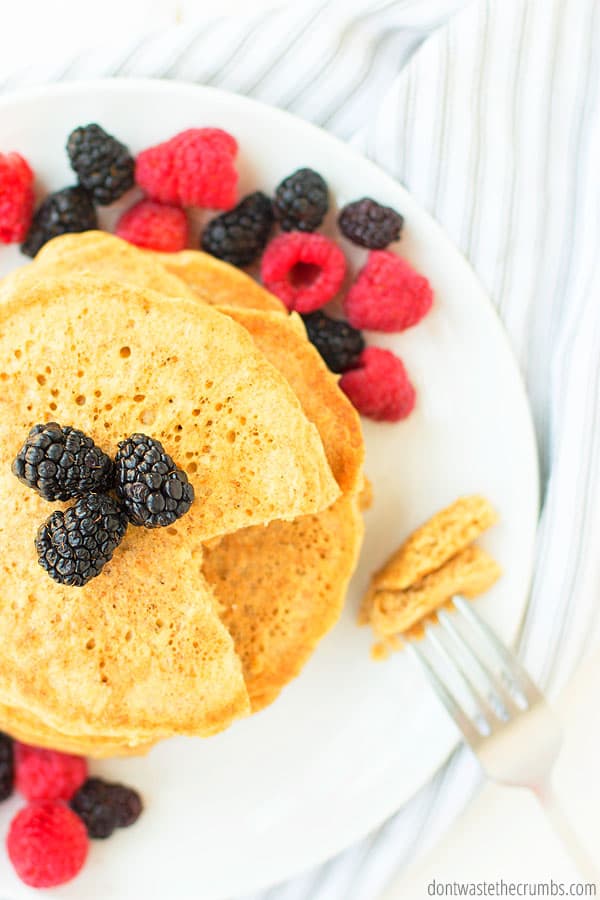 How to Freeze Sourdough Pancakes
My husband asked if you can freeze sourdough pancakes, and I was like, "Of course you can!"
I used my standard pancake freezing method here:
Put cooled pancakes on a cookie sheet OR cooling rack on a single layer.
Place the cookie sheet or cooling rack into the freezer and let the pancakes freeze as-is for 1-2 hours.
Remove the pancakes from the cookie sheet or cooling and rack and put them in a freezer-safe container.
Freezing them this way lets you pull out just one or two pancakes to re-heat when you want them.
You CAN stack all the pancakes together in a container and freeze them without freezing them individually, but then you'll have one big clump of frozen sourdough pancakes later on.
Sourdough Pancakes (Using Leftover Sourdough Starter Discard)
We love these quick and easy sourdough pancakes using leftover starter. Inspired by Perfect Loaf, these can be made vegan and are super light and fluffy!
Author:
Prep Time:

10 mins

Cook Time:

15 mins

Total Time:

25 mins

Yield:

12

-

14

1

x
Category:

Breakfast

Method:

Griddle

Cuisine:

American
4 Tbsp

butter, melted

2

eggs

1 cup

milk (I used almond milk)

1 tsp

vanilla extract

1 ½ cups

sourdough starter, stirred

1 ½ cups

flour (I used whole grain einkorn)

1 tsp

baking soda

1 tsp

baking powder

1 tsp

salt
Instructions
In a large bowl, melt the butter. Let it cool slightly, and then add the eggs, milk and vanilla. Stir well.
Add the sourdough starter and stir well.
Add the remaining ingredients and stir well. Let the batter sit for about 30 minutes.
Meanwhile, preheat the griddle.
When the batter is ready, gently stir and use 1/3 cup measuring spoon to ladle pancake batter onto the hot griddle. Let the pancake cook for 2-3 minutes, until the edges are showing signs of being cooked and there are bubble on the top.
Gently flip the pancake and continue to cook for 1-2 minutes.
Serve hot with your desired toppings. We like butter and pure maple syrup.
Keywords: sourdough pancakes
To learn more about sourdough or einkorn flour, check out Traditional Cooking School:
What's your favorite use for leftover sourdough starter? Do you literally discard it and throw it away? How do you make sure your starter doesn't go to waste? Leave your thoughts and ideas in the comments section below!