Everything You Need to Know About The Science Behind Soaking Grains
What does it mean to soak grains?
Well, besides sprouting and making sourdough, soaking whole grain flour is one way to maximize the benefits found within the grain.
The nutrition you find in whole grains is locked inside by three main components, phytic acid, phytates, and phytase.
I'm still not fully versed in all-things phytates, phytic acid and phytase and likely will never be. But I do feel well rounded enough to at least share with you what I've learned. It's interesting, that's for sure.
We're skipping over the whole enchilada versions and heading straight for the chips and salsa. That's my favorite part of the meal anyway.
Phytic Acid: shaped like a snowflake, phytic acid acts like a locked storage container in grains and seeds. It's found in the bran and germ portion and holds mainly phosphorus, but often times calcium, magnesium, iron and zinc too.
Phytates: the "glue" keeping these important minerals inside the storage container. If phytic acid is the locked container, phytates would be the lock itself.
Phytase: an enzyme that breaks down phytic acid. This would be the key to our lock.
How do we unlock the phytic acid and break free the vitamins and minerals so our bodies can use them? We turn the key. We activate the phytase when we soak the grains.
The Science Behind Soaking Grains
Where do we find phytase?
Phytase is found naturally in raw plant foods. But let's be honest. The mere mention of the words "raw" and "food" together in the same sentence tends to give non-foodie people the heebie-jeebies.
It's also found in the whole version of grains, but levels of phytase begin to drop as soon as whole grains are milled into flour. This means that any non-raw version of whole grains bought from the store (all flours, rolled oats, even most nuts and seeds too) will likely have little phytase left when you're are home, ready to eat it.
Traditionally, a diet rich in raw plant foods and whole grains wouldn't be an issue when it comes to phytase breaking down phytic acid. It happens naturally in our own digestive system when all parties are present and accounted for.
But most of us don't eat traditionally.
The human diet nowadays is comprised largely of cooked foods and processed grains. Any chances of remaining phytase are slim, and the ability of that phytase to break down phytic acid on its own is even slimmer. This causes the vitamins and minerals to be stuck inside and passed right through during digestion. Our bodies aren't even given the opportunity to absorb and use them.
Unless you use and turn a different key – lactobacilli.
Lactobacilli is the helpful bacteria found in yogurt, buttermilk, kefir and whey. It can activate phytase, giving it the boost it needs to break down phytic acid.
Lactobacilli together with warm water can catapult phytase to successfully break down phytic acid in as little as 12 hours (although 24 hours are recommend by most traditional foodies). It's a very similar process to fermentation in sourdough.
For how-to soak info check out these recipes:
What grains should be soaked?
All grains contain phytic acid to some extent. Based on Nourishing Traditions' recommendations:
Oats, rye, barley, wheat and quinoa should always be soaked (or fermented).
Buckwheat, rice, spelt and millet can be soaked less frequently.
Whole Rice and whole millet contain even less phytates so it's not necessary to always soak.
Flax seed does not require soaking if eaten in small amounts.
Is it really necessary to soak?
The fact that phytic acid has the ability to bind and hold minerals is not always a bad thing. Sue Becker quotes that phytates (the glue, or storage lock) bind with radioactive and toxic substances and carry them out of our bodies. (source)
She also cites a company wanting to sell phytates on their own because of their anti-tumor, anti-carcinogenic and blood sugar regulating properties. Surely something so powerful can't be all bad, right?
Besides, if an overnight soak only reduces roughly 10% of the phytic acid, is it really worth all the effort? Will it really make that big of a difference?
Some say yes, that the difference between soaked grains and unsoaked grains has a profound impact on their digestive system with the latter being much more difficult to endure.
Additionally, soaking can break down gluten. Those with gluten sensitivities (and those without) may tolerate soaked grains better too.
But can't we just eat white bread? If phytic acid is found only in the bran and germ, and white bread contains neither, doesn't eating white bread solve the issue? Well, that is one train of thought to consider, but you won't be getting the nutritional benefits of the whole grains. Essentially you're just eating simple carbohydrates.
Or what if we milled our own flour? Wouldn't that take care of the rapidly depleting phytase? Milling your own flour does help retain the phytase. Most people that mill their own grain don't bother with soaking since their flour is so fresh. However, milling isn't always an option if you can't find a good price on whole grains or don't have a mill (you can always work around the mill problem by using this method).
The Bottom Line
Ever feel like the answer isn't ever a simple yes or no? I feel ya.
Unfortunately (or maybe it's good news?), this topic is no different. You will have to sort out the pros and cons of soaking grains for yourself. I did some of that here –> Soaking vs Sprouting vs Sourdough.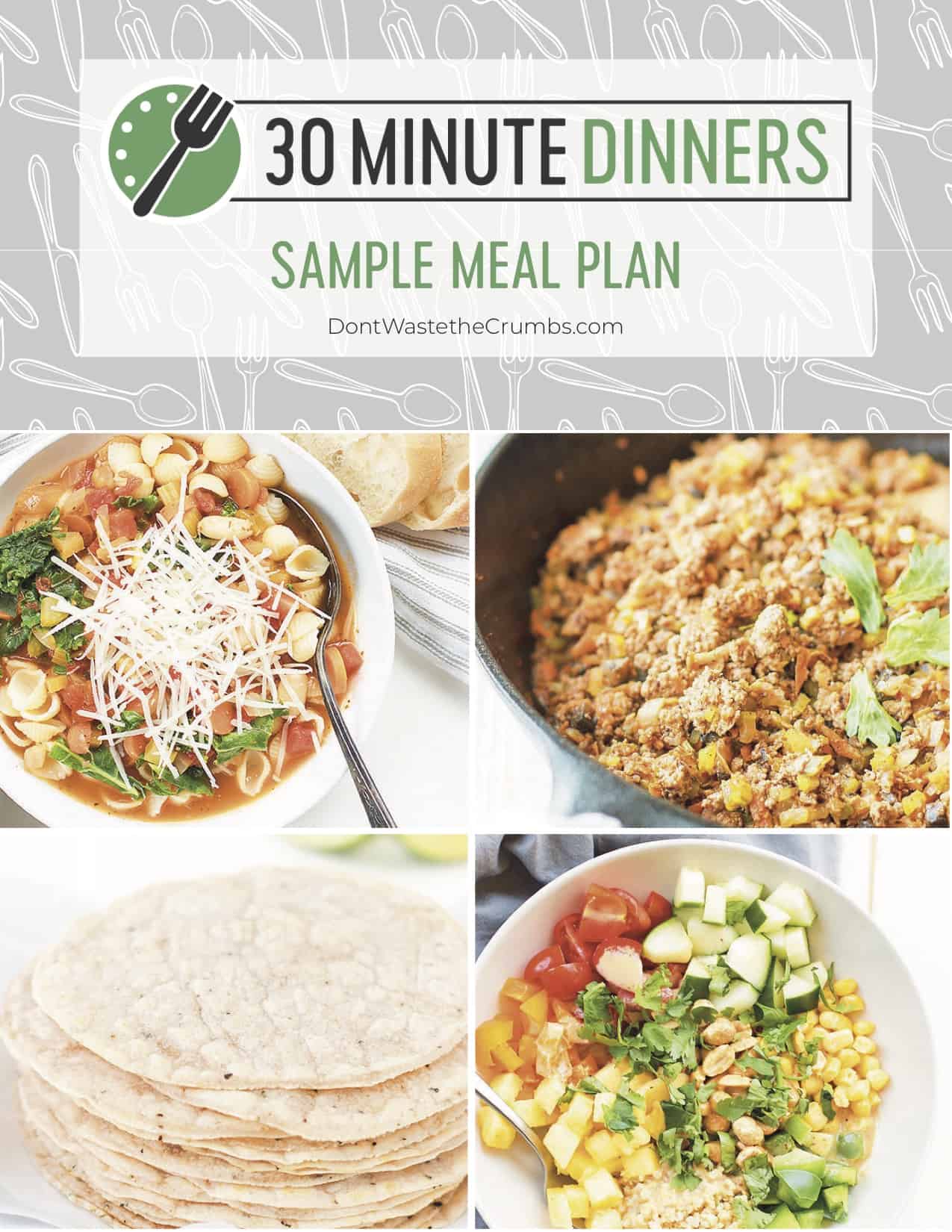 30 Minute Dinners Sample Meal Plan
Sign up to get instant access to my
30 Minute Dinners Sample Meal Plan
, complete with recipes and step-by-step instructions!
What's your experience and knowledge on soaking? Do you soak your grains?