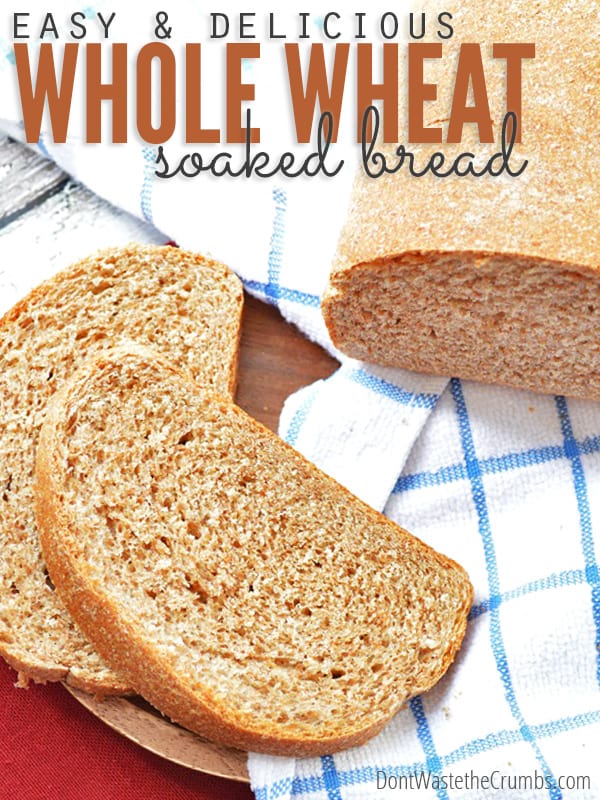 We talked about bread and carbohydrates in general a lot last summer. And I mean, a lot.
From bleached flour to unhealthy wheat bread to the healthiest bread you can possibly make, we covered just about everything there was to talk about when it came to preparing, eating and enjoying carbohydrates in the healthiest way possible.
I'll admit though – learning about real food is one thing. Putting it into action is another.
We had a sourdough starter going for several months last year, making pancakes and even simple sourdough bread. But then temperatures warmed up and the starter was growing more than I could keep up with… and since it goes against every cell in my body to pour perfectly good food down the drain, the starter went into the fridge.
In order to get itself all ready to rise bread on its own, cold sourdough starter needs to come out a day or two early to warm up and be fed. But quite frankly, I couldn't get a grip on the timing of it all! I was always off, either too soon or too late. Still being somewhat novice at sourdough, ingredients were being wasted left and right and all I had to show for my efforts was rock hard bread at the dinner table.
Not. Cool.
Then there was Allume in October and a two-week family vacation at Christmas… In the end, life was just a bit too busy for me to successfully keep a sourdough starter alive. I'm sure ya'll can relate, yes?
Fortunately though, we've gotten a pretty good grip on our weekly routine since the new year. Every Thursday is soup night, and with that meal comes freshly baked bread. "Bake bread" shows up just once on my weekly planner and I make sure we're home to to do it. It's really become that simple, and effective and getting the job done!
Our long time favorite (and still a winner) is rosemary olive oil bread. We've tried it every which way you can possibly imagine and it's always delicious.
You'll note that recipe is not prepared in a traditional manner. There's no soaking, no freshly ground sprouted wheat. It's a throw-it-in-the-bowl-and-have-bread-ready-in-a-few-hours-no-preparation-needed type of recipe. And it worked for me because I didn't want the "inconvenience" of the extra five minutes it took to soak my grains on Wednesday night.
Then, a close friend of ours got really sick earlier this year.
Since we would be helping out with meals on occasion, I used Dr. Google to find out what type of foods she should eat, shouldn't eat, what to avoid, etc., so that we could helping with her health and not just her meals. The results weren't too far from what's recommended for a perfectly healthy person: eat lots of nutrient dense foods, avoid refined grains and sugar.
The first time we had them over for dinner, I soaked the whole grain flour overnight in an attempt to maximize every ounce of nutrition possible in her few slices of bread.
I kept this same routine for a couple of weeks – grinding grain and soaking on Wednesday afternoon, then making the bread on Thursday – and sharing small loaves with our friend. After seeing how easy it really was, and remembering that I can't turn a blind eye to inconvenience because I'm feeling lazy, "soak flour" has been added to my weekly planner on every Wednesday.
Remember that I'm not a doctor and I am in no way saying that soaking your grains will prevent cancer.  However, what I AM saying is that getting the most nutrition out of the food you eat isn't' a bad thing.
Searching of a good soaked bread recipe didn't yield many results, so I turned back to my trusty Nourishing Traditions instead. Sally Fallon offers a recipe on page 493 called "Yeasted Buttermilk Bread" that seemed easy enough, and with just one cup of unbleached white flour (and four cups of whole grain flour), it met our goal of eating more whole grains too!
This recipe is my rendition of Ms. Fallon's after many, many weeks of this bread being included on our weekly menu. I've tested it with whole wheat, spelt, oat and even kashi flour (which I don't recommend, lol). I've subbed homemade yogurt, kefir and whey for the buttermilk in the original recipe, after trying multiple variations of homemade buttermilk first of course.
In the end, I've found my favorite combination, but this recipe adapts well to just about anything you throw its way. It's perfect for soup night, holds up well to grilled sandwiches a couple of days later and is lighter than most whole wheat bread recipes. Of course, the pickiest eaters will notice the distinct taste of wheat, but see my additional tips after the recipe for a simple way to sneak this whole grain past them too!
Easy & Delicious Soaked Whole Wheat Bread
A simple, easy, and delicious soaked whole wheat bread recipe that can be incorporated into any busy person's routine to get the most nutrition out of bread.
Author: Tiffany
Prep Time:

16 hours 20 mins

Cook Time:

30 mins

Total Time:

16 hours 50 mins

Yield:

2

loaves

1

x
Category:

Breads

Method:

Oven

Cuisine:

American
Instructions
In a large bowl, or in the bowl of a stand mixer, combine the whole wheat flour, whey/buttermilk/yogurt/kefir and melted butter. Mix with a wooden spoon until a large ball of dough forms, or mix at medium-low speed for about 60 seconds. Add an additional liquid, one tablespoon at a time, if the dough seems overly dry. Knead to combine well.
Cover with a towel and let it sit at room temperature 12-24 hours, but at least overnight.
When you're ready to make bread, combine warm water, yeast and honey in a small mug or measuring cup and allow the yeast to bloom for 5 minutes.
Add the water/yeast/honey mixture to the soaked flour.
Add the salt and baking soda to the soaked flour and knead by hand, or mix at medium-low speed, until the ingredients are well incorporated.
Add 1 cup unbleached flour and knead by hand, or at medium speed, for a full 10 minutes. Add additional flour 1 Tbsp at a time if the dough is sticky past the 5 minute mark.
Cover with a towel and let it rise for 2 hours, or until doubled in bulk.
Dust your working surface and pour dough on top. Punch down lightly and divide into two equal pieces.
Working with one piece at a time, knead by hand for 30 seconds and shape into a rectangle.
Starting at the short edge, roll the dough up tightly and place into a well-buttered loaf pan, using either a 9″x5″ pan, or an 8″x4″ pan, or one of each.
Cover both loaves with a towel and let them rise for 1-2 hours, or until doubled in size.
Preheat oven to 350F.
Bake loaves for 25-30 minutes, until the outside is golden brown and the bottom sounds hollow when tapped.
Allow to cool on a rack for at least 20 minutes before slicing.
Notes
* You can substitute up to half of the whole wheat flour with another whole grain, such as spelt or kamut. However, it is best to use at least 2 cups of whole wheat flour.
Additional Recipe Tips
My favorite combination of flour is 2 1/2 cups of freshly ground whole wheat and 1 1/2 cups of freshly ground spelt. Spelt is much lighter in flavor than wheat, tastes much like white flour and Mr. Crumbs has said numerous times that he prefers spelt over wheat. In fact, I've used spelt in place of the one cup of white flour and it's come out just as delicious. Remember that you can grind your own flour without a mill with this tutorial if you don't have one.
My favorite soaking medium is whey, but 1/2 cup kefir and 1/2 cup milk are a close second place (mostly because they're both almost always on-hand).
We've tried this bread using granulated sugar in place of the honey, but I think the honey adds a hint of sweet that really complements the whole grains. Use what you have!
Don't skip the butter and substitute at your own risk.  😉
Cost Breakdown
flour: .85-1.60
soaking medium: 0-.40
butter: .70-2.33
honey: .32
yeast: .03
salt: .01
baking soda: .002
The cost of this recipe will vary depending on the quality of ingredients you use. Store-bought whole wheat bread, whey (strained and/or poured off from other dairy items) and unsalted, conventional butter will yield the most affordable batch at just 96¢ per loaf. My personal favorite recipe that uses freshly ground wheat, spelt and grass-fed butter ends up costing $2.10 per loaf. In either case, it's still less than most store-bought wheat breads, and much, MUCH healthier too!
A side note worth mentioning is that when I would make rosemary olive oil bread with white flour, we could easily take out an entire loaf in one meal.  Shoot – I could take out an entire loaf if you left me alone with a tub of butter!
However, now that we're baking with more whole grains, and most breads we make contain at least 75% whole grain flour, we only eat about half of a loaf at dinner. And this isn't my being stingy or rationing out slices, lol. I think it's the "whole grains take longer to digest" issue at play, and our bodies are hard at work breaking down the complex carbs before dinner is even over.  Pretty neat, eh?
What about you? Have you taken the baby step to make your own breads? Do you regularly soak them too?
Disclaimer: This post contains affiliate links. By making a purchase through those links, I will earn commission that helps to keep the lights on in the Crumbs house – with no additional cost to you. Thank you for supporting Crumbs in this way. Read my full disclosure statement here.