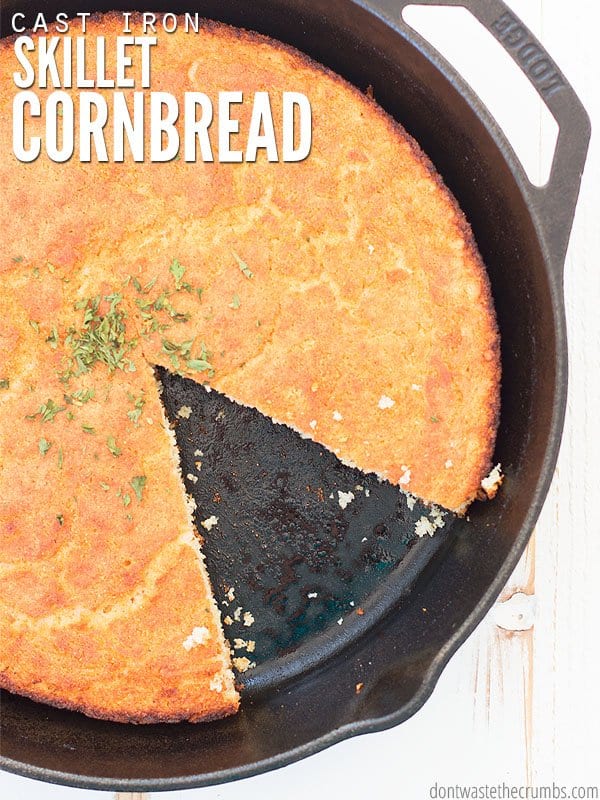 Would you believe that until just a few weeks ago, I had never made cornbread from scratch?
I've made lots of types of bread… white sandwich bread, flour tortillas, pita bread, fluffy biscuits, rosemary sea salt flat bread and even homemade seasoned breadcrumbs… but not cornbread.
Until now. Prepare to be amazed friends – this cornbread recipe will knock your socks off!
Although I should confess that I'm not the originator of this recipe.
In my research for an easy cornbread recipe, I found several that looked good.
And then I realized that there's this REALLY BIG ISSUE among cornbread makers, and that's do you or do you not add sugar.
According to some people, a true "southern cornbread" recipe has sugar.
This recipe creator said her family was from up north, and in the north they never add sugar because that was how you make southern cornbread. They took pride in the fact that their cornbread was "healthier" because it didn't have sugar.
Then two clicks later, I stumbled on another recipe that was "southern cornbread" and it didn't have any sugar at all.
This creator claimed the recipe belonged to her great great grandma, who was born and raised in the back woods of Mississippi and you couldn't get any more southern than her, therefore her recipe was indeed southern cornbread and it didn't have sugar.
What does that mean for us?
Nothing. A big fat dollop of do whatever you want, because in the end, that's what matters.
Case in point: I was born in Illinois, raised in Texas, spent 8 years in California and now I'm in Georgia. What type of cornbread should I make?
The kind my family likes to eat.
And we're eating the kind of cornbread that doesn't have sugar, because a few years ago we vowed to quit that processed stuff whenever possible.
We're also eating the kind of cornbread that is soft, savory and oh so delicious.
The kind that you slather in butter and the whole thing melts in your mouth.
The kind that makes you wait at the stove so you can get first dibs fresh out of the oven.
It's the kind of cornbread that no matter where you come from, your grandma would be proud.
Cast Iron Skillet Cornbread Recipe
Here's what makes this particular cornbread recipe awesome:
It's made in a cast iron skillet.
Really, can you ever go wrong cooking in a cast iron skillet? Me thinks not.
We actually have two skillets – this 12″ skillet that we use for the above awesome cornbread, and a smaller 9″ skillet that I use for the best scrambled eggs and anytime I accidentally overflow my big skillet.
Tip: Don't be overwhelmed by the idea of cooking with cast iron. Here's the right way to season a cast iron skillet, and once you've done that, you're good to go!
It's made with lots of butter…
As if we really need a reason to eat more butter, but the large amount of butter in this recipe (combined with the buttermilk!) makes for an INCREDIBLY moist cornbread.
Seriously.
We tested some recipes that didn't use as much butter or buttermilk and they crumbled as we took it out of the pan. It was so frustrating! You couldn't even spread butter on it because it wasn't strong enough to withstand the butter knife.
Good thing that's not this recipe!
… or bacon grease!
If you run out of butter, or just want to use up the bacon grease you've been saving, you can use bacon grease instead of butter when you're melting it in the skillet.
A bit heads up though, bacon grease leans to the salty side. This means you might want to reduce the amount of salt you add to the dry ingredients IF you don't like things salty. My husband and I both liked the extra salt flavor. The kids didn't notice, but we took out a whole pan of cornbread in one night, so I'm thinking they liked it too!
If you need serving ideas, may I humbly recommend:
Or you know what else would be good? Adding sliced jalapenos and cheddar cheese… Mmmm!
Cast Iron Skillet Cornbread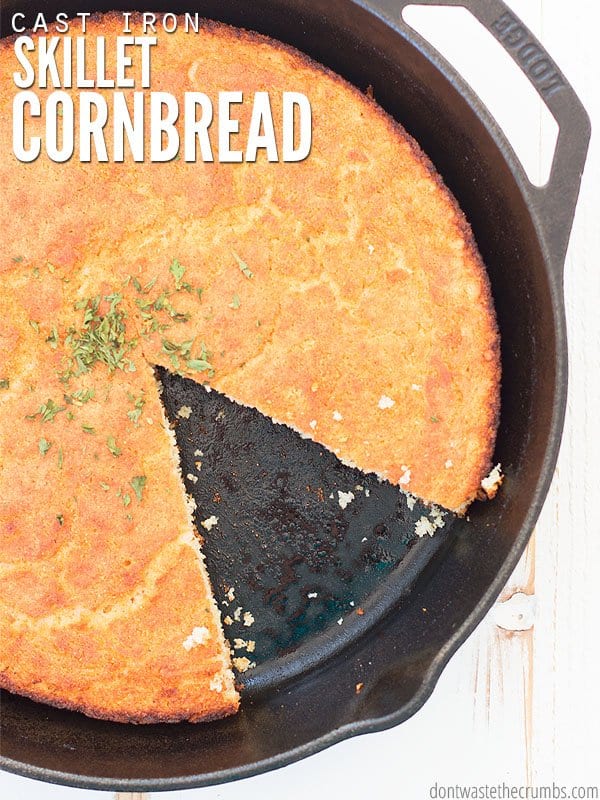 Prep Time:

10 mins

Cook Time:

20 mins

Total Time:

30 mins

Yield:

8

wedges

1

x
Category:

Breads

Method:

Bake

Cuisine:

American
Dry Ingredients

1 cup

cornmeal

1/2 cup

all-purpose flour

1 tsp

salt*

1 Tbsp

baking powder
Wet Ingredients

2 Tbsp

apple cider vinegar
scant

1 1/2 cups

milk

1

egg

1/2 tsp

baking soda
To Cook

1/4 cup

butter, melted

2 Tbsp

butter OR bacon grease
Instructions
Preheat the oven to 450F.
In a large glass measuring cup (I have these), measure apple cider vinegar. Add milk until you reach 1 1/2 cups of liquid total. Whisk together and set aside.
In a large bowl, combine all dry ingredients and whisk together (you can use the same whisk). Set aside.
When the oven is preheated, melt 2 Tbsp butter OR bacon grease in a 12″ cast iron skillet over medium heat. Meanwhile, add the egg to the milk and whisk together. Add the baking soda to the milk and whisk to incorporate.
Carefully add wet ingredients to dry ingredients and incorporate well using a spatula, taking care not to over-stir. The batter may be lumpy.
When the skillet is hot and the fat is sizzling, add the melted butter to the batter while stirring, and then immediately add the batter to the skillet.
Set the timer for 1 minute and let the batter cook. The edges will get brown and crispy – you want this!
When the timer beeps, place the entire skillet in the oven and bake for 20 minutes. Allow the cornbread to cool slightly before serving. Serve warm with lots of butter!
Keywords: cast iron skillet cornbread
What's your take – do you add sugar or not add sugar to your cornbread? I'd love to hear what you think!