My mom gave me a cast iron skillet a few years ago for my birthday and right off the bat, I hated it.
Everything I cooked on it stuck like mad. Dinner was a mess and so was the skillet.
Cleaning it that night was a HUGE chore, and it only took that one dinner before I swore off cast iron altogether.
Well, almost.
Granted, it's taken me a LONG time to figure out how to use cast iron properly, but now that I have, let's just say this:
Cooking in cast iron rocks!
I could gush about the depth of flavor. I could go on and on about the perfect sear that it gives vegetables and meats.
And I'd love to show you how easy it is to clean up when we're done cooking.
But first thing's first – seasoning your cast iron skillet is a must before you cook anything.
PS – I currently have a 12″ skillet, but I'm eyeing a bread loaf pan and this 9″ skillet to add to my collection!
Seasoning Cast Iron (the Right Way)
We're not talking about salt and pepper here.  "Seasoning" cast iron is really the fancy way of getting your skillet to do all the amazing things I mentioned above (sear, flavor, easy to clean, etc.). And we make the magic happen with fat.
There are probably a dozen different ways to season a cast iron skillet, but I'm going to share with you MY way of doing. The way that I know works. This method allowed me to fall in love with my cast iron skillet.
(1) Wash
If you are using a brand-new OR a new-to-you cast iron skillet, gently scrub your cast iron skillet clean with warm soapy water. You don't need to do this if you've owned your skillet for a while, and there's even a good chance you'll never use dish soap again.
Psst – If you're just bringing your skillet out from the depths of the pots and pans drawer, you can skip this step.
Why Wash?
Well, I kinda have this thing about eating off pots and pans and dishes that other people have without washing them first.
And I don't really know the entire manufacturing and packing process either, so I prefer to wash cookware fresh out of the box too.
You could live on the wild side and not wash the pot, but if you catch cooties, that's on you.
(2) Dry
Your skillet needs to be 200% dry (<–not a typo) every time it gets wet, including this first time.
I like to put mine on top of my stove and turn the heat on medium low until I can no longer visibly see water on the surface. Turn the heat off and let it cool before handling.
Some people might use the oven, but I like the stove top because it's quick and easy. Plus, having it in plain sight means I won't forget about it later.
Why dry?
You're about to season your cast iron skillet with fat, and if you recall from science class, fat and water don't mix. If your pan isn't dry, it won't absorb the fat and won't create that awesome non-stick surface we're aiming for. Kapeesh?
Plus you don't want the pan to rust. (It IS iron, remember?)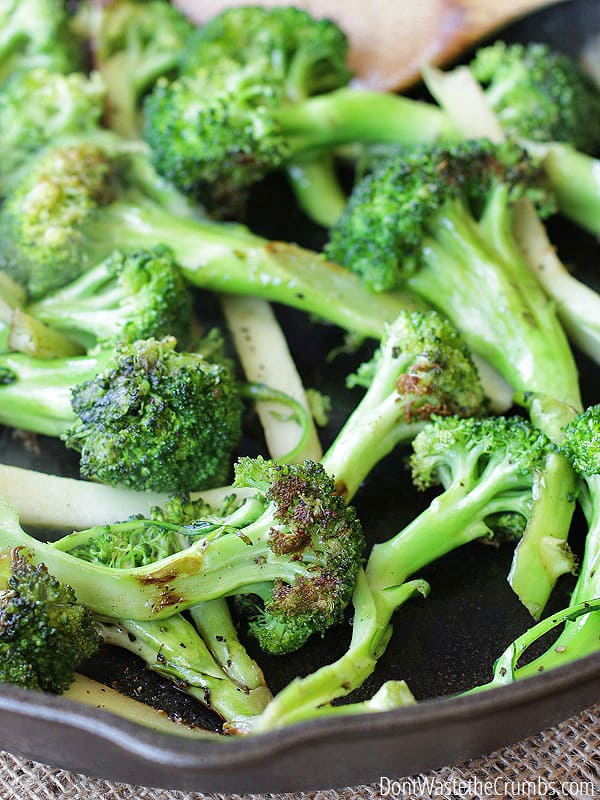 (3) Grease
Take one tablespoon of coconut oil, lard or tallow and thoroughly coat the entire cooking surface – bottom, sides, even the lip. Use a paper towel or an old rag and REALLY rub it in there. It's important to not cheat here and do a half-way job otherwise your cast iron skillet will stick and drive you crazy.
Once it's nice and shiny and coated, take another paper towel (or fold the old rag) and wipe off the excess. Yep, wipe it off! You'll be leaving a thin coat of fat on the skillet and it should look dull at this point.
Why grease?
When you fill the pores of cast iron and coating the exterior with fat, a non-stick sealant-type layer is created when the pan is put over heat. It's this layer that turns a normal cast iron skillet into a non-stick cooking phenomenon!
(4) Bake
Preheat the oven as high as you can (but at least 400F). Then put the pan in upside down on a rack. Set the timer for an hour and let the fat become one with the cast iron skillet. When the timer goes off, turn off the oven but leave the door closed with the pan still inside.
If the pan starts to smoke, do not call the fire department. That is the old gunk coming off (factory sealant and/or old cootie-filled food that someone else left behind!) and possibly the fat cooking. This is normal, but open windows and/or turn on fans as needed. The smoke will lessen with each subsequent bake and will eventually stop.
Wait… we're not done yet?
(5) Bake again.
Repeat steps 3 and 4 five more times, for a total of SIX rounds of greasing and baking. Think I'm crazy? I assure you I'm not and I have a very nicely seasoned cast iron skillet to prove it!
Why bake… again?
The pores in cast iron are really, really small. Even the best greasers will miss some and only a thoroughly seasoned pan will create an awesome cooking surface.

Cooking with Cast Iron
It's probably just me, but I prefer to add grease to my skillets before cooking. My cast iron is non-stick at this point, but the flavor of butter or bacon grease enhances whatever I'm cooking. I always add it before I cook anything anyway.
Whether you add grease before you cook is up to you, but if you followed the steps above, you should have a nicely seasoned cast iron skillet on your hands!
Cleaning Cast Iron
Whether you season the pan or not, we can be on the same page for clean up. It's best to clean the pan as soon as it's cool enough to handle (cool, not cold). Then you can easily remove whatever is left in the pan.
To clean a cast iron skillet, simply wipe it out with a cloth or paper towel. That's it!
If you have any stubborn pieces of food left, you can scrub those out with a bit of warm water (no soap). If you do this, be sure you thoroughly dry the skillet on the stove top as mentioned in step 2 above.
Now, if you cooked something extra greasy, you might need a drop or two of dish soap. Some people say never to use dish soap, but I'm not one of them. Granted, you don't want to use it EVERY time, but using it on occasion when the level of grease seems to be out of control is fine.
This last bit is entirely optional, but I like to add a wee bit of fat to the pan as it dries on the stove top. And by wee bit, I mean like 1/2 teaspoon or so. I'll smear it over the bottom as soon as the pan is cool and let it absorb. Totally optional of course, but I always do this if I have to use the dish soap. It's a trick I learned from my step-mom (who never steered me wrong in the kitchen).
Put the pan away when it's completely cool and you're done!
Do you use (and love) cast iron? Do you have any cool pots besides a skillet?