Easy & Simple Camping Food Recipes & Family Meal Plan. See how a real foodie eats, packs, and enjoys the great outdoors without a lot of gear or too much fuss!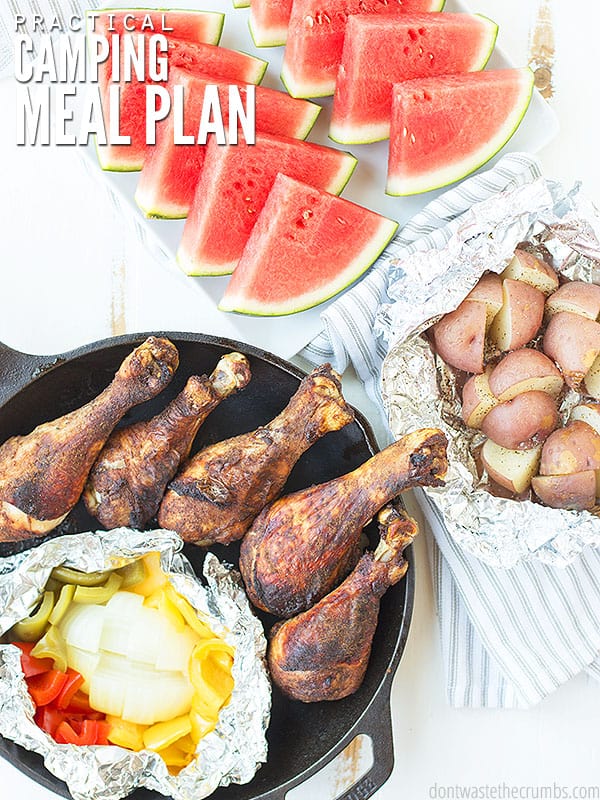 Everything You Need to Know About Camping Meal Plan
Going camping is a lot like Christmas shopping.
You start with a list, check it twice, and check items off as they are completed and when you're done, you go back through and make triply sure you didn't miss anything!
At least that's how I feel when I get ready for a camping trip with my family. Although I prefer to keep it super simple with our camping food (more on that later), I do enjoy camping in a cabin. Some would call it "glamping," although if that were the case, a one-room cabin with one electric plug would most certainly be a low rung on that multi-tiered ladder!
Regardless of whether you camp or glamp, the process is still the same: Make a list. Pack your stuff. Eat Real Food. Have a great time!
The Simple Camping Real Food Menu
What are easy meals to take camping?
In an effort to keep our camping trips simple, and not have to pack too many foods that are required to be kept on ice (which we'd have to pay for), I keep our meals incredibly simple. Here's an example of my real food camping menu…
Easy Camping Breakfast: Nitrate-free bacon and whole-grain biscuits on the griddle for a delicious breakfast sandwich; fresh strawberries, blueberries, and watermelon; coffee and water.
Super Easy Camping Lunch: Peanut butter (here's my homemade nut butter) sandwiches on whole-grain sandwich bread; apples; raisins; pretzels; water.
What food should I make for dinner when camping?
BBQ chicken/steak; campfire potatoes (or sweet potatoes); side dishes of grilled corn on the cob and onions/peppers (wrap in foil packs). Grill the potatoes on the campfire. A vegetarian option can be black bean burgers rather than meat if you prefer.
Camping Dessert: Lots of s'mores! The ultimate camping comfort food!
How do I plan a meal for camping?
Remember, there was a lot of reasoning behind this menu…keep it simple! Think about camping food your family likes to eat. Make camping food selections which will allow you to save as much space as possible.
We could have had french toast or pancakes… but then we'd have to bring eggs, syrup, and milk.
Or we could have done an egg scramble or a breakfast burrito with hash browns on the cast iron skillet… but then we'd have to bring eggs and worry about them breaking.
We could have done yogurt with granola in mason jars… but then I'm packing more glass and something else that requires a cooler and ice.
Of course, there are endless options, but in the end, simplicity and the lack of refrigeration win out!
10 Lessons Learned with Real Camping Food:
Bacon is awesome. It's also a big treat in our house, so you can only imagine how amazingly delicious it is to enjoy bacon for breakfast for three straight days!
Biscuits can be cooked on a griddle – and they're good! Before we leave, I like to mix up three batches of whole wheat biscuits through the cutting in of butter and put each in its own quart-sized bag. When you're camping, just add water a little at a time, the morning of. Butter doesn't require refrigeration, so these didn't have to go in a cooler. Plus the empty bags doubled as storage containers for our lunch sandwiches later that day.
Squishy foods should be eaten at camp. Fresh fruit makes for an easy breakfast, but it's difficult to hike with berries and watermelon. In order to not have to bring storage containers for these foods (which means carrying around in a backpack AND washing later in the day), we only eat them at camp.
Plan for simple, travel-friendly foods on hikes. Our sandwiches do not have jelly for a reason (one less thing to bring, plus the jars are glass). Apples, raisins, and pretzels are easy to transport and can be stored in baggies (which can be re-used) rather than containers. We bring two big stainless steel travel mugs filled with water (we fill them up at home before we leave to conserve the water we'd have to buy on arrival) on the hike and everyone drinks water.
Don't skimp on dinner. Cooking on the grill, or over an open fire, is fun. Plus, after a full day of hiking and sight-seeing, campers are hungry! We serve the same veggies both days, with chicken on the first night and steak on the second (both portions of meat came from my freezer, so no additional expense).
Eat s'mores. And lots of them! Whether you make your own graham crackers and marshmallows, is up to you. Frankly, I don't. There isn't really time, plus this is a vacation for me too! There's already enough to do just to get ready for the trip and making every single thing from scratch isn't always gonna happen.
Pack condiments. Our local dollar store has those black and white salt & pepper shaker combinations for $1. We pack that, plus butter and homemade BBQ sauce from home. Those condiments alone are able to cover nearly all of our seasoning needs.
Pack coconut oil. Coconut oil is so versatile – it gives us fat for cooking (for the foil packets), moisture for our skin, and even doubled as sunscreen. Bringing a jar of this means no need for olive oil, which means less to pack.
Freeze your meats before you leave. All of our meat – bacon, chicken, and steak – are frozen when we leave. Those act like ice packs for other items in the cooler, and we simply pull out what we need for dinner at breakfast. No ice needed, and everything is cold enough to avoid spoilage.
Don't pack junk food. The coolness of not being in your kitchen is that you only have access to what you bring. If you don't bring junk food, like hot dogs, no one can eat them!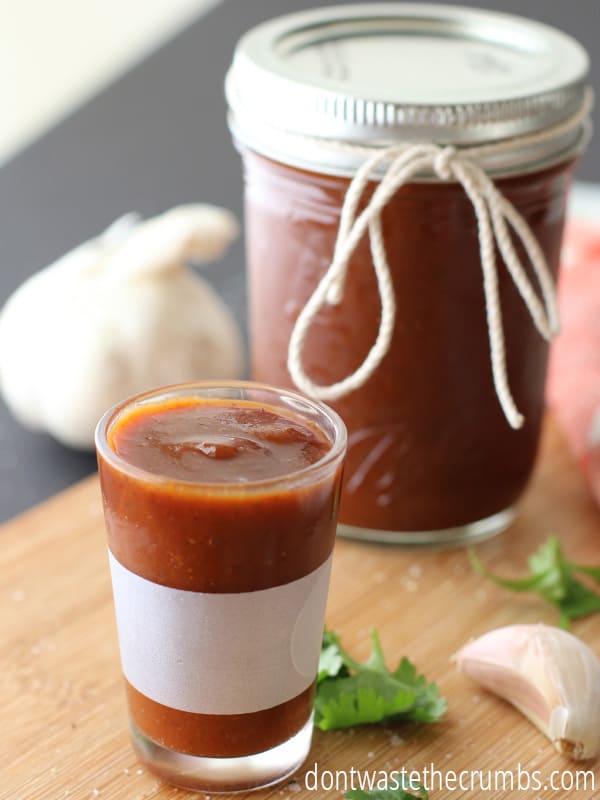 The Basic Food Gear for Camping
My "to pack" list first started with our menu plan and the utensils needed to accomplish that. Then I pack three items that ultimately make the trip successful: a griddle, a coffee pot, and an extension cord.
We brought the cast iron skillet (we have this one) but ended up using the small grill and the griddle for all of our cooking. The extension cord was so long that we weren't cooking bacon inside the cabin (brilliant!) and seriously, what good is a vacation if you can't take your time drinking a hot cup of coffee in the morning? Just don't forget the coffee, coffee filters, coffee mugs, and creamer!
Another smart packing move was bringing our large cutting board and two dinner knives, sharpened before we left. I quartered a large watermelon before we left the house to make it easy for transport, but the cutting board came in handy for slicing and serving. We also used it for cutting onions and peppers, our steak, as a hot plate, and a general clean working surface.
Four Lessons Learned with Camping Food Gear
Know your camping conditions before you leave. Call ahead regarding electricity, small grills, and fire pits. Make sure you're equipped to deal with the appropriate cooking situation: Do you need a grate for the fire? Coals for a grill? Lighter fluid? Old newspaper? A lighter?
Don't forget the cooking accessories. Cast iron skillets get hot; you'll need oven mitts. Biscuits need to be flipped, marshmallows need sticks and foil packets need foil.
Reuse what you can and go disposable when it counts. Washing dishes isn't very easy with a spigot (note to bring a bucket, soap, and sponge!), so we only washed what we had to: cups, all utensils, and cookware. We brought disposable plates to make the load a bit easier. Pick and choose what you're willing to wash, but don't burden your vacation with washing dishes (times three meals, every day!).
Dress your table. Picnic tables are dirty and the long boards make it easy for things to slip in the cracks. Invest in a $1 plastic table cloth and a set of clips to make dining at the table easy, and pleasurable.
Preparing for the Next Camping Trip
When we get home, I take all the non-perishable camping items (foil, Ziploc bags, marshmallow sticks, etc.) and put them in a plastic storage bin. Our packing list and meal plan go in that box too. That way, we'll be one step ahead of the game for the next trip!
Simple Camping DIYs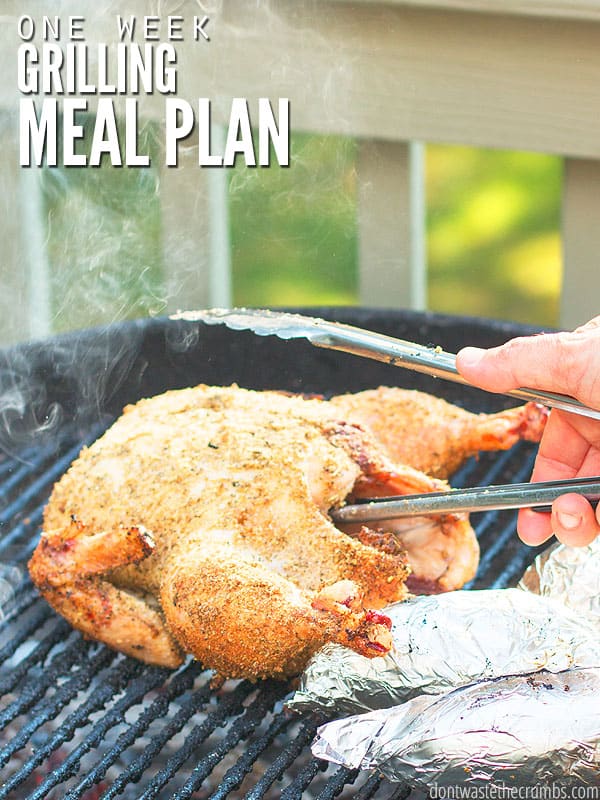 Grilling Meal Plan
Sign up to get instant access to my
One Week Grilling Meal Plan
, complete with recipes and shopping list!
What do you eat when you go camping? What's the "one thing" you brought camping (food or non-food) that made the trip?