Healthy and easy recipe for whole wheat Einkorn sourdough bread that uses 100% whole grain einkorn flour & a sourdough starter.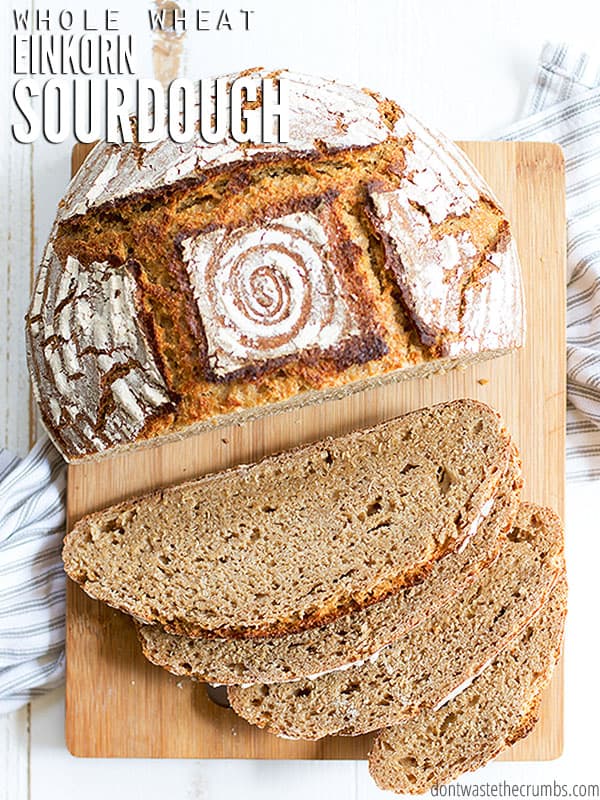 Ever since I first published my no-knead einkorn sourdough sandwich loaf, you guys have been asking for a slightly different version: whole wheat einkorn sourdough.
You wanted a recipe that was just as easy, uses healthy whole grain einkorn and was fail-proof so that even the novice sourdough baker could pull it off.
Well, after testing MULTIPLE recipes, I've found the perfect one!
Whole Wheat Einkorn Sourdough Bread
We fell in love with einkorn sourdough bread on the very first loaf, so if you've never tried it before, you are going to LOVE it!!
I tried all sorts of different recipes and variations in order to find the perfect whole wheat einkorn sourdough bread, and I'm so excited to finally share a recipe that is:
Perfectly tangy (not too sour)
Simple and straight-forward (no complicated steps!)
Consistent. When you want delicious whole grain sourdough bread, THIS is the recipe you'll come back to over and over again.
Quick. We've eliminated most of the hands-on work!
Easy. It's great for beginners, and advanced bakers will enjoy it too!
Healthy. Einkorn is an ancient grain, has amazing health benefits, and is often tolerable for those who are sensitive to gluten!
100% Whole Grain. We're not using a single bit of all-purpose flour here, so this is truly a whole grain bread!
I know that "sourdough" is often associated with "takes forever" and "is really hard," but I promise you it's none of these things!
Granted, it's not as fast as my Man Bread or Rosemary Olive Oil bread, but most of the time required for this recipe is rise time, which happens while you sleep!
What's left are very simple steps, which I've outlined below so you can have a successful loaf, every single time!
Whole Wheat Einkorn Sourdough Bread Recipe Ingredients
If you can believe it, you need just four ingredients to make this whole wheat einkorn sourdough bread recipe:
1. Sourdough Starter. Here's my tutorial for how to make an einkorn sourdough starter. You can use starter made with all-purpose einkorn, whole wheat einkorn, or a combination of the two.
Note: A sourdough starter isn't considered mature enough for bread until it's one month old. If you're making sourdough bread, there's no way around this. If you want to make yeast bread instead, I recommend my no-knead artisan loaf or my white sandwich bread recipe.
2. Water
3. Honey
4. Salt
5. Whole Grain Einkorn Flour. This recipe was specifically created to use whole grain einkorn flour. You can buy whole einkorn berries and grind them yourself (this is the grain mill I use) OR you can buy whole grain einkorn flour.
I buy both my whole einkorn berries and my all-purpose flour in bulk from Jovial Foods. You can save 10% off all items in the store with exclusions on special promotional items such as cookbooks and new harvest oil when you use coupon code DWCRUMBS. Also, there's free shipping over $99. Visit their site HERE.
Note: If you want to use all-purpose einkorn flour, I recommend following my no-knead einkorn sourdough loaf recipe instead. You can shape the all-purpose loaf into a boule using the instructions below, or into a loaf using the instructions in that post.
In case you skimmed this, I want to reiterate two things:
First, you need a MATURE sourdough starter in order to make sourdough bread.
That means you've made a starter (using this einkorn sourdough starter tutorial) and you've been feeding it daily for at least one month. There is no way to cheat this. If your starter is not active AND at least one month old, this recipe will not work.
If you don't have a starter that's mature, I recommend feeding your starter until it is and in the meantime, use your sourdough discard to make sourdough biscuits or sourdough pancakes.
Second, this recipe is created specifically for whole-grain einkorn flour, NOT all-purpose einkorn flour.
These two flours bake differently and require slightly different techniques in order to consistently get the best loaf.
How to Make Einkorn Sourdough Bread: Kneading + The First Rise
A lot of people get stuck when making sourdough bread, so I've written a step-by-step to help you get the perfect boule of tangy whole wheat sourdough bread every time!
1. Combine the ingredients.
In a large, non-metal bowl (I have this set of pyrex glass bowls and I use the largest bowl), combine the starter with the water and honey. Make sure your water is between 105F and 110F and no warmer!
Add 6 cups of whole wheat einkorn flour and the salt.
(Note: If you're using freshly ground whole wheat, you'll want to stir the flour a few times to "settle" the flour before adding it to the bowl.)
Stir the dough using big, gentle strokes that scrape the outside of the bowl and come inward towards the center of the bowl. DON'T stir vigorously making tiny circles in the center of the bowl.
Stir until the dough looks mostly wet and slightly shaggy. The dough will not be super firm and spring back to the touch like a traditional yeast dough.
Set a timer for 15 minutes.
2. Rest and fold.
This step seems silly, but please don't skip it! This helps your final loaf to be strong and sturdy, without overworking the delicate einkorn flour. I've tested making the loaf without this step, and skipping the step does affect the final loaf.
When the timer goes off, sprinkle a little bit of flour over the top of the dough and around the edge of the bowl. Reach in on the outside of the dough (along the sides of the bowl), and gently scoop the dough and fold it over towards the top, center of the dough.
Turn the bowl ¼ of a turn and repeat the gentle scoop and fold over process until you've worked your way around the entire bowl.
3. Let the dough rise.
Move a rack in your oven to the lowest setting. Cover the dough tightly with plastic wrap and place the bowl on the rack.
Turn the oven light on and close the oven door. Let the dough rest undisturbed for 8-12 hours.
This initial rise time is very forgiving. I've let it go 12 hours (8 pm before bed to about 8:30 am the next morning) and I've let it go closer to 15 hours too (8 pm before bed to about 10:30 am after picking up my groceries). I haven't had any issues either way!
The only caveat is that you want to make sure you start this with a cold oven. You don't want to use an oven that you just baked or roasted something in, otherwise, the loaf will over-proof and it will bake slightly during the rise time (which we don't want to happen).
You also want to make sure you have a working light bulb in the oven. Turning the light "on" and not having a light bulb will not generate any heat.
Using the light in the oven to warm the environment is key to a consistent rise every time you bake this sourdough bread recipe, so don't cheat!
How to Shape the Whole Wheat Einkorn Sourdough Boule + The Second Rise
This step begins the second rise, which is NOT forgiving like the first rise. If you won't be home to bake bread in the next few hours, let the first rise continue. Otherwise, proceed!
4. Prepare your banneton basket.
A banneton basket is what creates those lovely flour rings on top of sourdough loaves. These are not required, but you do need a round vessel of some sort in order to properly shape the dough.
I have a banneton and a linen couche and I LOVE them. If you plan on baking sourdough boules regularly, they're a must-have in your kitchen.
I've heard that a bowl lined with 100% cotton dish towels or a clean t-shirt or a pillowcase will work in a pinch, but I personally haven't tried this.
In either case, you will need to flour it VERY WELL otherwise your dough will stick. I define "very well" as rub the flour into the material, then add more flour and rub more, then add a solid layer of flour.
This might sound like overkill, but it takes practice to figure out just how much flour you need to prevent the dough from sticking. I've had MANY loaves stick to the material and it's incredibly frustrating. So, flour very well, and as you gain more experience, you can determine exactly how much flour is enough.
If you don't want to bake a boule, you can use a loaf pan lined with parchment paper.
5. Shape the loaf.
Lightly flour your working surface and scoop out the dough. Do not turn the bowl over and dump the dough out.
As best as possible, you want whatever part of the dough was at the bottom of the bowl to be resting on your floured surface, and the portion of the dough that was facing upward in the bowl, still be facing upward.
Note: Do not flour the surface of the dough! This is tempting, but doing so will cause small pockets of flour to be in your final loaf.
Pull the corners, or the outside of the dough up and over towards the center of the dough. This is the same motion you did in the "rest and fold" section at the very beginning, after letting the dough rest for 15 minutes.
Do this scoop and fold motion around the entire loaf until it's a round-ish shape and firm enough to handle.
Rub your hands into some flour that's on your working surface and flip the entire round of dough over.
Create a "turn and tuck" motion by placing your hands on the outside of the dough and turning the dough counter-clockwise while tucking the dough underneath itself. This is a small movement, and to help with this, think about GENTLY tucking sheets under a mattress. You're not shoving them under, and you're only tucking what your hand/fingers are capable of tucking.
Continue this "turn and tuck" motion for about 2-4 minutes. This will create a seal underneath and the top will become smooth.
When the top is smooth and you have a mostly round shape, flour the top of the dough well and turn it upside down into the prepared, well-floured banneton. The seam of the dough should be visible.
6. Let the dough rise.
Move a rack in your oven to the lowest setting. Cover the dough tightly with plastic wrap and place the banneton on the rack.
Turn the oven light on and close the oven door. Set a timer and let the dough rest undisturbed for 1 hour.
When the timer beeps, remove the dough from the oven and place in a warm location. For me, that's on top of the stove. Meanwhile, prepare your Dutch oven.
7. Prepare your Dutch oven.
Preheat the oven to 500F and place a 6-quart dutch oven with the lid on, in the oven. I have to have my baking rack at the lowest setting for this to fit.
Let the Dutch oven preheat for 30-60 minutes while your dough finishes its second rise.
Whether your dough needs 30 minutes or 60 minutes to rise will depend on your environment, and there's no one-size-fits-all for this. For your first loaf, I recommend a 30 minute rise time. For your second loaf, I recommend a 60 minute rise time. From there, you can gauge if your dough should be on the shorter end or longer end of the second rise time. For me, I've found that 60 minutes, in the morning, is perfect.
Note: Your dough will not necessarily double in size or rise to the brim of the banneton.
Baking Your Einkorn Whole Wheat Bread Recipe
When you're ready to bake, reduce the oven temperature to 450F and pull out the Dutch oven using oven mitts.
With your oven mitts on, flip the banneton over so that the dough dumps directly into the Dutch oven, seam down. If the dough doesn't come out centered into the pot, wait 20 seconds or so, then grab the handles and shake the dough so it's centered.
Place the lid on the Dutch oven and bake for 20 minutes. When the timer beeps, remove the lid and continue to bake for another 20 minutes.
When the timer beeps again, remove the pot from the oven, and with your oven mitts on, reach in and remove the loaf of sourdough bread. Place the bread on a cooling rack to cool for two hours.
Note: Bread continues to bake as it cools, and cutting into the bread while its cooling can lead to uncooked places, sunken spots, and an uneven crumb. I know it's hard, but patience is important!
Two Week Sample
Do you need step-by-step help with meal planning? Frugal Real Food Meal Plans is an all-in-one meal plan with recipes, shopping lists, shopping guides, money saving tips and more! Sign up below for a free sample!
Whole Wheat Einkorn Sourdough Bread