Honest review of Mockmill 100 stone grain mill after using a Wondermill for years. I share the pros and cons of both and how a grain mill saves you money!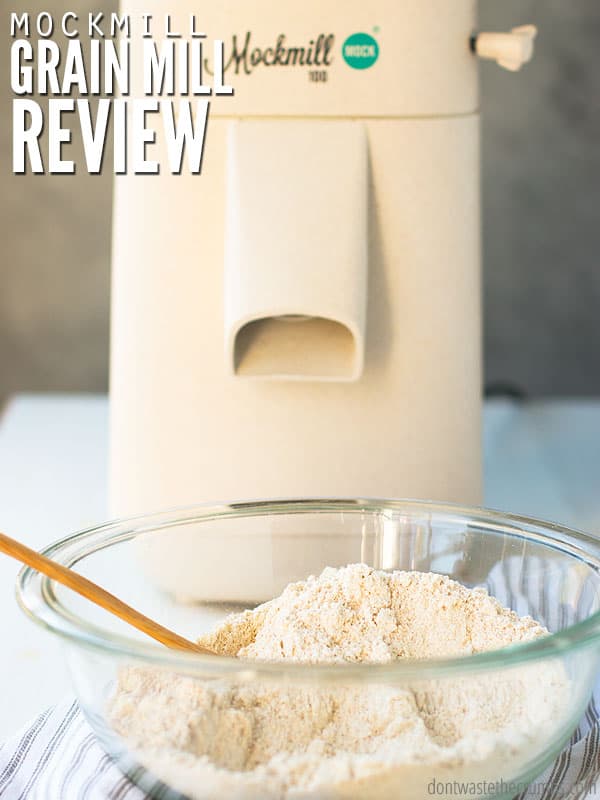 Have you ever wondered what the big fuss was about grinding grains at home?
For a long time, I thought using a grain mill was reserved only for the "super crunchy" people that raised their own cows or had huge acreage-sized gardens.
Then I realized that you didn't have to be "all in" to the hyper-healthy lifestyle to enjoy homemade bread made from freshly ground grain!
Although I can say this – finding a grain mill that's within your budget AND one that you like is not easy. I recently invested in a new grain mill and wanted to share my honest review of the Mockmill grain mill.
Mockmill Grain Mill Review
First, let me say this: There are several grain mills on the market. They come at different price points with different pros and cons and different bells and whistles.
You don't HAVE to buy a Mockmill. In fact, I've already shared how to grind your own grain WITHOUT a grain mill at all.
But I've owned two grain mills – two of the handful that are the most popular on the market – and I wanted to share my thoughts so you had some insight if or when you decided to make the investment yourself.
Before I jump in, let's get a few of the basics out of the way.
Why Use a Grain Mill?
The most popular reason to use a grain mill is because freshly ground flour is healthier. This is true. According to my friend Wardee, flour starts to lose nutrients through oxidation 24 hours after grinding.
Who knows how long those bags of whole wheat have been sitting on the store shelf. And it kind of makes me wonder if there are any nutrients left at all.
Personally, I like using a grain mill because it gives me more control over my food. In a variety of ways.
If I run out of flour, I can make more. This includes all-purpose flour, too. (See how to make your own all-purpose flour.)
I can grind a variety of grains. We've been using einkorn exclusively for several months, but I've experimented with hard wheat, soft wheat, spelt and kamut before.
You can create flour blends for your favorite recipes. You'll be hard pressed to find blends of different flours at the store (other than the 50/50 whole wheat / all-purpose blend), but you can make any blend of grains you want when you mill them yourself.
One of the better reasons to use a grain mill is because it can save you TONS of money. Especially if you're buying specialty flours like bean flours or gluten-free flours.
Let's use brown rice from Thrive Market as an example.
Organic sprouted brown rice flour is $4.29 per pound at Thrive Market.
Organic sprouted brown rice is $3.59 per pound, meaning you can save 70¢ per pound by milling your own brown rice into flour.
BUT WAIT… for every 1 pound of whole grain you grind, you get 2 pounds of flour…
That means buying the organic sprouted brown rice saves you $1.40 per pound.
And that's just for ONE pound. The savings really compounds over time. If you milled just one pound of grain each week, that means you'd save $72.80 each year!
If you REALLY want to get technical about it and up your savings even more, consider buying organic brown rice for just $1.99 per pound and sprouting it yourself with this tutorial.
Then your savings goes up to $3.30 for every pound of rice you mill into flour yourself!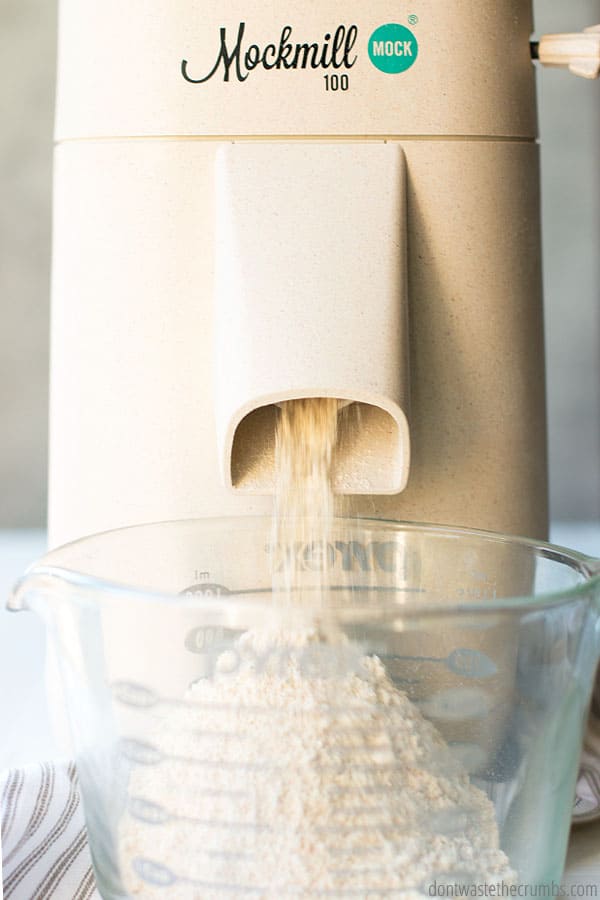 How does a grain mill work?
In my research and experience with grinding my own grains, I've come across two types of mills. The most common for using in a home kitchen: an impact mill and a stone mill.
An impact mill is made up of stainless steel blades that move incredibly fast, bursting the grains into small pieces as they hit the mill.
The popular NutriMill and the WonderMill that I have tried are the two most common impact mills.
2. On the other hand, a stone mill has two grooved stones that crack and grind the grain as it moves through the mill.
The two of the most popular stone mills are the Mockmill and KoMo grain mills.
Which grain mill is best?
Isn't that the million dollar question!!
I personally have owned both a Wondermill (an impact mill) and a Mockmill 100 (a stone mill). Let's dig into the pros and cons, so I'll give you my honest opinion based on my experience with both of these grain mills.
Wondermill: Pros
A good budget option when you're first starting out.
It's easy to use and it gets the job done.
Comes with a container to hold my freshly ground flour.
Wondermill: Cons
Loud. Very, very loud. Grinding grains during naptime or after bedtime would not be possible.
It comes with several parts. The mill + mill lid + canister + canister lid + foam filter for the canister.
It's kind of bulky. I think all grain mills are going to be taller than we'd like, simply because it's the nature of the beast, but because the canister was SEPARATE, it meant the entire machine was wide too. It takes up the space of TWO appliances in the pantry.
Messy. Flour comes out through the foam filter at the top. It comes out through the chute that runs from the mill to the canister. It shakes out from the lid when you open the canister. I never measured, but I'm pretty sure I lost a good bit of money – via lost flour – because of the mill.
Hard to take apart. This is through a friend, but she told me that something got stuck in her Wondermill and it was nearly impossible to take apart. Once her husband finally did get it apart and dislodged whatever was stuck, it was nearly impossible to put back together correctly. It was only a few days old at the time, and pretty much useless after that.
Hard to clean. The stainless steel blades heated the flour as it was ground, which made it just a bit moist. This moist flour would then get stuck in the mill and chute every time I milled grain. I tried to clean it out using a new, dry paint brush, but some places you just couldn't reach. I heard you could mill plain white rice to clean it, but I couldn't understand how making MORE flour to clean the mill would work.
The flour got hot. The freshly ground flour was noticeably hot after being milled, which tells me that it's immediately losing nutrients and/or going rancid because of the heat.
I had my WonderMill for several years and stuck with it because of our desire to "make do" with what we have. But honestly, it made grinding grain such a chore, I didn't want to do it anymore!
I finally invested in a Mockmill 100 and couldn't be happier. Let's look at how the Mockmill 100 contrasts with the WonderMill.
Mockmill 100: Pros
SO MUCH QUIETER. The kids can watch a movie in the living room just 20 feet away and not have to turn the volume up. This right here is worth the extra money.
Just one piece! The mill is just one piece – nothing extra.
Extra long cord. I don't know why it is, but the cord is just a bit longer than most of my other kitchen appliance cords and I like it! It gives me flexibility with cooking in the kitchen.
Slim design. It's taller than the Wondermill, but it's not as wide, so it takes up less room overall. I put it in the same cabinet as my 8 quart Instant Pot, since that's a semi-tall appliance too.
The flour doesn't get as warm. In fact, the flour feels room temperature to the touch.
Easy to clean. I haven't had to officially clean the machine yet, because the flour doesn't get hot and sticky and make a mess. The only "mess" there is, is a little flour left in the chute that hadn't come out yet. A firm tap on the side of the mill takes care of that!
Easy to take apart. Thankfully, I haven't had to do this either, but my same friend whose Wondermill was doomed after a bean got stuck was able to take apart AND put back together the Mockmill in an hour. And it still worked!
The flour is so fine! It's hard to explain, but I think the flour from a Mockmill is more fine than the flour from a Wondermill – and I always used Wondermill's finest setting!
Mockmill 100: Cons
The chute covering could be sturdier. This is really a minor issue, as the chute covering is cosmetic anyway. There is a round hole where the flour comes out, and a rectangle covering that goes over it. The covering could be easily pulled off (hence the many warnings on the machine and instructions to NOT hold the machine by that covering), but doing so wouldn't affect the integrity of the machine.
It's tall. This isn't an issue for me, because as I mentioned I have an 8 quart Instant Pot that isn't exactly small, so I stored the Mockmill in the same cabinet. However, it is a couple inches taller than the Wondermill and was too tall to fit in my pantry shelves.
Exclusive for Crumbs readers! Order though this link and get 5% off your Mockmill!
What if I can't afford a Mockmill… Can I mill grain in a food processor? Or a blender?
The short answer is yes, you can. Would I recommend it? No.
Grinding grains in a food processor or blender will get you a very rough flour. So rough, that it wouldn't fair well in a loaf of bread because it would be too heavy.
If you start with a food processor or blender, you have to continue to process the flour – after it's been cracked or "ground" – until you get a flour that's more suitable to bake with. This extra processing creates lots of heat, and in turn destroys the nutrients of the flour.
So basically, you lose the healthy benefits of grinding your own flour at home.
What's my best option?
So, now that we've looked through some of the options out there for grain mills, honestly, I'd save up for a good, quality grain mill. Something that is dedicated and designed to mill hard or soft grains into fine flour.
We know that here in the Crumbs community we encourage saving money on our grocery budget and buying things that are affordable. In the case of a grain mill, we can think about the money saved over a period of few years with using grain ground at home instead of store bought flour.
Think long term savings.
Another option is if you can find a refurbished model of either the Wondermill or the Mockmill, or have a friend who doesn't want her grain mill anymore, go for it! I've never been ashamed of buying used or accepting hand-me-downs!
But if you choose the Wondermill or even a Nutrimill now, I think you'll wish you waited for the Mockmill later on.
Kind of how some people "settle" for the Nutribullet but wish they had saved up for a Blendtec.
In the end, it all boils down to your finances and your real food goals. All that matters is that you do the best you can, with what you have!
Exclusive for Crumbs readers! Order through this link and get 5% off your Mockmill!
Do you have a grain mill? How often do you use it? What's your favorite reason for using a grain mill? Leave your ideas and comments below!