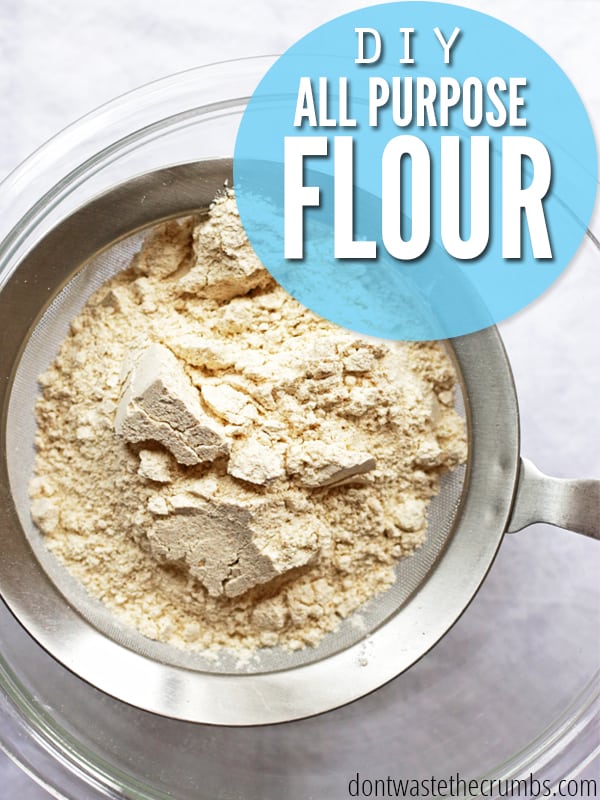 Have you ever run out of an ingredient when you needed it most?
A few weeks ago, Mr. Crumbs promised the kids to make his favorite oatmeal chocolate chip cookies. His problem? We didn't have any all-purpose flour.
We had oats (for oat flour) and a few different whole grains to make our own whole grain flour (specifically, we had einkorn, spelt, kamut and wheat on hand), but no all-purpose.
He had already committed to cookies, so he couldn't back out. But running to the store for just one item is a big no-no.
Rule number one in a frugal kitchen is to substitute whenever possible and NOT go to the store. Especially when it's just for one item. Especially when it's a "want" and not a "need." Especially when you have something else on hand that will work just as well (even if it slightly alters the outcome of the recipe).
Mr. Crumbs called me into the kitchen and presented his dilemma with two sets of pleading eyes standing by his side. I suggested making the cookies using oat flour, whole wheat and spelt. We've used that combination before and it's worked well.
According to Mr. Crumbs, "cookies were a treat and he didn't want to ruin them by making them any healthier than they already were."
Ok, he got me there. We've already switched out half the flour for whole grain, added coconut oil for some variation of healthy fats, reduced the sugar and in this particular batch he was using dark chocolate instead of semi-sweet.
For a man who lived on hot pockets and coca-cola through college, this was a pretty big improvement. I certainly didn't want to ruin his progress!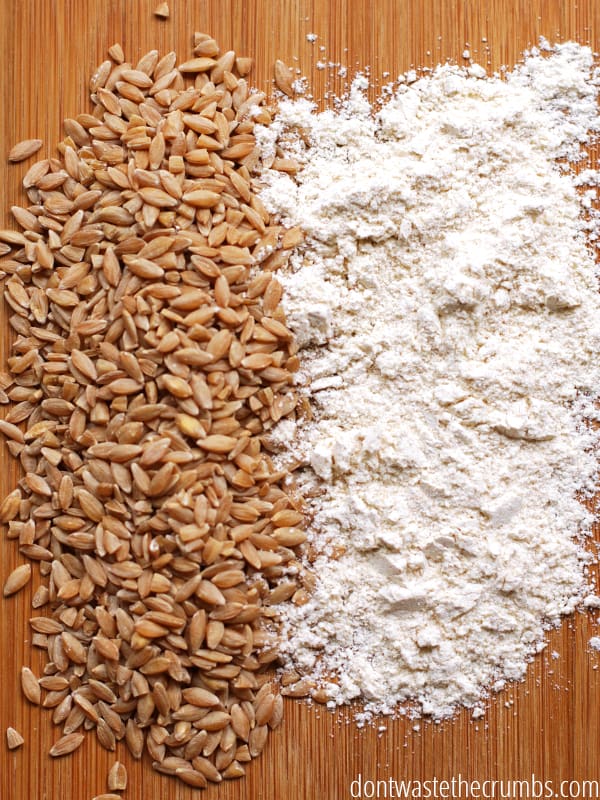 So I started thinking… all-purpose flour is essentially a whole grain, minus the germ and bran. What if we ground flour and then sifted out those two portions?
Call me a genius folks, because it worked!
I tested it again on another day, took notes (and pictures) because I knew you guys would want to see how to make your own all-purpose flour too.. you know, in case you're in a pinch and you have the urge to make cookies too.
How to Make All-Purpose Flour
Supplies
whole grain berries (any should work, but I used einkorn)
2 large bowls
1 small bowl
Method
Grind 1 cup of whole grain berries on the finest setting of your grain mill. If you don't have a grain mill, you can grind your own flour using an inexpensive coffee grinder and food processor.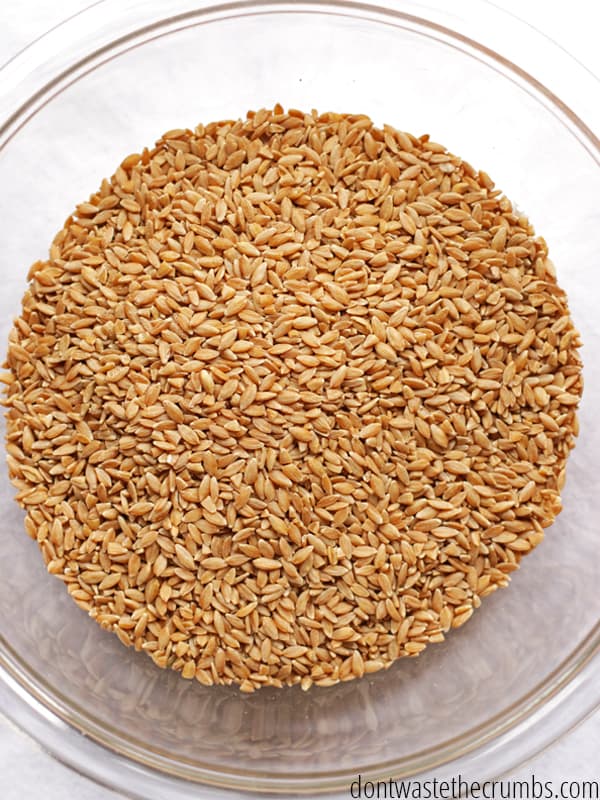 Sifting Round One. Set the sieve over a large bowl and sift the flour. After a couple minutes, you will see the germ and bran remaining in the sieve and the endosperm in the bowl. Place the germ/bran into a separate small bowl.
Repeat with the remaining freshly ground flour until it has all been sifted.
Sifting Round Two. Repeat the sifting process again, but this time use the flour that has already been sifted. You will again see the germ/bran separate in the sieve. Place the germ/bran into a separate small bowl and repeat the sifting process until all the freshly ground flour has been sifted twice.
Store the flour and germ/bran in separate containers. The flour will stay fresh in the pantry for up to one week, or you can refrigerate/freeze for up to 2 months. Store the germ/bran in the refrigerator or freezer for up to 2 months.
Additional Recipe Tips
You don't have to sift the flour twice, but I found that this provided a consistency more like all-purpose flour than just sifting once. You could sift a third time, but that would be a personal preference. Two sifts did the job just fine.
If the finest setting on your grain mill isn't very fine, or if you're using the coffee grinder/food processor method, you can still make all-purpose flour using this method. You will end up with less all-purpose flour and more germ/bran, but you can repeat the original grinding process and sifting process above to get more out of that first cup if you'd like.
The method above uses just one cup of flour, but you can start with more if you'd like. I just chose one cup as an arbitrary amount so that I wasn't making more flour than I actually needed.
The germ/bran contain the majority of the fat of the grain berry, so it's important to keep it stores in the refrigerator or freezer. Use the germ/bran in any recipe that uses whole grains, other than a bread recipe. So homemade granola bars, oatmeal, protein bars, even in cookies or muffins in small batches is fine. You want to avoid adding to the bread because the extra weight of the germ/bran will affect the rise of a whole grain bread recipe.
Why Make Your Own All-Purpose Flour
For many of you, making all-purpose flour is going to be too much work. You're working two jobs, short on time as it is or don't have the patience to wait for the coffee grinder… I get that. But if you have the time, I urge you to at least give the idea some thought.
Most of the all-purpose flour on store shelves are either laden with synthetic chemicals to supposedly make it healthier or drenched in chemicals to make it white. Some all-purpose flours are both! If it's possible to avoid these chemicals and additives, then we should at least give it a shot.
However, if you fall into the short on time/don't have equipment category, I recommend buying an all-purpose flour that is not enriched nor bleached if at all possible. There are a few brands out there, but Bob's Red Mill and Jovial's einkorn flour would be ones that I've tried myself and can recommend.
Do you own a grain mill? Do you grind your own grains? What type of flour do you use in your favorite cookie recipe?