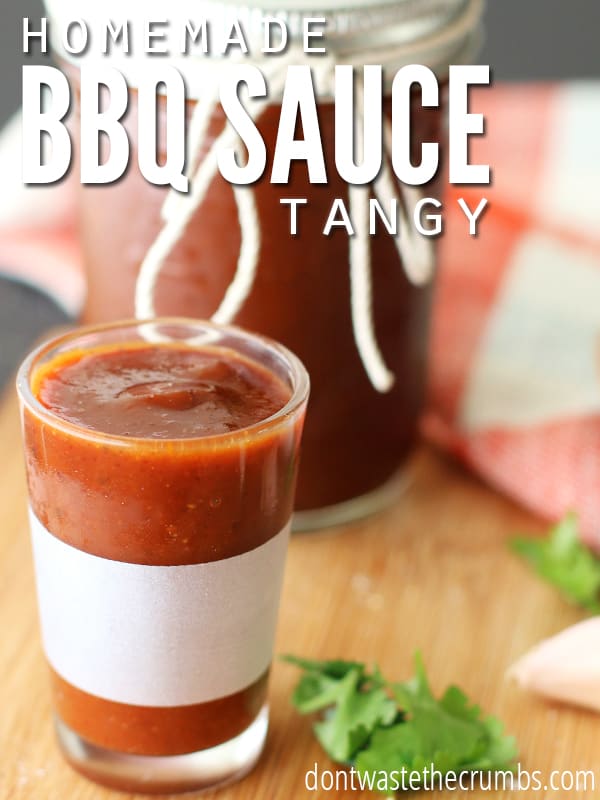 Wow, ya'll must think I'm crazy with all this homemade stuff this week. You may be wondering if I do nothing all day but experiment in my kitchen with marinades, homemade buns and sauces and butter…
I don't, but I sure would like to!
I make time for the things that are important to me. Making our own bread is important to me. Cooking good food (both in taste and nutrition) is important to me. Having homemade bbq sauce on a tri-tip sandwich is very important to me.
So when I ran out of bbq sauce, I did what any other money-saving momma with buns in the oven (literally) would do. I found a recipe to make my own!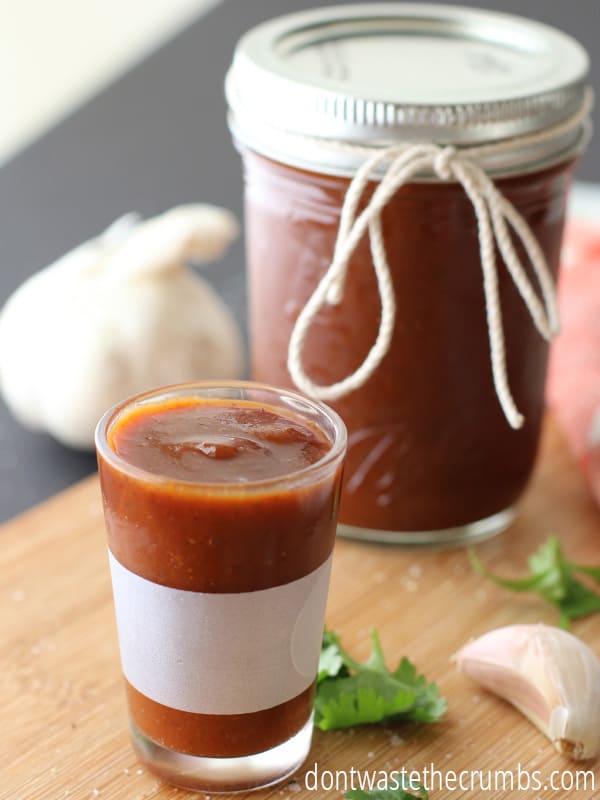 I opened up my handy-dandy all-purpose cookbook and located the one, lonesome bbq sauce recipe. I quickly scanned it and realized that of the eleven ingredients it calls for, I flat out didn't have two, didn't have enough of two others and then there was an ingredient that I think the editors missed because I would never put it in bbq sauce.
Plan B anyone?
I started by tossing the ingredients I did have into my saucepan and substituted everything else. If anything, I was going in the right direction (which was away from no sauce at all). The end result? A delicious, tangy bbq sauce that rivals any North Carolina bbq joint.
Hooray for accidental recipes that taste good!
One homemade bbq sauce batch made roughly 28 ounces – plenty for our 12 tri-tip sandwiches and even more in the fridge for future grilling. With my dump and whisk style ('cause that's how I roll), anyone can make this and even adjust it to your own tastebuds!!
Homemade BBQ Sauce
Delicious, easy, simple, tangy, family favorite, smoky, and sweet homemade bbq sauce. Uses ingredients already in your pantry.
Author: Tiffany
Prep Time:

5 mins

Cook Time:

10 mins

Total Time:

15 minutes

Yield: About

3 cups

1

x
Category:

Sauces & Condiments

Method:

Stovetop

Cuisine:

American
1 1/2 cups

ketchup (consider making it from scratch)

2/3 cup

apple cider vinegar**

1/3 cup

rice vinegar**

1/4 cup

soy sauce

1/4 cup

worcestershire sauce

1 cup

brown sugar

1 tbsp

yellow mustard

1 tbsp

spicy mustard

2 tsp

ground ginger

1 tsp

ground garlic

1 tsp

paprika

2 tsp

chili powder
Instructions
Mix all ingredients in a saucepan and simmer, stirring often, for about 5-10 minutes. Whisk ingredients together to make the sauce smooth.
Notes
** The original recipe called for 1 cup of apple cider or red wine vinegar. I only had 2/3 cup of apple cider and was feeling stingy with the red wine vinegar, so I opted for the smooth, lighter taste of rice vinegar. Use what you have on hand, but I wouldn't recommend using white. Feel free to adjust the ginger, garlic and chili powder to your liking!
Additional Recipe Options: The overall flavor of this sauce can be changed significantly with few, minor ingredient changes. Swap honey for brown sugar to get a sweeter flavor, or use molasses for a deeper taste. Use all spicy brown mustard, all yellow mustard or even double the quantity. Try fresh garlic and ginger instead of ground, or all apple cider vinegar instead of partly rice vinegar.
There you have it! If you've been with me all week, you've now got my innermost secrets to the best homemade bbq sauce and best bbq tri-tip sandwich ever. Anyone want to take a guess at what our complete sandwich rings up at?
The recipe above costs $2.20 to make. That seems high for bbq sauce (especially since it's been on sale recently for as low as $1 cents per bottle), but it makes nearly twice as much as the bottles that have been on sale PLUS we know exactly what's in our version. No weird xanthum gum or anything else to make our sauce "hold" together. I'm thinking our homemade batch generously sauces 20 sandwiches, making them 11 cents a piece. Add this to our running total and we've paid $1.30 for an amazing sandwich. Wow! Remember how I mentioned we paid $6.50 for the same sandwich at a bbq joint? It's no wonder how we save money when we don't eat out!
Now let's assemble those puppies and eat!
Allow yourself about 2.5 hours total cooking time for these amazing sandwiches. In case you're wondering, here's how a typical night of bbq tri-tip sandwiches looks in our house. Assuming dinner is at 6pm:
Start the dough – warm the milk and add to yeast.
While the yeast is proofing, light the grill to get the charcoal hot.
While waiting on the charcoal, finish the dough and let it rise.
The grill should be hot so put on the meat.
Make the butter.
Make the sauce.
Be productive for an hour… like make

macaroni & cheese

or saut

é

ed green beans or greek pasta salad or

chocolate raspberry cupcakes

. 🙂
Check the meat, flip if necessary.
Check the dough. Turn out the dough, make buns and let rest.
Be productive for 30 minutes, or check the meat and pull off the grill if it's done. Let it rest.
Put buns in the oven and bake.
Be productive until the timer goes off.
When the buns are done, cool slightly before using a bread knife to slice in half.
Assembly: Coat each half of the bun with ample garlic butter – don't skimp out! Layer the thinly sliced tri-tip on top, douse with homemade bbq sauce and bite.
The official best homemade bbq sauce and best tri-tip sandwich on the face on the earth.
And no, I'm not biased. 😉
Savor the sandwich and let your taste buds devour!
Enjoy with sides like Baked Beans, Broccoli Salad, and Pasta Salad!
What's your favorite homemade bbq sauce?
Get the full scoop on homemade tri-tip sandwiches:
For more recipes, like us on Facebook or follow us on Instagram!