If you're looking for a last minute dish to bring to a BBQ or a pot-luck today, or for any other meal, try this easy Greek Pasta Salad. Using in-season produce and ingredients that are probably already in your pantry, create a pasta dish that everyone will rave about!!
This is a great alternative to the Italian Pasta Salad that is a BBQ standard. Break out of the norm and go Greek!
Yum, Pasta Salad!
My husband loves greek food, so I was more than happy to whip up this greek pasta salad for him.
The great thing about this pasta salad is it can be delicious as a side to bring to backyard BBQs and summer potlucks or picnics, but my family loves to eat it as a lunch! It's easy to pack and bring to work or school, or pull out of the fridge midday if you stay at home.
This dressing is great on salads, but also makes an excellent dressing for pasta and couscous dishes like THIS. Just look at the flavor on those vegetables!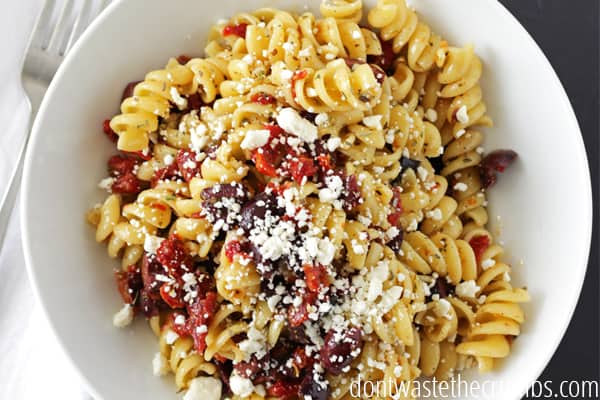 Greek Pasta Salad & Greek Salad Dressing Recipe
Greek Pasta Salad
Scale
Ingredients
Greek Pasta Salad

12 oz

favorite pasta (elbows, penne, wagon wheels, bow-ties, etc.)

1

cucumber – peeled, quartered lengthwise, seeds removed and chopped

1 1/2 cup

grape tomatoes, halved or quartered if extra large

1 1/2 cup

olives, halved (Kalamata taste best, but black olives will work too)

8 oz

feta cheese
Greek Salad Dressing Recipe

1/3 cup

and 1 Tbsp olive oil

1 tsp

garlic powder

1 tsp

dried oregano

1 tsp

dried basil,

3/4 tsp

black pepper

3/4 tsp

salt

3/4 tsp

onion powder

3/4 tsp

spicy brown mustard

1/2 cup

and 2 tsp red wine vinegar (you can substitute up to half white vinegar without altering the taste)
Instructions
Mix ingredients for dressing in a jar or bowl and set aside.
In a large pot of boiling water, cook pasta until al dente. Drain and set aside to cool slightly.
Combine chopped cucumber, tomato halves and olive halves in a large bowl with the prepared Greek Dressing. Add cooled pasta and stir to combine flavors well.
Add feta cheese when the pasta is completely cooled. Refrigerate until ready to serve.
This dish can be made up to 24 hours in advance and stored in the refrigerator covered. Add cheese prior to serving.
Notes
* Tip: If you're using Kalamata olives, reserve the liquid and use in place of the red wine vinegar for extra flavor.
Tell us how you like the Greek Pasta Salad after you try it!