One week grilling meal plan with cheap and healthy recipes for summer. Do your meal prep on the grill and make ahead your meals for the whole week! Use any of these chicken marinades or make your own poultry seasoning!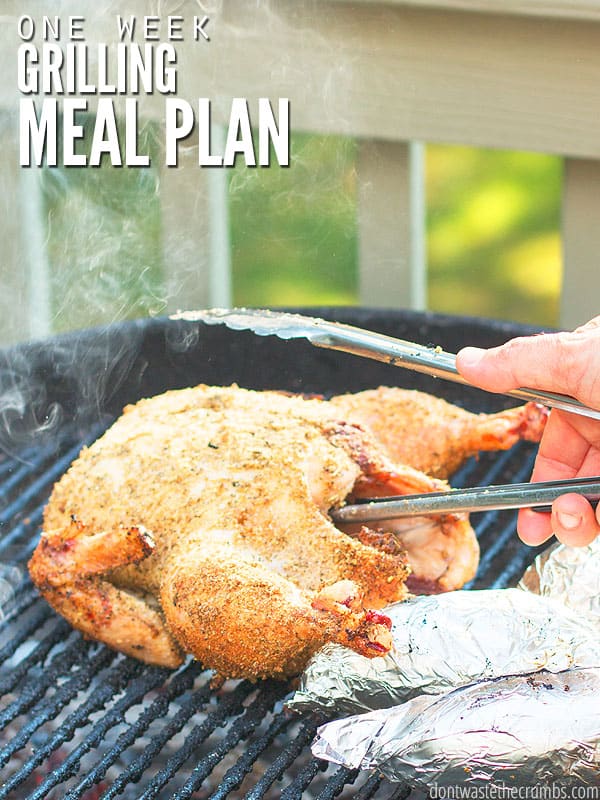 It's funny that the idea to have a grilling meal plan was in my head LONG before our air conditioner broken. But let me tell you this, I've never been more thankful to have a meal plan focused on the grill in all my life, lol!!
I've shared before that meal planning is CRUCIAL to eating real food on a budget (here's how to get started with meal planning). How in the world can you go shopping in you don't know what you're going to eat?!
Schedules get a bit hectic in the summer, so this one week grilling meal plan keeps my head on straight. As a bonus, it keeps our kitchen cool too!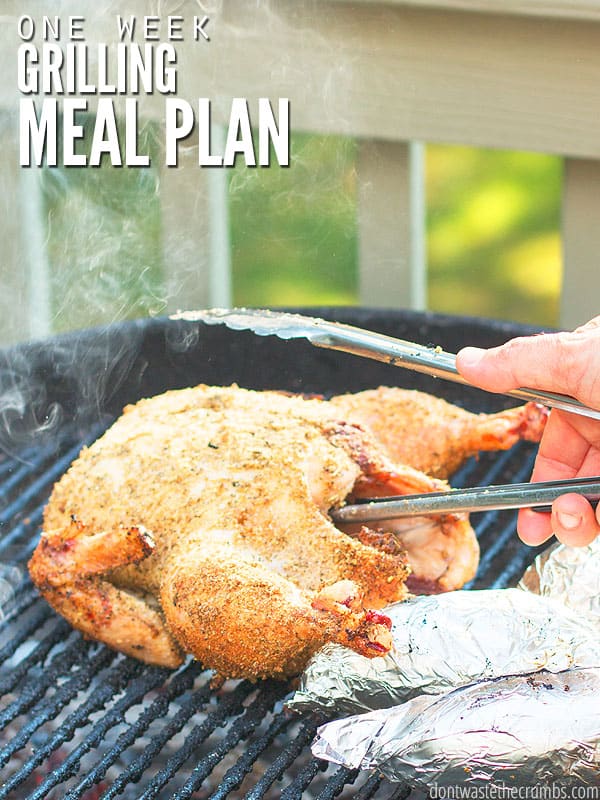 Grilling Meal Plan
Sign up to get instant access to my
One Week Grilling Meal Plan
, complete with recipes and shopping list!
One Week Grilling Meal Plan
What's Included:
100% real food grilling recipes that are simple, straight-forward and family friendly.
All of the recipes are easy to make and can typically be made in under an hour.
This one-week plan is very meat heavy and uses the grill. Each recipe can be cooked in the kitchen OR on the grill. Don't feel limited if you don't have a grill.
A couple of store-bought items for things I usually make from scratch (breads and beans). Feel free to make these items from scratch if you prefer.
What's NOT Included:
This plan is not tied to a specific grocery store or price point. Not everyone has access to the discount grocery stores like ALDI or Grocery Outlet or Walmart. Even though I did not tie this specific plan to a price point like my $50 ALDI meal plan, it is still frugal and budget friendly. Shopping at a traditional grocery store like Kroger or Albertsons will give you a total around $90. Shopping at ALDI or Walmart will easily save $20 (or more) off of your total.
Spices, oils and vinegar. We're not using enormous amounts of any of these in this meal plan (except for chili powder) and you probably already have these cooking staples anyway.
Corn starch or any small amounts of flour. Again, these are cooking staples and we're not using much.
Precautions for food allergies. My family is blessed to not have food allergies, so I don't plan for them in my meal plans. With a few tweaks, I think this grill meal plan would work in most food allergy families too, and if you're diary free you're used to subbing anyway.
No Breakfasts or Lunches?
This meal plan doesn't include any breakfast or lunch recipes because in my experience, the majority of families have personal preferences on what they want for breakfast or lunch.
No worries though – I have NO DOUBT the ingredients you buy for this meal plan will provide extras that you can use to cover breakfasts and/or lunches. Here's why:
Every meal on this menu is something I make frequently with my family. Every single one of them covers dinner for the four of us AND enough for at least one leftover lunch (usually two).
Use the "Bonus Meal Ideas" section at the bottom to create your own breakfast and lunch menu. Those are just some ideas to get your started, but they're there to help you use the ingredients you're already buying!
If you still don't think this is enough food to cover breakfast AND lunches, buy a bag of apples and a container of oatmeal for breakfast and only add a few more dollars to your bill!
Special Notes Regarding this Grilling Meal Plan:
Even though this is a grilling meal plan, all of the meals can be cooked in your kitchen from start to finish. Some of the meals require you to start at the stove but none of them have you turn on the oven.
This meal plan is continuous. This means some of the food prepared earlier in the week will be used later in the week. Be careful if you decide to make the meals in a different order. I'm not saying you have to follow the plan exactly, just be aware other parts of a meal are assumed to be ready when you get to specific days. For example, the Teriyaki Chicken Lettuce Wrap recipe assumes you already made the chicken and Cabbage Slaw on another day – so all you have to do is assemble!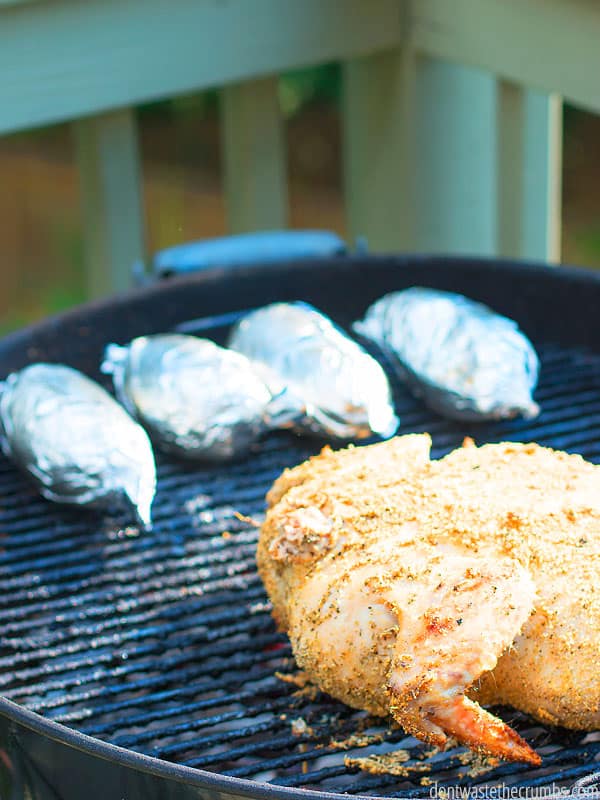 One Week Grilling Meal Plan: What to Buy
The goal with any plan is to buy as little food as possible, use everything you buy, and to do both without sacrificing taste or quality. Here's what you're buying for this meal plan:
Produce
Carrots. These are going to be used in the Grilled Vegetable foil pack on day 1. Foil packs are one of my favorite things because they are a cooking vessel AND plate! Easy clean up all around!
Grape Tomatoes. In your foil packs and salads will be your grape tomatoes. While these can be on the expensive side, halving them makes them go further and they are so good cooked.
Zucchini. Zucchini will also be in the foil packs along with an awesome recipe straight on the grill: Grilled Lemon-Salt Zucchini.
Cucumber. A refreshing addition to your garden and side salad.
Garlic Cloves. The majority of these are going to be in an amazing chili! Don't skimp on the garlic, it adds a great flavor.
Green Cabbage. Green cabbage is so versatile and adds a great crunch to the Sweet Potato "Tacos" and Teriyaki Chicken Lettuce Wraps as Cabbage Slaw.
Green Onions. These go easily with the Teriyaki Grilled Chicken Kabobs on day 5. Make sure you don't throw out those white stems because you can use them in Bonus Meal Ideas later.
Jalapeño. You will be using the Jalapeno to add some spice to the Sweet Potato "Tacos," feel free to omit if you would rather keep the heat down (or double if you like it hot!).
Lemon. Lemon is the star of the show in a couple of the meals this week: Grilled Lemon Honey Chicken and Grilled Lemon-Salt Zucchini. You will have some leftover juice that you can in a bonus recipe so don't discard those lemons!
Onion (white). We go a little heavy on the onions this week so be sure to count the number in the bag or buy 2 bags.
Iceberg Lettuce. Cheap option for a Side Salad and Garden Salad that uses leftover Grilled Lemon Honey Chicken. I love to add iceberg side salads to lighter meals to ensure full bellies and lots of veggies while sticking to my budget.
Red Leaf Lettuce. I recently came across this option at the store because of lack of availability of romaine lettuce. The leaves are nice and big and come apart beautifully – perfect for Teriyaki Chicken Lettuce Wraps.
Russet Potatoes. Russets are very light in this meal plan but I still recommend buying a 5 to 10 lb bag (you only need 2 1/2 lbs) because they are so versatile and cheap! Easy oven hash browns are the base to an amazing Spinach and Bacon Quiche on day 6.
Spinach. One bag of fresh spinach could do the trick here (you only need 3 cups) but if a bunch is cheaper you could always add the remining spinach to your salads for the week.
Sweet Corn. We aren't in corn season yet but I don't think I could have a Grilled Vegetable Foil Pack without some buttered corn : )
Sweet Peppers. Any type of peppers will work here but green is the most frugal choice (and it tastes great too!).
Sweet Potatoes. The star of the Sweet Potato "Tacos." These tacos are cooked and ate from foil packs with delicious Cabbage Slaw on top. No tortilla or plate needed!
Cold Case/Dairy
Butter. I don't think its possible for me to create a plan without butter! In this plan, butter is the main oil in the Grilled Vegetable Foil Pack. Like I said before, this plan can't be complete without corn and butter. (Besides, butter IS good for you.)
Cheddar Cheese. Delicious topping for the Spinach and Bacon Quiche.
Egg. Only half a dozen eggs needed here. You could purchase the exact amount you need (if your store offers a ½ dozen option) or get a full dozen and use up some Bonus Meal Ideas.
Greek Yogurt. This is the base for the cabbage slaw. I like to use plain whole milk Greek yogurt, and while it can be tart on its own, it is not overbearing in this slaw at all.
Milk. This is used in the Spinach and Bacon Quiche and the Skillet Cornbread that goes alongside a wonderful Chili.
Pantry
Black Beans. While dry black beans are cheaper, it is still inexpensive to purchase canned beans. The type you purchase won't affect your meal at all, it's all up to personal preference (and time).
Chili Powder. I don't usually include spices but the Chili recipe calls for ¼ cup of chili powder. While this does seem like a lot (I though it was a typo) it is not overwhelming or too spicy for the average eater.
Cornmeal. This special ingredient is for the skillet corn bread. No need to heat up the kitchen when you can cook cornbread on the grill!
Diced Tomatoes. These diced tomatoes give the chili a nice consistency.
Dijon Mustard. I don't normally include mustards but they are important in this week's chicken dishes.
Honey. This sweet ingredient is used in a couple of meals this week, Grilled Honey Lemon Chicken and Grilled Teriyaki Chicken Kabobs. There are a couple of ideas on how to use up any remaining honey in the Bonus Meal Ideas this week (if this item isn't a staple in your kitchen and you're not sure what to do with the extra).
Pickled Jalapeños or Green Chilis. These canned jalapenos or green chilis add a nice kick to the chili. I prefer green chilis.
Kidney Beans. As with black beans, dry beans are cheaper than canned but the type you decide to use ultimately comes down to personal preference and your budget for the week.
Sesame Seeds. While these are for garnish I think they also add a nice flavor to the Grilled Teriyaki Chicken Kabobs.
Soy Sauce. If you are a soy free family feel free to sub coconut aminos for the soy sauce. (Liquid aminos are a good option too.) This is used in the Teriyaki sauce for the chicken Kabobs.
Tomato Sauce. Two recipes call for tomato sauce this week – each with a different amount for the can (14 & 16oz). Which ever amount you find should be fine in each recipe.
Worcestershire Sauce. This adds its own special flavor to the Grilled Lemon Honey Chicken on day 1 (leftovers on day 3!)
Brown Rice. An easy filling addition to the Teriyaki Grilled Chicken Kabobs and Grilled Lemon-Salt Zucchini – perfect for soaking up that yummy teriyaki sauce.
Meat
To keep my meals frugal, I usually don't include as much meat as I did during this week's meal plan, but I just couldn't pass up the freedom leftover shredded chicken can provide to get me out of the kitchen. I can cook it on the grill and it allows me two evenings with no cooking!
Bacon. The other half of the Spinach and Bacon Quiche dinner on day 6.
Chicken Breast. There is a LOT of chicken in this meal plan but I made sure to change it up, keep the flavors fresh and alter the presentation to make sure you don't get tired of it by the end of the week. To make this happen, on two evenings you grill breasts and kabobs, each of those dinners include extra chicken to be cooked alongside your regular meal (no extra time needed!).
A day or so later, we change up the extra chicken and add it to a wonderful Grilled Lemon Honey Chicken Garden Salad and a Teriyaki Chicken Salad Wrap that's topped with leftover Cabbage Slaw. That means, two no cook nights all from a couple of extra breasts on the grill!
Ground Beef. The beef is used in the Chili and Sweet Potato Tacos. I usually only use 1lb of ground beef in my chili but this recipe makes a large amount of chili so I use 2lbs to make sure it doesn't get lost with the other ingredients.
As you can see from the items above, you'll have a few leftover ingredients from your shopping trip. Below are some bonus meal ideas to use it all up, so nothing goes to waste!
Exclusive for Crumbs Readers- Get FREE Ground Beef for life when you sign up!
Get 2 lbs of free 100% grass-fed, grass-finished ground beef in every order for the life of your membership.

Order through THIS LINK to take advantage of this offer.
BUTCHER BOX DELIVERS GRASS-FED BEEF, PASTURE-RAISED AND ORGANIC CHICKEN, AND HERITAGE PORK DIRECTLY TO YOUR FRONT DOOR EACH MONTH. YOU CAN READ MY HONEST REVIEW ON BUTCHER BOX HERE, AND ALSO MY UPDATED BUTCHER BOX REVIEW HERE.
WHO WOULD PASS UP ON FREE MEAT! CLICK HERE TO GET YOUR OFFER!
One Week Grilling Meal Plan: Dinners
DAY 1: Grilled Lemon-Honey Chicken // Grilled Vegetable Foil Pack
DAY 2: Sweet Potato "Tacos" // Cabbage Slaw
DAY 3: Grilled Lemon Honey Chicken Garden Salad
DAY 4: Chili // Skillet Cornbread
DAY 5: Teriyaki Grilled Chicken Kabobs // Grilled Lemon-Salt Zucchini
DAY 6: Spinach and Bacon Quiche // Side Salad
DAY 7: Teriyaki Chicken Lettuce Wraps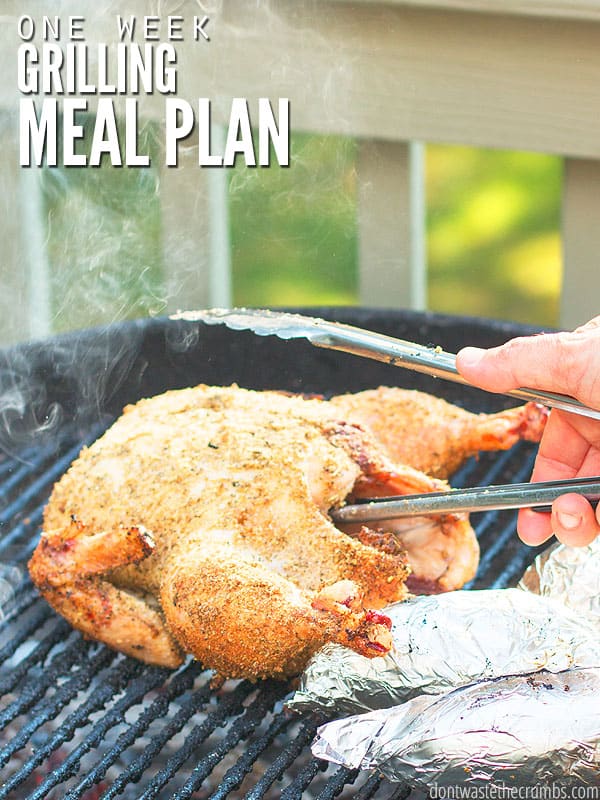 Grilling Meal Plan
Sign up to get instant access to my
One Week Grilling Meal Plan
, complete with recipes and shopping list!
Bonus Meal Ideas
Honey Roasted Carrots: (using leftover honey and carrots) + nothing extra
Mashed Potatoes: (leftover potatoes, milk and whites of the green onion)
Grilled Cheese: (using leftover cheese) add bread
Hash Browns and Eggs: Using leftover eggs and potatoes (if you have any) for breakfast.
Quiche: using leftover eggs (add bacon, spinach and hash browns)
Salad Dressings: (using leftover dijon, honey and lemon juice) add olive oil
Yogurt and Banana Breakfast (using leftover greek yogurt): add bananas
Vegetable Stock: Save vegetable ends throughout this week (you can store them in old yogurt containers or freezer bags) and make your own vegetable stock.
Summertime means grilling time!
Use this FREE grill meal plan to feed your family healthy homemade meals without heating up your kitchen. (Or take it on your summer camping trip!)
This meal plan uses LOTS of veggies, some pantry items, and a good bit of meat. Pastured, organic, and/or grass-fed meat is a real food priority for my family. We use Butcher Box, and some local sources to meet that goal while staying in our budget.
You can learn more about food priorities, budgeting, and rock bottom prices in Grocery Budget Bootcamp. My signature eCourse for all things grocery and budgeting related!
Be sure to check out any of these FREE meal plans!
$50 ALDI Meal Plan // One Week Vegetarian Meal Plan // Budget-friendly Whole30 Meal Plan
What is your favorite meal on the grill?