In just 5 minutes you'll have creamy and soft scrambled eggs. Say goodbye to those gooey or runny eggs, try my simple recipe for breakfast today!
Call me crazy, but I firmly believe there is a RIGHT way, and a WRONG way, to make scrambled eggs.
Make them the wrong way and you end up with either dry and rubbery eggs, OR wet and gooey eggs.
Make them the right way though (following my recipe below) and you get deliciously soft curds of scrambled egg goodness!
I see you, fellow egg lover, nodding your head in agreement and trying to contain the sudden urge to make scrambled eggs. Don't worry – I won't stop you.
These Scrambled Eggs are
soft
creamy
pillowy
moist
life-changing
light
fluffy
really, truly delicious!
Try my method once and you'll never go back to making them any other way!
Here's What You Need

Eggs
Water
Salt and pepper
Green onion (optional, but very tasty!)
Notes on the Ingredients
You CAN use liquid egg or just egg whites, but I've found that for the best scrambled eggs, you really need to use whole eggs.
Psst! If you're going to add salt, I highly recommend Ava Jane's Kitchen. You may think all salt is created equal, but unfortunately, 90% of salt produced around the world contains microplastics (gross, right?). Ava Jane's Kitchen is an exception. Their salt is 100% microplastic free, and it's SO GOOD! Plus, you can get a bag for just 1¢!! (Get your penny bag of salt on this page.)
Step by Step Instructions
Step 1. Make scrambled eggs without milk. Using milk or cream leads to runny eggs.
Instead, use water and as you cook, the water will evaporate and leave tiny pockets of air. This is what makes the eggs light and fluffy and soft and creamy, all at the same time.
Step 2. Don't make eggs in the microwave. Using the microwave will dry out your eggs and make them rubbery.
Instead, use the stove and they'll be ready in 5 minutes.
Step 3. Cook the eggs low and slow– with a little bit of coconut oil.

I've tested scrambled eggs with butter and coconut oil and coconut oil wins HANDS DOWN every time.
Tip: You'll want to use a silicone spatula or a rubber spatula to help keep the curds from breaking into small pieces.
Recipe Tips for Scrambled Eggs
Here's what you need to remember:
Don't be a wimpy scrambler. The more you scramble the eggs before you cook, the lighter and fluffier they become. The egg mixture should be light in color, have bubbles, and there shouldn't be any yolk or white visible.
Cook on medium-low heat. This is when you hover your hand about 1-2" above the pan, you can feel the heat BUT you're not burning yourself. If you throw a bit of water into the pan and it sizzles, that's too hot.
Tip: When I'm cooking eggs for myself, I use a mug and a fork. If I'm making them for others, I use a pyrex medium bowl from this set and a whisk.
FAQS
Do you put milk in scrambled eggs?
I don't put milk in my scrambled eggs. Milk actually dilutes the flavor and makes the eggs texture runny and rubbery.
What can I add to scrambled eggs for flavor?
If you're looking to add some more flavor to your scrambled eggs, try throwing in some green onions or cheese! You won't be disappointed.
What about scrambled egg calories?
Because I'm only adding water to the egg mixture (and maybe a pinch of black pepper), calories in scrambled eggs are just the eggs themselves. You can account for as much (or as little) coconut oil as you use, or you can use a non-stick cooking spray too.
Can I make scrambled eggs with cheese?
Absolutely! Add cheddar or cream cheese or even a bit of sour cream if you'd like. Just fold the cheese in gently at the very end and continue to cook JUST until the cheese is almost melted.
To Serve
Here are a few of my favorite breakfast dishes that pair great with scrambled eggs:
PS…Having a super easy pantry meal that your family loves is a crucial element of keeping a low grocery budget. Learn more about how I keep my family fed for $330 a month in Grocery Budget Bootcamp!
More Breakfast Recipes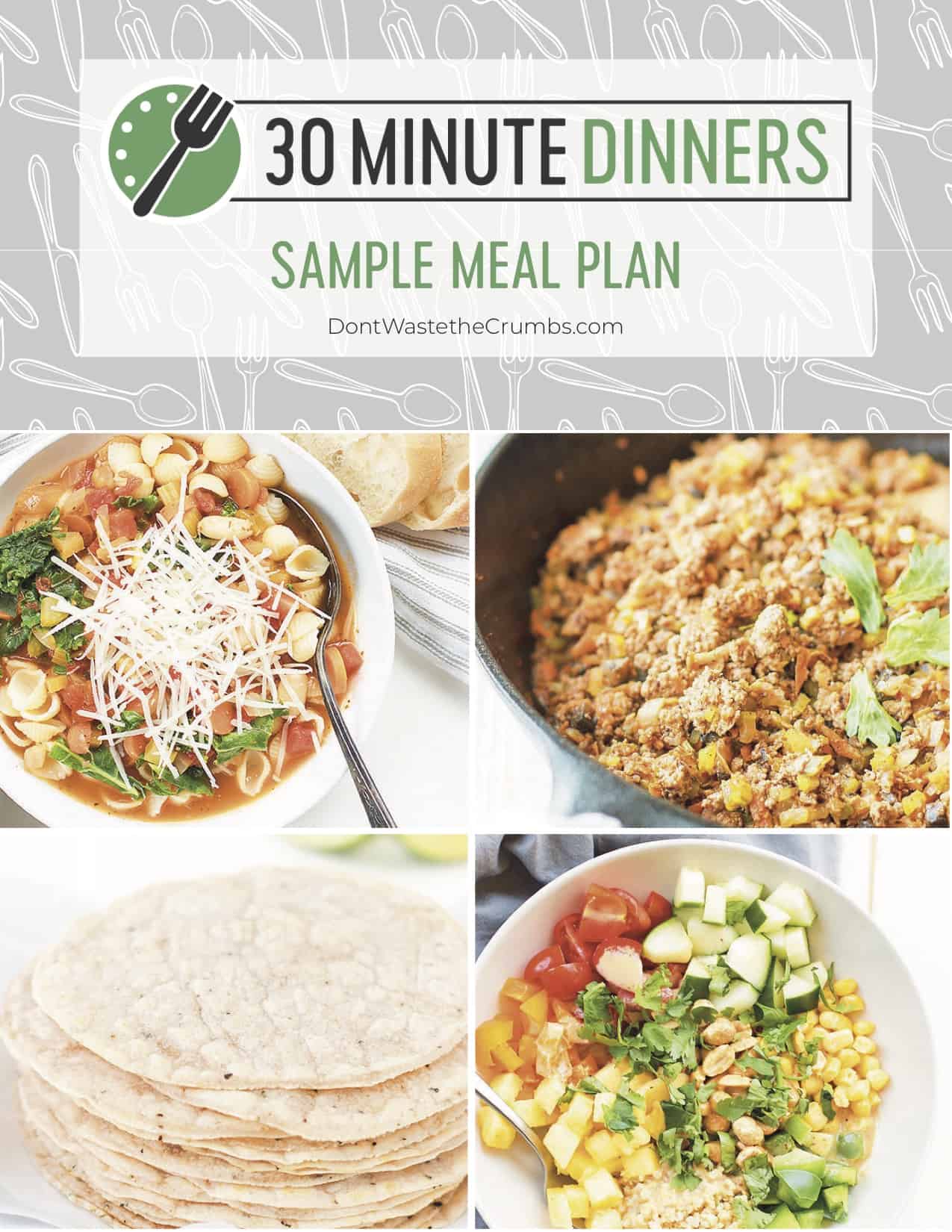 30 Minute Dinners Sample Meal Plan
Sign up to get instant access to my
30 Minute Dinners Sample Meal Plan
, complete with recipes and step-by-step instructions!
Watch How to Make the Best Scrambled Eggs
The Last Scrambled Egg Recipe You'll Ever Need (because it's the best)
How to make fluffy scrambled eggs that are truly the best! Make them with cheese or veggies, but skip the milk and the microwave. They're easy to make in a skillet, in just 5 minutes!
Author: Tiffany
Prep Time:

1 minute

Cook Time:

5 minutes

Total Time:

6 minutes

Yield:

1

serving

1

x
Category:

Breakfast

Method:

Stove top

Cuisine:

American
1

–

2

tsp coconut oil

2

eggs

2 Tbsp

water
salt & pepper to taste
green onion, sliced (optional, but very good!)
Instructions
Melt 1 tsp coconut oil in a skillet over medium-low heat. Hover your hand over the skillet. When your hand is about 1-2″ away from the skillet and you feel the heat, your skillet is hot and ready.
Swirl the oil around the pan to coat. Add 1 tsp coconut oil if the entire surface isn't coated.
In a bowl, whisk eggs and water together very well, at least 30 seconds.
Immediately pour into the skillet. Let the eggs cook for about 15-20 seconds.
Using a spatula, push the eggs back from one edge all the way to the other edge of the pan. Tilt and swirl the pan so that uncooked egg moves to the empty place on the skillet where you just pushed the eggs away from. Let the eggs cook for about 10-15 seconds.
Choosing a different edge, push the eggs away towards the other side of the pan. At this point, the majority of your eggs should be cooked.
Push any uncooked eggs towards the center of the pan, flipping them over if necessary and cooking for just 2-5 seconds.
Remove the eggs to a plate. The eggs will finish the last bit of cooking as they cool slightly.
Notes
Season with salt and pepper and garnish with green onion if desired.
Nutrition
Serving Size:

1

Calories:

204