Skip the canned beans and learn how to make this authentic & easy crockpot refried beans recipe! Use dry or canned beans, or make refried black beans! Great for burritos made with cilantro lime rice and homemade tortillas.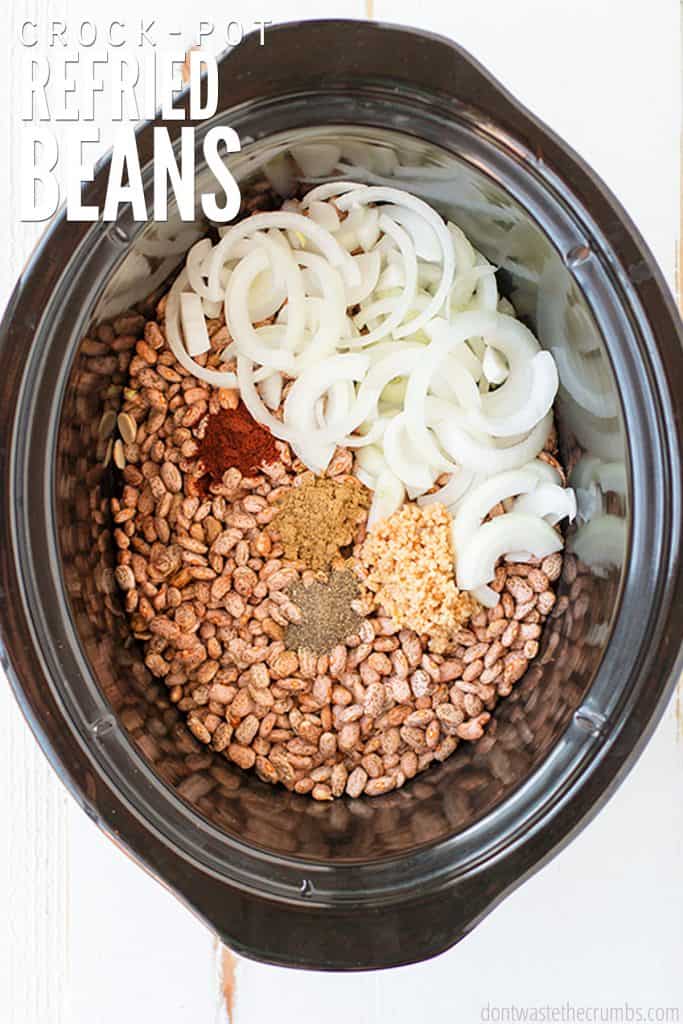 I have learned that making crock pot refried beans ALWAYS tastes better.
While refried beans from a can are good in a pinch, nothing beats home-cooked flavors bursting in your mouth. It's worth it to skip the store bought for this healthier version of Mexican refried bean recipe from scratch!
It's so easy to make, you simply dump your beans and go about your day while it cooks in the slow cooker ALL DAY LONG. This means the flavors really get soaked up into every little ounce!
Besides the fact that crock pot refried beans are absolutely delicious and it's the best refried bean recipe, here's why you should make them:
Taste authentic.
Healthy.
Homemade.
Freezer-friendly.
Hands off.
Budget friendly.
Pair with other meals.
Here's What You Need
Pinto beans
Onion + Jalapeno
Garlic + Salt + Pepper + Cumin
Water (up to half of the water can be substituted with chicken stock)
Note: Some people like to add chili powder to their refried beans, especially when making bean tacos, but I didn't for this recipe. But you certainly can customize this recipe as you go, especially if you freeze portions for future meals.
Psst! Want to kick this up a notch? Try finishing this recipe with a pinch of finishing salt! I love Ava Jane's Kitchen because it doesn't have microplastics (gross, right?) and it's SO GOOD! Plus, you can get a bag for just 1¢!! Just add a pinch before serving! (Get your penny bag of salt on this page.)
Notes on Ingredients
Most recipes for 'refried beans' are made from pinto beans for that authentic Mexican flavor. But you can make refried beans with black beans also!
Step by Step Instructions for the Crockpot

Step 1. Place all the ingredients in a large slow cooker. I have this 6-quart slow cooker and highly recommend it!

Step 2. Cook on high for 8 hours if using dry or soaked beans (4 hours cooking time for canned).
Step 3. Drain as much water as you can from the beans and temporarily set aside.
Step 4. Using an immersion blender (or potato masher, or alternating batches in a blender), mash the beans adding cooking liquid as needed. If you want your beans to be thick, use very little liquid. If you like the beans to be thinner, add more.

Step 5. Serve hot, or prepare for storage.
Recipe Tips
Here are some ideas on how to customize these refried beans:
Use chicken stock or chicken broth. Substitute chicken stock for up to half of the water in the recipe. I wouldn't go any more than that though, otherwise, you'll lose the bean flavor. We make homemade chicken stock in the slow cooker or the Instant Pot!
Make it mild. Substitute a 4 oz can of diced green chilies in lieu of the jalapeno. You can also keep the jalapeno for flavor, but remove the membranes and seeds first.
Make it hotter. Keeping the membranes and seeds of the jalapeno will definitely make it hotter. You can also add a second jalapeno pepper, or choose a hotter pepper altogether like a ghost pepper. As a general rule of thumb, the more wrinkly the pepper, the hotter it is.
Use different beans. Like "refried" black beans? Swap them for the pinto beans and you have an entirely new, yet delicious, recipe.
Soak the beans. I've made this recipe with beans soaked overnight (to reduce the gaseous aftermath) and with freshly rinsed dry beans. You can't go wrong, either way, so do whatever you prefer.
FAQS
Can I convert this recipe to make Instant Pot refried beans?
Yes, you can convert this crock pot refried bean recipe! Here's how I learned to convert this recipe to my Instant Pot for when I forget to soak the beans overnight or start them early!
What is the best way to make refried pinto beans from scratch?
In the crock pot, of course! It's so easy! I suggest soaking your beans overnight, it's the best way to 'de-gas' the beans and is good for those who have a sensitive digestive system,
To Serve
Need some meal ideas to put these crockpot refried beans to good use? How about…
As a side for:
These refried beans freeze well too…
I suggest freezing in ½ cup portions in silicone muffin liners in a muffin tin.
Once you use this method, it's EASY to:
Measure
Reheat
Store long-term
However you like crockpot refried beans, I hope you enjoy!
More Easy Bean Recipes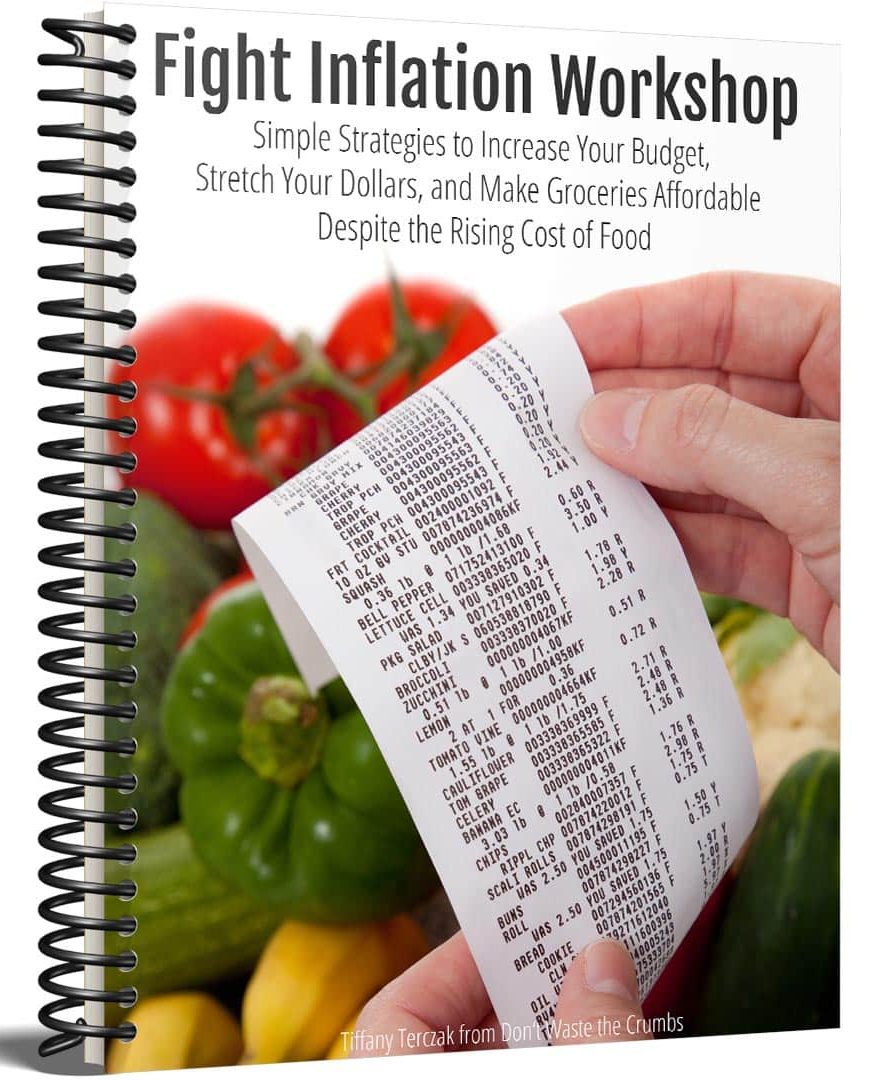 Fight Inflation Workshop
Sign up for my FREE
Fight Inflation Workshop
and learn simple strategies to save money, even with rising food costs!
Watch How to Make Crockpot Refried Beans
Crock Pot Refried Beans
Try this crock pot refried beans recipe with authentic Mexican flavor! It's easy, versatile, hands-off, and freezer-friendly. Use either dried or canned beans!
Author: Tiffany
Prep Time:

10 minutes

Cook Time:

8 hours

Total Time:

8 hours 10 minutes

Yield:

5

–

7

cups

1

x
Category:

Sides

Method:

Slow Cook

Cuisine:

Mexican

Diet:

Vegetarian
1

lb dry pinto beans, thoroughly rinsed OR soaked overnight using this method, OR 6 cans cooked pinto beans, drained and rinsed 3 times

1

onion, peeled and quartered

1

jalapeno, top cut off and quartered

2 Tbsp

minced garlic

3 tsp

salt

2 tsp

pepper

1 tsp

cumin

9 cups

water (up to half of the water can be substituted with chicken stock)
Instructions
Place all the ingredients in a large slow cooker. I have this 6 quart slow cooker, but I wouldn't use anything smaller than a 4 quart.
Cook on high for 8 hours if using dry or soaked beans. Cook on high for 4 hours if using canned beans.
Place a colander over a stock pot and drain as much water as you can from the beans.
Using an immersion blender (or potato masher, or alternating in a blender), mash the beans until they reach your desired consistency, using some of the cooking water to help thin. Remember that you can always add more water to thin, but you cannot make them thicker again.
Serve hot, or prepare for storage.
Notes
Adapted from allrecipes.
If you would like to thicken the homemade refried beans, when the beans are done, you blend them with an immersion blender (or with a spoon, potato masher, or whatever you have) until they're the consistency you like. Whether you want chunky beans or perfectly smooth beans is up to you. Just use as much as you need of the excess liquid that you drained from the cooked beans.
Keywords: Crock Pot Refried Beans