I know that not everyone is a fan of beans.
My kids thought beans were gross until I made a batch of black bean brownies. Now, they ask me to make this to share with their classmates on their birthdays!
One of my goals as a real foodie parent is to find a way to get my kids to like all the foods that are good for them. My first attempt at refried beans was a failure, but I'm hoping that this batch of crock pot refried beans will win them over for good.
I say hoping, because I haven't tested these out on my kids yet… YET.
You see, I once bought a can of refried beans, put WAAAY too much on a burrito, sprinkled the teeniest amount of cheese and told my kids to eat it or else.
They were in what I call the "easy to permanently scar" age (2-4 years old) and let's just say that my ultimatum didn't go over so well.
The bean burritos went half-eaten, and the half that was eaten ended back up on their plates.
TMI?
Yep, but I learned a lot of lessons that day and have since taken a different approach to getting my kids to eat beans.
First, hide them whenever possible.
Remember the aforementioned black bean brownies? You can't even tell they have beans in them, and I certainly didn't say anything.
When the kids ate seconds and thirds, I knew the recipe was a winner.
That success led to white bean blondies (which are also loved). These led to chocolate hummus and cookie dough hummus – both of which are in our weekly lunchbox rotation.
Second, I almost always make them from scratch.
I'm not beyond having a can or two of beans in the pantry, because even foodie moms get busy and forget to soak beans or need to whip up dinner in a flash.
But I have learned that cooking beans from scratch always, always, ALWAYS tastes better.
And when its worth my time (like I teach in Grocery Budget Bootcamp), it always saves me money.
Speaking of from scratch, let's talk about these crock pot refried beans.
First, they're not "re-fried." SHOCKER!
Although the term "refried" does technically mean to fry something (twice), these crock pot refried beans are only cooked once.
Why? Well, mainly because it's easier.
Let's face it – we're all busy. And if I can cut a step out of a recipe without sacrificing the end result, I'm all about it.
Also because the re-fry isn't really necessary in this recipe.
This batch of crock pot refried beans is PACKED with the classic, yet basic flavors of onions, garlic, jalapenos and cumin that we've all grown to love and expect out of Mexican cuisine.
The fact that the beans cook ALL DAY LONG in the slow cooker means the flavors really get soaked up into every little ounce of bean.
When the beans are done, you blend with an immersion blender (or with a spoon or whatever you have) until they're the consistency you like. Whether you want chunky beans or perfectly smooth beans is up to you.
The end result is a batch of crock pot refried beans (without the re-fry), and no one even notices the difference.
And isn't that the whole point?
Suiting Crock Pot Refried Beans to Fit Your Tastes
The recipe for crock pot refried beans is flexible, depending on your personal preferences and what you have on hand.
Some ideas…
Using chicken stock…
Substitute chicken stock for up to half of the water in the recipe. I wouldn't go anymore than that though, otherwise you'll lose the bean flavor.
We make homemade chicken stock in the slow cooker, so plan in advance if you only have one slow cooker. (I have this 6 quart slow cooker, but I'm tempted to invest in an instant pot too!).
Make it mild…
Substitute a 4 oz can of diced green chilies in lieu of the jalapeno.  You can do ½ cup of chili verde salsa too, although between the two, I liked the green chili option better.
You can also keep the jalapeno for flavor, but remove the membranes and seeds first.
Make it hotter…
Keeping the membranes and seeds of the jalapeno will definitely make it hotter. You can also add a second pepper, or choose a hotter pepper altogether.
As a general rule of thumb, the more wrinkly the jalapeno, the hotter it is.
Use different beans…
Like "refried" black beans? Swap them for the pinto beans and you have an entirely new, yet delicious, recipe.
Soak the beans…
I've made this recipe with beans soaked overnight (to reduce the gaseous aftermath) and with freshly rinsed dry beans. You can't go wrong either way, so do whatever you prefer.
How to Freeze Refried Beans
This crock pot refried beans recipe makes a big batch, but they freeze BEAUTIFULLY. Depending on your needs, you have a couple options here.
Single Servings
Line a muffin tin with silicone muffin liners. I have this muffin tin and these silicone liners and LOVE them both.
Measure ¼ cup of cooked refried beans (or save your sanity and use this muffin/ice cream scoop – totally worth every penny!) into each muffin liner. Freeze the whole pan for about 8 hours, or overnight.
Remove each portion from the silicone liner and store in a freezer-safe container, in the freezer. Pull out what you, when you want them, and reheat on the stove or microwave.
Family Servings
Re-use plastic containers that once held sour cream, yogurt or cream cheese. Smaller, 8 ounce containers are perfect for 2-3 people, and larger 16 ounce containers are great for 4-6 people.
You can store the beans in these containers, with a lid in the freezer, OR you can remove the frozen beans to another freezer-safe container if you need to re-use the plastic one.
There is always the option of freezing in glass too, and this tutorial on how to freeze in glass without breaking the jar is super helpful!
Note: Freezing food after making big batches is a great way to save money on groceries AND have pre-cooked healthy options to eat later. I love having a meal plan for freezer cooking, and even a pre-made grocery list to cut down on time and effort! Check out the Freezer Family Bundle here for awesome prepped meal plans for your family.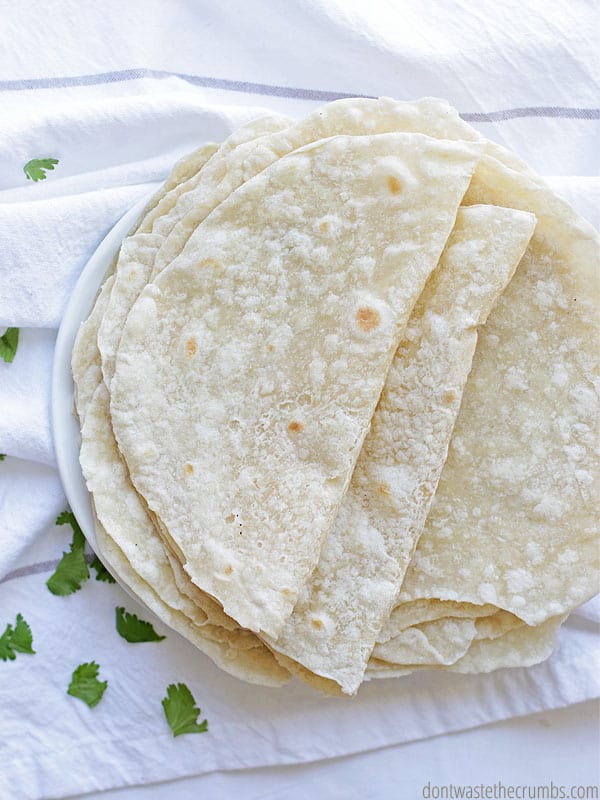 Dinner Ideas
Need some meal ideas to put these crock pot refried beans to good use? How about…
However you like crock pot refried beans, I hope you enjoy!
Crockpot Refried Beans for the win!
Watch How to Make Our Crock Pot Refried Beans:
Crock Pot Refried Beans
Ingredients
1 lb dry pinto beans, thoroughly rinsed OR soaked overnight using this method, OR 6 cans cooked pinto beans, drained and rinsed 3 times
1 onion, peeled and quartered
1 jalapeno, top cut off and quartered
2 Tbsp minced garlic
3 tsp salt
2 tsp pepper
1 tsp cumin
9 cups water (up to half of the water can be substituted with chicken stock)
Instructions
Place all the ingredients in a large slow cooker. I have this 6 quart slow cooker, but I wouldn't use anything smaller than a 4 quart.
Cook on high for 8 hours if using dry or soaked beans. Cook on high for 4 hours if using canned beans.
Place a colander over a stock pot and drain as much water as you can from the beans.
Using an immersion blender (or potato masher, or alternating in a blender), mash the beans until they reach your desired consistency, using some of the cooking water to help thin. Remember that you can always add more water to thin, but you cannot make them thicker again.
Serve hot, or prepare for storage.
Where on the spectrum does your family fall with beans? Love them, or hate them? Share your experiences in the comment section below!