How to make pressure cooker Instant Pot beans without having to soak. Works with black, pinto, garbanzo and white beans. The quickest way to make beans!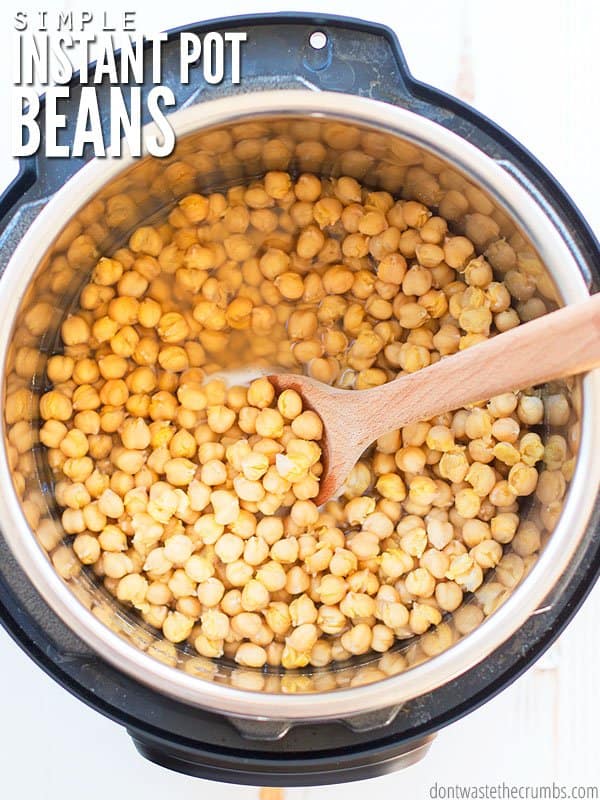 In my never-ending quest to put healthy food on the table without going broke, I'm always looking for easy ways to cut corners without sacrificing quality. Perfect example – get my kids to eat more beans.
Beans are cheap and healthy and we need to eat more of them, more often. That's how chocolate hummus, cookie dough hummus and cake batter hummus were born.
Oh yeah – and black bean brownies.
But in order for my kids to eat more beans, I have to cook more beans. That's why we're talking about Instant Pot beans today.
For years I've been making slow cooker beans. A few hours in the slow cooker (or up to 8 hours for my famous slow cooker refried beans), and you have a big batch of beans ready to go.
After crunching the numbers to see if dry beans were cheaper than cooked beans (and they are – here's the proof), I'll never go back to canned beans.
Well, I mean I won't go back to buying canned beans as a pantry staple.
I'll always have a can or two on hand for those "just in case moments," but I'll only buy them when they're on clearance or on some crazy cheap sale for 50¢ or less per can (here's how I got that number).
I also like cooking them myself because it means less flatulence going on after our meals. Here's our method to de-gas beans, but I've found that when I make Instant Pot beans, I don't have to soak them beforehand!
There are a lot of pros to slow cooker beans:
they're hands-off
you don't have to be home
they can cook while you sleep
they're cheaper than canned beans (even more so when you buy dry beans in bulk!)
But the biggest con to slow cooker beans is that they're not foolproof. You can't forget that you put beans in the slow cooker, in the garage, because the next day they'll be overcooked mush.
You should also still soak the beans. I don't know the science behind it, but slow cooker beans are like stove-top beans in that they will make your family have stinky toots.
For some reason, Instant Pot beans don't give my family stinky toots. That right there is enough to win me over, but I love that Instant Pot beans are ready in under an hour.
Even when you include the time to come to pressure and the pressure release, I have a full pound – or more! – of dry beans cooked to perfection in less than 60 minutes.
That means I an easily batch cook lots of different beans in one day and be ready for the whole month, rather than taking a week or longer to soak on the stove-top (since I only have so many pots big enough to soak AND I still need some to cook meals) and then to cook in the slow cooker (I just have one slow cooker).
For me, Instant Pot beans is super easy, super fast and super practical for our busy lifestyle.
Instant Pot Beans
You'll notice that my recipe calls for a 35 minute cooking time. That's the average. I ALWAYS cook my beans for 35 minutes when I need them to be firm yet perfectly cooked.
These are the beans that will hold their shape in meals like southwestern salad and pumpkin chili.
You can certainly cook them longer if you want to. When I make my refried bean recipe in the Instant Pot, I cook them for 45 minutes because a) they're going to get mashed anyway, and b) I want as much of those flavorful juices to be in the beans as possible.
You can also cook them for a shorter amount of time. I've made many batches that come out wonderfully in just 20 minutes. I wouldn't recommend cooking them for any less than 20 minutes though, to ensure they are well cooked. What I am confident in is that 35 minutes will give you perfect beans, every time.
***UPDATE*** Here are my updated times for cooking beans in the Instant Pot.
For Natural Pressure Release (NPR):
Firm Beans: 12 mins with NPR 

Soft Beans: 15 mins with NPR
For Quick Pressure Release (QPR): Note: If you make more than 1lb of beans at a time, do not use Quick Pressure Release.
Firm Beans: 20 mins with QPR 

Medium Firm Beans: 22 mins with QPR 

Soft Beans: 24 mins with QPR
I always get a lot of questions when I share Instant Pot recipes, so here's a quick round-up of the most common ones:
What size Instant Pot do you have? 
I have the 8-quart DUO 7 in 1 Instant Pot. I choose the larger Instant Pot for a few reasons.
My slow cooker is 6 quarts and can barely fit some of my favorite recipes.
Having the larger Instant Pot gives me more room to double recipes.
Cooking once and eating twice is key for saving time in the kitchen.
I'd rather have the extra room, than not enough!
You also have to leave a certain amount of space in the pressure cooker when using it. There is a max fill line for liquids. And the general rule is to not fill the Instant Pot more than 2/3 full. The 8 quart gives me more room to cook.
One Instant Pot hack I learned is to use a 6-quart pot on top of an 8-quart pot to cook two elements of one meal. You can read how that works HERE.
How do you make slow cooker recipes into Instant Pot recipes?
I shared a really great tutorial/tips article on how to convert slow cooker recipes to Instant Pot recipes HERE.
I haven't purchased an Instant Pot yet – is there anything I should know first?
YES!  There's a good bit of info you should know before you buy the Instant Pot. None of it's bad, but it's definitely worthy to read before taking the plunge!! Read the article HERE.
Where do you keep all of your Instant Pot recipes?
You can find all my Instant Pot recipes HERE.
Instant Pot Beans
How to make pressure cooker Instant Pot beans without having to soak. Works with black, pinto, garbanzo and white beans. The quickest way to make beans!
Author: Tiffany
Prep Time:

3 mins

Cook Time:

12 mins

Total Time:

15 mins

Yield:

6 cups

of cooked beans

1

x
Category:

Sides

Method:

Instant Pot

Cuisine:

American

Diet:

Vegetarian
1

pound of beans, rinsed and picked over to remove debris

9 cups

of water
Instructions
Place beans and water in the Instant Pot.
Seal the Instant Pot and make sure the pressure value is set to "sealing."
Press the "manual" or "pressure cook" button so that it is set to high pressure and use the "-" and "+" buttons to adjust the timer to 12 minutes.
When the timer goes off and the beans are done cooking, use the natural pressure release (i.e. do nothing).
Note: DO NOT use quick release when making more than one pound of beans.
Once the valve indicator has gone down, it is safe to open the Instant Pot.
Drain the beans and use in your favorite recipes!
Notes
Anytime I make plain beans, I leave them absolutely plain. That allows me to use the beans in both sweet and savory recipes without a problem. Unless you are making a big pot of beans for one particular recipe, I suggest you make them plain as well.
How do you cook your beans? Do you soak? Do you cook them on the stove top, slow cooker or pressure cooker? Leave your tips in the comments below!