Learn how to make black bean and corn salsa tacos with this easy recipe! Uses homemade salsa and can be topped with avocado, cilantro-lime rice, lime crema, and more!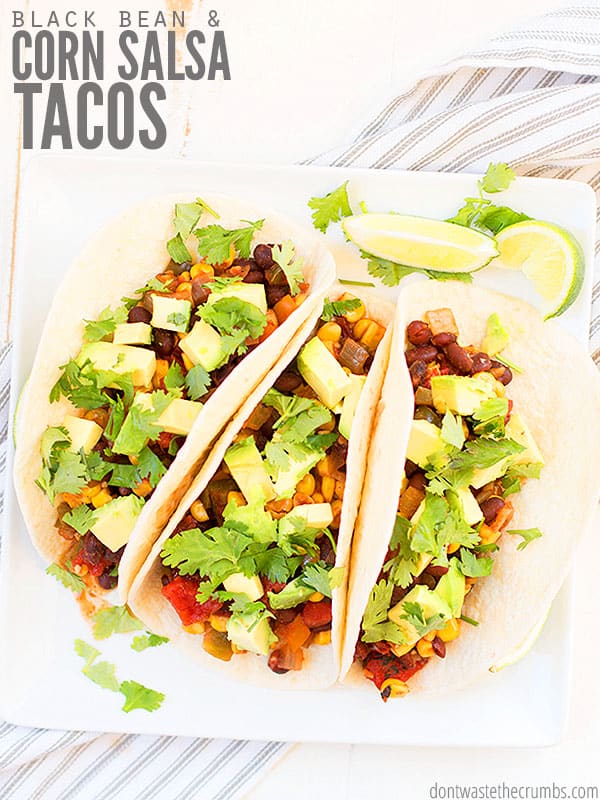 Have you ever thumbed through a magazine at the grocery checkout and found one that you simply COULD NOT pass up?
That's how these black bean and corn salsa tacos were born. I saw the recipe, knew my family would love it, and knew I had everything already at home to make it.
I ended up buying that magazine just for the recipe, but it's been worth every penny. My family CANNOT GET ENOUGH of these tacos!
And I'm totally not exaggerating when I say that.
Black Bean and Corn Salsa Tacos
Sunday nights are taco night in our house and EVERY WEEK when I ask what kind of tacos everyone would like, my husband ALWAYS says "black bean and corn salsa tacos!"
Aside from the fact that they are a hands-down winner, we also love these tacos because:
Plus, my husband and I are making a conscious effort to eat more vegetables and beans. Not only are both good for our budget, but they're good for our health!
These black bean and corn salsa tacos let us meet both goals in one fell swoop!
Black Bean Salsa Ingredients
The ingredient list for black bean salsa SEEMS long, but I promise you'll recognize everything and you likely have most of it already in your pantry!
Now if you REALLY want to take it up a notch (which I HIGHLY recommend), add a hatch chile pepper when they're in season. YOU'RE WELCOME!
How to Make Black Bean Corn Salsa
I don't think a recipe can get any easier…
Combine all the ingredients in a medium pot.
Simmer for 20-30 minutes.
Serve warm tucked inside warm tortillas with desired toppings!
Tips for Making Black Bean Salsa
Taco Toppings for Black Bean Corn Salsa Recipe
You could easily stuff homemade flour tortillas or homemade corn tortillas (or even homemade cassava flour tortillas) with JUST this black bean corn salsa, but why not add all the other things you like on top as well?!
Other Quick and Easy Dinner Ideas
Easy Black Bean and Corn Salsa Tacos