When my husband learned during the Whole30 that he reacts to gluten, there were two things he was sad about missing out on: homemade pizza and taco night.
We haven't made any progress on pizza yet, since we're generally avoiding cheese and he's avoiding tomatoes too.
However, we've made HUGE progress on taco night ever since I discovered this cassava flour tortilla recipe!
In case you've never heard of cassava flour, here's a brief lesson.
Cassava flour is made from yuca.
Yuca is a root vegetable and it's NOT a nightshade.
Yuca has a very, very mild "potato-y" taste that unless you're actually eating it and thinking about whether or not it tastes like potatoes, you won't even notice it.
See? Super brief.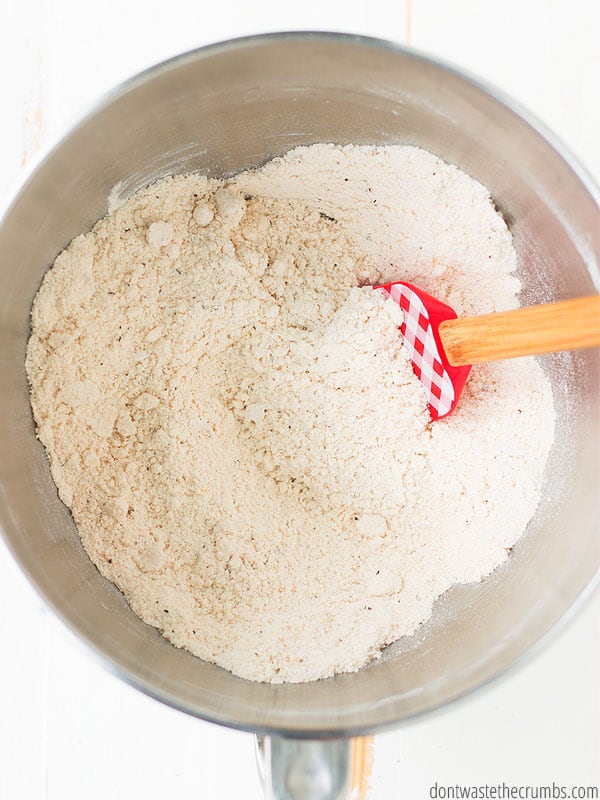 WARNING: If you're not gluten-free, grain-free or otherwise have no need to avoid grains, please don't make these tortillas.
Cassava flour is NOT cheap and there's really truly no reason to buy it unless you're specifically avoiding grains and/or gluten.
If this is you, I highly recommend making either homemade corn tortillas or homemade flour tortillas instead.
However, if you ARE gluten-free or grain-free or for whatever reason need to avoid grains and are missing out on all the foldable, bendable love that comes from a tortilla or wrap (like bacon chicken Caesar salad wraps), then this cassava flour tortilla recipe is for you.
You know how food allergy people are always talking about how expensive it is to deal with food allergies? There's a reason.
You only need one friend with any type of allergy to realize that the food budget – when dealing with food allergies – could easily skyrocket.
First though, let me bust the myth and say that it is COMPLETELY possible to eat allergy-friendly without going broke if you have a tried-and-true, solid system in place. Graduates from my course Grocery Budget Bootcamp have had MULTIPLE food allergies and follow all sorts of diets (i.e. GAPS, Paleo, WAPF, Whole30, AIP, etc.) and they've all learned how to make it work within their budget.
Second, allergy-friendly FOODS can be expensive and store-bought cassava flour tortillas are definitely an allergy-friendly food. It's what you would use INSTEAD OF an allergen food, which means it's a luxury according to the grocery budget, not a requirement.
One way to curb this luxury is to make the cassava flour tortillas ourselves. That's how we're making it work within our grocery budget!
Speaking of cassava flour, I'm learning that the brand you buy is a very big deal.
Different brands have different textures. Some are very coarse, some are very fine.
I've worked with Otto's Natural cassava flour and Anthony's cassava flour and both make delicious tortillas. If you're not using either one of these brands and your tortillas don't turn out, I'm willing to bet it's the brand.
If you're planning on making these AND you're working within a grocery budget (which you should be), buy a "cheaper" flour at your own risk. Personally though, I don't recommend it.
It might seem like you're saving money, but if nothing you make turns out, then it's just a waste.
I checked prices at Amazon, Walmart, Thrive Market and Vitacost and as of this posting, here's the best deal on Otto's Naturals brand (at $7.50/lb) and here's the best deal on Anthony's brand (at $4.99/lb and this is the one I use).
Cassava Flour Tortilla Recipe
The good news? These cassava flour tortillas taste EXACTLY like regular flour tortillas. Your allergy people will so happy!!
The honest news? There's a technique in order to get these things to work. It's not hard, but you do need to follow my directions. Here's the deal:
1. I HIGHLY recommend a tortilla press. I've tried using a rolling pin and my hands and both of these options led to immense frustration and I may or may not have yelled at innocent bystanders who were asking me if the tortillas were done yet.
I have this tortilla press that I bought from TJ Maxx or Marshalls several years ago and I love it. It's not something I use all the time – really only when I make tortillas – but it's one of those things that you're always super glad to have when you need it.
If you don't have a tortilla press and you really want to make these, try the rolling pin option with the rest of these steps. Don't even bother using your hands. Trust me.
2. You need parchment paper. Y'all know I'm all about saving money, and that's why you see recipes like 15 minute Italian meatballs and healthy peanut butter cookies on my silpat mats. Those mats are AWESOME and they're a one-time investment that I can wash and re-use a million times over again.
But they don't work for this cassava flour tortilla recipe. Remember the aforementioned frustration and yelling? Yeah… don't go down that route.
Use parchment paper. You don't need much, but I PROMISE it will make your life a million times easier. Plus the tortillas will actually turn out!
3. Pull out enough parchment paper to cover the width of the tortilla press, and then fold it in half. You need two pieces, but parchment paper is really wide. I was able to cover the surface of the press twice by folding the one piece and cutting it in half.
If your parchment paper is a bit too big for the press, trim it as needed. You don't want a ton of excess paper crinkling up on the hinge and lever sides of the press.
4. Make sure the two pieces of parchment paper are facing the same way. The paper will likely have a slight curl to it on the edges. You want both pieces to curl together, so they're going in the same direction. This makes peeling the parchment paper off the raw cassava flour tortilla much easier.
Also, keep the pieces of parchment paper together like this as you press all the tortillas.
5. I recommend using a kitchen scale to weigh your dough. I use a kitchen scale almost daily, but I especially use it to make meatballs, breakfast sausage and homemade tortillas all uniform in size. Kitchen scales aren't expensive – I've had this cheap model for several years and it's still going strong!
The idea of weighing your dough may sound silly, but doing this not only ensures you're getting tortillas that are even in size, but it also means you're getting as many tortillas as you should.
My cassava flour tortilla recipe yields 21-24 tortillas when you weigh just 1 ounce of dough per tortilla. If you use more than this, you will get a significantly less amount of tortillas. This means less tacos AND not getting the most out of the money you spend on cassava flour.
6. Work in batches. After you've mixed the dough, resist the urge to weigh each ball of dough individually, and then pressing, and then cooking, and then flipping, and then cooking, and then removing to a cookie sheet. This is not only tedious, but it's incredibly time consuming.
I'm an ESTJ and do well with an efficient system for working in the kitchen. I don't like spending any more time working on something than I have to, LOL!!
Here's the most efficient way to make cassava flour tortillas, but feel free to ignore if you're more of a lackadaisical home chef.
Weigh 6-8 portions of dough at a time.
Roll portion #1 into a ball, press it, put on the griddle.
Immediately roll portion #2 into a ball, press it and put it on the griddle.
Immediately roll portion #3 into a ball, press it and put it on the griddle. Flip #1.
Roll portion #4 into a ball, press it. Remove #1 to a cooling rack and flip #2. Slide all the tortillas to the left one slot (so the oldest tortilla is on the further left of the griddle), and put #4 on the griddle.
Repeat the last step until all of the 6-8 portions of dough are now cooked tortillas.
7. Speaking of a griddle – use one. Griddles like this one have a non-stick surface, making them great for all homemade tortilla recipes. But they also have a larger cooking surface, so you can cook more tortillas in less time than if you used a cast iron skillet.
8. Look for small bubbles. The cassava flour tortillas are ready to be flipped and/or removed when you see small bubbles forming on top, similar to when you cook traditional tortillas.
9. Allow tortillas to cool on a cooling rack. This helps keep the tortillas soft and pliable, but also prevents them from cooking and melting into each other when you stack them on top. They only need a few minutes to cool on cooling racks, which is exactly how long it takes to cook the 6-8 portions of dough!
How to Store Cassava Flour Tortillas
For short-term consumption, i.e. you're eating them today or tomorrow, a container with a lid on the counter is fine.
If you're fortunate enough to still have tortillas after two days, you can store them in the fridge for up to a week.
For long-term storage, place tortillas on a cooling rack on top of a cookie sheet. Place in the freezer for 45-60 minutes – this is called flash freezing. When they're semi-frozen, you can remove them to a freezer safe container, remove all the air and freeze for 3-6 months.
This freezing method lets you pull as many tortillas as you want to serve, without dealing with the tortillas sticking to each other. (This same method works for pancakes and waffles too.)
If I haven't scared you off with the step-by-step on how to pull off this cassava flour tortilla recipe, I hope you enjoy these as much as we do. The steps seem long, but I promise you'll move quickly once you get through a tortilla or two.
Plus your food allergy people will be head over heels for these cassava flour tortillas – they're delicious and you can finally enjoy taco night again!
Cassava Flour Tortilla Recipe
Delicious cassava flour tortilla recipe works for AIP, Paleo and uses only 5 whole foods ingredients. They're easy gluten-free and grain-free tortillas!
Author: Tiffany
Prep Time:

10 mins

Cook Time:

5 mins

Total Time:

15 mins

Yield:

21

-

24

1

x
Category:

Breads

Method:

Stovetop

Cuisine:

American
2 cups

cassava flour (I use this brand)

1 tsp

salt

1/2 tsp

baking soda

1 tsp

cream of tartar

1 tsp

black pepper (optional)**

2 tsp

granulated garlic (optional)**

4 Tbsp

coconut oil

1 1/3 cups

warm water
Instructions
In a large bowl, or the bowl of a stand mixer, combine all the ingredients except water. Using your hands or the beater blade, mix everything together until the flour resembles coarse breadcrumbs.
Add the water and mix until the dough starts to come together, looks smooth in some parts (it will never be completely smooth) and the dough pulls cleanly away from the sides of the bowl.
Preheat the griddle to 350F. Weigh the dough into 1 ounce portions and set aside.
When the griddle is ready, roll each portion of dough into a ball. Place it between two pieces of parchment paper on a tortilla press and press. Gently peel back one piece of parchment paper. Turn the tortilla into your hand and gently pull off the other piece of parchment paper.
Place on the griddle and cook for 2-3 minutes, or until you see small bubbles start to form on top.
Flip and cook again for 2-3 minutes, or until you see small bubbles start to form on top.
Remove to a cooling rack to cool. Serve warm.
Notes
** I made these both with the extra spices and without, and they're both equally delicious. The smell of the tortillas cooking with the garlic and black pepper is intoxicating! Omit if you want, but definitely feel free to experiment with the additional flavors. We thought they added extra "oomph" to our tacos!
Adapted from Downshiftology.
Use these to make your Cassava Flour Tortillas the easy way:
Have you ever used cassava flour before? What are your thoughts? I'd love to hear what you've made with it and how it turned out!