CAUTION:  These homemade flour tortillas could cause marital strife.
There's somewhat of a running joke in our family.  My husband used to be the pickiest eater I knew.
In fact, it would be easier to list what he would eat (his mom's fried chicken, steak and authentic East coast pizza being his three main food groups) than what he wouldn't.
His eating habits are now COMPLETELY different.
The man who didn't like fish now requests homemade Caesar dressing for family dinners (and yes, he knows it contains anchovies).
The man who once nearly lost his dinner when he realized his favorite risotto (which he had already eaten a second helping of) contained mushrooms now asks me to sauté some to put on top our pies on pizza night.
The man who used to despise tomatoes not only requests tomato basil soup almost every soup night, but also puts a thick slice of tomato on his grilled vegetable sandwiches. In fact, the last time I made couscous, he asked me to cut the tomatoes bigger and add more!
This are big steps people. HUGE! Worthy of righting down on the calendar and celebrating!
It's no wonder that the family looks to him for approval of new dishes and kitchen experiments. If it passes his taste test, you know it's a winner, and he can't stop eating these homemade flour tortillas!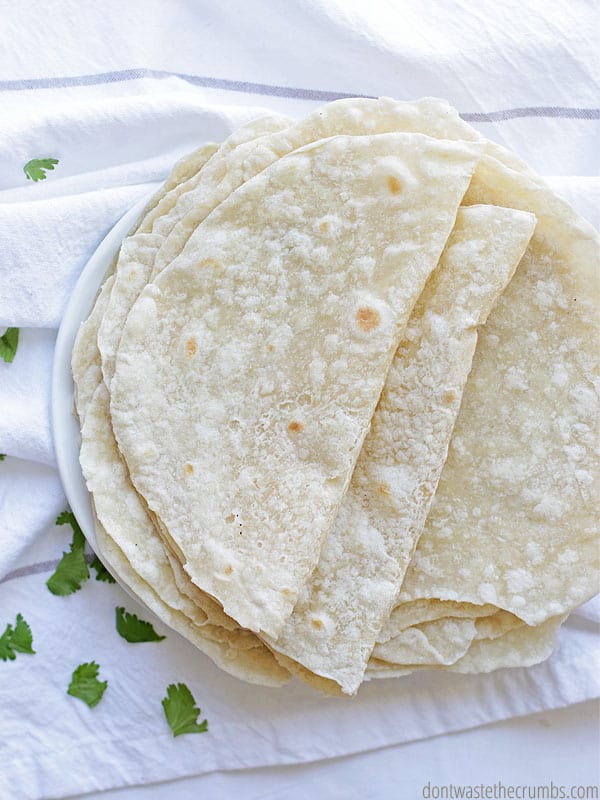 I first made homemade flour tortillas because I couldn't find any tortillas in the store that didn't have some type of hydrogenated oil. Now I make them because they taste amazing!
In fact they're so good that my husband said this to me at dinner:
Please don't ever buy flour tortillas again.
The few minutes you spend rolling homemade flour tortillas are absolutely worth the effort. I use this kitchen scale to measure out 1 oz portions. Then press between two plates. (This tortilla press is on my wish list.)
I always make a triple batch when I make these, because it's less work and clean up in the long run. Plus I can stick the extras in the freezer and have them ready for a super fast dinner whenever I need them.
Homemade Flour Tortillas
These homemade flour tortillas are quick and easy to make & budget friendly! You have to give these a try for your next taco night!
Author: Tiffany
Prep Time:

2 hours, 15 minutes

Cook Time:

1 minute

Total Time:

2 hours 16 minutes

Yield:

20

1

x
Category:

Sides

Method:

Skillet

Cuisine:

Mexican
3 cups

flour (any variety)

1 tsp

salt

1 cup

slightly warm filtered water

5 tablespoons

of coconut oil, butter or lard (we prefer coconut oil)
Instructions
Mix the flour and salt together in a large mixing bowl.
Cut in the fat until the mixture resembles coarse breadcrumbs.
Add the water and knead the dough against the sides of the bowl a few times until it is smooth.
Divide the dough into 20 equal pieces, rolling each into a ball. (I weigh the dough into 1 oz portions to ensure they're all even, but weighing is not necessary.)
Allow the dough to rest for at least 10 minutes, or up to 2 hours.
Preheat a griddle, cast iron skillet or oven to 400F.
Working with one ball at a time, dust your working surface and roll the ball into an approximate 6″ circle. Rotate and flip the dough and add additional flour as necessary to prevent sticking.
When the griddle/skillet is hot, lay a tortilla across and cook for 30 seconds. Flip the tortilla over and cook for another 15 to 30 seconds. Repeat with the remaining balls of dough. Stack the cooked tortillas and wrap in a clean kitchen towel. Serve warm.
Notes
*If dough for homemade flour tortillas is too crumbly, add a little extra water (1 tsp at a time) until dough is playable and doesn't tear!
Keywords: homemade flour tortillas
Cost Breakdown for Homemade Flour Tortillas
flour: $0.24
salt: $0.05
coconut oil: $0.95
Total cost for a batch of healthy homemade tortillas is $1.25. That's massive savings over healthier versions of store-bought tortillas!
Pair your tortillas for Mexican night with any of these dishes:
Slow Cooker Carnitas // Slow Cooker Salsa Chicken // Tortilla Soup // Southwestern Salad // Slow Cooker Refried Beans // Southwestern Corn // Mango Salsa // Spanish Rice // Red Salsa // Lime Crema // Ground Beef Taco Meat
What's the most "difficult" thing you make that is completely worth the effort? Have you tried homemade flour tortillas?