When I first shared my recipe for homemade spaghetti o's, I said I would develop a recipe for meatballs to go with it.
Eight states, 2500 miles and over a year later, my 15 minute Italian meatball recipe is finally ready and kid-tested with two very enthusiastic thumbs up.
I have to confess though: it didn't really take me this long to create a great meatball recipe. The biggest reason for the delay is that my husband doesn't eat ground meat.
It's a texture thing. As much as he loves the smell of a hamburger (and can have the BEST burger recipe ever), he just can't bring himself to eat it.
You know how some parents will make a special meal for the one picky kid? It's sort of like that, except that my husband is the picky kid and I don't make special meals.
Which means we very infrequently have ground beef in the house and I very infrequently cook with it.
Then several months ago, Kroger had a pound of ground bison on clearance, I had a digital coupon and remembered you guys wanted meatballs.
The rest became history.
My work-around for preparing and serving meatballs to a man who doesn't like ground beef is simple: Feed it to the kids.
Of the MANY meatball recipes I've tested, my husband hasn't had a single one. The kids on the other hand, have eaten them hand over fist (while I sneak a few to taste test myself).
We tried ground bison, ground turkey and ground beef. I tested different lean/fat ratios, different greens and various substitution ideas when I ran out of key ingredients.
I've asked them for feedback, what they liked and what they didn't. They tested them hot from the oven, cold from the fridge and room temperature in their lunch.
They ate them with spaghetti, with macaroni and cheese and straight up plain. I've been making and they've been eating meatballs like a maniac so that this final published recipe would be hands down a winner.
I know this recipe is a winner because despite having meatballs in their lunch nearly every week for two months, no one has complained.
Italian Meatball Recipe
It's hard to say why this recipe is so good, but through all the testing, I've realized a few key points that make this particular Italian meatball recipe a winner all around.
Ground Beef
When I tested this recipe with ground turkey, it was unanimous that it just wasn't as tasty as it was with ground beef. So much so, that it wasn't worth attempting a second round to fix it.
If you are a ground turkey family, you might like the meatballs just fine. But coming from a family that doesn't eat much ground meat in general, we much preferred ground beef.
We like to buy our ground beef from Butcher Box. They offer high quality, grass-fed beef for a good price. You can read my review here.
Exclusive for Crumbs Readers 
Get 2 NY strip steaks, 6 burgers, and 5 lbs of drumsticks for FREE in your first box.
Click this LINK to get the offer.
Butcher Box delivers grass-fed beef, pasture-raised and organic chicken, and heritage pork directly to your front door each month. You can read my honest review on Butcher Box here, and also my updated Butcher Box review here.
Low Fat Ratio
I tested a batch using 80/20 ground beef and then another using 90/10 ground beef. The 80/20 meatballs had good flavor, but they tasted greasy. The 90/10 ground beef had the same great flavor, but weren't greasy at all. I also thought that these held up better to the rolling and baking process in the end.
Ground bison has a low fat content, so it works really well in this Italian meatball recipe. If you find a good sale on ground bison, feel free to substitute for the ground beef.
Greens
We're adding some finely chopped greens to these meatballs not only for flavor, but also because it's an easy way to sneak extra vegetables into the lunch box.
I tested this Italian meatball recipe using spinach and kale and even celery leaves and every batch was delicious.
Why celery leaves, you ask? Because I ran out of spinach and kale! It was merely an experiment to see if I could get away with it, and I did.
Lesson learned – if you don't have spinach or kale but do have celery leaves (or maybe cabbage or mustard greens or another leafy green veggie), feel free to substitute.
Parmesan
Parmesan is a pricier cheese, but it adds a bit of savory that makes this Italian meatball recipe one of the best I've ever had.
You can save money by shredding the rind instead of the cheese itself. Of course you'll get a stronger Parmesan flavor with the cheese itself, but I hate throwing away the rind and found that the kids preferred the milder flavor of the rind anyway!
Herbs
This recipe calls for dried herbs. You CAN use fresh herbs and diced onions and minced garlic, but it's really not necessary.
The meatballs are really good with dried herbs, and not having to chop onions or herbs makes the prep process way faster.
Psst! Want to kick this up a notch? Try finishing this recipe with a pinch of finishing salt! I love Ava Jane's Kitchen because it doesn't have microplastics (gross, right?) and it's SO GOOD! Plus, you can get a bag for just 1¢!! (Get your penny bag of salt on this page.)  
The Sauce
While this Italian meatball recipe is absolutely delicious on its own, perhaps the best part is its versatility. Pair it with 15 minute spaghetti sauce or 5 minute spinach pesto. Serve them alongside healthy baked ziti or savory pasta with onions and greens. You could even use them in these meatball subs!
Or do what I've been doing and pair them with whatever leftovers you have in the fridge and give them to the kids for lunch. By the way, these meatballs freeze WONDERFULLY, so make a double batch and get ahead of the game!
Making extras and freezing is one of my secrets to keeping real food on the table and NOT spend all my time in the kitchen!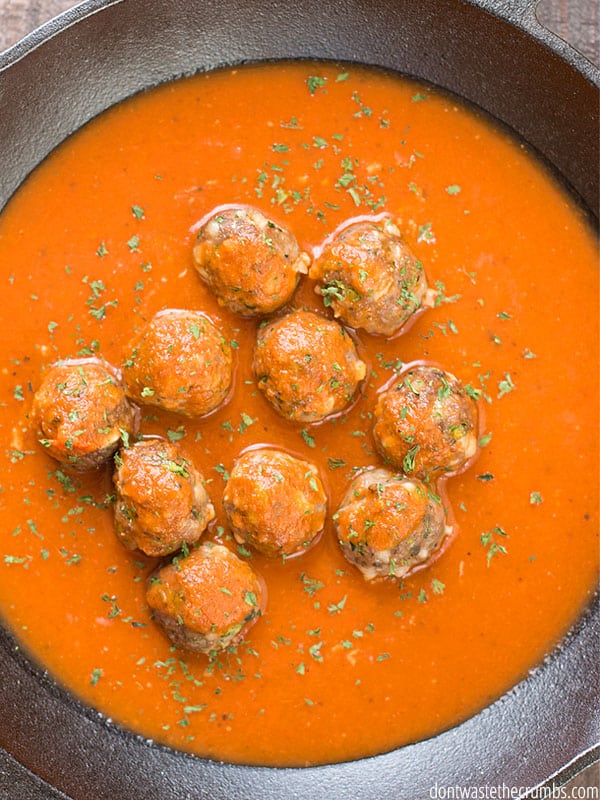 I used three tools to make the meatball process faster and recommend using them whenever possible:
1. Standing Mixer
I have a 5 quart kitchen aid mixer, and by using the paddle attachment, I can dump everything in the bowl, turn it on low for a minute or two and the mixture is done. No more mashing meat with my hands or getting all the goop between my fingers.
2. Cookie Scoop
Just like I like my sweet and salty energy bites to be uniform in size, I prefer the same of my meatballs too. Thanks to my trusty cookie scoop, each meatball is the same size, same nutrition and it makes serving the kids equally as easy as counting to 4 or 5.
3. Silicone Baking Mat
I got a set of 3 silicone baking mats, similar to these, at Costco a couple of years ago and they've been invaluable since. I use them for baking (cookies and meatball, obviously), but I also use them as a surface when I'm kneading bread. Flouring the mat instead of flouring the counter makes less mess and clean up really easy.
And easy clean up makes any recipe taste that much better in my opinion.
Easy Italian Meatballs
My kids love this Italian meatball recipe and devour the meatballs every time they're served. Perfect with your favorite pasta and packed in school lunches!
Author: Tiffany
Prep Time:

15 mins

Cook Time:

15 mins

Total Time:

30 minutes

Yield:

36

-

40

meatballs

1

x
Category:

Main Meals

Method:

Oven

Cuisine:

Italian
1

lb ground beef (or ground bison)

1 1/4 tsp

salt

1/4 tsp

pepper

1 1/2 tsp

onion powder

1 1/2 tsp

garlic powder

1 tsp

dried oregano

1 tsp

dried basil

1 cup

fresh spinach or kale, loosely packed

1

egg

2 Tbsp

flour (I used all-purpose and whole wheat)

2 oz

Parmesan cheese, shredded (using the rind, if possible)
Instructions
Preheat the oven to 375F and line a cookie sheet with a silicone mat.
Chop the greens as finely as possible.
Add all the ingredients to the bowl of a stand mixer and using the paddle attachment, mix until all everything is evenly distributed and mixed well. Alternatively, combine the ingredients in a large bowl and mix using your hands or a wooden spoon.
Use a cookie scoop to evenly portion the meat mixture into balls and place the balls on the prepared cookie sheet. Gently roll each ball in your hand for about 5 seconds, just to create a uniform ball shape and so that the meatballs retain their shape after cooking.
Bake for 15 minutes.
Serve with your favorite pasta dish.
How do you handle picky eaters in your house? Do you cater? Or just avoid those foods for the whole family?