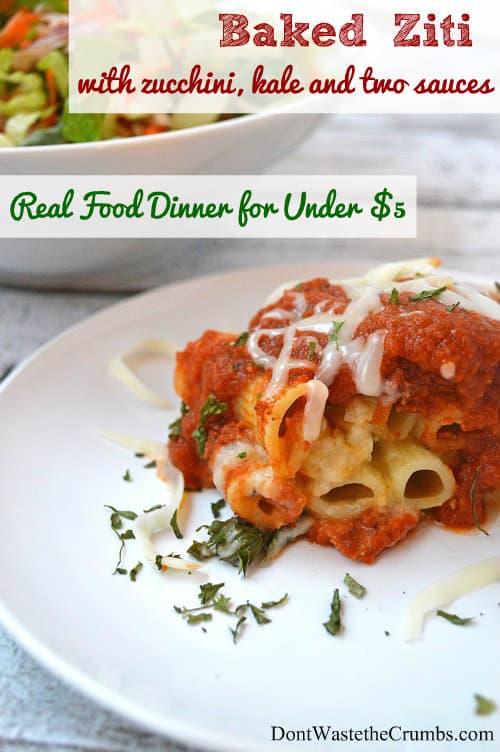 Traditionally, baked ziti is not considered a "healthy" dish. 
white pasta + loads of sauce + lots of cheese =nutrition nightmare
However, THIS variation is starting a new trend: healthy baked ziti
This healthy baked ziti comes with zucchini.  And kale.  And seven other vegetables that no one will notice.
This healthy baked ziti looks pretty and tastes delicious.  Like a big pan of warm comfort on a cold day when there's nothing else to do but spend all afternoon in the kitchen.
Except that you won't spend hours in the kitchen and this is the perfect dish for a busy weeknight.
You'll be a smart cookie and spend a few minutes layering this dish up a day or two beforehand – on a day where you have a few minutes to spare – so that it's ready to pop in the oven on that really busy night later in the week.  And if you're REALLY on your game, you'll make a double batch and freeze one for later.
Oh yeah, and did I mention that this vegetable-laden, real food meal costs less than $5?  The bottom line is even less if your favorite spaghetti sauce doesn't have any meat.
This healthy baked ziti starts with a thin layer of creamy cauliflower sauce.  You remember that amazingly delicious sauce that kinda tastes like cheese?  Oh yes, how can we go wrong there?!
Then we're lining up a layer of whole wheat ziti or rigatoni noodles – no synthetic vitamins added here.
Next comes julienne zucchini, neatly tucked among the filed noodles so that they're hidden and picky eaters don't easily pick them out.  (Big round slices would be obvious among these noodles.)
We top this layer with a sprinkle of baby kale that will melt into the noodles once the final dish is baked.  A generous seasoning of salt and pepper and we've already added THREE vegetables that speculating eyes won't even notice!
A small handful of shredded Monterey jack is sprinkled on top and the process repeats itself one more time:  creamy cauliflower sauce, noodles, zucchini, baby kale/spinach, salt and pepper and shredded cheese.
Finally, we top the dish with homemade spaghetti sauce – a meaty and hearty sauce that is laden with six vegetables and beans.  I don't think you can get more nutrient dense than this!
Another sprinkle of Monterey jack before a short stint in the oven and dinner is done.  Serve with freshly grated Parmesan and a side salad and you've just served over NINE vegetables in one single meal – a world record for the number of vegetables served where no one even noticed. 😉
Healthy Baked Ziti with Zucchini and Kale and Two Sauces
This Healthy Baked Ziti is a comfort dish with 9 different veggies, can be made ahead of time & is deliciously frugal: a Real Food Dinner for Under $5!
Author:
Prep Time:

20 mins

Cook Time:

20 mins

Total Time:

40 minutes

Yield:

2

-

4

servings

1

x
Category:

Main Meals

Method:

Oven

Cuisine:

Italian
Scale
Ingredients
1/2

lb penne, zitii or rigatoni noodles, cooked al dente and cooled

1 cup

creamy cauliflower sauce

1/2

zucchini or summer squash, cut into approximately the width and length as a noodle

1 cup

baby kale or spinach, loosely packed

1 cup

shredded Monterey jack cheese

1/2 cup

shredded Parmesan cheese
salt & pepper to taste

1 cup

homemade spaghetti sauce
Instructions
Preheat the oven to 400 degrees.
In an 8×8 or 9×9 glass dish, spread 1/4 cup of cauliflower sauce even on the bottom.
Line up noodles against each other in several rows. Nestle half of the zucchini or squash strips randomly yet evenly among the noodles.
Sprinkle the top with half of the baby kale or spinach. Season with salt and pepper.
Sprinkle 1/3 cup of Monterey jack cheese on top.
Scoop remaining cauliflower sauce over the top, spreading gently to create an even layer.
Repeat steps 3-5.
Top with homemade spaghetti sauce and Monterey jack cheese. Bake in the oven for 20 minutes, until warmed through and the cheese is melted and golden.
Serve hot with freshly shredded Parmesan cheese.
Notes
** To prepare ahead of time, complete steps 2-7. Cover and refrigerate for up to two days. Store in freezer for storage more than 3 days.
** To thaw, bring dish to room temperature and complete steps 8-9.
It saves time to have individual meal components done when you're ready able to assemble.  The creamy cauliflower sauce, homemade spaghetti sauce and noodles can easily be made ahead of time, and the zucchini can be prepped in advance too.  When the time comes to assemble, it'll take roughly 10 minutes to put this healthy baked ziti all together, depending on how particular you are about the noodles lining up.  If you've already got everything out for one dish, why not make two and save one for later?
Freezing Tip:  Before assembling this dish, line your pan with tin foil, leaving at least a 2″ overhang and ensuring every inch of the pan is covered.  Follow the steps above and freeze according to the notes.  When the dish is frozen through (at least overnight in the freezer), carefully remove the meal from the pan using the tin foil, wrap completely for storage (in either more aluminum foil or a storage bag), label the meal and place back in the freezer.  When you are ready to bake, place frozen healthy baked ziti back into the same pan and allow to thaw to room temperature.  Bake according to the directions in the notes.
Would you like more recipes? Like us on Facebook or follow us on Instagram!
Have you made healthy baked ziti? What's your favorite variation?