This Healthy Sweet Potato Casserole recipe is so creamy & naturally sweet, and also a fast & easy side dish to make ahead for Thanksgiving. Perfect for the holidays alongside my Healthy Green Bean Casserole and my Slow Cooker Cranberry Sauce!
I grew up eating a sweet potato casserole that was filled with brown sugar, of course, had marshmallows on top and – if I was lucky – the marshmallows were toasted.
Hands down, it was my FAVORITE dish on the table.
Fast forward several years and as much as I still like sweet potato casserole, I'm not a huge fan of all the sugar… for me, for my kids, as well as for my conscience. I mean, how can you feel good about eating a vegetable dish that's nearly half sugar?!
This year, I've taken my childhood favorite and created a healthy sweet potato casserole with just a few simple swaps!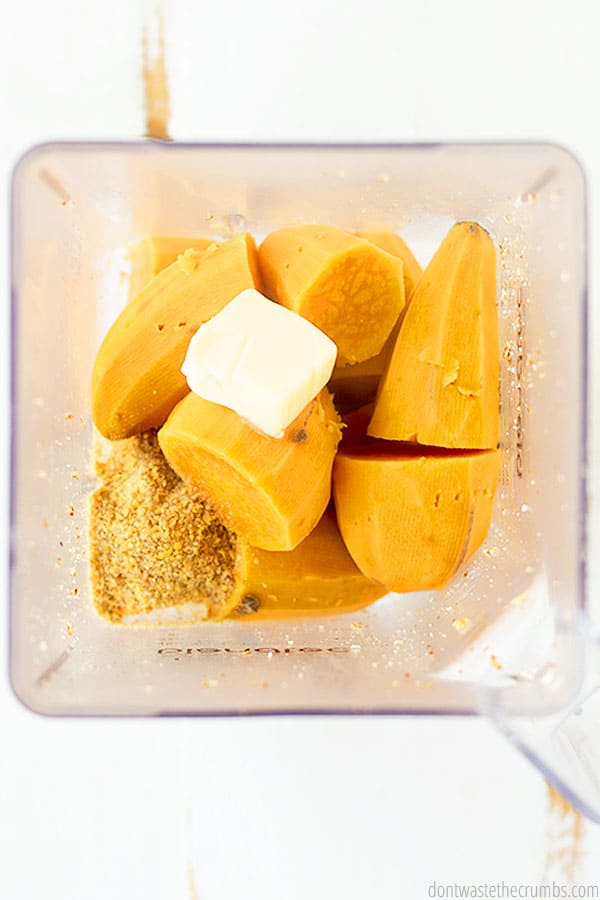 Sweet Potato Casserole Recipe that's Healthy!
Thanksgiving "tradition" basically means don't mess with the food. The last time I checked, my mom still made the same Thanksgiving dishes she made 40 years ago. I'm willing to bet yours is too!
But when the American Heart Association recommends no more than 36 grams of sugar per day for men, and 25 grams per day for women and children, AND the average American consumes 30 grams of sugar at Thanksgiving – NOT INCLUDING DESSERT!! – I think we should rethink tradition.
(Thankfully we've been quitting sugar for a few years now!)
5 Reasons to Love this Easy Sweet Potato Casserole
This healthy sweet potato casserole is everything you've grown to love, with a few adult reasons to look forward to.
Sweet. Thanks to sweet potatoes (that are naturally sweet) and a few flavor tricks to make our brains think it's sweeter with minimal sugar.
Creamy. If you can believe it, this sweet potato casserole is made IN THE BLENDER!
Fast. You'll still need to bake the sweet potatoes (which Instant Pot sweet potatoes can take care of for you) and you'll still need to bake the casserole, but all that time in the middle? Hands off. Thank you blender!
Make-ahead. See reason #3 for details, but HIGH FIVE for anything Thanksgiving dish that can be made early.
Really, really, easy. Bake + blend + bake. If you have kids, delegate this one. It's impossible to mess up!
Healthy Ingredients for an Easy Sweet Potato Casserole
The list of ingredients for my easy sweet potato casserole might seem long, but I assure you – it's nothing you don't already have on hand and it comes together REALLY fast. Here's what you need:
Sweet potatoes + Butter (or ghee) + Flaxseed (or egg) (for the bulk of the casserole)
Vanilla*+ Cinnamon*+ Nutmeg* + Salt (for flavor!)

Coconut Milk* (for creaminess!)

Maple Syrup + Coconut Sugar (for a hint of sweetness)
Pecans + Oats + Butter (for the Topping)
* Remember how I said we were going to trick our brains into thinking we're eating something sweet, when we're not? These ingredients are the tricksters!
But what about a sweet potato casserole with marshmallows?
If you've just started switching to real food and think your family will start a revolution if you serve a sweet potato casserole without marshmallows, here's a quick tip for you:
Start with less marshmallows, and cut them in half.
There's a good chance your tradition lovers need to SEE the toasted marshmallow goodness. To them, marshmallows = tradition = normal.
No marshmallows = not tradition = not going to eat it.
To overcome this, halve the amount of marshmallows from the start. The traditional sweet potato casserole with marshmallow recipe calls for a FULL BAG of marshmallows (which is nearly ¾ lb and ALL sugar FYI). Cut that in half and you're already winning.
Then, cut each marshmallow in half. I know this sounds tedious, but if you spray a pair of kitchen scissors with cooking spray first, you can easily cut through a half bag in a few minutes.
When you pull the casserole out of the oven and the marshmallows are toasted, no one will even notice!
How to Make the Best Sweet Potato Casserole
This healthier version of a traditional sweet potato casserole is much better than anything you'll find on Allrecipes.com or even The Pioneer Woman (although Ree can cook!). Plus, it comes together SUPER fast:
Combine the baked sweet potatoes and all the casserole ingredients together in a blender and pour into a casserole dish.
Make the topping in the blender and sprinkle on top of the casserole.

Bake and enjoy!
What to serve with a savory sweet potato casserole?
Other Easy Thanksgiving Side Dishes
Thanksgiving Dinner Menu
Sign up to get instant access to my Thanksgiving Dinner Menu, complete with recipes and shopping list!!
Healthy Sweet Potato Casserole
This Healthy Sweet Potato Casserole recipe is so creamy & naturally sweet, and also a fast & easy side dish to make ahead for Thanksgiving.
Instructions
Prepare the Potatoes:
Preheat oven to 400F, poke the sweet potatoes with a fork and wrap them with aluminum foil. Bake until they can be easily pierced with a fork, about 45-60 minutes. (For a more hands-off approach that can be done while you sleep, follow this tutorial for Instant Pot sweet potatoes, or make slow cooker baked sweet potatoes.)
Prepare the Casserole:
When you're ready to prepare the casserole, preheat the oven to 350F.

Combine the baked sweet potatoes (with the skin on) and the remaining casserole ingredients in a blender or food processor. Blend or process on high until the filling is smooth, about 30-60 seconds.
Pour into a 8"x8" glass baking dish and smooth the top using a spatula. Use the same spatula to make sure you get as much filling out of the blender as possible.

Wipe the blender out with a paper towel.

Combine the topping ingredients the blender or food processor and pulse until the mixture resembles coarse breadcrumbs.

Sprinkle over the top of the casserole and bake for 40-45 minutes, or until the top is golden brown.
Notes
The potatoes can be baked ahead of time and stored in the refrigerator.