Make these perfect Instant Pot sweet potatoes for a casserole, mashed potatoes, hash, soup, baby food – you name it. It's an easy way to meal prep for the week! Fluffy baked sweet potatoes make a perfect side dish or vegetarian main dish. Use this no-fuss recipe for the best sweet potatoes in under 30 minutes!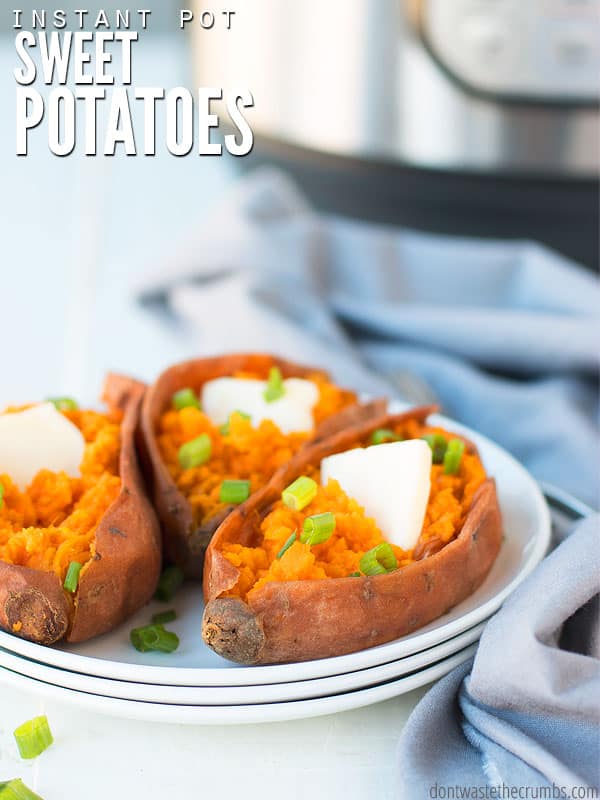 I wasn't sure if I would like the Instant Pot, but I now use it on a weekly basis!
Anytime I have a huge list of dishes to make and desserts to bake (hello Thanksgiving!), I turn to my Instant Pot to help make things a little easier, starting with Instant Pot sweet potatoes!
For me, cooking sweet potatoes in the Instant Pot (or an electric pressure cooker) means: 
But it also means…
having one less pot to wash

not having to clean up spilled sweet potato juices from the bottom of the oven

no repeatedly opening the hot oven to check on potatoes

not having to poke the sweet potato with a fork over and over to see if it's done yet

being able to get dinner on the table without having to work so hard!
I'm pretty sure all my fellow mama's just high-fived themselves, am I right?
Perfect Instant Pot Sweet Potato
Generally speaking, making fork-tender sweet potatoes in the Instant Pot is pretty simple and straightforward:
Add water and trivet

Wash and dry sweet potatoes

Put the potatoes on top of the trivet

Hit "high pressure" and pressure cook according to the time listed below!
The only tough part with making Instant Pot sweet potatoes is the cooking time – sweet potatoes come in all different sizes!
Have no fear though, because I have cook times regardless of how big or small your sweet potato is!
The Secret on How to Make Instant Pot Sweet Potatoes
The key is NOT in how long the sweet potato is, but how WIDE your sweet potato is.
Take a ruler and measure the width of the sweet potato. Then cook according to these temperatures:
2 inches or less: 15 minutes to 20 minutes

2-3 inches: 25 minutes to 30 minutes

3-4 inches: 35 minutes to 40 minutes

4 inches or more: 45 minutes to 50 minutes
Tip: Cut large sweet potatoes in half lengthwise to reduce the cooking time. The same works for smaller sweet potatoes to make kids size or snack size portions!
My son loves sweet potatoes still firm, but you can cook them softer. If your sweet potato isn't cooked through completely, add one cup of water and continue cooking for another 5-10 minutes. That's it!
How to Freeze Instant Pot Sweet Potatoes
There are a few ways you can freeze Instant Pot sweet potatoes:
Freeze in Chunks. Great for smoothies! Use the method for how to freeze blueberries to flash freeze for at least two hours. Move the chunks to a freezer-safe container (I use gallon-sized plastic bags). Then, pull out just what you need for the recipe.
Freeze Mashed Sweet Potatoes

. Line a cupcake pan with

silicone muffin liners

. Scoop ¼ cup into each muffin cup and freeze for 2 hours. Peel off the silicone liners and move the frozen mashed sweet potato to a freezer-safe container. (This is basically sweet potato puree, perfect for this

 

sweet potato biscuit recipe!

)
With either method, make sure you label and date the outside of the container. I promise you won't recognize what's in the bag in a month or two!
Instant Pot FAQs for Baked Sweet Potatoes 
What Instant Pot do you have?

I have

this 8 quart DUO Instant Pot.

I'm feeding four people and think the size is PERFECT to make dinner and have enough for leftovers. Read more about why I picked this model in my article 20+ Things to Know Before You Buy an Instant Pot
Will adding another appliance to the kitchen help me save money?

Absolutely yes! 

Here's how the Instant Pot saves money

.

I'm new to the Instant Pot – have any tips to share?

You know it! Here are

14 common Instant Pot mistakes and how you can fix them

. 

How do you convert a slow cooker recipe to an Instant Pot recipe?

Every recipe is different, but

use this guide to turn slow cooker recipes to Instant Pot recipes

.
Do I need extra tools for this Instant Pot Sweet Potato recipe?

You don't need a steamer basket. The trivet that comes with the Instant Pot comes is all you really need. Additionally, a vegetable scrubber (

I like this one

) and 

sturdy oven mitts

or 

silicone tongs

are helpful!

How many sweet potatoes can I cook at one time? You can add as many sweet potatoes that fit in your Instant Pot and the cooking time stays the same! Just be sure to measure by your largest sweet potato. This is called batch cooking, and here's a tutorial on how to plan for your next batch cooking session. 
Can I puree Instant pot sweet potatoes for baby food? Certainly! Just peel the sweet potatoes, add some water to create the consistency you like for your baby's food, and blend (I recommend the Blendtech blender).
Can I cook other types of potatoes at the same time?

Yes! There are times my kids prefer russet potatoes over sweet potatoes so I'll throw in a couple for them. I pick similarly sized potatoes and have no problems with them coming out just as tender.
How to Serve Instant Pot Baked Sweet Potatoes
My personal favorite topping on fluffy baked sweet potatoes is butter. Plain and simple. The rest of my family likes a little cinnamon added too. And we've been known to add some brown sugar or maple syrup.
Other toppings include:
What else can you make in an Instant Pot?
I love to use my IP for making the basics, and here are my favorite Instant Pot recipes:
Watch How to Make Instant Pot Sweet Potatoes
Instant Pot Sweet Potatoes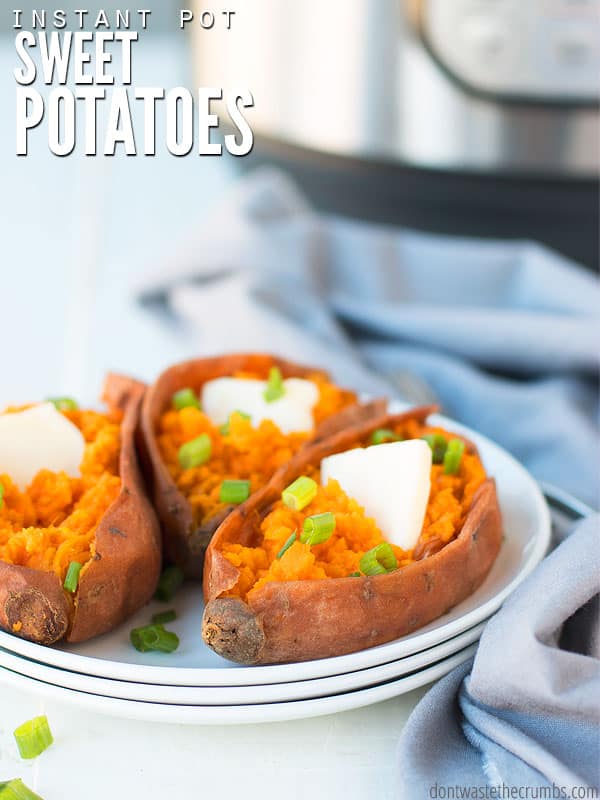 Make perfect Instant Pot sweet potatoes for a casserole, mashed potatoes, hash, soup, baby food – you name it. It's an easy way to meal prep for the week!
Author:
Prep Time:

1 min

Cook Time:

15 mins

Total Time:

16 mins

Yield:

4

servings

1

x
Category:

Sides

Method:

Instant Pot

Cuisine:

American
Scale
Ingredients
1 cup

of water

1

–

4

sweet potatoes, scrubbed clean
Instructions
Put the trivet inside the Instant Pot. Pour the water inside.
Use a fork to poke each sweet potato twice, to allow steam to escape from the inside as it cooks.
Place the sweet potatoes on the trivet.
Lock the Instant Pot, seal the valve and cook on "high" as follows:
• 2 inches or less: 15-20 minutes
• 2-3 inches: 25-30 minutes
• 3-4 inches: 35-40 minutes
• 4 inches or more: 45-50 minutes
When the cooking timer beeps, set the kitchen timer for 10 minutes to allow natural pressure release.
When the kitchen timer beeps, turn the sealing valve to "open" to immediately release the remaining pressure.
Remove the sweet potatoes from the Instant Pot carefully as they will be hot!