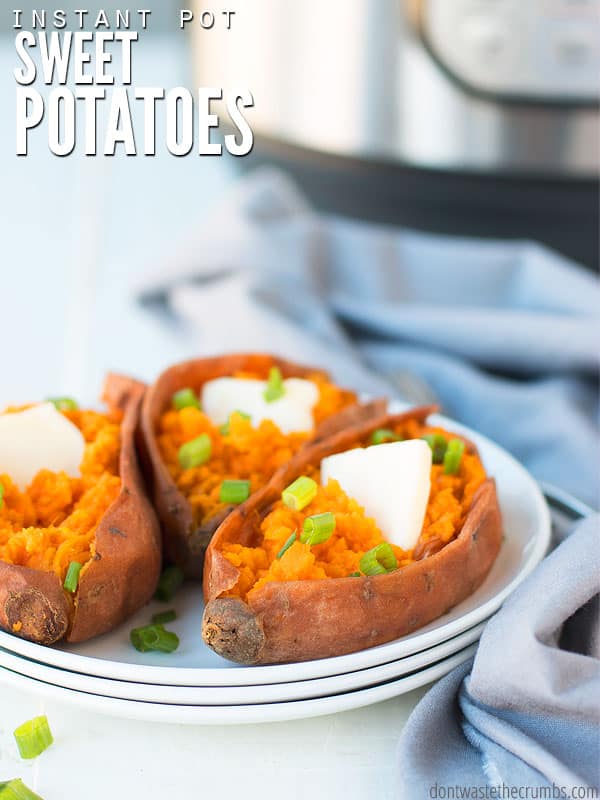 I almost hate to admit it, but I've grown to be pretty dependent on my Instant Pot.
Case in point – last weekend my husband requested our favorite tortilla soup for dinner. That recipe requires TWO types of beans, of which I had ZERO cooked.
I pulled out my Instant Pot, made garbanzo beans in 25 minutes and then immediately made a batch of black beans in 25 minutes. And while that was going on, I made a batch of brownies, two batches of no-bake brownie bites and two loaves of pumpkin bread too!
Anytime I have a huge list of dishes to make and desserts to bake (hello Thanksgiving!), I turn to my Instant Pot to help make things a little easier, starting with Instant Pot sweet potatoes!
For me, making Instant Pot sweet potatoes means…
But it also means…
not having to wash yet another pot
not having to clean up spilled sweet potato juices from the bottom of the oven
not having to open the oven and poke the sweet potato with a fork over and over again to see if it's done yet
being able to get dinner on the table without having to work so hard!
I'm pretty sure all my fellow mama's just high-fived themselves, am I right?
Instant Pot Sweet Potato
Generally speaking, making sweet potatoes in the Instant Pot is pretty simple and straightforward:
Add water
Add trivet
Wash and dry sweet potatoes
Put them in the Instant Pot
Hit "go."
The only "tricky" part about making Instant Pot sweet potatoes will be the cooking time.
Sweet potatoes come in all different sizes… there are teeny tiny ones that perfectly fit in the palm of your hand, and then there are the big huge giant ones that you're pretty sure could feed an entire army.
We're talking about POUNDS of difference here, so it's no wonder that the monster sweet potatoes WILL NOT cook in just 10 minutes. And if you've found other Instant Pot sweet potato recipes or tutorials that say so, THEY'RE WRONG.
And I have plenty of mostly-hard gigantic sweet potatoes to prove it…
Have no fear though, because I've done enough experimenting to cover you and me both, regardless of how big or small your sweet potato is!
The key is NOT in how long the sweet potato is… although I can see how you'd think that a longer sweet potato would need more time (but it doesn't!).
In order to make perfect Instant Pot sweet potatoes, you need to know how WIDE your sweet potato is.
Take a ruler (yes, literally take a ruler) and measure the width of the sweet potato. Then cook according to these temperatures:
2 inches or less: 15-20 minutes
2-3 inches: 25-30 minutes
3-4 inches: 35-40 minutes
4 inches or more: 45-50 minutes
You'll also have 10 minutes of natural pressure release in here, so keep that in mind. The pressure is released very slowly during a natural pressure release, but the food also continues to cook.
If you're new to using the Instant Pot, I recommend starting at the low end of the spectrum. Remember that you can always cook longer, but you can't uncook something when it's done! (More about general cooking in the Instant Pot here.)
If the sweet potato isn't as tender as you'd like, add one cup of water and continue cooking for another 5-10 minutes. That's it!
It takes just as long to make one sweet potato in the Instant Pot as it does six or nine, so use this to your advantage and cook up a bunch!
How to Freeze Instant Pot Sweet Potatoes
Sweet potatoes are SUPER freezer-friendly!
If you freeze in chunks (to add to smoothies!), flash freeze them on a cookie sheet first for at least 2 hours. Then you can move the chunks to a freezer-safe container (I use gallon-sized plastic bags) and you'll be able to pull out just the amount you need for a recipe.
To freeze mashed sweet potatoes, line a cupcake pan with silicone muffin liners. Scoop ¼ cup into each muffin cup and freeze for 2 hours. Peel off the silicone liners and move the frozen mashed sweet potato to a freezer-safe container.
With either method, make sure you label and date the outside of the container. I promise you won't recognize what's in the bag in a month or two!
I get a lot of questions about my Instant Pot, so let me share the most common ones here.
What Instant Pot do you have?
I have this 8 quart DUO Instant Pot. I'm feeding four people and think the size is PERFECT to make dinner and have enough for leftovers. Personally, I'd rather have an Instant Pot that was bigger than I needed on most days, instead of having one that was smaller than I needed on a few days.
Will adding another appliance to the kitchen help me save money?
Absolutely yes! Here's how.
I'm new to the Instant Pot – have any tips to share?
You know it! Here are 14 common mistakes and how you can fix them. Plus, here are 20 things you should know before you buy!
How do you make a slow cooker recipe in an Instant Pot?
Every recipe is different, but use this conversion guide to get started.

Instant Pot Sweet Potatoes
Ingredients
1 cup of water
1-4 sweet potatoes, scrubbed clean
Instructions
Put the trivet inside the Instant Pot. Pour the water inside.
Use a fork to poke each sweet potato twice, to allow steam to escape from the inside as it cooks.
Place the sweet potatoes on the trivet.
Lock the Instant Pot, seal the valve and cook on "high" as follows:
• 2 inches or less: 15-20 minutes
• 2-3 inches: 25-30 minutes
• 3-4 inches: 35-40 minutes
• 4 inches or more: 45-50 minutes
When the cooking timer beeps, set the kitchen timer for 10 minutes to allow natural pressure release.
When the kitchen timer beeps, turn the sealing valve to "open" to immediately release the remaining pressure.
Remove the sweet potatoes from the Instant Pot carefully as they will be hot!
What's your favorite way to use the Instant Pot to get ahead for the week? Share your ideas and recipes in the comments below!