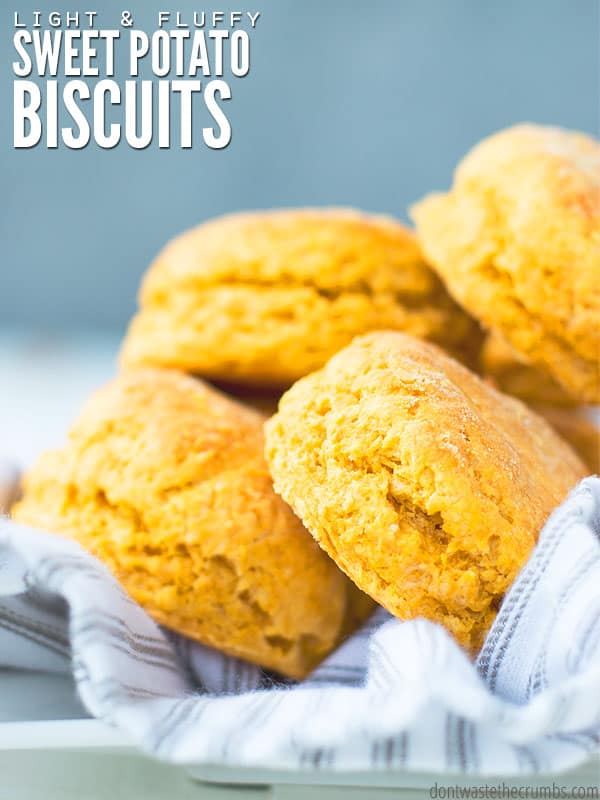 Even though my daughter LOVES roasted broccoli and creamy mashed cauliflower, getting her to eat any other vegetable is pretty much like pulling teeth.
Bread? Tortillas? Biscuits? Waffles? Muffins? No problem. She'll eat them all day, every day without any prodding from me. She'll even gladly have seconds!
But vegetables? Nope. Not happening.
So if I can sneak it into her meal without her knowing – a la creamy squash pasta bake or giant meatballs or the best ground beef taco meat – then I'm all about it. No shame here!
That's one reason why this sweet potato biscuit recipe has been making an appearance at the dinner table lately.
They LOOK just like her favorite biscuits (except with a slight tint of orange of course)…
and they TASTE very similar…
but they have a VEGETABLE inside. HA HA! Sneaky sneaky.
Point for Mom!
Actually, it's a point for Wife too because even my husband – who is my reformed picky eater who doubts any new-to-him-dish will taste good – likes them.
The first night I made them, he said to me (and I quote), "These biscuits are slammin'!"
Which is code for "please make these again soon."
My daughter (resident picky eater) ate two that night and asked if she could have leftover biscuits in her lunch.
My son (resident sweet potato hater) ate two as well!
I also had two that night – both liberally slathered with salted butter – and was sold. They're soft, fluffy, so easy to make and as oddly as it sounds, they make the house smell SO GOOD!
Light and Fluffy Sweet Potato Biscuit Recipe
The first time I made these though, I was surprised myself at how regular-biscuit-like they tasted.
To be honest, I wasn't sure what to expect. I'm a HUGE fan of sweet potatoes in general – crash hot sweet potato and fried sweet potatoes with runny eggs and carrot and sweet potato fritters and breakfast sweet potato apple bake pretty much sum up my preferred meals every day.
So if these sweet potato biscuits tasted more vegetable-y than biscuit-y, I personally wouldn't have cared.
But that's not the case at all. In fact, if I hadn't made Instant Pot sweet potatoes in the first place, mashed the sweet potato and cut out these biscuits with a mason jar, I would have never guessed these biscuits even had sweet potato in them!
Which is PERFECT if you're trying to get your kids to eat more vegetables and all they really want is bread.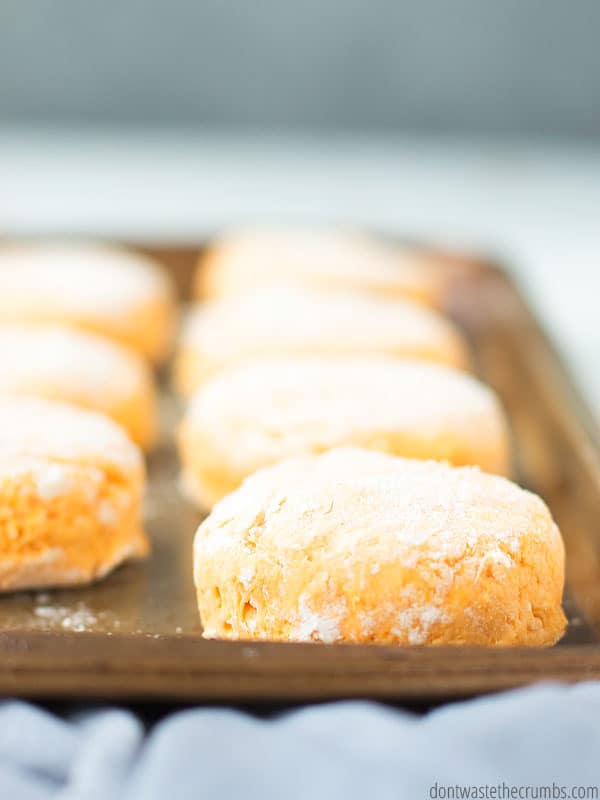 If you love super light and fluffy biscuits, then pay attention. There's a easy trick to make sure that your sweet potato biscuit recipe comes out just as light and fluffy as your regular biscuits.
You ready? Keep everything cold.
Yep, it's that easy.
Butter? Cold.
Milk? Cold.
Sweet potato? Cold.
The first two should be easy, right? I mean, we might have some butter on the counter so when we want to butter our cinnamon waffles or protein pancakes or no-knead overnight artisan bread we're not shredding our meal with a butter knife.
But all of our other butter is likely in the fridge or freezer, so we're good there.
And I think it's fair to say that unless you're making kefir, your milk is in the fridge too. Awesome.
So that just leaves the sweet potatoes…
You want your sweet potatoes to be cold, which means that making a sweet potato biscuit recipe requires a teeny tiny bit of meal prep.
If you just freaked out a bit, trust me here. It's really not a lot.
I'm not asking you to come up with some grandiose official plan just so you can make biscuits. Not at all!
All I'm saying is that you need to make a couple sweet potatoes ahead of time – it can be the morning of, the night before or several days ahead of time – whichever works for you.
When they're done, just stick them in the fridge. It's that easy.
Pick whichever method you're actually likely to follow and just do it. Cook the darn sweet potatoes and stick them in the fridge.
Your future sweet potato biscuit-making self will thank you.
I've made this sweet potato biscuit recipe no less than a million times recently, so here's how to make your biscuits awesome and knock the socks off your veggie-hating people.
As I mentioned, keep everything cold. If you tend to wait until the last minute to start dinner (me!), here's your chance to shine!
Use all-purpose flour. I tested this recipe with 100% whole grain einkorn, then with 50/50 whole grain einkorn and all-purpose einkorn, and then again with 100% all-purpose einkorn. All-purpose flour in general will yield the fluffiest biscuits because it doesn't have the germ or the bran which are heavy and can weigh down the biscuit. If you're not concerned about biscuit height and are going for nutrition, feel free to use whole grain.
We use einkorn because my husband and daughter have sensitivities to gluten (we learned this from going through the Whole30). Einkorn isn't hybridized like modern day wheat, which makes it easier to digest in general. (Read more about einkorn HERE.)
I buy whole grain einkorn from Young Living because they have the best price – just $2.35 per pound! You do have to be a wholesale member to get that price, but membership is free! Here's more info on joining Young Living.
Not sure where to buy Einkorn?
I used sweet potato, but I'd be willing to bet that pumpkin or butternut squash or acorn squash would work just as well in this recipe. What a great way to use up leftovers!! If you try any of these options, let me know how it goes, mkay?
Also, einkorn is very slow to absorb liquid and doesn't rise as fast as typical flour. If you use wheat all-purpose flour (the kind you'd typically find at the grocery store), reduce the flour to just 1 1/2 cups.
Finally, I think einkorn behaves a little bit like all-purpose gluten-free flour in quick baking like this, so I bet you can use your favorite gluten-free flour blend instead of einkorn for delicious gluten-free sweet potato biscuits!
Light & Fluffy Sweet Potato Biscuit Recipe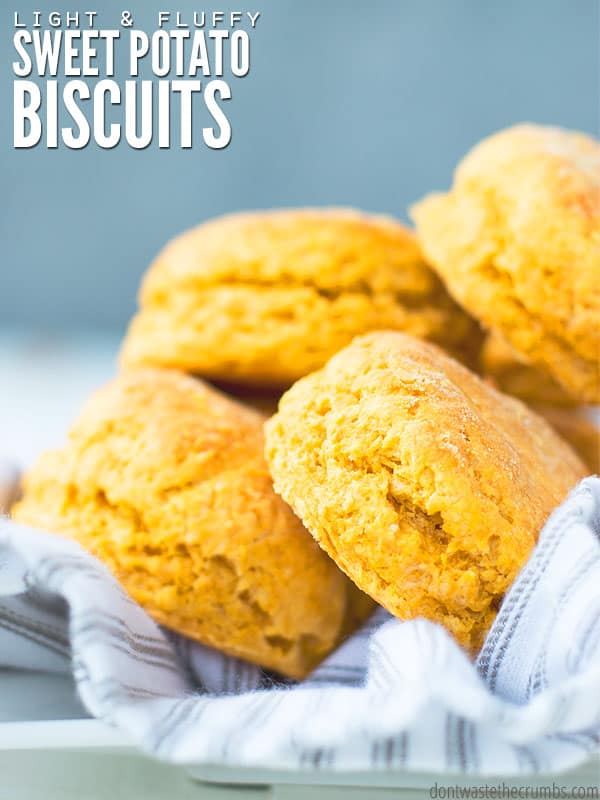 Our favorite old fashioned yet healthy sweet potato biscuits recipe! Skip the Bisquick and make light and fluffy biscuits from scratch (gluten-free option).
Author: Tiffany
Prep Time:

10 mins

Cook Time:

15 mins

Total Time:

25 mins

Yield:

11

-

13

1

x
Category:

Breads

Method:

Oven

Cuisine:

American
3/4 cup

mashed sweet potato

1 tsp

apple cider vinegar

1/3 cup

milk (I used almond milk)

2 cups

all-purpose flour, plus more for dusting (I used einkorn)**

1 Tbsp

baking powder

1 tsp

salt

6 Tbsp

cold butter, cut into small pieces
Instructions
Preheat the oven to 425. Whisk together mashed sweet potato, apple cider vinegar and milk in a small bowl and place in the fridge.
Meanwhile, combine flour, baking powder, salt and butter in a bowl of a stand mixer and using the paddle attachment, mix the fat into the flour until the largest pieces are no bigger than a pea. Alternatively, use your hands to mix the fat into the flour, taking care not to let the butter melt.
Place the flour in the fridge until the oven is preheated.
When the oven is ready, pull both the sweet potato and flour out of the fridge. Add the sweet potato to the flour and mix until the flour is just combined. The dough will be sticky.
Liberally dust flour on your counter or on a silpat mat and turn out the dough onto the surface. Sprinkle the top with flour and gently shape into a square.
Gently fold the dough over itself, pulling from the top and folding over to the bottom. Dust the top with flour and pat again into a square. Turn the dough 1/4 turn counter clockwise.
Repeat this step until you've completed four folds.
After you've done four folds, dust the top with flour and carefully press the dough down and out until it's about 1/2″ thick.
Using a biscuit cutter or a small jar (I used a pint-sized mason jar), cut out 11-13 biscuits. You may need to flour the rim of the jar in between each cut to prevent the dough from sticking to the jar.
Place each biscuit onto a baking sheet about 1″ apart.
Bake for 13-16 minutes (mine took 15 minutes exactly), or until the tops are golden brown.
Let cool slightly on a cooling rack and then enjoy warm.
Notes
** Einkorn is very slow to absorb liquid and doesn't rise as fast as typical flour. If you use wheat all-purpose flour (the kind you'd typically find at the grocery store), reduce the flour to just 1 1/2 cups.
Have you ever added vegetables to you biscuits? What is your favorite "hidden veggies" meal?