As a general rule of thumb, the bigger kids get, the more their appetites grow. But all bets are off when a kid goes through a growth spurt – they'll eat anything in sight!
Upping the protein of our favorite family foods with one of my favorite superfoods – flaxseed – is my latest attempt at not going broke while feeding these monsters.
And the latest invention to come out of the test kitchen is a recipe that's sure to please even the pickiest eater: protein pancakes.
In a way, you could say that turning a food into its high protein doppelganger is my middle name.
I first did it when I wrote High Protein, No Powder. Back then I was doing P90X and the eating plan recommended either a protein shake or a protein bar every day.
I wasn't okay ingesting the chemicals found in conventional protein powders or in typical protein bars. NOR was I okay paying an arm and a leg for a teeny tiny container of organic powder that I'd devour in a week.
Instead, I chose to make my own protein smoothies and protein bars with real food and write a book about it.
Fast forward to earlier this month and I did it again with the ever amazing peanut butter chocolate chip granola bars.
Now, those granola bars have a good bit of protein on their own with both peanut butter and oats in the recipe, but changing the ratio and adding milled flaxseed (along with a few other delicious changes) ended up creating sweet salty energy bites – a high-protein snack that will rock your protein-loving socks off.
Although I had after-school snacking in mind when I created that recipe, I've since included them a few times as the "dessert" in the kids lunches too. I've also reached for one (or a few) as a post-dinner snack for myself, when no one was looking.
I've also created a delicious High Protein Oatmeal that is perfect for athletes in training. It's my go-to for marathon training since I need the whole grains to keep me going.
Making protein pancakes though, is more than just a slight tweak and change in shape. I also had high expectations for these pancakes:
hearty, filling and with enough oomph to get to lunch (and beyond)
sweet because of the syrup on top, not because of sugar in the recipe
designed for breakfast, but flexible enough for banana nut butter sandwiches
would NOT leave you feeling empty and hungry a couple of hours later
This is a tall order, and to make it happen, I went back to the drawing board.
I started with the goal of every ingredient in the recipe being high in protein by itself, so that when you added all the ingredients together, you had one incredibly high protein pancake.
Key Players for Protein Pancakes
Oats = 11g protein. Most pancakes call for flour, but protein pancakes aren't like most pancakes. We're using oats instead, which contain more protein AND give these pancakes a little bit of chew. It's what makes protein pancakes feel like a meal, rather than bites of fluff that will leave you hungry in an hour.
Cottage Cheese = 24g protein. Before you freak out at the mere mention of cottage cheese in pancakes, hear me out. Thanks to our trusty blender, you don't see it. And because it melts as the pancakes cook, you don't taste it. What you DO taste is a creamy, pudding-like center of an irresistibly good pancake. And you can thank the cottage cheese.
Eggs = 13g protein. Classic pancake ingredient here that is naturally high in protein. If it works, why fix it?
Egg Whites = 7g protein. There aren't a lot of wet ingredients in this recipe, but by subbing some of it for egg whites lets us increase the protein while thinning the batter.
Milk = 8g protein. Milk does a body good, and it also does these pancakes good. Any milk will work here, but with the goal of a high protein pancake, cows milk is your best bet. Unless you have sheep milk. Sheep milk wins the protein race.
Milled Flaxseed = 6g protein. Just when you thought you didn't need flaxseed because you're using egg, BAM, we're adding flaxseed (the brand I use) for an entirely different reason – flavor! The gentle nutty flavor of flaxseed plays a major role in these protein pancakes, so I do not recommend skipping it. Besides, flaxseed is good for you, good for the pancake and increases the protein too.
When all is said and done, these key players are bringing a whopping 7 grams of protein to every single pancake! How's THAT for fuel?!
Ready to get your groove on with protein pancakes? Let me leave you with some cooking tips:
The banana is for sweetness, not flavor.
In round 1 of taste testing, half of the family could taste the banana and the other half couldn't. No one tasted the banana during round 2. An overripe banana will be naturally sweeter than a just ripe banana, so feel free to let one go brown just for this recipe. Go ahead and give the batter a lick to see if it's sweet enough. If you don't think so, consider adding a second banana OR one fresh medjool date to up the sweetness.
The vanilla is for flavor, but it's powerful.
I made the unfortunate mistake of adding more vanilla for more vanilla flavor and that batch of pancakes turned out terrible. It's definitely needed in the recipe, but don't go overboard here.
The cinnamon is for sweetness AND flavor.
Did you know that cinnamon tricks the palate into thinking something is sweet? It does, and that's why we're using it here. The flavor also compliments the flaxseed really well, and creates a pancake that legitimately tastes good on its own, even without maple syrup.
Go crazy with toppings!
With a "blank slate" of a pancake, you can really go crazy with your pancake toppings. I chose fresh berries, peanut butter and maple syrup, but a sprinkle of extra flaxseed would have been a nice crunch too!
Skip the griddle and BAKE pancakes!
News alert – did you know you can bake pancakes? Spray a muffin tin with cooking spray OR use silicone liners and fill them 2/3 up. Bake at 350F for 22-24 minutes and not only do you have pancakes, but you didn't have to stand at the griddle AND you can make double (or triple, or quadruple!) the batch in the same amount of time!
Better yet, cook them in a sheet pan. You can find the instructions for that baking hack HERE. Talk about a time saver.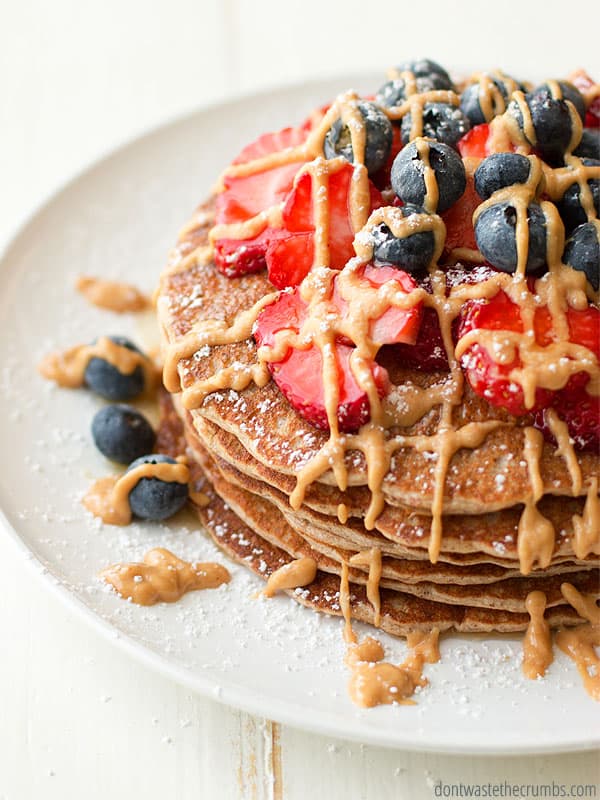 The Very Best Protein Pancakes
Protein pancakes pack a whopping 7g protein each – great for post-workout or fueling bellies before school. Gluten-free, sugar-free, and made in a blender!
Author: Tiffany
Prep Time:

5 min

Cook Time:

10 min

Total Time:

15 minutes

Yield: about

12

pancakes

1

x
Category:

Breakfast

Method:

Blender

Cuisine:

American
1 cup

oats (any kind)

1 cup

cottage cheese

1/4 cup

milled flaxseed

1/4 cup

egg whites

2

eggs

1 cup

milk

1

banana (over-ripe is best)

3 tsp

baking powder

1 tsp

ground cinnamon

1/2 tsp

vanilla extract

1/2 tsp

salt
Instructions
Preheat a griddle to 350F. Use either cooking spray or a tsp of butter to lightly grease the griddle.
Combine all the ingredients in a blender. Process until the batter is mostly smooth and incorporated well.
Pour 1/3 cup batter onto the griddle and cook until the outer edges turn golden brown and bubble start to appear, about 1 minute.
Flip the pancakes and cook on the other side until they're medium brown, about 30-45 seconds.
Remove to plate and keep warm.
Top with fresh fruit and maple syrup.
Are you intentional with eating protein? How do you get more into your favorite foods?
Disclosure:  This post is sponsored by Hodgson Mill. I've been using Hodgson Mill products in my kitchen for a long time now, and long before this blog was born. As always, I would never recommend anything on Crumbs that I wouldn't recommend to a close friend or neighbor, and all opinions here are my own.