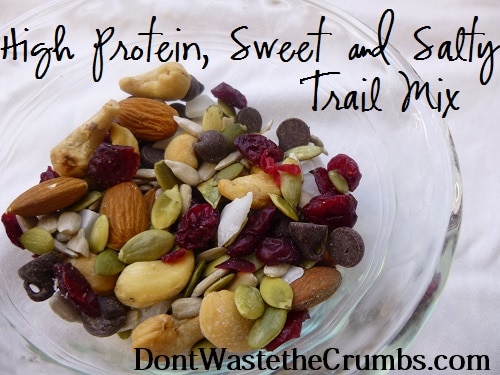 If you're here because you're interested in eating more protein without resorting to processed powders, you are in luck. High Protein, No Powder: Protein Bars & Smoothies Made with Real Food, my new ebook, launched in January 2014. Click here to read more about it!
Not too long ago someone asked how our family balanced our protein intake given the little amount of meat my family eats.  Until she asked, I hadn't really thought much about our protein intake.
We eat beans at least once a week, serve grass-fed cheese at meals and for snacks, include kefir and homemade yogurt in our daily smoothies, serve a dollop of peanut butter with slices of fruits and vegetables in our healthy homemade lunchables, and often reach for a handful of nuts when we're seeking some hand-to-mouth food action… but doesn't everyone do that?
The more I thought about it, the more I remembered back to a time roughly nine months ago or so when we became very conscious about the quantity of meat we were eating.  I'm fairly sure the documentary "Food, Inc." had something to do with it. 
Knowing we were cutting back on meat consumption at dinner, there needed to be a plan to replace the missing calories with nutrient dense food whenever possible.
My husband is a bike commuter and surfer.  I'm a long-term P90X-er.  My two kids are growing ever so quickly!  Our bodies need protein to function and scooping powder into our smoothies wasn't the answer.  Surely there was a way to eat more protein from real food sources without it having to always come from an animal!
That's mostly why I wrote my most popular ebook High Protein, No Powder. We quit using expensive protein powders that tend to contain various (unnecessary and potentially harmful) chemicals. Instead we started incorporating real food into our smoothie regimens, which purposefully include high protein ingredients.
Homemade High Protein Sweet Salty Trail Mix
Protein smoothies are part of our morning routine. But to keep ourselves on track with bellies full of nutrient dense foods, we need delicious snacks. The best afternoon snack needs to fit these requirements:
hand-to-mouth action
sweet
salty
high in protein
Actually, this snack is so high in protein that one serving rivals a 3 ounce portion of chicken!
I like to call it High Protein Sweet & Salty Trail Mix… or just "trail mix" for short.  I make several portions at one time so I can easily grab a bag as my husband packs his backpack each morning.
He's commented on numerous occasions that it's the best trail mix he's ever had, which is a pretty big compliment since he's a big fan of Costco's trail mix.  However, their mix contains M&M's. And that's a bit more sugar and artificial food coloring than we prefer to eat, especially by the handfuls and on a daily basis.
There's two ways to make this recipe:
Measure everything into a big container, shake and serve, OR
Measure everything into individual containers.
I'm a big fan of #2.  It's probably related to my inner love with lists and ratios (such a nerd, I know), but there's another reason too.  If the family had free reign on a big batch of trail mix, the kids would take all the chocolate and the husband would take all the cashews.
Not that I don't enjoy what's remaining, but I think we can all agree that the chocolate and cashews are the best part! Those single servings are preventative maintenance.
Homemade High Protein Sweet & Salty Trail Mix
Scale
Ingredients
10

almonds

10

cashews

10

peanuts

1 Tbsp

dried coconut, chopped

1 Tbsp

sunflower seeds

1 Tbsp

pepitas (pumpkin seeds)

1 Tbsp

dried cranberries

1 Tbsp

chocolate chips (optional)
Instructions
Combine all ingredients in a reusable container. Store sealed in the pantry.
Notes
Total Protein = approximately 15.5g
Additional Tips for a Successful Batch of Trail Mix
Omit the chocolate if you're taking this trail mix on a real trail.  The chocolate will melt quickly and make a big mess.
I like to get a lot of my nuts from Thrive Market if I can't find them for a good price at Costco. (Plus you can get a free 15 oz jar of coconut oil AND a 30-day free trial to Thrive Market when you spend $29 or more (free shipping on orders $49+)!)
The dried coconut is from large chunks of coconut flesh, not the shredded sweetened variety.  This kind on Amazon is the same version we bought from Costco.
Dried cranberries can be swapped for raisins, depending on your taste preferences and budget.
Peanuts have the most protein per serving and are the least expensive.  If you're looking to shave a bit off the cost, swap peanuts for one of the other two more expensive nuts.
Making your own dried fruit is another frugal option.  Dried apples, strawberries and bananas would all be delicious.  Consider this as fruit becomes more and more affordable this season.
Measuring into small baggies is difficult.  Instead, line up several coffee mugs and measure one ingredient into each of the mugs until all ingredients have been measured.  Then pour the mug of mix into the baggies and seal.
More High Protein Snacks and Meals
There are all kinds of ways to add protein into your diet without eating a lot of meat. Making tasty snacks and meals from beans and nuts are frugal ways to increase protein and stretch the budget.
What's in your favorite high protein trail mix?