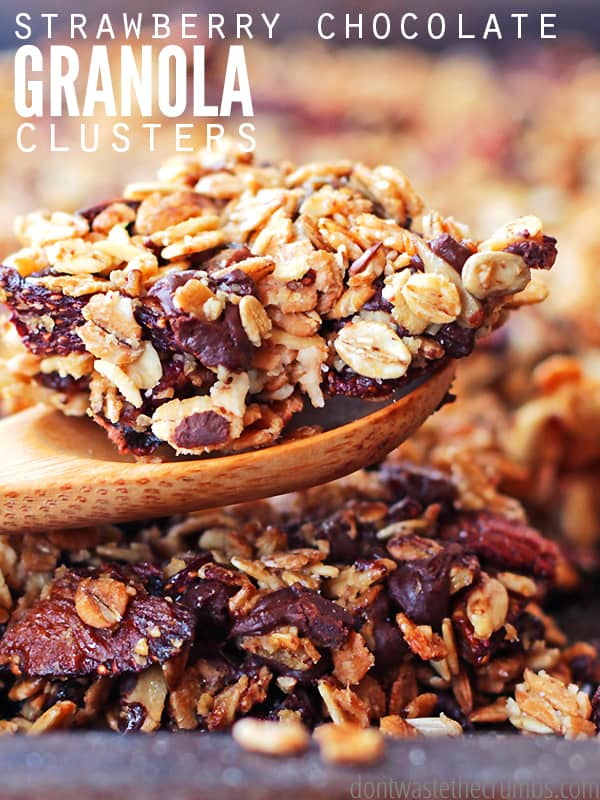 Sha-blam! I have figured out the trick to crunchy granola CLUSTERS.
That's what I shared on Facebook last week after discovering the two-part secret process (and secret ingredients!) to making homemade granola clusters.
What you didn't see though is the BEAMING SMILE on my face behind the camera.
First, I mastered the art of homemade granola clusters. A feat in itself, lemme tell you.
Second, I was munching on a strawberry chocolate granola cluster as I took the picture. Chocolate + strawberry = YUM!
I have been craving strawberry chocolate granola for MONTHS people. You ever get the idea to make something, but because it's not on the meal plan or you don't have all the ingredients or it's not on the editorial calendar, it gets put on the back burner?
No? Just me?
Anyway, that was this recipe for me. I was craving toasted oats, dehydrated strawberries and chocolate – all rolled up and crunchified together so that I could grab a cluster and pop it in my mouth and not feel guilty for snacking on chocolate because a) it also had (healthy) whole grains, and b) it also had (healthy) fruit.
Just keeping it real folks.
Strawberry Chocolate Granola Clusters
So let's have a little talk about what's inside these beauties. Beyond chocolate and strawberries. Yes those two ingredients are important (obviously), but there's other great stuff too, like Bob's Red Mill Old Country Style Muesli.
Mouthful to say? Little bit. Let's call it muesli for short.
Muesli… it's like oatmeal got together with the other whole grains, dried fruit and nuts in your pantry and threw a party. It's a convenience food yes, but one that I'm willing to buy in lieu of making from scratch. It's 100% real food and a great blend of whole grains, dried fruit and nuts that I normally don't have on hand… AND because it has all this other fun stuff, it makes the finished granola bit more fun too.
Plus I totally dig the fact that Bob's Red Mill doesn't put junk in any of their foods. Brownie points and a fist bump right there.
Muesli is like the real food version of cereal. Heat it up, eat it cold or straight out of the bag – your call. Personally, I like to add strawberry and chocolate and turn it into crunchy granola clusters… but ya'll already knew that. 😉
So guys, this recipe. This concoction of amazingness disappeared in 5.7 seconds yesterday. No joke.
I made some, ran a couple errands with the kids, came back and it was gone.
Mr. Crumbs – the non-oatmeal man – gobbled the entire pan leaving a few bit of crumbs in his wake. He says to me, "Babe, that stuff was pretty good. Can you make some more?"
Not too shabby of a testimonial, eh?
But let me be honest. Before this recipe, I had only made granola once before. And I burned it. So I didn't really try it again because a) I didn't want to burn more food and throw it in the trash and waste money and b) I'm sometimes (usually) too stubborn to use a timer.
So learn from me. Use a timer folks. It makes life easy.
Since my one and only attempt at homemade granola failed, I took copious amounts of notes and ate tons of granola just to make sure these strawberry chocolate granola clusters would turn out amazing for you like they did me.
So here's what you need to know to make your house smell amazing and your mouth happy:
there's no such thing as too much chocolate
or strawberries
you need to be patient (seriously)
egg white + oat flour = crunchy clusters
Did you catch that last one? That's the secret folks! Egg whites and oat flour are key to crunchy clusters. Gah, I almost hate to share the secret because I want to keep these clusters to myself, but that's not fair (nor nice). So here's the recipe my friends – enjoy!
Strawberry Chocolate Granola Clusters
Instructions
Preheat the oven to 250F.
Combine coconut oil and honey in a small bowl and warm either over a double boiler or microwave so that it is just melted, but not too hot. Whisk well. Set aside to cool slightly.
Meanwhile, combine meusli, oat flour, dehydrated strawberries, chocolate chips and 1/2 tsp salt in a large bowl. Stir to combine well.
Add egg white to oil/honey and whisk to combine.
Add wet ingredients to the dry ingredients and use a spatula to combine well. You want the entire mixture to be moistened, so make sure there is no remnant of a dried flour on anything.
Pour granola mixture onto a non-stick cookie sheet and press together to form a large rectangle, about 1/2″ high. Pressing the granola together ensures more clusters in the end.
Bake in the oven for 30-35 minutes, or until medium brown.
Using a pancake turner, gently flip the granola one section at a time. It helps to visually divide the rectangle into six equal sections, and flipping one section at a time. Do your best to keep each section together, rather than haphazardly flipping and letting the oats fall all over the place.
Once each section has been flipped, use the spatula to press any rogue pieces of granola back into the rectangle. Top with remaining 1/4 tsp of salt if using. Bake in the oven for 30 minutes, or until it is medium golden brown. If it takes longer than 30 minutes, check on the granola every 2-4 minutes to prevent burning.
Pull the granola from the oven and set on a cooling rack to cool for 2 hours. Do not touch the granola! It will harden into clusters as it cools, so it is imperative that you be patient as it cools.
After 2 hours, gently break the granola into clusters and store in a container with a lid for up to 2 weeks (if it lasts that long).
If you want it extra crunchy, place the broken clusters back into oven for 10-15 minutes. Allow to cool completely again before removing from the pan for storage.
Warning – theses strawberry chocolate granola clusters are VERY addicting. You might end up "tasting" the entire pan if you not careful. Not that I would know anything about that. Just sayin'.
What's your favorite flavor of granola? Do you prefer classic style, or clusters?
Crumbs is honored to partner with
Bob's Red Mill
, whose mission is to produce the very best in whole grain foods in order to help people achieve better nutrition. Traditional methods, in-house production, extensive quality control and a personal relationship with the farmers come together to create the Bob's Red Mill Difference.
Disclosure: This post is sponsored by Bob's Red Mill. I love Bob's Red Mill products and used them often in my kitchen, long before this blog was born. As always, I would never recommend anything on Crumbs that I wouldn't recommend to a close friend or neighbor, and all opinions here are my own.