Busy school mornings mean healthy breakfast ideas. Awesome list of 20 fast breakfast options for school, ready in less than 5 minutes! Options like blueberry baked oatmeal and easy to make smoothies.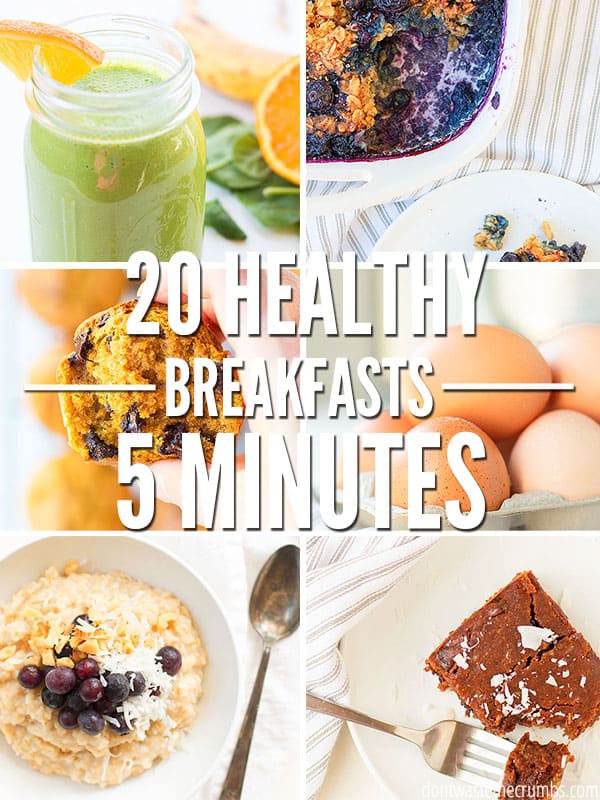 Duhn-duhn-duhn.
Here we are again, at the start of another school year. Back to starting your day with alarm clocks, school lunches, and homework.
Are you ready? I know I'm not.
We've had a great summer, and I'm just not ready to let it go. But all good things must come to an end, so I'm trying to get some plans in place for making healthy breakfast recipes and dinners on those busy school days.
Today, I'm planning my favorite healthy breakfasts – 20+ quick breakfast options, in fact. That's a different balanced breakfast for every school day of the month!
All of these are healthy and will add only 5 minutes to your morning routine.
So, enough gabbing – here we go!
What should I eat for breakfast fast?
These healthy breakfasts can be made in the morning. They are quick and easy when your time is short.
Note: My eBook "High Protein, No Powder" has 20 smoothie recipes that are super high in protein without any processed powders in sight. As a bonus, every recipe includes a dairy-free option (almond milk & more) as well! Read more about it HERE. These are perfect breakfast smoothies!
What healthy options can I eat for breakfast instead of eggs?
These healthy breakfasts can be made ahead of time – even the night before! They will be ready with just a quick warm-up.
Pancakes
Oatmeal
Skip the store-bought and make your own cinnamon rolls and coffee cake!
Smoothies
Bake Ahead & Freeze Healthy Breakfast Ideas
Perfect for making breakfasts ahead in batches, these breakfasts are quick and easy to pull from the freezer for individual breakfasts. Mix and match your batches so you'll always have a variety of easy breakfasts on hand.
Muffins
Cookies and Donuts
Scones
Pancakes and Waffles
Note: Did you know you can freeze raw muffin batter? Yes, you can! Perfect when you're making muffins, but short on baking time!
What are some ideas for healthy to eat for breakfast on the go?
When you eat breakfast on the go, take a few things into consideration before choosing your meals. Ask yourself a few questions, like:
Do you need utensils?
Will you have a place to store the empty container?
Do you need throw-away packaging?
Do you need something that doesn't make crumbs?
Will the meal need a cooler?
Your answers will decide the types of meals you pack, but don't worry! We have plenty of ideas regardless of your travel situation.
No Utensils Needed
Throw-away Packaging
Won't Make a Mess
No Cooler Necessary
Need some lunch ideas too?
Five School Lunches in One Hour
Sign up to get instant access to my 5 School Lunches in One Hour Meal Plan, complete with recipes and shopping list!
What are your favorite fast and healthy breakfast ideas for a busy school morning?