There was one day last week (or maybe the week before) when I stole 15 minutes and started to soak some grains and make yogurt in preparation for the days coming ahead.
When it was all said and done, four different recipes were going at the same time. Since they need to sit unbothered for a day or so, I put them all on the same counter and pushed them to the back, declaring the area off-limits to little reaching hands and curious eyes.
I distinctly remember the first time I tried soaking something (the wrong way, might I add) and Mr. Crumbs asked me, "What are you growing?" He's stopped asking so many questions about what I'm growing or sprouts or soaking nowadays, but I thought it would be fun to give the area its own little moniker. You know, 'cause I'm kinda nerdy like that.
Allow me to introduce, "Fermentation Station!"
You'll see the cooling yogurt on the stove, kefir in the quart mason jar with coffee filter, the container with the green lid has wheat soaking for pancakes and my Kitchen Aid mixer bowl is holding soaking flour for yeasted buttermilk bread (both the pancakes and bread are Nourishing Traditions recipes, by the way).
The full Fermentation Station is set-up at least once a week, with a partial station going on 'round the clock. The bowl of wheat for pancakes could easily be porridge (which is what is soaking as I write this post) and my next attempt at bread will be a soaked version of Rosemary Olive Oil – the one that is ALWAYS requested by Mr. Crumbs.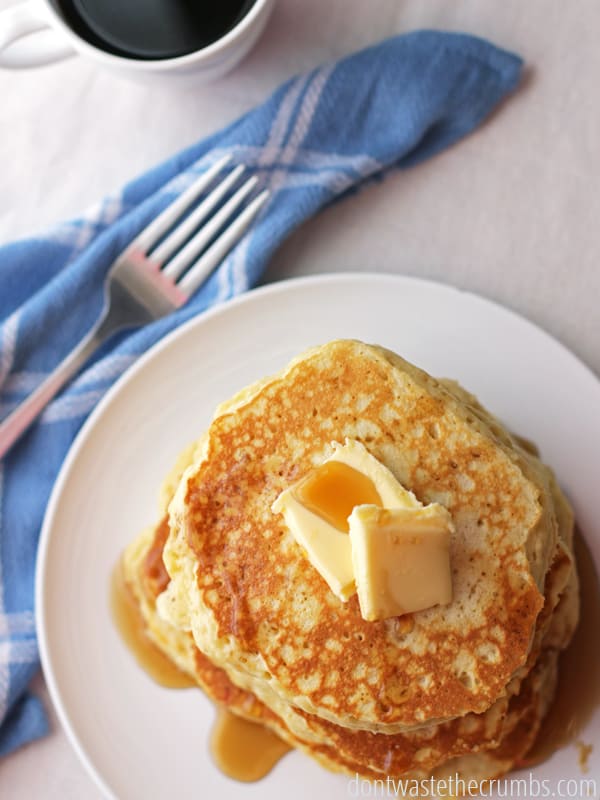 The neat thing about soaking grains is that the longer they soak, the better. You can read more about soaking grains HERE. Knowing that the soaking time isn't really an exact science offers a HUGE relief when you've got unexpected appointments (or laundry) that seem to take over the day. I think that batch of pancakes may have soaked for closer to 36 hours instead of the average 24.
I mentioned that these overnight soaked whole grain pancakes were from Nourishing Traditions, and I'm sharing that recipe with you today. So far it's the most satisfying recipe I've made from the book. The kids and I each ate two and I wasn't hungry for well past lunch. We served them with grass-fed butter and honey. You could use maple syrup instead or even homemade fruit butter.
In fact, it would be wise to make a double batch of these because not only will you enjoy them immensely for breakfast, but top with a thin layer of nut butter and sliced bananas and you've got a "lunch pizza," just like this week's real food menu suggests. Or freeze the extras so you have an easy breakfast later on.
Soaked Pancakes
Prep Time:

12 hours, 15 minutes

Cook Time:

12 minutes

Total Time:

12 hours 27 minutes

Yield:

8

pancakes

1

x
Category:

Breakfast

Method:

Skillet

Cuisine:

American
2 cups

freshly ground spelt, kamut or whole wheat flour (I used pre-ground flour since I'm not quite ready to grind my own just yet)

2 cups

yogurt, kefir or buttermilk**

2

eggs

1/2 tsp

sea salt

2 tsp

baking soda

2 Tbsp

melted butter
Instructions
Combine flour and yogurt/kefir/butter in a large bowl and cover. Leave in a warm place overnight, at least 12 hours, up to 24 (or 36 😉 ).
Add remaining ingredients and combine well. (Note: you may lightly beat the eggs beforehand to help with the mixing, or you can just toss those in with un-melted butter like I did).
If the batter is too thick, you may thin with water (I thought the batter to be fine).
On a pre-heated griddle or oiled cast-iron skillet, pour 1/4 cup of batter and cook the pancakes until bubbles appear on cooked edges. Flip and continue to cook for another few minutes.
These pancakes take longer to cook than traditional pancakes, maybe 5-7 minutes or so on the first side and an additional 4-5 on the second. Stay in the kitchen the first time you make them to get your bearings on the cooking time.
Notes
** Many individuals who are lactose intolerant are able to successfully digest homemade yogurt that has been cultured for 24 hours. Those with severe allergies to dairy products can substitute lemon juice or apple cider vinegar using 2 Tbsp of acid medium and scant 2 cups of water.
Keywords: Soaked Whole Grain Pancakes
Recipe Tips & Variations
Dairy Free / Vegan Option: Substitute flaxseed & water for eggs, melted coconut oil for butter and use lemon juice or vinegar for soaking.
I mentioned this when sharing the breakfast porridge recipe, but using fresh fruit or vegetables will naturally sweeten the pancake instead of using costly honey or maple syrup. A mashed banana, diced strawberries and melted butter would be delicious all on their own. This is a great way to stretch the budget and like you'll find in Grocery Budget Bootcamp.
What's your favorite pancake? Plain or with items in the batter?