Easy breakfast recipe for Amish-style baked oatmeal with blueberries, but you can use apples or bananas. Includes option for vegan, crockpot, and serving for one! Try my other oatmeal recipes like oatmeal peanut butter energy bites and chocolate leftover oatmeal cake.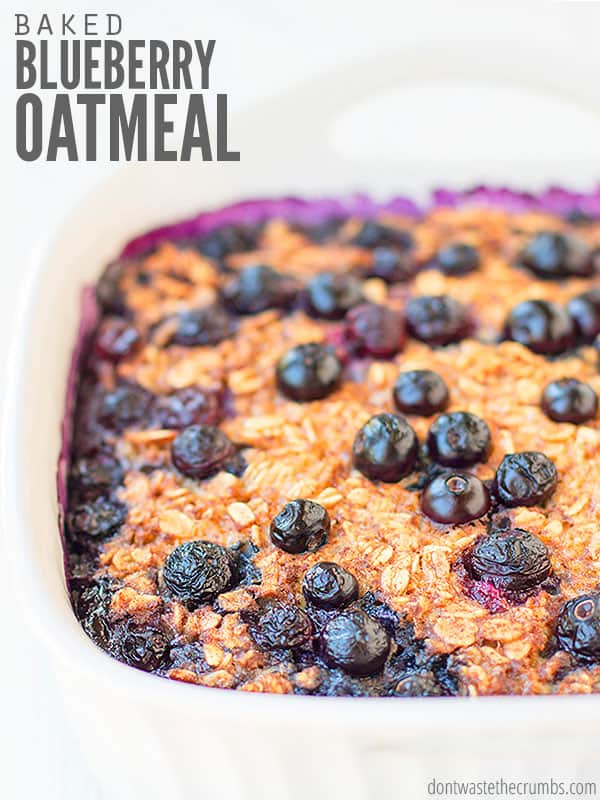 When it comes to breakfast, cheap and quick, and easy is the name of the game. Which usually means oatmeal of some sort.
Often it's leftover banana bread muffins or cinnamon oatmeal blender waffles from the weekend.
Sometimes it's slow cooker oatmeal, where each kid can pick whatever flavor they want the night before and all I have to do is hit "go."
Lately, it's been this delicious blueberry baked oatmeal. This baked oatmeal breakfast is packed with fruit, naturally sweetened and the best part – it can be made the night before!
Blueberry Baked Oatmeal
Aside from being cheap, quick, and easy, I think GETTING AHEAD is REALLY the name of the breakfast game.
There are plenty of quick and easy breakfasts out there… cereal, pop tarts, granola bars… But there are only a few breakfasts that I can think of that are both quick, easy, AND healthy at the same time.
9 times out of 10, you need to do some sort of prep work ahead of time in order to make a healthy breakfast quick and easy.
But the less work the better, right?
That's one reason this blueberry baked oatmeal recipe has been showing up on our breakfast table lately. My kids LOVE this recipe, and it takes barely any work at all to make!
Plus…
You dirty just one bowl and one pan, so dishes are minimal.
This baked oatmeal recipe can be doubled, which means EVEN MORE breakfasts!
It can be made with fresh or frozen fruit
You likely have what you need in the pantry already
What is Baked Oatmeal?
If you're new to baked oatmeal and usually make steel-cut oats or Instant Pot oatmeal for breakfast. Or if you make DIY instant oatmeal packets and you're not quite sure what baked oatmeal tastes like, let me reassure you that baked oatmeal is delicious!
It's like thick oatmeal, wrapped in fresh fruit.
It's not thin and runny at all and when it's completely cooled, it holds its shape when cut!
Is Baked Oatmeal Healthy?
It depends. If you use a lot of sugar, baked oatmeal wouldn't be that healthy.
My recipe uses just a little bit of natural sweetener to complement the fresh fruit, which gives my baked oatmeal recipe just a hint of sweetness.
You could use less sweetener though if you want. I've used as little as 2 Tbsp in oatmeal recipes in the past!
Here's What You Need
Let's break down exactly what's happening in this baked blueberry oatmeal recipe:
Old Fashioned Rolled Oats
Old-fashioned rolled oats are best because the oat mixture is nice and thick.
Quick-cooking oats can work in a pinch, but the only difference between quick-cooking oats and old-fashioned rolled oats is that quick-cooking oats have been cut into smaller pieces to reduce the cooking time.
Make sure you're not spending MORE money on the convenience of quick-cook oats. In reality, they only cook about one minute quicker.
If saving that one minute is truly necessary, you can put old fashioned rolled oats in a blender or food processor and pulse two or three times. That will break up the rolled oats into smaller pieces, and create quick-cooking oats!
This baked oatmeal is naturally gluten-free, but make sure your oats are specifically labeled gluten-free if you are allergic to gluten.
Fruit
I used fresh blueberries, but you can easily use frozen ones if you want. Or if you want to use strawberries – perhaps some that you froze yourself when they were in season – go for it!
Any fruit will work here…
apples and pears in the fall
berries in the spring and summer
pumpkin when it's Thanksgiving
bananas if you ever get tired of making caramelized banana bread (although that likely won't happen!).
As written, there's a 1:1 ratio of fruit to oatmeal. If money is tight, you can stretch the fruit used in this recipe by doubling the amount of oatmeal OR halving the amount of fruit.
Cinnamon + Nutmeg + Vanilla
These are our primary spices to compliment the blueberries.
Again, you can get creative here.
Milk and Eggs
This is our liquid and our binder.
Use whatever milk you want – I used almond milk, but coconut milk will work too (and would add delicious flavor!
You can substitute flax eggs instead of chicken eggs since you don't need the eggs as a leavening agent. (Here's how to make flax eggs).
Coconut Oil or Butter
Part binder, but part flavor as well.
Both coconut oil and butter are healthy fats, so don't shy away. Plus, they help keep the belly satiated until the next meal.
I haven't tried substituting applesauce for either coconut oil or butter, but I don't think I would recommend it. You MIGHT be able to use substitute partially, but not for all of the fat.
Maple Syrup or Honey
Use whichever you prefer, although generally, honey is more affordable than maple syrup.
Also, consider changing the type of sweetener you use based on the fruit you use to create different flavors…
honey + apple + cinnamon
maple + apple + vanilla
honey + bananas
maple + pumpkin
honey + strawberries
How to Make Blueberry Baked Oatmeal
Step 1. Preheat the oven to 375F.
Step 2. Pour the fruit, minus the reserved portion, into the bottom of a glass baking dish.
Step 3. Meanwhile, whisk together the wet ingredients in a large bowl. Add the dry ingredients and stir well.
Step 4. Pour the oatmeal over the fruit and use a spatula to distribute evenly. Gently pat down any dry oats sitting on top.
Step 5. Sprinkle the reserved fruit on top of the oatmeal and bake for 42-45 minutes, or until the top is golden brown. Let it cool on a cooling rack for a few minutes before serving.
How to Store
If you're serving it the next morning, I personally keep the baked oatmeal out on the counter. It's no different than keeping baked peanut butter oatmeal cookies out on the counter, in my opinion.
To store longer than one day, your oatmeal should be refrigerated. Cover the dish and you'll be good for 3-5 days.
To store longer than a few days, freeze baked oatmeal! I recommend portioning the baked oatmeal first and storing it in individual servings.
FAQs
Are baked oats the same as oatmeal?
There is a difference between baked oats and oatmeal. Baked oats have a cake-like texture because there is an egg in them.
How long does baked oatmeal last?
It really depends on how fast your family will eat it, LOL. My 11-year-old son took out half this recipe in one morning!

Ideally, though, this baked oatmeal recipe will last a few days. If you're serving baked oatmeal for one, wrap each portion individually once it's done and store it in the fridge or freezer.
How to reheat baked oatmeal?
Refrigerated baked oatmeal can be reheated in the microwave, or you can put it in a preheated oven for about 10-15 minutes.

Frozen baked oatmeal should be brought to room temperature before reheating. To make this part of your routine, I'd take it out of the freezer the night before and put it in the fridge. That way it's just cold in the morning, instead of a frozen rock of oatmeal!

Then again, you could eat it cold too if you want! Overnight oats are cold, so why not cold-baked oatmeal too?
Can you make a double batch of baked oatmeal?
Yes! The recipe as written uses a square baking dish, but you can use a 9″x13″ baking dish and increase the baking time by 10-15 minutes. Just be sure to keep an eye on it so the edges don't burn.
How do I add this to weekly meal prep?
Since baked oatmeal is a great leftover, I recommend baking a large pan early in the week and letting it cool before cutting into squares. Then you can store however many squares you want per serving, separately.

Since baked oatmeal will last for a few months in the freezer, feel free to make several batches at once. I have three glass 9″x13″pans and at the rate, my kids eat this, I wouldn't hesitate to make a triple or quadruple batch for the freezer!
How to Eat Baked Oatmeal
My kids like baked oatmeal straight out of the pan. In fact, my son ate half this pan before I even heard him at the table!
You could serve it with yogurt (as I did in the photos), sprinkled with Turbinado sugar for some crunch, or drizzled with maple syrup or honey. If you like to add syrup or honey when serving, consider adding less sweetener in the recipe itself.
Fresh fruit is always a delicious option, or if it's a special occasion, homemade whipped cream or even homemade chocolate whipped cream would both be a great way to surprise the family!
More Delicious Oatmeal Recipes
Freezer Cooking: Breakfasts
Sign up to get instant access to my Freezer Cooking: Breakfasts Plan, complete with recipes, supply list, and shopping list!
Blueberry Baked Oatmeal
Author: Tiffany
Prep Time:

15 minutes

Cook Time:

42 minutes

Total Time:

57 minutes

Yield:

12

slices

1

x
Category:

Breakfast

Method:

Bake

Cuisine:

American
Wet Ingredients:
Dry Ingredients
Notes
Inspired by Cookie & Kate.
How to Store:
If you're serving it the next morning, I personally keep the baked oatmeal out on the counter.
To store longer than one day, baked oatmeal should be refrigerated. Cover the dish and you'll be good for 3-5 days.
To store longer than a few days, freeze baked oatmeal! I recommend portioning the baked oatmeal first and storing it in individual servings.
How to Make a Double Batch:
The recipe as written uses a square baking dish, but you can use a 9″x13″ baking dish and increase the baking time.
Keywords: Baked oatmeal, baked oatmea;, baked oatmeal blueberries, baked oatmeal recipes, blueberry baked oatmeal, oatmeal bake, oat bake recipe